Acer Swift 7 Review
Product Name: Acer Swift 7
Offer price: 1,599.99
Currency: GBP
Availability: InStock
Build and Design -

98%

Performance -

80%

Price -

70%
Not content on making one of the lightest 15-inch laptops on the planet with the Swift 5, Acer have upped the ante and built the thinnest laptop in the world with the Acer Swift 7.
Hopefully, this is not like mobile phones, where you sacrifice function over form.
Announced back in January at CES 2018 this ultraportable laptop is just 8.98mm thick and it will set you back £1,599.99 via Currys making it one of the most expensive ultraportables on the market.
[button link="https://mightygadget.co.uk/acer-swift-7″] Buy from Currys[/button]
Features and Specification
The main selling point here is its impossibly thin form, which is around 33% thinner than the Dell XPS 13 and weighing in at 1.2kg. It is not the lightest model they do; the Swift 5 still holds that crown with its sub 1kg weight.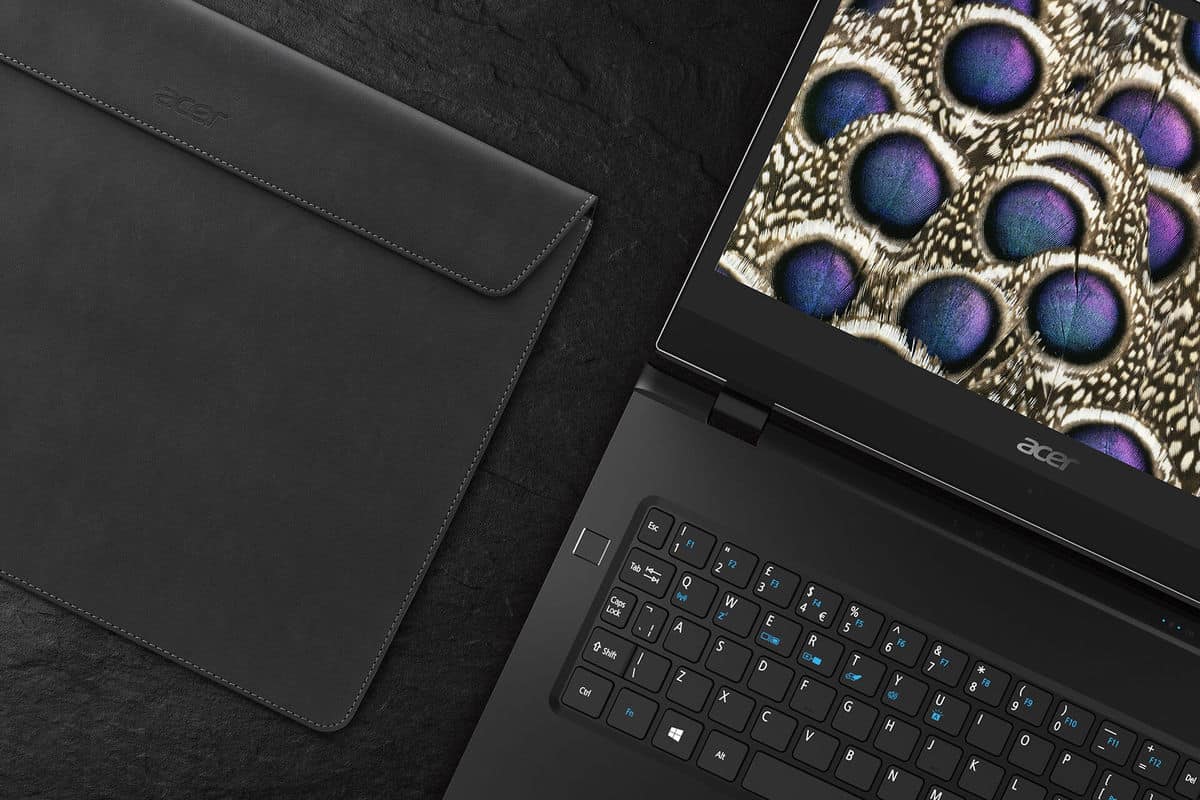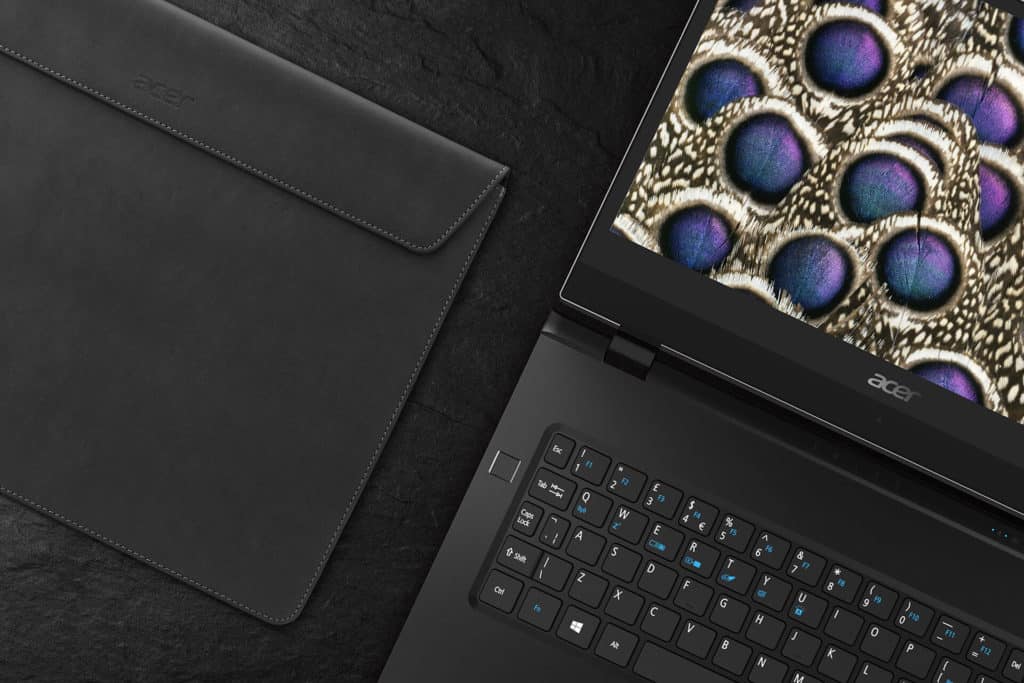 In order to achieve such a thin design this laptop relies on the ultra-low voltage Intel Core i7-7Y75 CPU which is the top of the rang ULV option at the moment and allows it to be completely fanless, this is then paired up with 8GB of LPDDR3. You get an ultra-fast 256 GB SSD NVMe based drive which is plenty for on the go working.
There is no dedicated graphics, so you are stuck with Intel HD Graphics 615, not that this was ever made for gaming.
Unlike other ultraportables that drop the screen size down to 13.3-inch, this uses a 14-inch Full HD (1920 x 1080) resolution with multi-touch.
There are understandably no full-sized USB ports here, they would need to be thicker than the laptop, but you get, more generous than some, two USB 3.1 Gen 1 Type-C ports allowing you to both charge your device and have a peripheral plugged in.
Everything else is reasonably standard; there is decent Wi-Fi with 802.11a/b/g/n/ac but no ethernet. The battery is a 2-cell 4580 mAh Li-Polymer with a claimed 10-hour life and a 45 W USB-C charger.
Design and Build
It is not often that a laptop can make a positive impression as soon as you pull it out of the box, they are all kind of the same. This differs though, the slim body and light weight make this one of the most impressive laptops I have seen based on first impressions. It is barely thicker than my mobile the Mate 10 Pro, and about the same thickness with its case on.
Its aluminium smooth touch body gives it an ultra-premium feel, though this is likely why it weighs 1.2kg rather than sub 1kg. Even at this weight, you should be able to slip this into your bag and carry it around all day long with no strain at all.
You also get a stylish sleeve in the box, adding to its premium looks and giving you a little extra protection.
The overall build quality feels exceptional, which you would expect at this price, and due to its thin nature, I doubt there is room to be cutting corners with the build quality.
It may be the thinnest laptop on the market, but it doesn't technically have the smallest footprint with a width and depth of 328 mm x 237 mm it is noticeably bigger than the XPS 13 at 302mm x 199mm. This is not necessarily a bad thing though as you get a larger screen that has multi-touch support.
You also get a handy fingerprint scanner which should make logging into Windows much quicker. In practice, these are not as accurate as you find on a mobile, and I often had to retry. I have had the same issue with the Dell Inspiron too.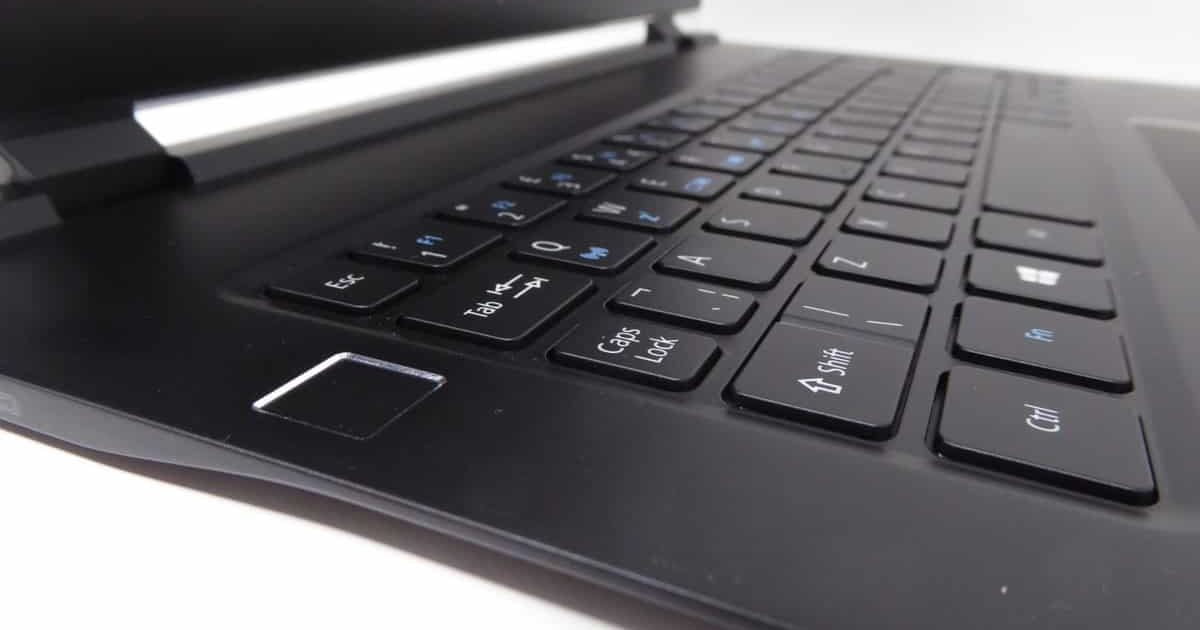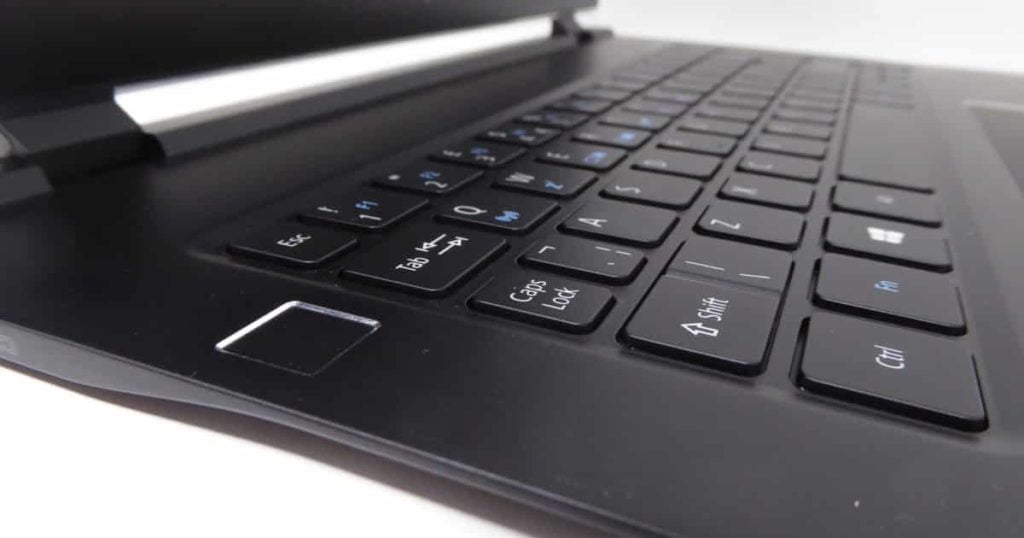 The design of this means it is unlikely you will be able to do any upgrades. The base of the laptop does have multiple screws in it, so it may be possible to upgrade the NVMe drive but I would expect everything else is soldered to the main board. Due to its price and the fact I have to send it back, I daren't open it up to find out.
Keyboard and Trackpad
The typing experience is surprisingly good, it is a more pleasant experience than typing on a 2-in-1 with a detachable keyboard, and because it has a slightly larger footprint, there seems to be a decent amount for spacing for the keys. There is of course very little travel with the keys, so you don't get that tactile feedback as much as some keyboards. I wouldn't want to type out long documents on it all day, but for working on it in the evening on my lap, it was quite adequate, which was also reflected on a train journey I took with it.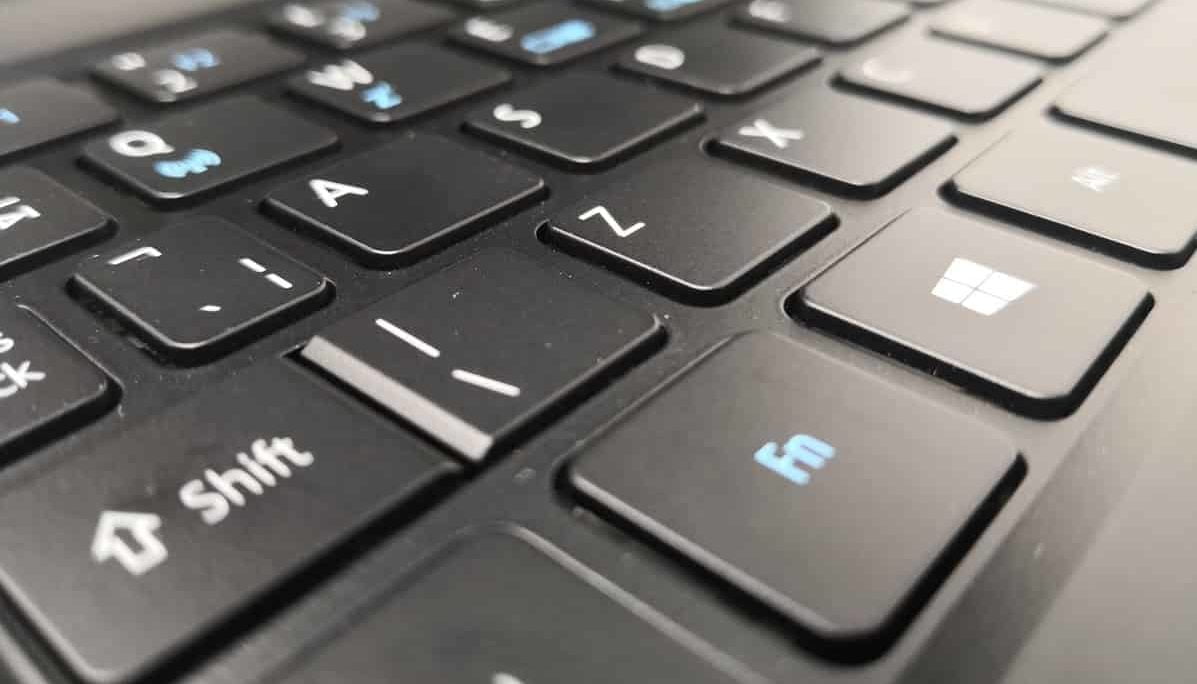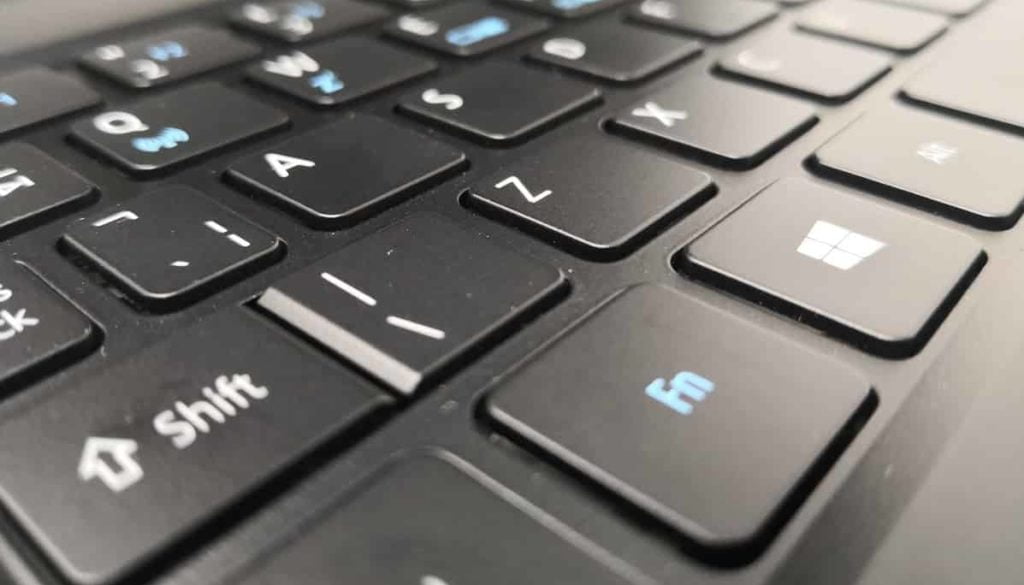 The trackpad is a bit of a different story, the trackpad itself is well sized and responsive enough, but in order to maintain the thin profile, there is no push to click at all. To left click you need to double tap, so dragging things around can be a challenge. Furthermore, you need to double tap with two fingers to activate the right click. I actually had to open up the instructions to work that out; I thought there was something wrong with it. It can be frustrating, but it isn't the end of the world, and I did get used to it, but it is something worth noting if you plan on buying it.
Screen
The screen is excellent that little bit of extra size makes it more comfortable to use for extended periods of time. The upper and side bezels are slim but then you have a thicker lower bezel containing the camera and a gap where the hinges attach the screen to the base.
On a screen, this size, with an ultra-low voltage processor, having anything higher than a1080p screen would be counterproductive. The display itself is bright and vibrant, the colour accuracy appears to be excellent so watching movies or TV on it was a pleasure.
I am generally indifferent towards touchscreens, I forget they are there and keep using the touchpad. With this it is quite useful, as you can eliminate some of the issues you face with the mouse clicking, dragging and dropping is much easier via touchscreen and right clicking on files is often easier this way too.
[button link="https://mightygadget.co.uk/acer-swift-7″] Buy from Currys[/button]
Performance
At first, I was surprised to see a 7th Generation Intel Core i7 Processor inside this, but from a little research, there does not appear to be any ULV 8th generation chips yet. The only option for low power with the 8th generation is the i7-8550U which has a 15W TDP in comparison the i7-7Y75 used here uses a fraction of that at just i7-7Y75. It is a sacrifice you have to make if you want something with the best portability while maintaining moderate battery life.
Using the i7-7Y75 chip, this was never going to be setting benchmark records, but it doesn't need to. Combing the 8GB RAM and the super-fast NVMe drive I experienced no performance issues with this during my time with it. For general office work, I am not sure I would notice the difference between this or the more powerful 8550U.
This can handle everything you throw at it with ease except for games and processor or GPU intensive applications like encoding media or editing large media files.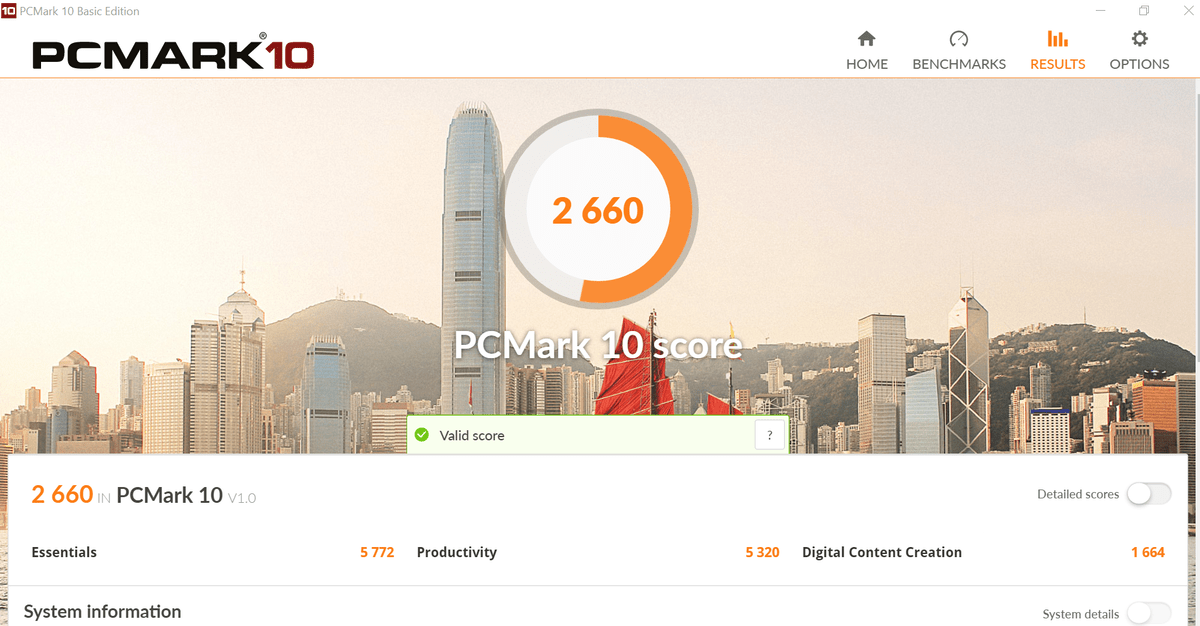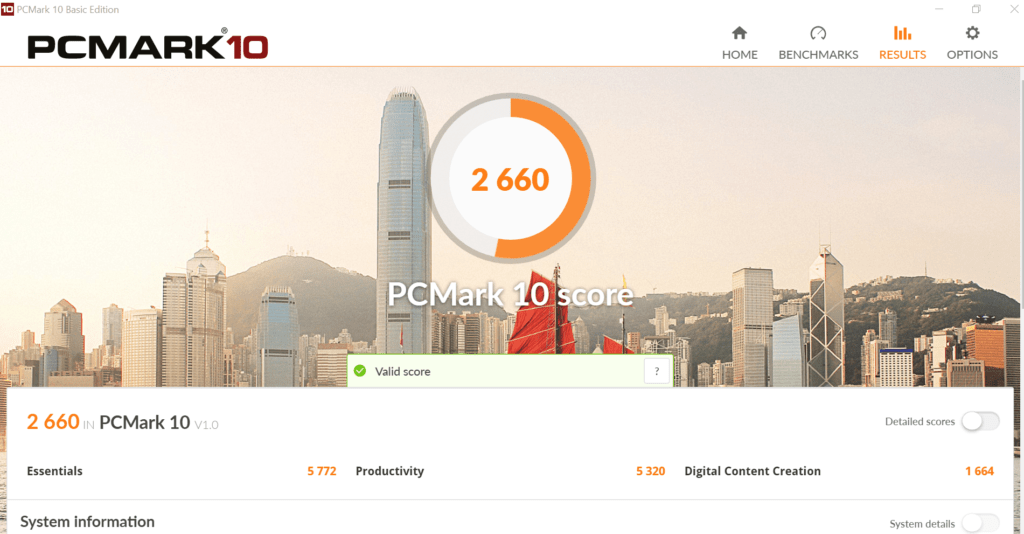 With PCMark 10 the laptop achieved an overall score of 2660 which is about the same score as you would expect and similar to other laptops using this CPU. The NVMe drive produced a 1638/813 MB/s read write score via CrystalDiskMark so it is not the fastest speed you would find from some Samsung based drives, but in real world usage you would never notice the difference and it is still blisteringly fast.
Battery
This may not compete with some of the larger laptops I have reviewed, but you can still get a full days' worth of work out of it thanks to the low power CPU. I don't do dedicated battery tests, instead, I like to use the laptop and judge it based on my real-world usage. During a day working from it I was able to comfortably work from an office 9-5 without worrying too much about having to charge it. My typical office use consists of the usual activities you would expect, lots of writing in word, emails excel with streaming from Spotify. Nothing too taxing and I keep the screen brightness down quite low as I have sensitive eyes.
Mobile Data
The model I have been sent to review includes the option to use a sim card, the Currys site where this is available doesn't state any 4G connectivity, but the Acer website does advertise it as one of the main features.
As far as I am aware there is only one configuration of this laptop so you should be able to use mobile data with it. This is usually a feature you have to pay extra for, and it is not something that is even an option with Dell. It probably won't be that useful for a lot of consumers as tethering is common nowadays, but considering this is designed to offer ultimate productivity on the move then it is a feature some people will find extremely useful.
It has been a long time since I used a sim card in a computer but thankfully it is just as easy as slotting a new sim into your mobile. The laptop was able to connect immediately with no additional settings required. Once connected I also received some text messages from Vodafone which showed up automatically. Working from home I was able to get 90Mbps down and 12Mbps up and never had to worry about waiting for it to connect.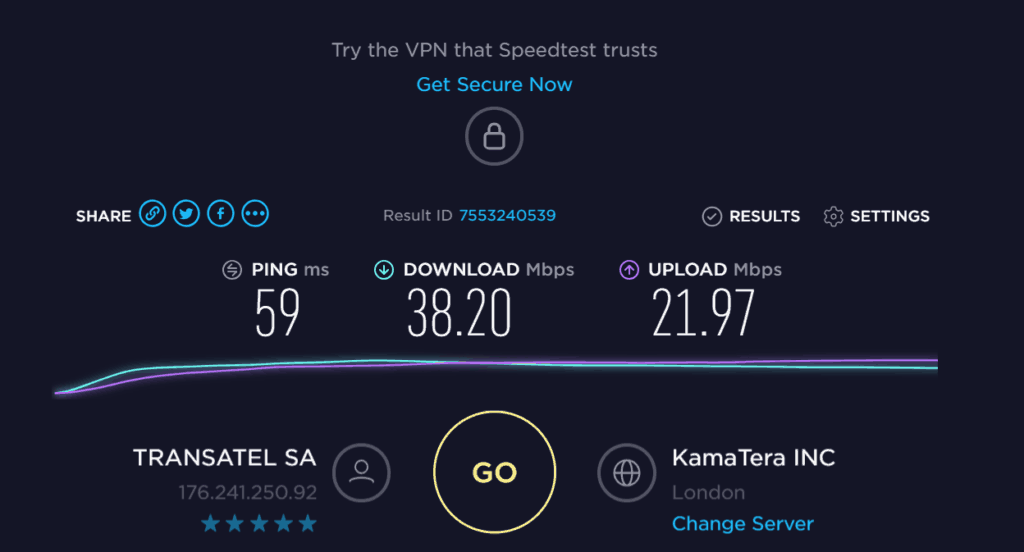 The Acer also ships with eSim built into it, meaning you don't even need a SIM card and they include a free trial 1GB of free data valid for one month in 48 countries, including the UK. When I tried this out it wasn't quite as simple as expected, my laptop shows no data connection, but when I went into the network settings, I could apply the eSim profile. It then seemed to take a couple of minutes to think about connecting but once working it was the same as my standard SIM. I was shocked at the speed results of the free trial, the download speed wasn't as good as my other SIM at just 32Mbps, but the upload speed was twice that of my Virgin fibre connection at 24.27Mbps!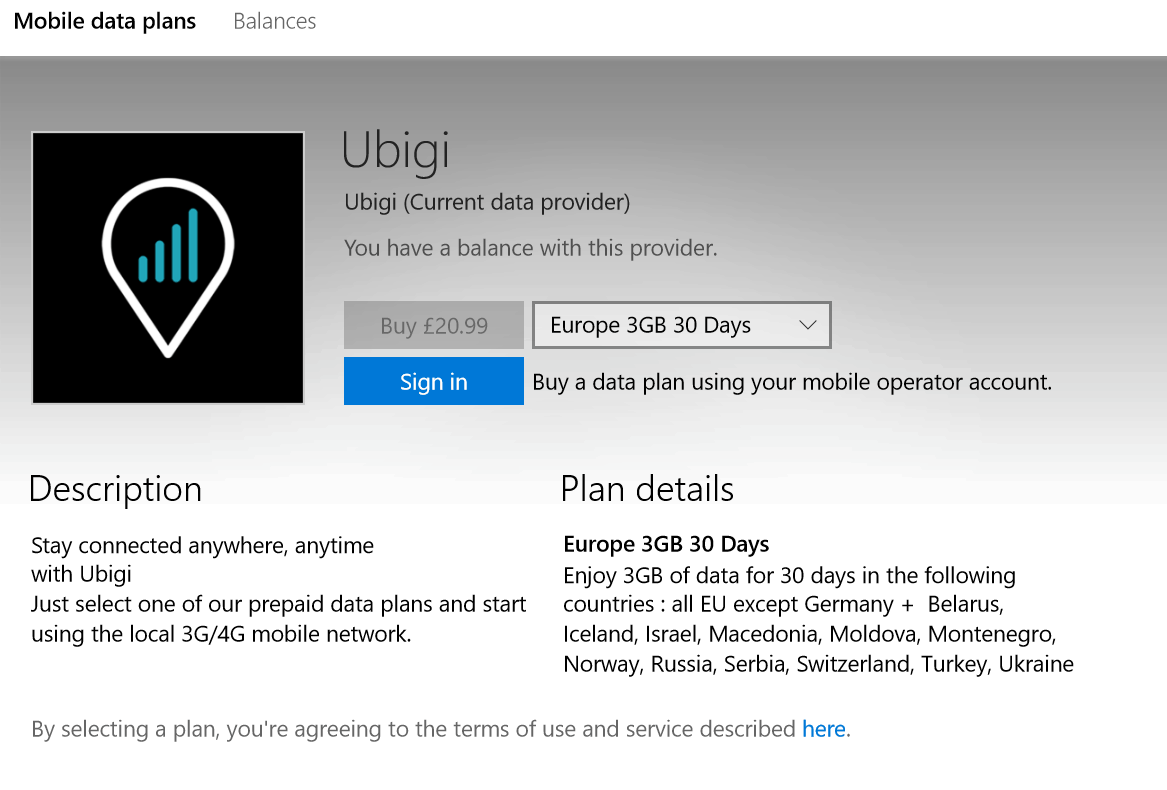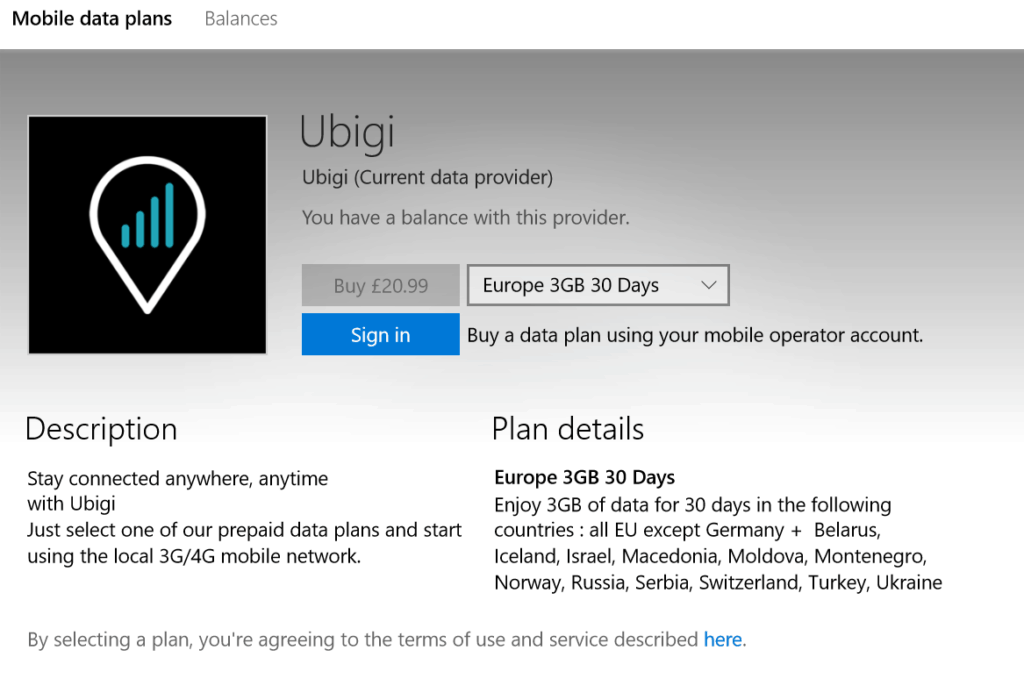 The cost of the data plans via the built-in provider is more expensive than a regular SIM though. 3GB that you can use in Europe is £20.99, whereas you can get 15GB for £22 with EE.
While I have no use for a dedicated data contract, it is something many commuters and business users will find very handy.
Everything Else
Having to use USB-C is a little annoying, but this is becoming the norm, especially with thin and light laptops. Unlike the Macbook and Surface Laptop, you get two ports so you can at least charge your device and plug something else in. USB-C hubs are getting cheaper, and they offer a tremendous amount of expandability.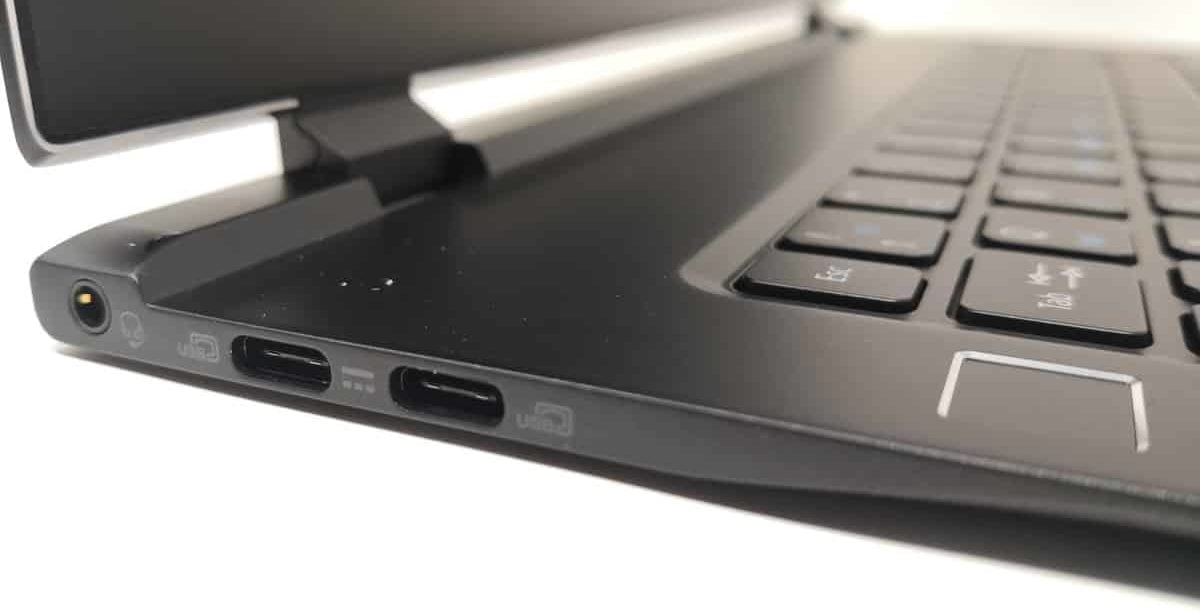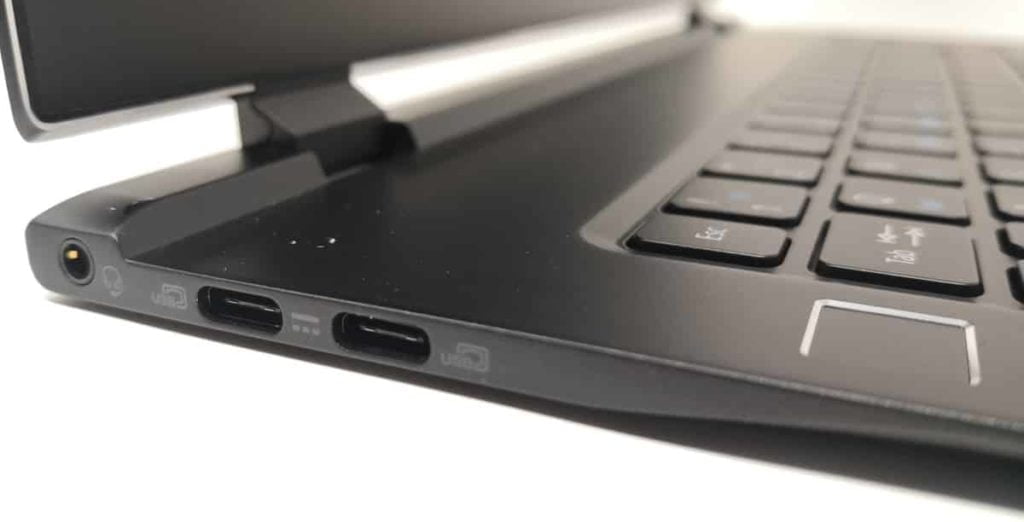 The 802.11b/g/n/ac 2×2 Wi-Fi performs as you would expect, I didn't do any speed tests, but it had no issues transferring large files, and I had no problems with connectivity.
The Swift 7 can produce OK sound; it is rare that I use the speakers on my laptop, so I didn't test this extensively. Watching movies and TV was not an issue, though you are hardly going to achieve much bass with a laptop this thin. Most of the time I connected my Bluetooth headphones the laptop and on occasion used the 3.5mm jack for my earphones.
Conclusion
This is a bit of a niche laptop, on the face of things it does have universal appeal, but at over £1500 your average user isn't going to be quick to buy it. To put the price into perspective, it is more expensive than the highest specification Dell XPS 13 which is going to restrict its appeal to users that want ultimate portability and productivity.
For those users it does what it intends to, I can carry this around all day and in a small messenger bag, and it will never hurt my shoulder or add an awkward bulk to the bag. It can handle all my day to day work with ease, and the 4G capabilities allow me to work anywhere in the world regardless of Wi-Fi connectivity. This will no doubt appeal to affluent digital nomads or social media professionals that are always on the move and want something that looks beautiful while offering fantastic performance without being tied down to locations with Wi-Fi.
The Acer Swift 7 is as much an engineering achievement as it is a great laptop, and because of this, it comes with a steep price tag.
For the average user on the move, you may be better looking at the Swift 5 which is lighter, cheaper and more powerful. Its dimensions are not as impressive though and doesn't have the wow factor of the Swift 7.
[button link="https://mightygadget.co.uk/acer-swift-7″] Buy from Currys[/button]
This was a sponsored review, but all the opinions are my own and honest.