With the launch of both the 12-core 3900X and 16-core 3950X CPUs, the differences between the HEDT are becoming blurred and the trend looks set to continue.
References towards another premium chipset, the X590, have been spotted by Computerbase which indicates more PCIe lanes and higher prices.
The speculation arose from a Twitter user, 1usmus, who shared a teaser of one of ASUS's ROG motherboards with the label "X590 Coming Soon". 
While the picture is one thing, a forum member of Computerbase forums provided even more evidence around the existence of the X590 chipset. Hidden deep within the BIOS files for X570 motherboards, the X590 chipset is listed next to X570. Now one might think that X590 may be an internal codename for X570 but why have them listed in the retail BIOS by two different names.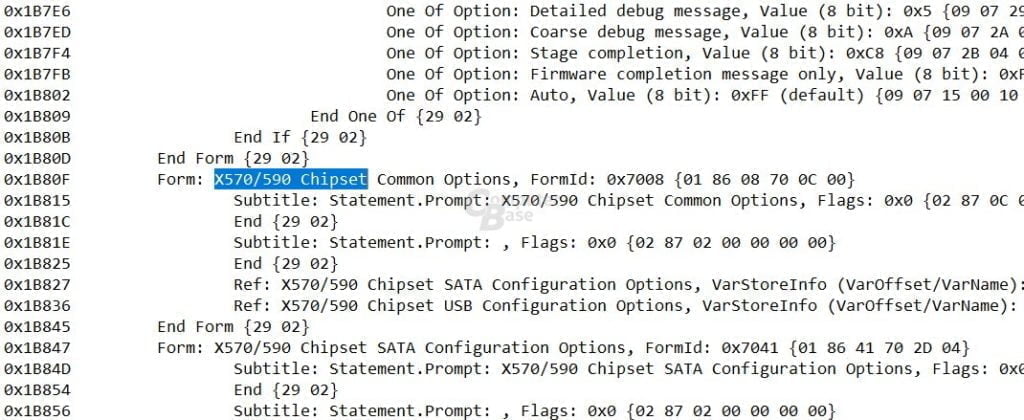 The current belief is that the X590 chipset may offer a much higher number of PCI Express 4.0 lanes compared to X570 chipset. One of the issues here is that the X570 is already reported as being considerably more expensive than the X470 chipset, so an even more expensive option could set new standards for motherboard pricing.
Last year a similar rumour was reported with the X490 chipset which never appeared. In this case, it is believed that the rumour wasn't false but that AMD canceled it due to higher production costs.
At the moment it is only the X570 chipset that will feature PCIe 4.0 but this could change in 2020 when ASMedia starts offering their own chipsets with PCIe 4.0.
If you want a new motherboard without the price, and are happy to live without PCIe 4.0 the AMD B550 and A520 chipsets would be available later this year and would feature much lower prices than X570 motherboard for users building entry-level and more mainstream PCs.