After months of hype and leaks, AMD has finally announced Zen 2 with 5 new chips forming the AMD Ryzen 3000 series family.
Many of the previous leaks seemed too good to be true with claims of 16 core chips with a boost of over 5Ghz. Well, they were too good to be true, what we thought would be the Ryzen 7 3700 with 12 / 24, 3.8 / 4.6GHz costing around $330 is actually the new Ryzen 9 3900X costs $499.
Regardless of AMD not living up to the hype, they have still upped the ante once again in the world of CPUs. The Ryzen 9 3900X is the first mainstream 12-core chip and the onstage demo indicated an 18% improvement over the Intel 9920X which will set you back over £1k.


The processor is the only one of the group that uses two chiplets, in a 6+6 configuration. The 3900X will have a base frequency of 3.8 GHz, a turbo frequency of 4.6 GHz, and line up with 6 MB of L2 cache and 64 MB of L3 cache. This confirms that each chiplet has 32 MB of L3 cache, doubling what we saw on the first generation of the Zen microarchitecture. This CPU has a TDP of 105W, which for AMD processors is usually a good measure of all-core power consumption, and will be enabled with 24 PCIe 4.0 lanes (16 for GPU, 4 for storage, 4 for the chipset).
All of the five processors will be PCIe 4.0 enabled, and while they are being accompanied by the new X570 chipset launch, they still use the same AM4 socket, meaning some AMD 300 and 400-series motherboards can still be used.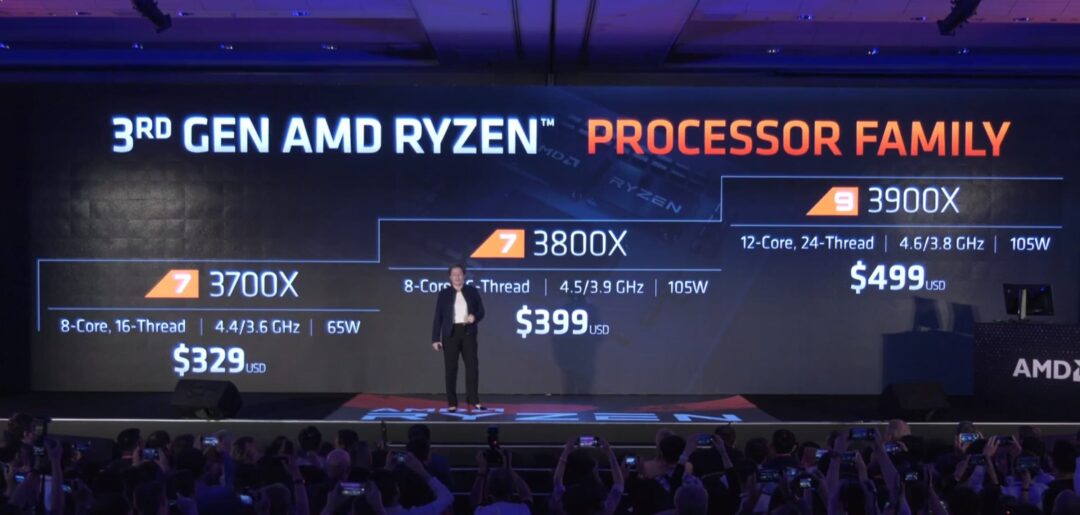 AMD Ryzen Line-up
[ninja_tables id="23506″]
All of these processors will be officially launched on July 7th (which is 7/7) this is one of the rumours that was true and correlates to the TSMC 7nm process