AVM the company behind the excellent range of FRITZ!Box routers have finally entered the mesh Wi-Fi market. Unlike competing brands such as the Netgear Orbi or the Linksys Velop, AVM is not releasing a separate router specialising in this, rather they are updating existing models to be compatible with the standard.
FRITZ!OS 7 is the new router operating system that will allow you to implement a mesh Wi-Fi system in your home. The roll-out is gradual with the FRITZ!Box 7590 and 4040 getting it already and other models to follow.
To implement the mesh network you can use AVM repeaters or powerline adaptors, however for UK users such as myself, it appears that none of these use UK plugs with them all plugging directly into the socket. So at the moment you would need to use an adaptor to get it to work.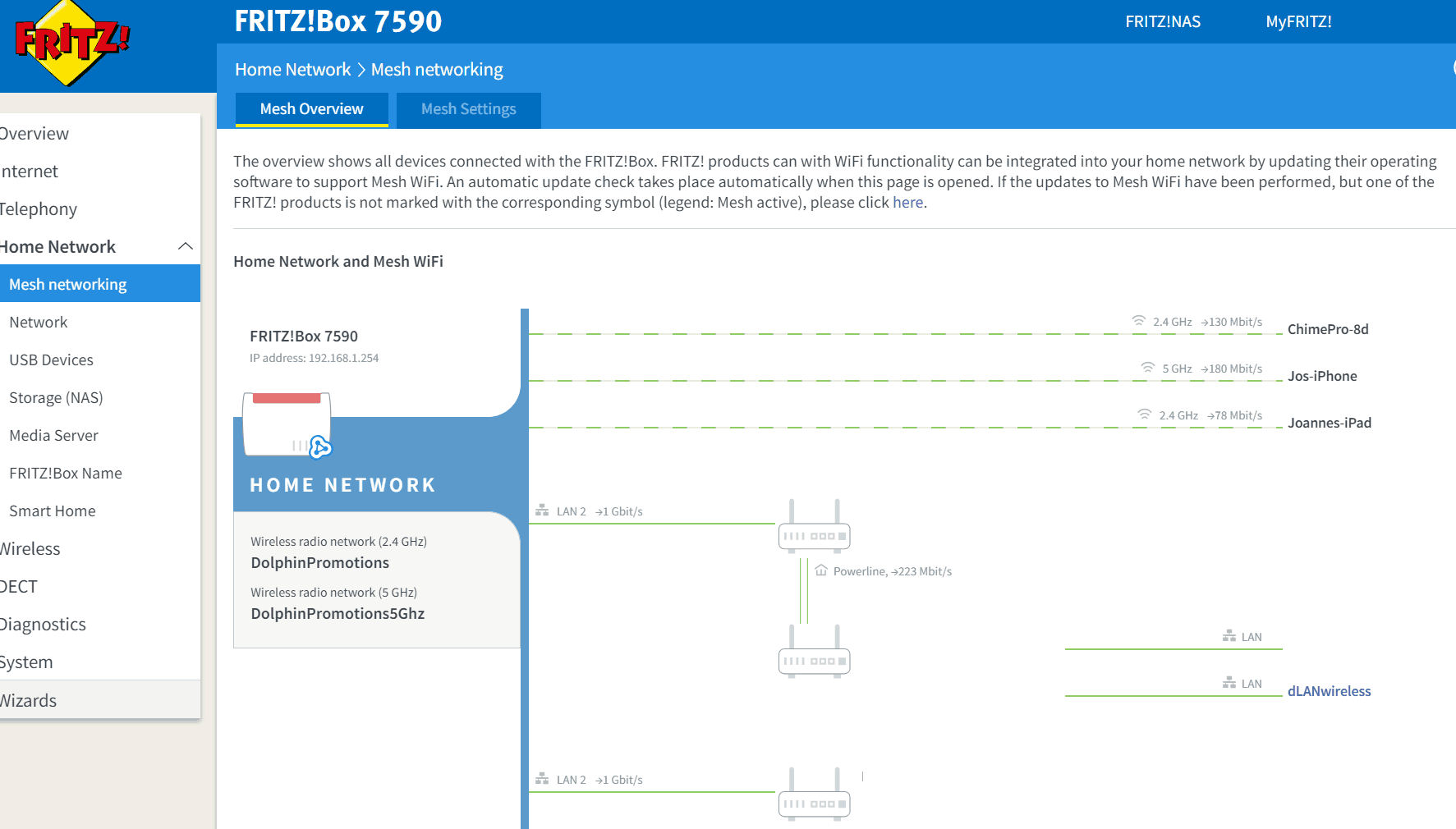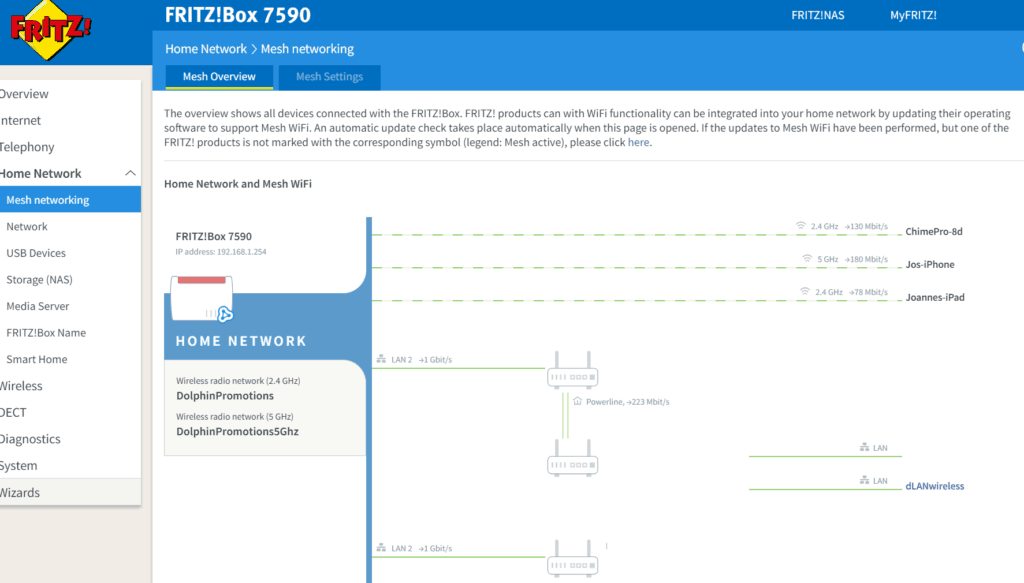 This major update for FRITZ! products includes more than 77 new features and improvements for WiFi, Mesh, Smart Home, telephony and internet. Users are now able to integrate an additional FRITZ!Box, including the WiFi, telephony and Smart Home interfaces, into their Mesh networks. It also allows users to install Smart Home devices from other manufacturers, as long as they are compatible with the FRITZ!Box.
Some of the interface settings have been updated including a nice visualised topography of the network.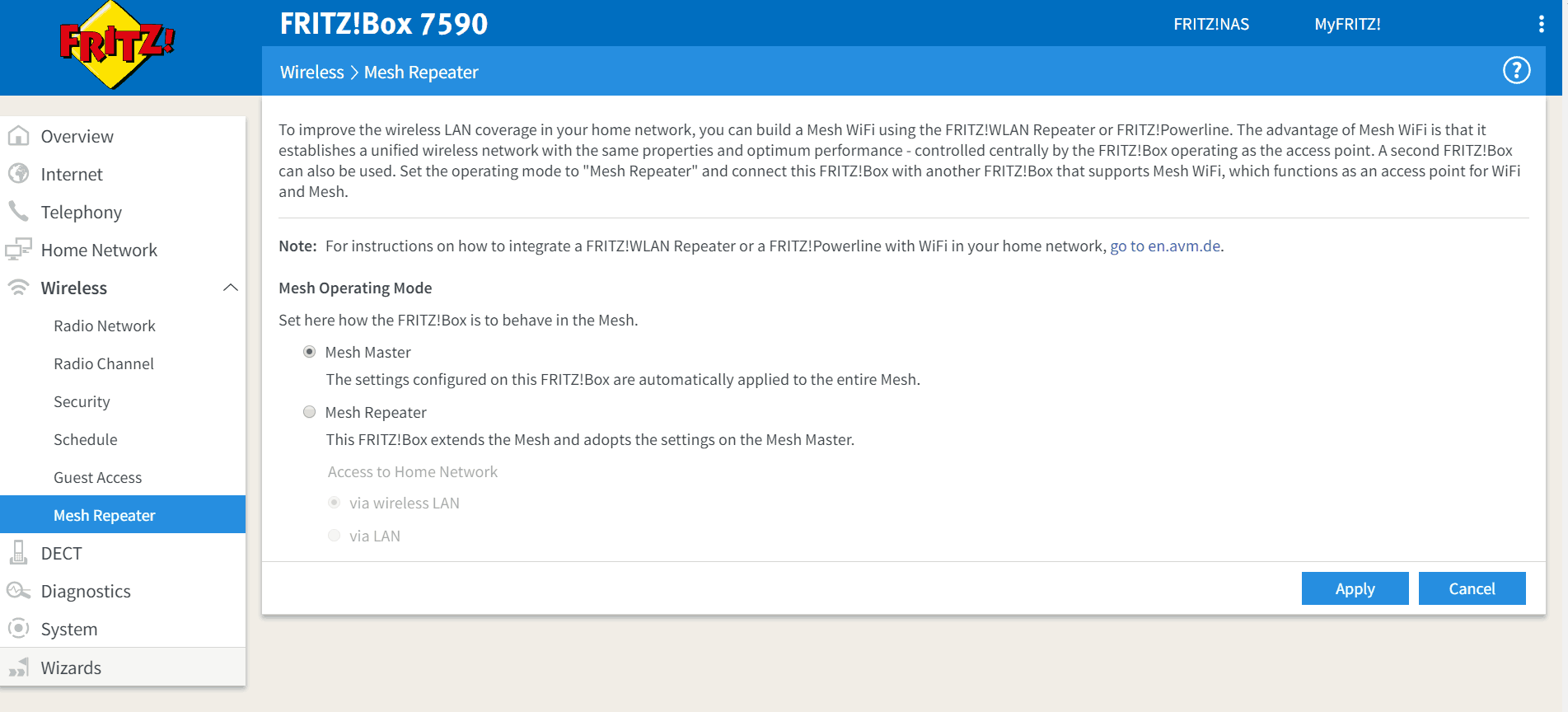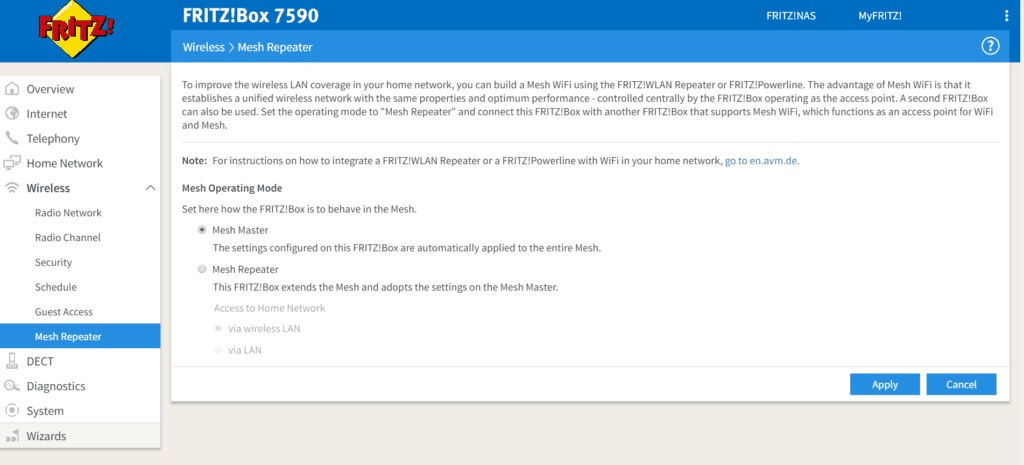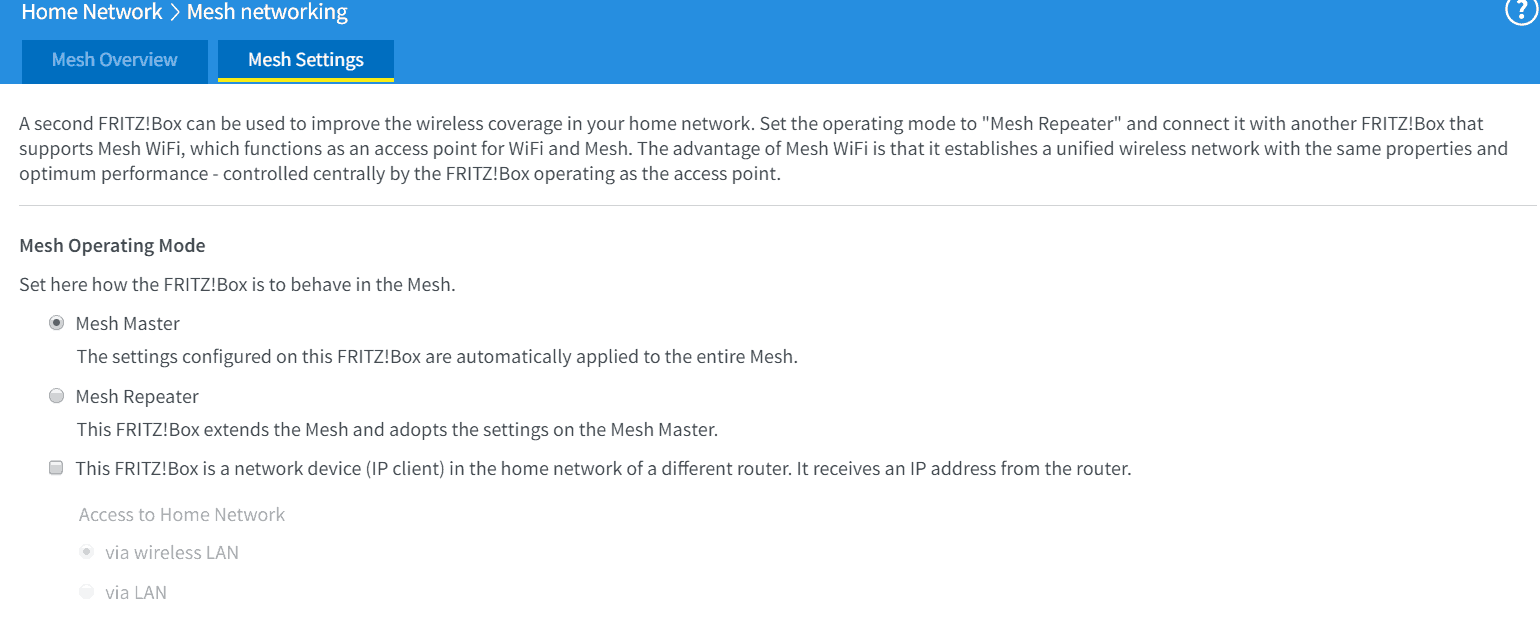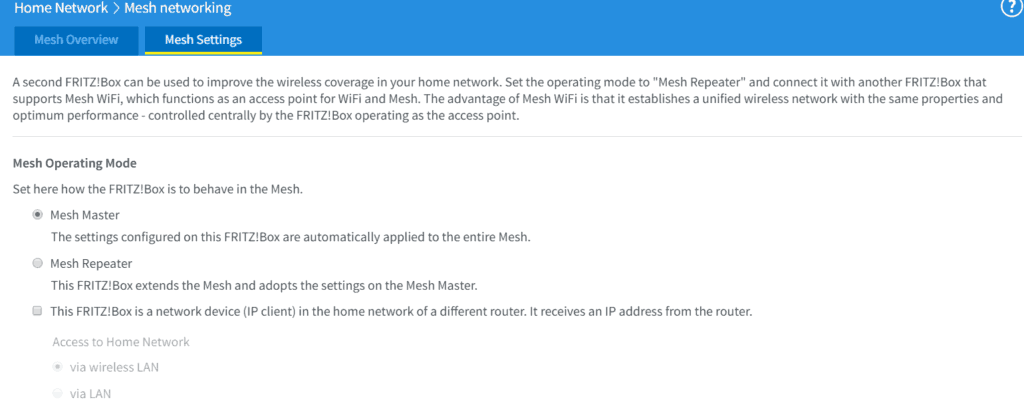 Other improvements to the software are covered in the below press release:
1. Increased WiFi performance and Mesh overview
FRITZ!OS 7 supports wireless LAN standards 11v and 11k for Band Steering (Idle Steering), meaning modern wireless LAN devices such as smartphones can switch the frequency band more quickly – including for existing connections. In addition the graphical mesh overview on the FRITZ!Box user interface now includes information about the connection quality for cordless telephones. Updates for all FRITZ! products are also displayed here. If automatic updates are enabled, FRITZ!WLAN Repeater and FRITZ!Powerline products will be automatically updated for mesh networking.
2. Greater convenience and speed for WiFi
The new function "Zero Wait DFS" significantly reduces waiting times in the 5 GHz band, ensuring a seamless connection. With the new update, AVM has expanded the possible bandwidth for radio channels from 80 to 160 MHz for 4×4 WiFi routers, such as the FRITZ!Box 7590 or FRITZ!Box 7580. The latest WiFi devices, such as notebooks, can reach even higher data rates. The higher data throughput is also noticeable for WiFi devices with 2×2 antennas.
3. Mesh Reloaded: FRITZ!Box updated for WiFi, telephony and Smart Home
With FRITZ!OS 7, additional FRITZ!Boxes can now be used as mesh repeaters. Alongside FRITZ!WLAN Repeaters and FRITZ!Powerline devices, even more FRITZ!Box models can now be integrated into a mesh network. At the touch of a button you can extend your wireless and mesh range. The exciting thing about this is that telephony and Smart Home, via the additional FRITZ!Box devices, support mesh for the first time. All the telephone functions of the central FRITZ!Box are available for each FRITZ!Box that has been integrated as a mesh repeater as well as for the DECT telephones connected to the respective FRITZ!Boxes. The Smart Home products from FRITZ! also benefit from the integrated FRITZ!Boxes (which function as mesh repeaters), as it means more DECT Smart Home devices can now be reached and used (Smart Home Mesh). Users can now manage their Mesh WiFi and Telephony WiFi settings in the 'Mesh' menu of the central FRITZ!Box.
The new FRITZ!OS makes setting up and using the FRITZ! Hotspot even easier. It's now even easier for users to choose their FRITZ! Hotspot settings: guests can be given an open or a password-protected private wireless guest access. If an open hotspot is chosen, the guests do not need to enter a security key. Cafés, doctor's offices and small businesses, as well as all FRITZ!Box users, can provide their customers and visitors an easy-to-use internet access. Whether it's private or public WiFi, the second wireless network made available by the FRITZ!Box means guests can surf the internet without accessing your home network.
5. DECT HAN FUN integration for even more Smart Home devices
With this release AVM is extending support for the HAN FUN protocol (Home Area Network FUNctional), as well as for the DECT ULE wireless standard. Alongside FRITZ!DECT products, devices from other manufacturers that support HAN FUN, can now be used directly with a FRITZ!Box. This includes HAN-FUN-compatible wall switches, door-window contacts and motion sensors, for example from Deutsche Telekom. Together a FRITZ!Box and the FRITZ!DECT 200/210 switchable sockets, they can be used in a number of different situations. For example, you can set your FRITZ!DECT smart plug to turn on a light when a motion sensor detects movement. This dramatically expands the scope of functions and applications that can be controlled via a FRITZ!Box, meaning it's even easier to make your house a Smart Home.
6. Even easier and more convenient Smart Home settings
A new feature for FRITZ!OS 7 is the possibility to set up Smart Home templates. They can be used to configure and manage multiple devices and for a range of different scenarios. For example, users who have flexible working hours or whose shifts change from week to week can set up Smart Home templates and switch between them with the click of a button. It's also easy to set up templates for other occasions, for example if a public holiday falls in the middle of the week or your vacation time is flexible. Quick and easy to set up on the FRITZ!Box user interface, users can also use the templates with a FRITZ!Fon.
7. MyFRITZ!: new reports and more information about your home network
Many FRITZ!Box owners use MyFRITZ! (myfritz.net) to easily access FRITZ!Box services such as answering machines, call lists, FRITZ!NAS and Smart Home functions. With the new FRITZ!OS, activating MyFRITZ! is easier than ever before. In addition, the new FRITZ!OS 7 has removed browser warnings when accessing the FRITZ!Box remotely. The new FRITZ!OS version enables your FRITZ!Box to receive a SSL certificate for your MyFRITZ! address from the organization letsencrypt.org. Users can now also have their MyFRITZ! reports sent to them. They get a weekly or monthly summary email about the status of their FRITZ! products and available updates.
8. A whole host of new features for FRITZ!Fon
When making or receiving calls, the display on your FRITZ!Fon device will now show the name of the region or country, and users can now add up to five ring tones. In addition, FRITZ!OS 7 allows FRITZ!Box updates to be performed directly via a FRITZ!Fon. Wireless guest access and Smart Home devices can now also be activated on a FRITZ!Fon; you can set up a PIN, if desired. The new time time control feature for call diversions means users have even more flexibility when it comes to activating and setting up schedules for call diversions. This means users can still be reached on their landlines, even when they're out and about. The podcast function for the FRITZ!Fon has also been updated, making it even easier to fast-forward and rewind, for example.
9. Better FRITZ!NAS performance
If you use a USB stick or flash drive on your FRITZ!Box that is formatted with the NTFS file system, FRITZ!OS 7 brings increased speeds when transferring data on your FRITZ!NAS The FRITZ!NAS web interface (http://fritz.nas) has had a redesign and has been optimized for various output devices.
10. FRITZ!OS – even to easier to install, even when moving
Users adding a new FRITZ!Box to their network no longer have to manually integrate their AVM DECT devices, such as phones or radiator controls. Thanks to the improved and expanded registration mode, all known DECT devices will be registered to the new FRITZ!Box after the user has imported their settings. This can be carried out in the FRITZ!Box user interface, and only needs to be done once.