This week, Apple announced their latest phones, the iPhone 13 series. The yearly cycle has become relatively predictable with incremental upgrades as they perfect the phone but never anything particularly groundbreaking.
As part of the cycle is the yearly chipset refresh, much like Android. Apple keeps the naming conventions simple, so we have shifted from the A14 to A15 Bionic.
Unlike Qualcomm or MediaTek, Apple is quite coy about the overall specification of their chipset, and with it being an in house chip, there is not much you can compare against when looking at the spec.
However, some benchmarks have started to come out which gives us an idea of how the new chipset performs.
I have also compared the chipset to the Qualcomm Snapdragon 888 flagship chipset used on many Android phones, including the US version of the Samsung Galaxy S21 Ultra and the OnePlus 9 Pro. It is a bit of a pointless comparison as most people either use Apple or they use Android. I believe both platforms have their pros and cons, and the differences have become too complex to objectively state one is better than the other. However, I am still comparing it, just because.
Apple A15 vs A14 Bionic vs SD888 Specification Compared
The limited information we know is:
A15 Bionic
A14 Bionic
SD888
CPU
2x 3.22 GHz
4x X.X GHz
2x3.1 GHz Firestorm
4x1.8 GHz Icestorm
1x2.84 GHz Kryo 680 (Coretex X1)
3x2.42 GHz Kryo 680 (Coretex A78)
4x1.80 GHz Kryo 680 (Coretex A55)
GPU
Apple GPU (5-core graphics)
Apple GPU (4-core graphics)
Adreno 660
Fabrication Process
5nm
5nm
5nm
Benchmarks
So far, we have two sets of benchmarks revealed. It is also worth remembering that a benchmark is not a particularly good indicator of real-world performance or user experience.
Antutu Benchmarks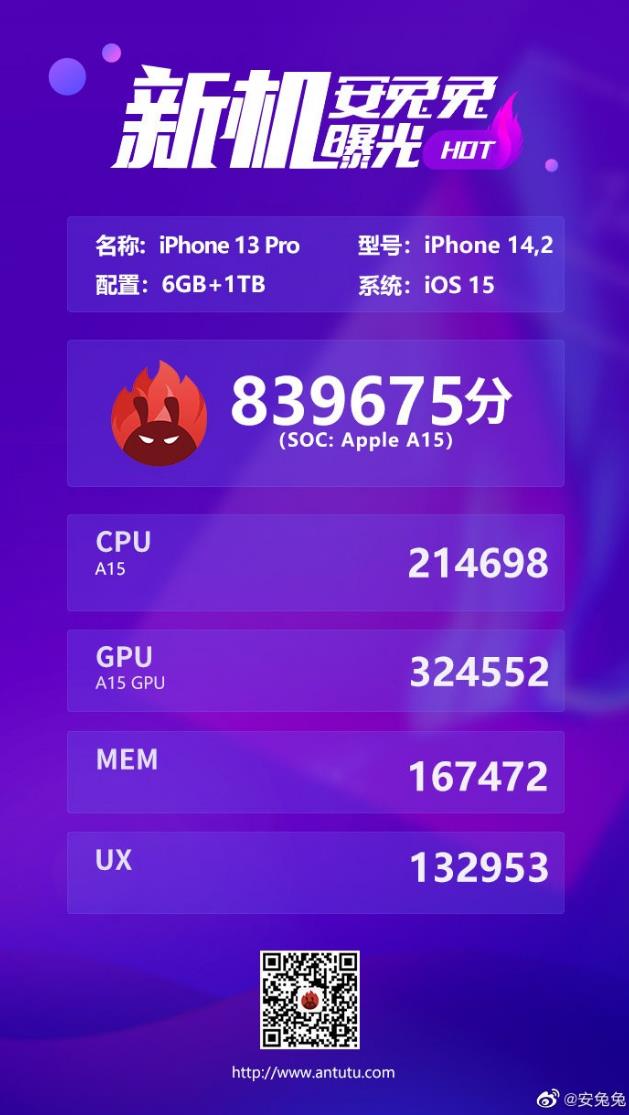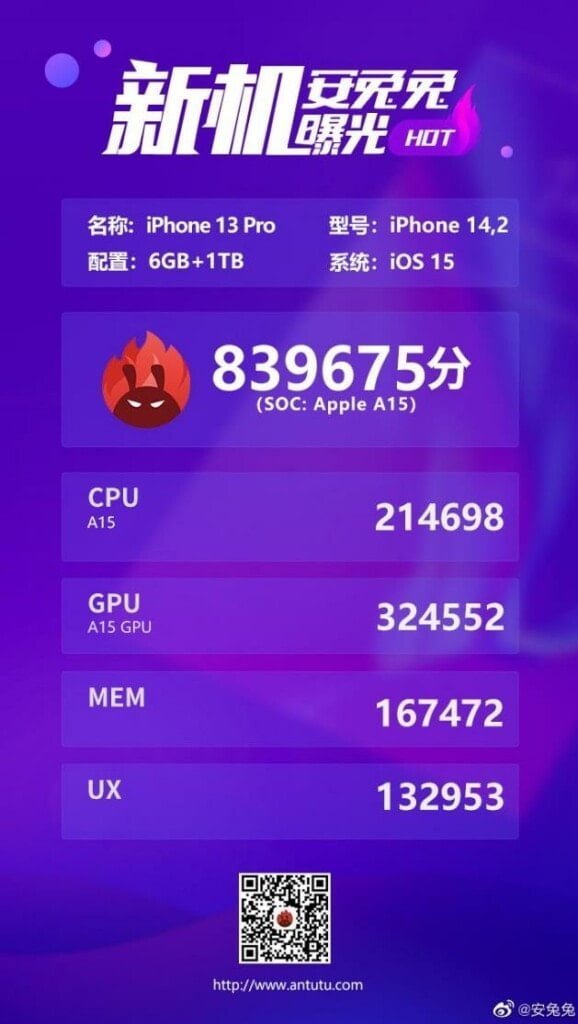 | Antutu | iPhone 13 Pro | iPhone 12 Pro | OnePlus 9 Pro |
| --- | --- | --- | --- |
| CPU | 214698 | 183625 | 199541 |
| GPU | 324552 | 273139 | 310633 |
| Memory | 167472 | 115985 | 134107 |
| UX | 132953 | 131419 | 152542 |
| Total | 839675 | 705725 | 796823 |
AnTuTu discovered an early test run of an iPhone 14.2, which is likely the 13 Pro, a unit with 6GB of RAM and 1TB storage.
This phone achieved an overall score of 839675.
For the Android phone, I chose the OnePlus 9 Pro, it doesn't sit at the top of the Antutu charts but it probably represents mainstream phones better than the phones sitting above it. The Nubia Red Magic 6 Pro sits at the top with 837506, but it is a gaming phone with a built-in fan. Its successor, the Redmagic 6S Pro with the new Qualcomm Snapdragon 888+ achieves 870879,
The iPhone 14 Pro offers a 19% improvement from the previous generation. The CPU has a 17% uplift in scores while the GPU has 18%.
The memory result is interesting, with a 44% difference in scores.
Compared to the OnePlus 9 Pro, the iPhone 13 Pro is 5% ahead of it, with a 7% difference on the CPU and 4.5% difference for the GPU.
Geekbench Benchmarks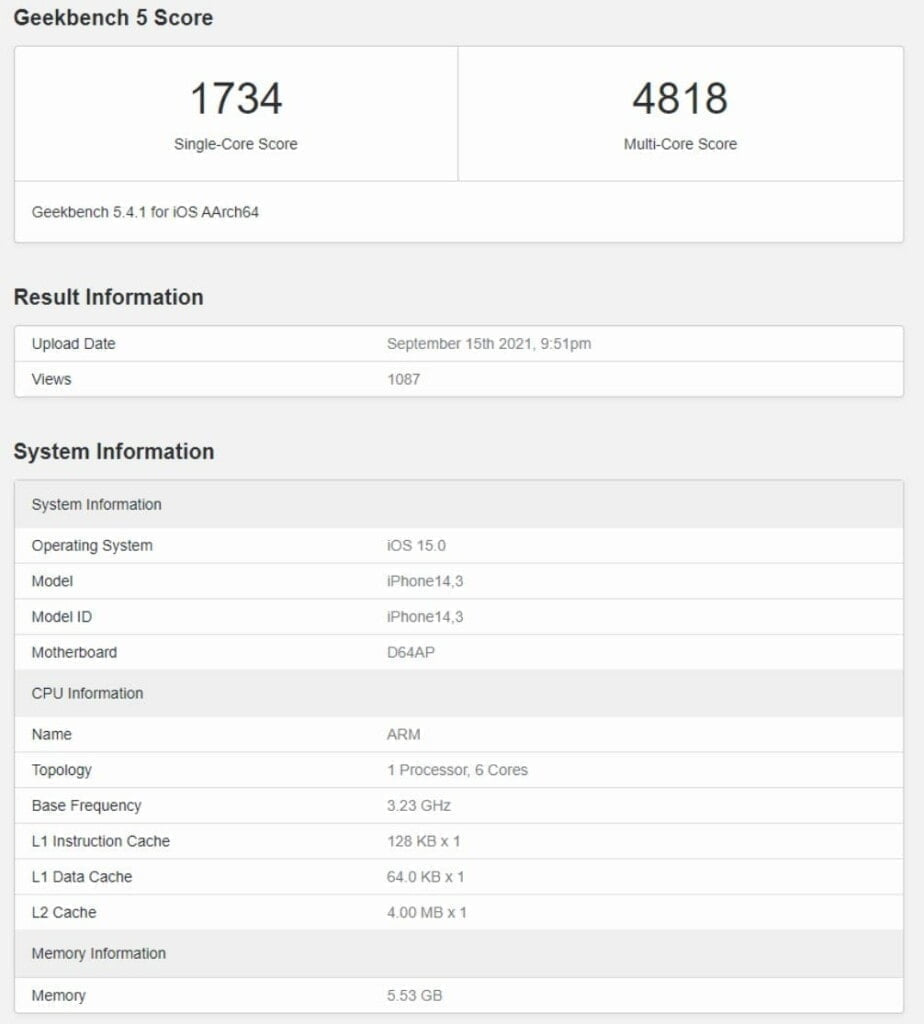 | Geekbench | iPhone 13 Pro | iPhone 12 Pro | OnePlus 9 Pro |
| --- | --- | --- | --- |
| Single Core | 1734 | 1575 | 1109 |
| Multi Core | 4818 | 3858 | 3487 |
| Metal Score | 14216 | 9123 | |
For Geekbench, Apple has a Metal score while Android has OpenCL and Vulkan, so I can't compare the GPU scores.
Apple has always dominated Geekbench with their well-optimised chipsets, and this year is no different.
You are looking at an improvement of 10% and 25% for the single-core and multi-core results, respectively. Compared to the OnePlus 9 Pro, the iPhone leads by 56% and 38%! Which is a little embarrassing for us Android users.
Apple has also promised significant GPU improvements between generations, and this is represented with a 55% improved Geekbench Metal score. Impressive stuff.
Overall
Apple has had a strong chipset for years now, likely benefiting from it being custom-designed for their restrictive (vs Android) platform.
It is quite common for generational upgrades to offer 10-20% in benchmark scores, but the 44% difference in the Antutu memory result and 55% difference in Geekbench Metal scores is particularly impressive.
The Qualcomm Snapdragon 888 does lag behind in performance, and Qualcomm probably should pull their finger out, but I imagine developing a chipset that is used on dozens of phones is a little more complex than the Apple system.