Standing desks have seen a huge growth in popularity over the past 5 years or so as people are becoming more health conscious and realising how bad sitting down for long periods of time is for us.
I have personally been very interested in standing desks since getting fit myself. The problem with them is that they can be very expensive and replacing entire desks is not ideal, especially so in an office environment. Varidesk alleviates some of these issues by producing a sort of adapter that sits on the top of your desk and can be raised or lowered depending if you want to sit or stand.
There is a wide range of products, starting with the Pro line which starts with a 30"/ 76cm wide model for £295.
The Pro Plus range is shaped slightly differently adding a lower keyboard and mouse deck the pricing is the same at £295 for the 76cm model.
Then there is a cubicle range and a full standing desk which is 1.4m wide and retails for £545.
All the Pro and Pro Plus ranges can handle 15.8KG of weight, which should be more than enough for most users. One concern for users should be if the table can handle all the weight, Varidesk doesn't give a weight, but it is quite heavy, and if you maxed out the monitor weight, that could easily cause issues with a cheap desk.
The model I was sent to review is the Pro Plus 36 which retails for £335.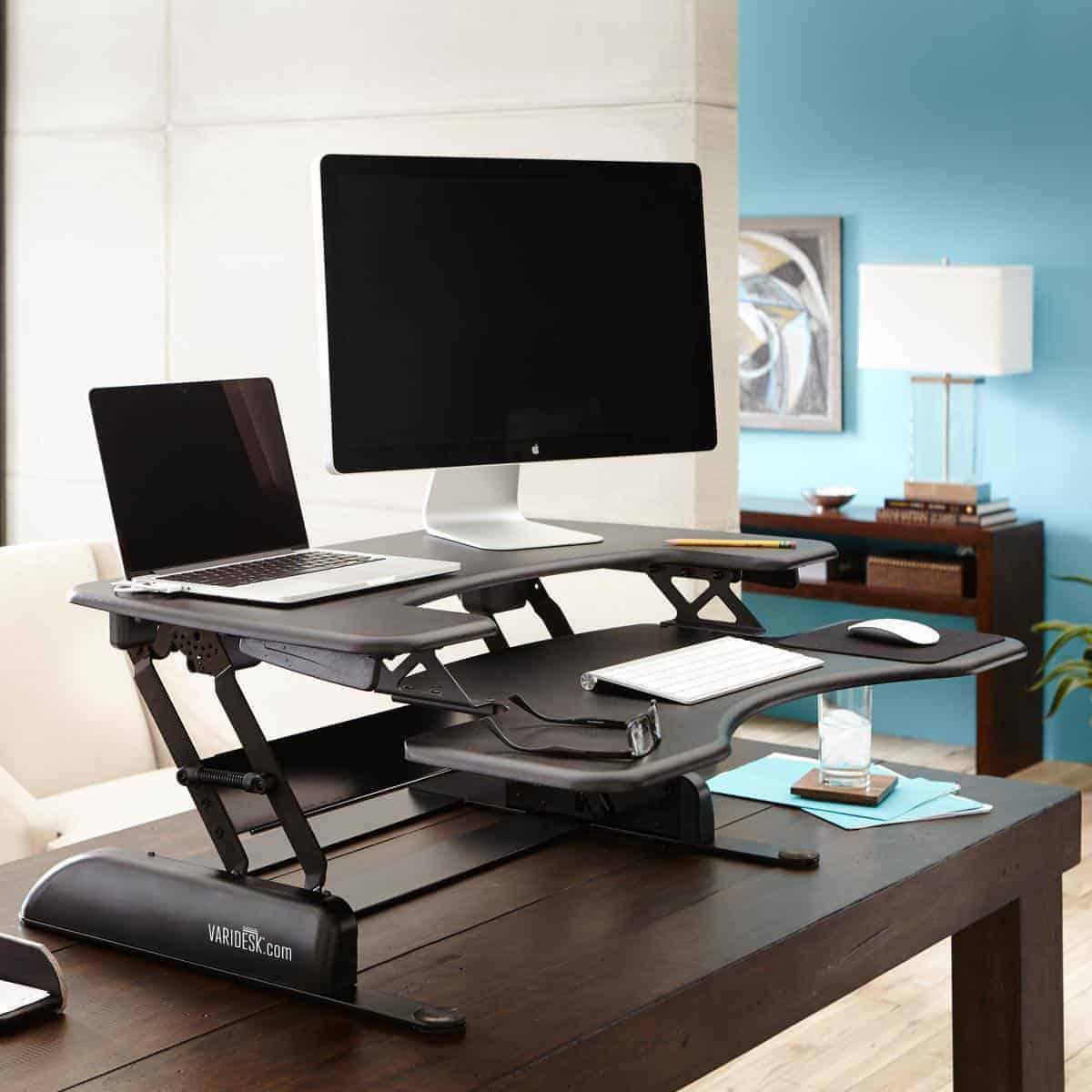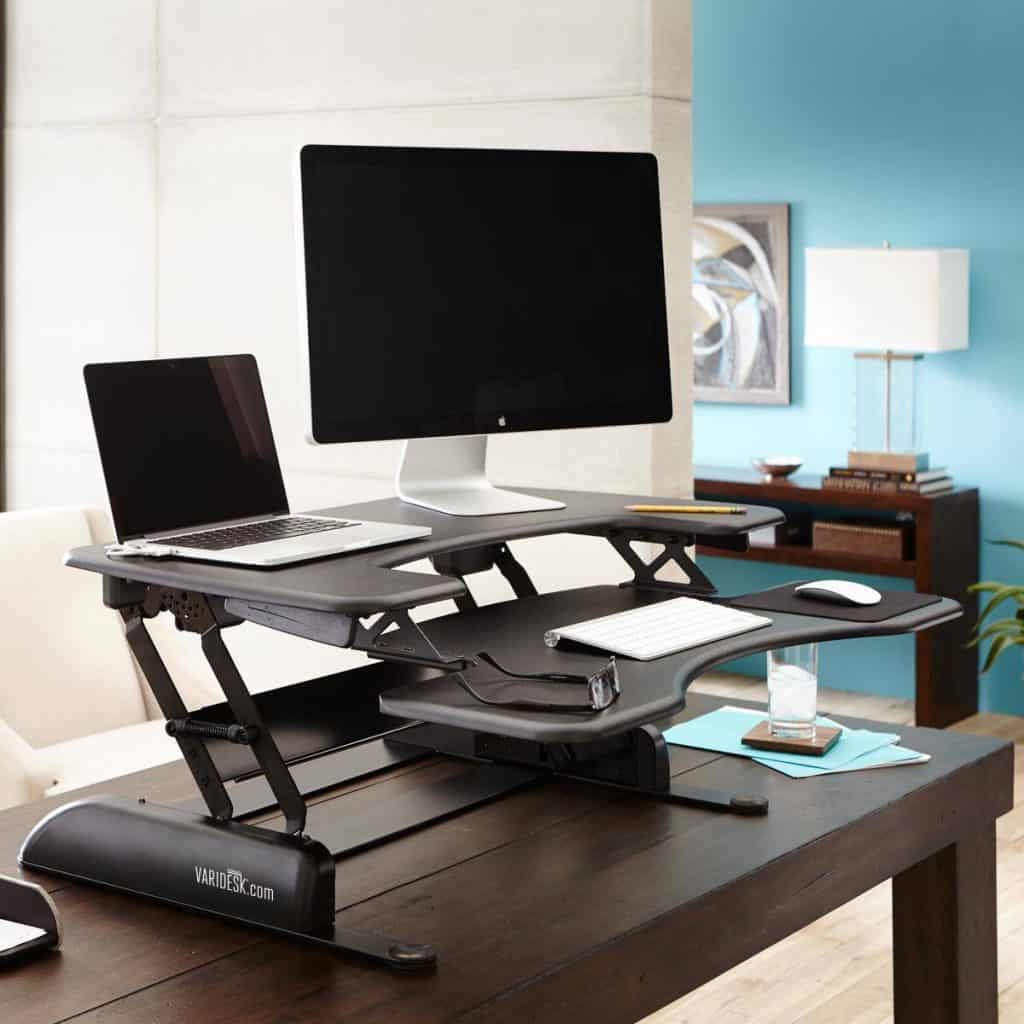 Some more specific details from the Varidesk website:
"The Pro Plus 36 features our patented, spring-assisted lift mechanism that allows you to raise and lower it almost effortlessly in just seconds, making it a true sit stand desk. It can hold up to 15.8kg (35 lbs.) with ease and stays sturdy and stable even at its fully extended height."
The spring assisted lift mechanism uses two handles on the side that allows you to vary the height of the desk as much or as little as you want.
The Varidesk is a solidly built product, with a hefty weight to it. Thankfully it requires no assembly out of the box. The combination of these two factors gives it a very premium feel, which is just as well if it is going to support hundreds of pounds' worth of monitors.
The Varidesk isn't the prettiest of things, it would be hard for it to be anything other. It does come in 2 colours, black and white, so at least you have some chance of it fitting in with your office colour scheme.
The Pro Plus 36 I was sent comfortably fitted both my 24" monitors, and other reviewers have claimed it can easily accommodate two 27" monitors. If you have the budget Varidesk also sells single and dual monitor arms designed just for these desks. The dual monitor arm sells for £185 and can handle 9kg per arm, though I am not sure how that would work exactly when the support weight of the desk is 15kg.  It would buy you quite a bit more space on the desk so I would say it is a worthwhile investment.
In the standing position with 2 monitors, my keyboard and mouse on the lower deck, the whole unit felt nice and secure with no obvious wobble. You do get a decent amount of space but if you are like me and have a lot of mess on your desk then you may want to consider a more minimalist working environment. Ideally, you would use a wireless mouse and keyboard, but it worked fine with my wired options. Many monitors include USB hubs now so this could be a good way to keep things neat too.
In a sitting position the desk provides and nice monitor lift and you can choose to use the keyboard section or just move everything back to your desk if you want.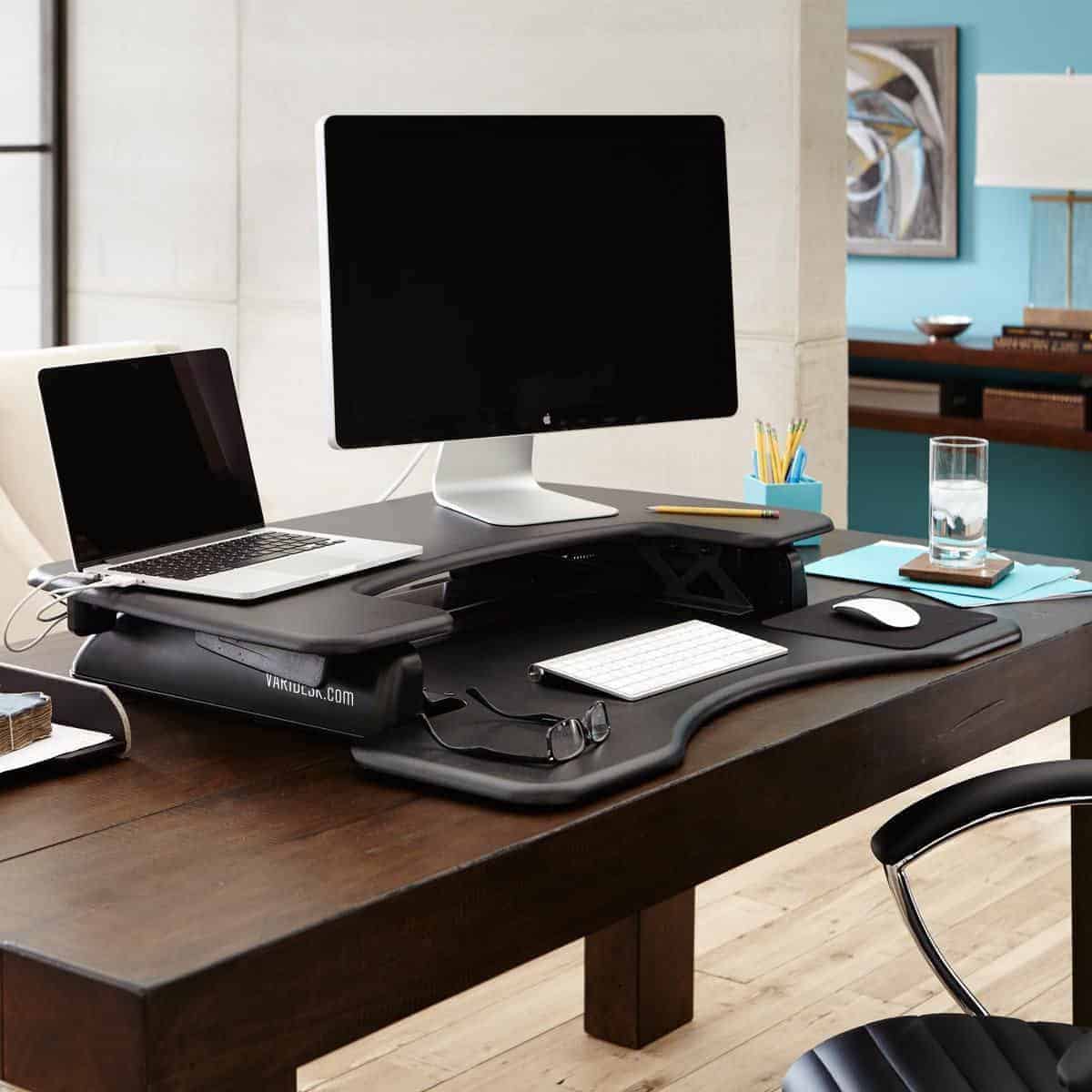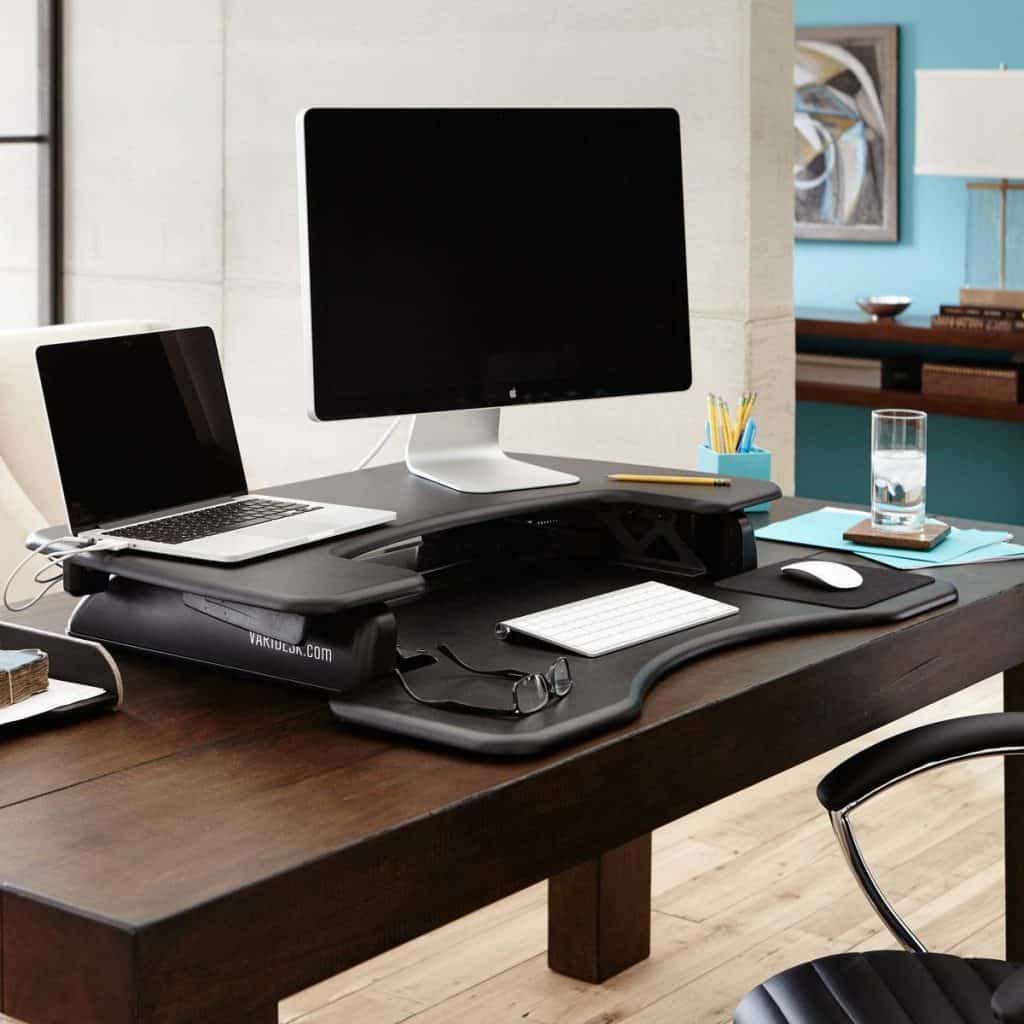 Overall, this is a great standing desk adapter, it is perfect in an office environment where you can just add it to existing furniture. £350 is also not a huge amount of money for a company expense, especially once you reclaim the VAT
For home users it might not be quite as good, £350 is a lot fo money and it isn't the prettiest of devices. In this case, I would be more tempted with the Pro Desk 54 which offers you a complete solution for an extra £200 and isn't quite as ugly, it appears more user-friendly with 137cm of width and 22.6KG of support.