Realme 8i Review Rating
Summary
The Realme 8i is an excellent budget phone offering plenty of performance, allowing it to work flawlessly for all day to day tasks. The camera is decent considering its budget nature, and as usual for this range of phones, the battery is exceptional.
Pros
Good overall performance for most users
Large screen could work well for older users wanting a cheap phone
Exceptional battery
Cons
No ultrawide
Some bloatware on my review sample (hopefully none on UK retail versions)
Confusing 8-series product line up
Today Realme announced the global launch of one of their most affordable phones of the year, the Realme 8i.
After switching to the Qualcomm Snapdragon 662 for the 7i last year, Realme have move backed to Mediatek with the Helio G96 as well as upgrading the resolution of the display and improving its refresh rate.
This could make the Realme 8i an excellent choice for a low-cost gaming phone, it is also a good phone all around for anyone that just wants a cheap phone that runs well without all the frills.
Specification
Display: 6.6 inches, 2412*1080, IPS, 120Hz
Chipset: MediaTek Helio G96
RAM: 4GB /6GB LPDDR4x
Storage: 64GB/128GB
Rear Camera:
Front Camera: 16MP
Battery: 5000mAh, 18W Fast Charge USB-C
Size & Weight: 164.1mm*75.5mm*8.5mm, 194g
3.5mm headphone jack: Yes
microSD slot: Yes
NFC: Yes
Realme 8i vs 7i vs 6i
The Realme 8i has some important changes from the previous two generations. The chipset has seen the yearly upgrade and the Helio G96 is quite good.
However, the camera arrangement has changed significantly, dropping the ultrawide. The main camera has a higher resolution but a much smaller sensor size.
The display has also been upgraded to a much higher resolution 120Hz panel.
Realme 8i
Realme 7i
Realme 6i
Display
6.6 inches
1080 x 2412 pixels, 20:9 ratio (~400 ppi density)
6.5 inches
720 x 1600 pixels, 20:9 ratio (~270 ppi density)
6.5 inches
720 x 1600 pixels, 20:9 ratio (~269 ppi density)
Chipset
Mediatek Helio G96
Qualcomm Snapdragon 662
Mediatek Helio G80
RAM
4GB/6GB
4GB/6GB
3GB/4GB
Storage
64GB/128GB
UFS 2.1
MicroSD slot
64GB/128GB
UFS 2.1
MicroSD slot
64GB/128GB
UFS 2.1
MicroSD slot
Rear Camera
50 MP Samsung 50MP ISOCELL JN1
f/1.8, 26mm (wide), 1/2.76", 0.64µm, PDAF
2 MP, f/2.4, (macro)
2 MP, f/2.4, (depth)
64 MP, f/1.8, 26mm (wide), 1/1.73", 0.8µm, PDAF
8 MP, f/2.3, 119˚, 16mm (ultrawide), 1/4.0", 1.12µm
2 MP, f/2.4, (macro)
2 MP, f/2.4, (depth)
48 MP, f/1.8, 26mm (wide), 1/2.0", 0.8µm, PDAF
8 MP, f/2.3, 119˚ (ultrawide), 1/4.0", 1.12µm
2 MP, f/2.4, (macro)
2 MP B/W, f/2.4
Front Camera
16 MP, f/2.1, (wide), 1/3.0", 1.0µm
16 MP, f/2.1, 26mm (wide), 1/3", 1.0µm
16 MP, f/2.0, 26mm (wide), 1/3.06", 1.0µm
Battery
5000 mAh
18W fast charge
5000 mAh
18W fast charge
5000 mAh
18W fast charge
Display & Build Quality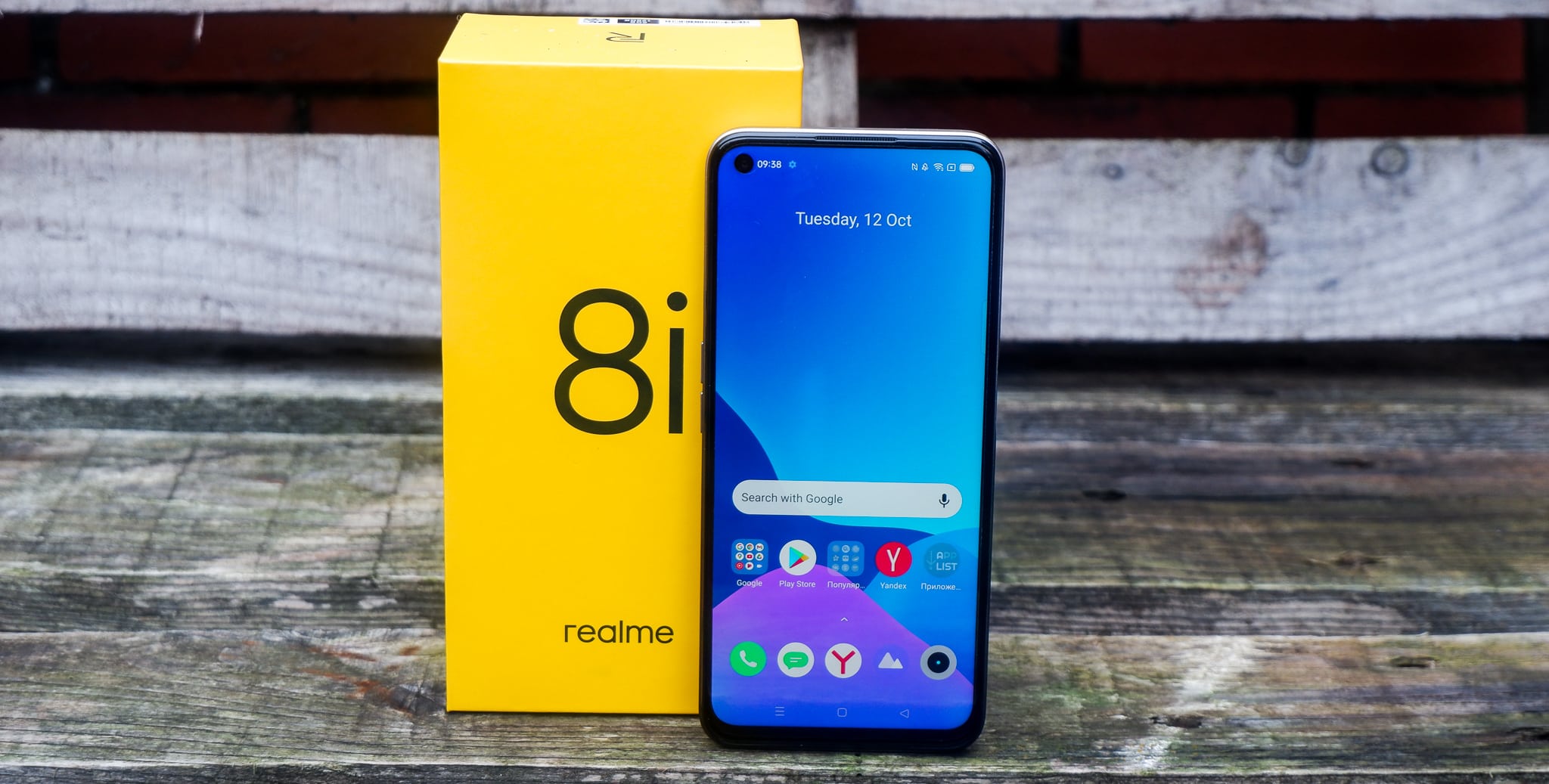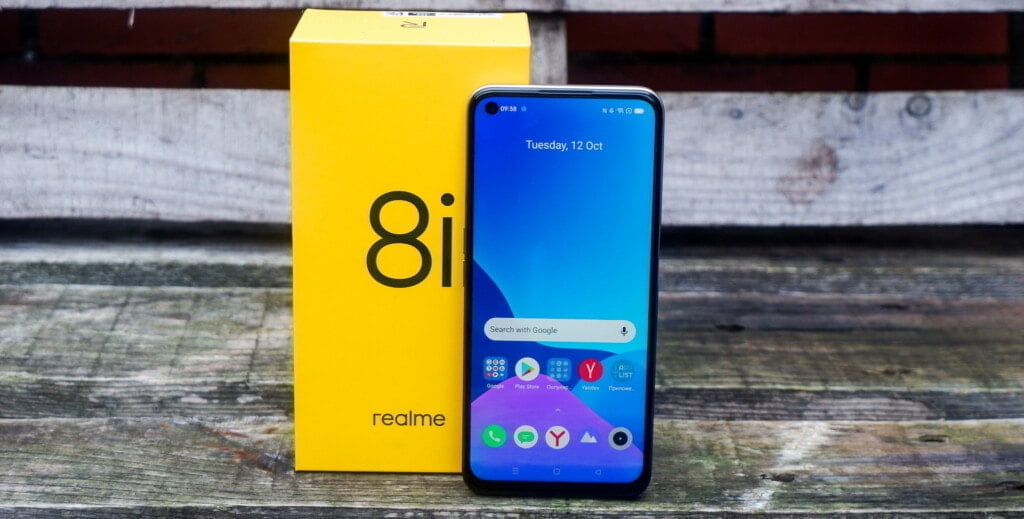 This is a physically large phone with its 6.6-inch IPS display, making it around 7mm taller than my OnePlus Nord 2.
As you'd expect from a budget phone, it is quite plasticy, but the overall build quality feels good, and it looks quite nice too, less garish than some of the recent Realme phones.
Like other budget Realme phones, this has both a 3.5mm headphone jack and microSD, so you can use cheap wired earphones and easily upgrade your storage.
This phone moves the fingerprint scanner from the back to the side button. I have no strong feelings about this, it does look more aesthetic, and if you are right-handed, your thumb does naturally fit in the spot when holding the phone.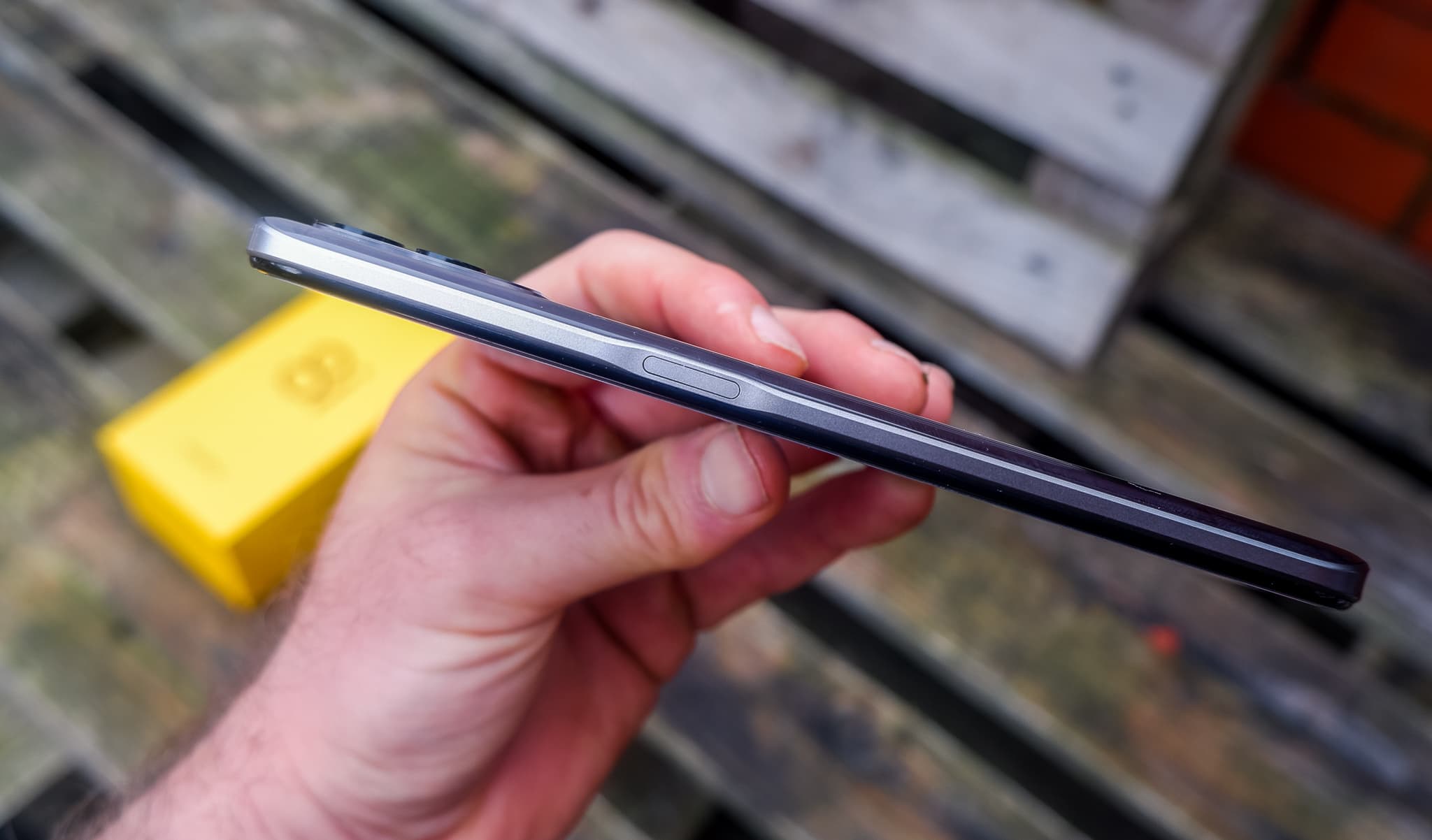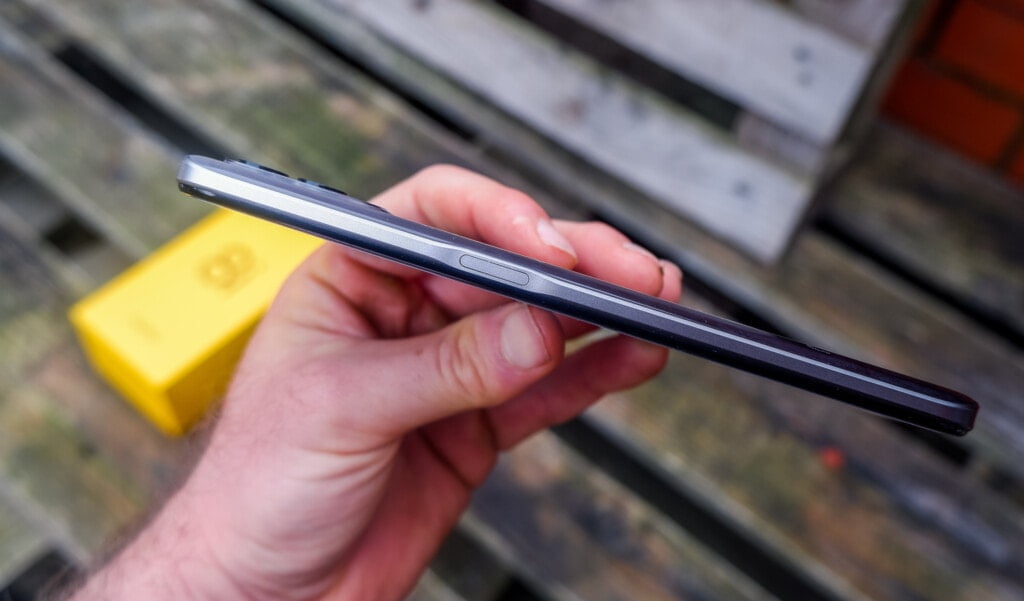 On the rear of the phone, the camera arrangement looks like you have 4-cameras, but the fourth circle is for the flash/LED.
It is worth noting this has USB-C, the Realme 6i had microUSB, and my reviewers guide for this phone stated microUSB.
Camera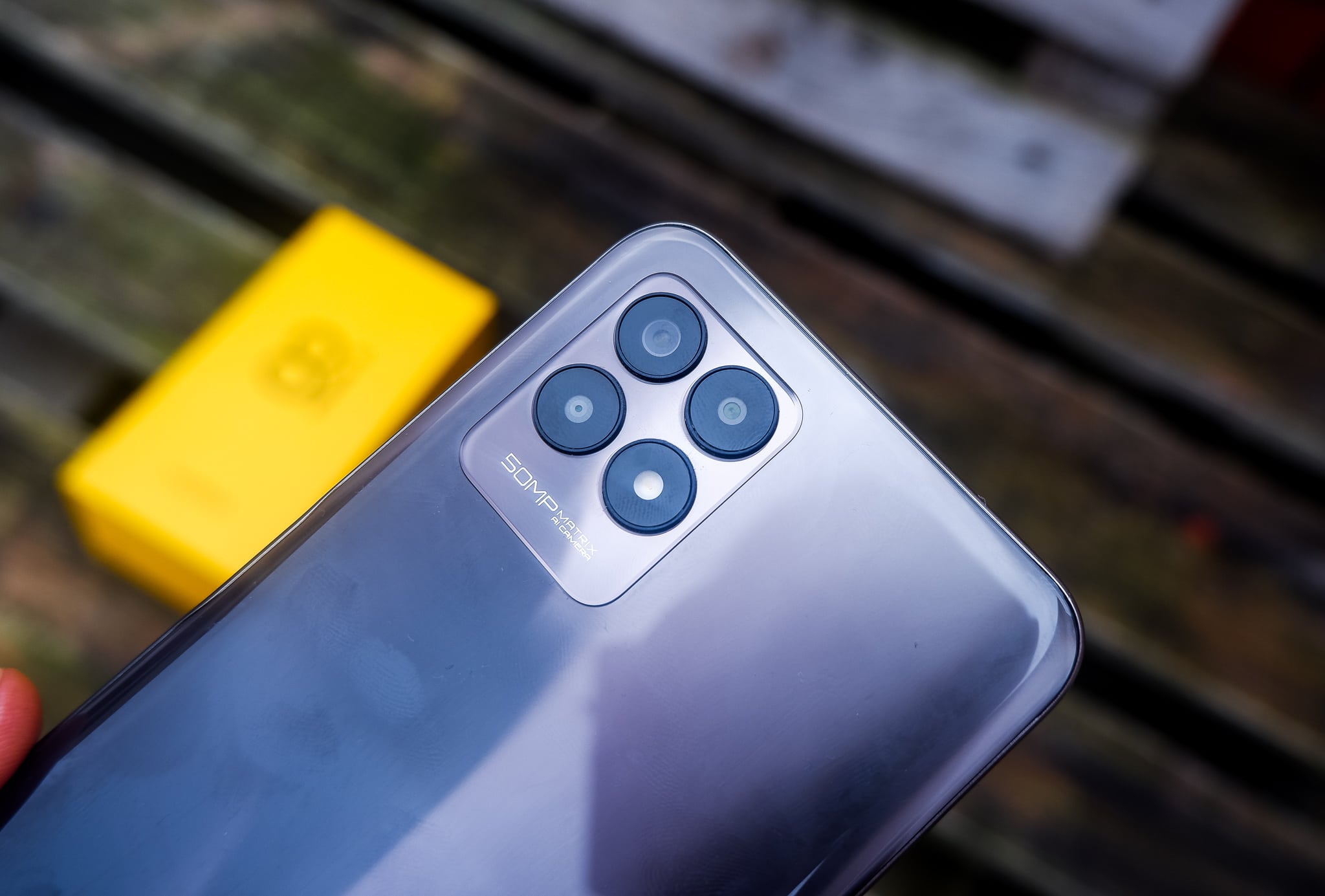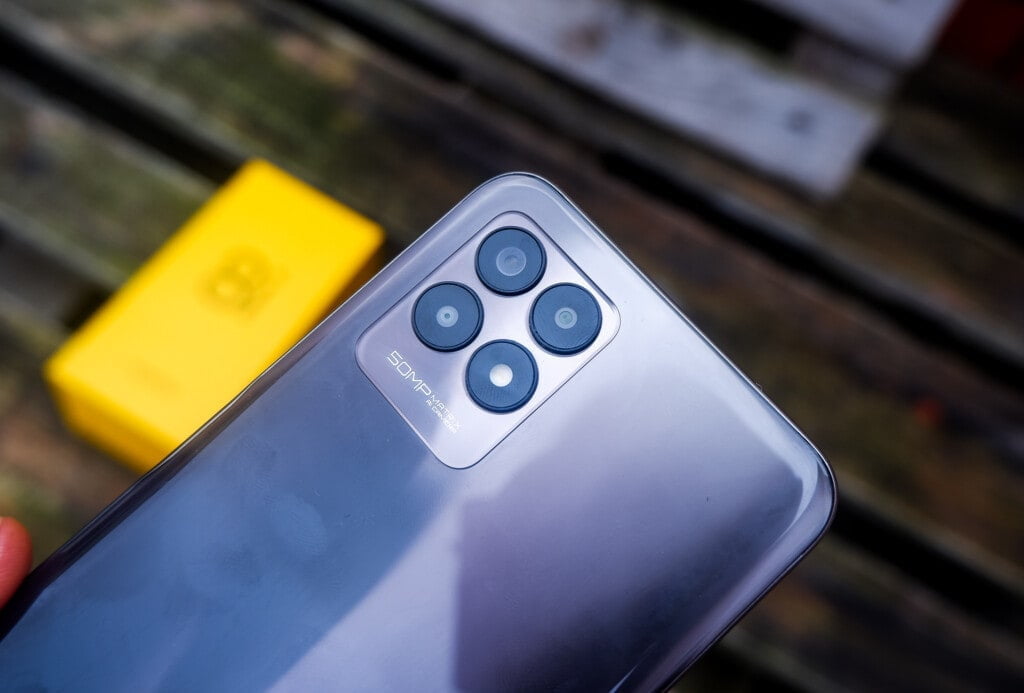 On paper, it looks like Realme has made the odd decision of downgrading the camera from a 64MP 1/1.73″ sensor on the Realme 7i to a 50 MP 1/2.76″ sensor.
My best guess is that is the new Samsung 50MP ISOCELL JN1 sensor that was launched earlier this year which is also used on the Xiaomi Redmi 10.
You then get a macro and depth camera which are largely useless.
The overall camera performance is decent, considering the budget nature of this phone. Daytime photos look decent with plenty of detail. Similar to most other Realme phones, the colours are vibrant. They are probably a bit overexaggerated for photography purists, but it provides an impressive look that will appeal to casual users.
Low light photos are good enough this is always the downfall of cheaper phones.
Overall, I am always quite impressed with how good the cameras are on budget phones nowadays. Just a few years ago, the camera performance on these phones would have been quite poor.
Performance
The MediaTek Helio G96 chipset is getting a little long in the tooth being very similar to the Helio G90T that was launched almost three years ago. However, the new chipset has switched the GPU to a newer Mali G57 MC2. It then offers plenty of performance for this phone to run smoothly for day to day tasks. The fast display and Realme UI 2.0 work well together to provide a smooth, fast user experience.
As far as benchmarks go, the phone does well, the Helio G96 scores significantly higher across the board than the Helio G85, which I tested on the Infinix Hot 10S.
3DMark Wildlife Results put it ahead of the Snapdragon 732G found on the Poco X3 and about 20% behind the Dimensity 800U I tested on the Realme 7 5G.
Overall, there is more than enough performance from this phone for anyone on a limited budget. It can even handle most games perfectly well.
Battery
The 5000mAh battery and reasonably low powered chipset mean this phone will easily last a day of heavy usage, and many people will get through two days comfortably.
Charging is done at 18W, which is painfully slow compared to the 65W charge used on a lot of the high specced Realme phones now, but it is worth remembering that phones like the Samsung Galaxy S21 Ultra only charge at 25W.
Software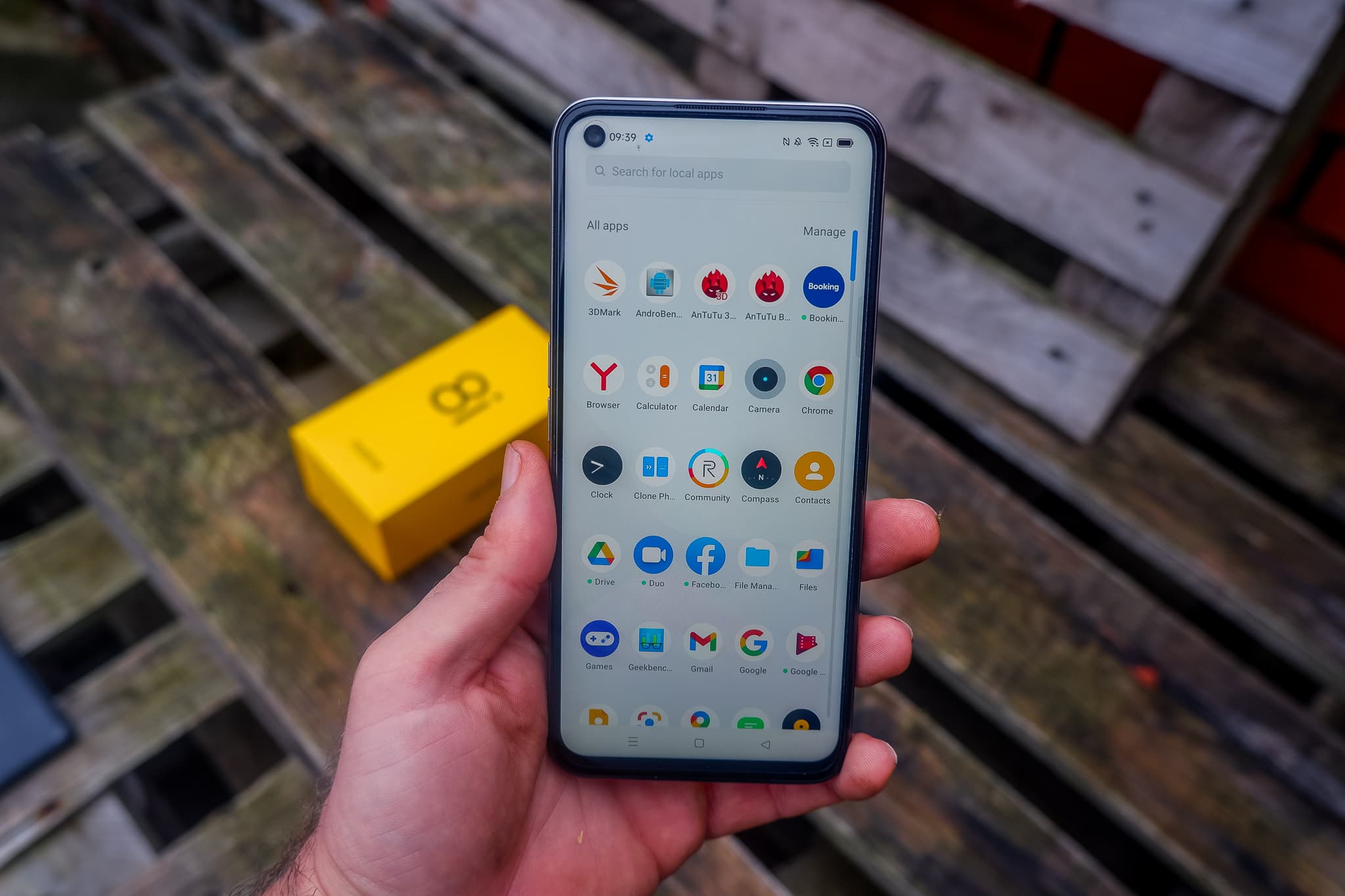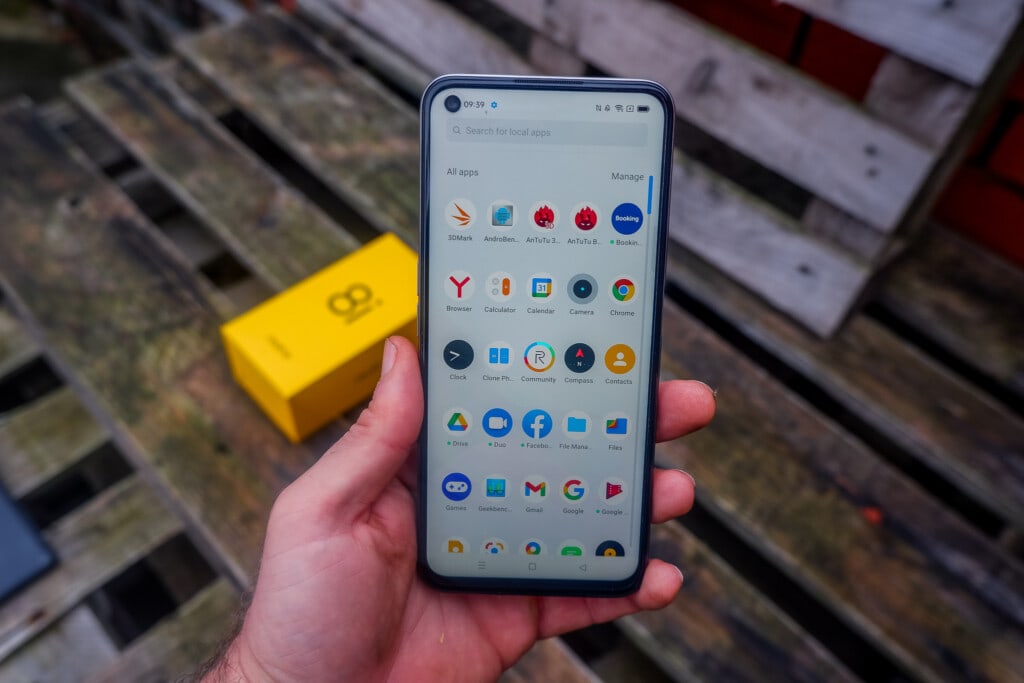 My review sample is running software designed for the Russian market. It has more bloatware than I normally see from the UK orientated Realme phones.
This includes preinstalled: Yandex, Yandex Browser, WhatsApp, TikTok, SoLoop, PubG and Booking.com
It also had links on the homepage to download various Russian apps, most of which were in Russian/ Cyrillic but included things like Mail.Ru and ICQ New (which I thought was long dead).
Realme apps include Community, Videos, Realme Link.
I assume the UK model will have less software installed.
Beyond that, this runs Realme UI 2.0, which is a fork of ColorOS from OPPO and also very similar to OxygenOS that you will find on the latest OnePlus Nord 2.
In the short time, I have had this phone it has had two software updates, which is always a promising sign.
Price and Alternative Options – Realme 8i vs 8 5G vs 8?
The Realme 8i is launching for €199 and will be available immediately after the official launch on 14th October and will be available on all channels.
Search for the Realme 8i on Amazon
I haven't been informed of the UK pricing or availability, but that works out at £169.
It is a safe bet to assume that Realme will launch this phone with an early bird offer, and this will definitely make the phone a lot more appealing.
This leaves you with a bit of a confusing product lineup of the Realme 8, 8 5G and the Realme 8i.
The Realme 8 5G can be bought for £169.99, so the same price as the 8i. There is not much difference between them at all. It has a more powerful chipset, but the display is 90hz, not 120Hz, and the primary camera is 48MP vs 50MP.
The Realme 8 then has an RRP of £199, and you can buy it from Amazon EU for £174.40. This has a slower Mediatek Helio G95 chipset, but it has a 60Hz AMOLED display, 64MP primary camera, 8MP ultra wide and also has 30W charging.
I can't say which phone I'd choose out of those, they are all well specced for the price, and each one has its pros and cons vs the other. They are just too close in price, and spec provide a recommendation.
You then have:
Xiaomi POCO M3 for £170
Xiaomi Redmi Note 10S is £195
Xiaomi Mi 10T Lite 5G is £209
Poco X3 is frequently available for under £200
Redmi 10 is £199
The Realme 8i, therefore, looks quite appealing compared to its main rival Xiaomi. The Xiaomi Mi 10T Lite 5G is perhaps the stand out choice of those. However, £40 may not seem like a lot of money but it's actually a 23.5% price difference in this case.
Overall
The Realme 7i and 6i felt very much like they were not designed for the western market. The low-resolution display, 4G chipset and massive battery work well for more developing markets with a high demand for affordable phones.
The Realme 8i massively improves the display but at the cost of lowering the camera specification. This hopefully should keep the pricing low. It is a shame the camera spec has been lowered, but the 50MP camera is adequate for a budget phone.
The phone is launching for €199/£169, which I think makes it an excellent choice for a budget phone, especially compared to competing brands.
However, I can't help but think Realme cannibalise their own sales. They have so many phones on the market, all with minor differences between price and spec. It is just a bit confusing.
Realme are guaranteed to launch this with an early bird offer, so if this phone does appeal to you then it is well worth picking it up during this sale period. I will update the post when I know the early bird pricing myself.
Last update on 2022-05-25 / Affiliate links / Images from Amazon Product Advertising API