Mcgill Microwave Systems Full Helium Installation Kit EU868 6dBi Review Rating
Summary
The Mcgill Microwave Systems Full Helium Installation Kit has everything you need to set up an external Helium Hotspot antenna. The ultra-thick and ultra-low loss LMR 600 cable minimise signal loss ensuring the best possible mining performance. It is not cheap but it is more convenient than sourcing the individual components yourself and it is extremely likely you will get a positive return on investment from it.
Pros
Best possible performance from your Helium Hotspot and it will almost certainly provide a positive return on investment
The full kit has everything you need so it should be easy enough for the antenna installer to fit it
Cons
Expensive
Thick cable is difficult ot work with & you will need a decent-sized hole drilling for the LMR 400 cable into your house
Supplied cable lengths may not fit your house perfectly
For whatever reason, it didn't occur to me to review the Mcgill Microwave Systems Full Helium Installation Kit when I first bought it. So, I didn't document or take many photos, so it is a bit of a limited review, but I think it is worth writing about regardless.
My Helium hotspot has done OK for me in the past, but not as good as others. In hindsight, I should have paid for a decent quality kit and a professional install to start off with.
The Mcgill Microwave Systems Full Helium Installation Kit is designed to offer everything you need for a roof-mounted antenna. This includes:
Optimised EU868 6dBi antenna
Zinc Plated heavy duty antenna wall bracket
Ultra Low Loss LMR-600 Cable Assembly (10 metres long, fitted with N Female and N Male Connectors) – From Antenna to LP Device
Ultra Low Loss LMR-400 Cable Assembly (3 metres long, fitted with N Female and RP SMA Male Connectors) – From LP Device to Helium Device
LP-GTV-NFM Times Protect Lightning Protection Device.
20 Metres of Earth Cable
GK-S600TT Ground Kit
Antenna mounting brackets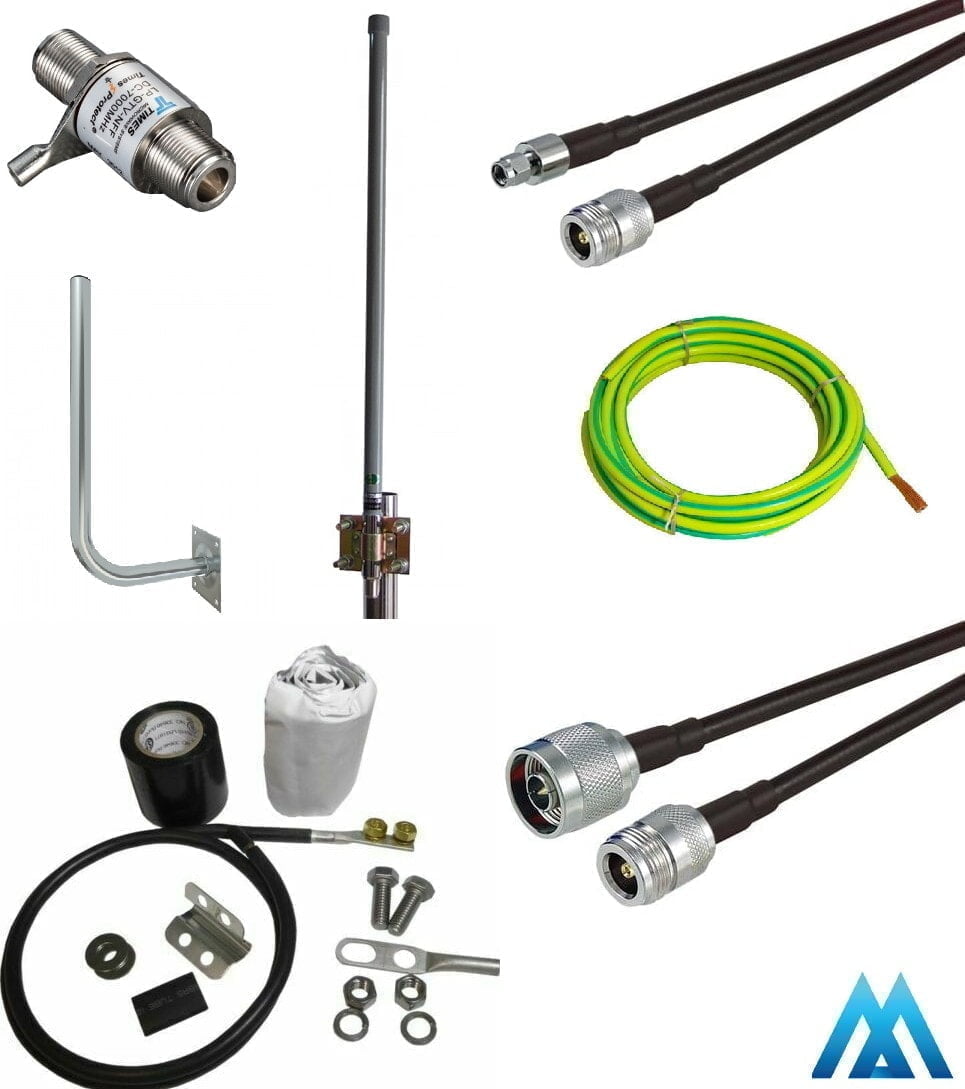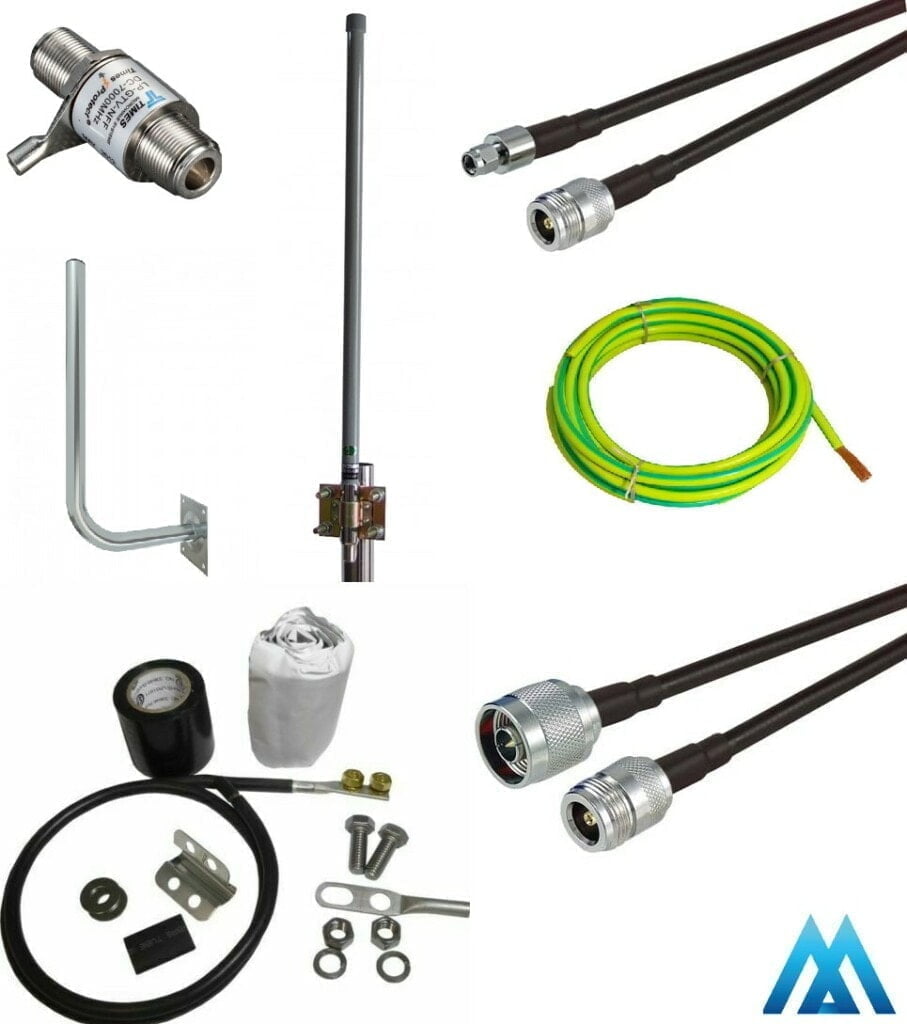 LMR-600 Ultra Low Loss Cable
It is perhaps the LMR-600 Ultra Low Loss cable that is the most interesting part of this review. This LMR-600 is exceptionally thick, far larger than any other cable you will likely see in a consumer installation. The outside diameter is 15mm whereas the LMR-400 cable is 10.3mm, the generic cable you buy from Amazon is even thinner.
The LMR-600 offers a massive reduction in signal loss compared to other cables:
RG-58 cable RF Signal Insertion Loss over 10 Metres at EU 868 MHz Frequency is nominally 5.2 dB (that's only 56.4% efficiency)
LMR-600 Loss over 10 Metres at EU 868 MHz Frequency: 0.9dB (Much higher coverage, 83.1% efficiency!)
One thing you should be careful with is the length of this cable. 10M is fine for most homes, but when it came to installation, the off shape of my roof meant I didn't have enough length to reach my 1st floor room from the chimney, so I had to mount it and the high spot of the roof on the fascia board.
Also, just to highlight be as clear as possible, this cable is VERY thick, you will need cable clips that can fit it. If you have a TV antenna installer come and fit this, they almost certainly won't have clips big enough.
LMR-400 Cable
This cable is included as it is much thinner, making it more feasible to route into your home. I wouldn't really want a 15mm+ cable drilling into my house for the LMR-600.
Optimised EU868 6dBi antenna
This is a surprisingly small antenna for 6dBi, I had planned to use the Paradar 8dBi antenna but realised this has an N Male connector rather than N Female of the Paradar. Again, if you plan to use something different than the supplied antenna, you are best speaking with Mcgill Microwave.
Lightning Protection Device
Most UK TV antennas don't use lightning protection devices, so my antenna guy was a little stumped as to where to install this. Considering you have likely waited months for your Helium Hotspot, it is worth installing just to be safe.
Performance
I was previously using the Paradar 8.5dBi antenna using LMR-400 cable but a bit lower down at gutter level. I had planned to carry on using it but realised the connections were different so I went with the Mcgill antenna.
In the new slightly higher and more exposed position, the number number of witnesses I had increased over the week and currently sits at 53, which is more than double what I had previously.
From the start of September through to late September, my daily earnings had decreased to 0.2 and 0.4HNT per day. Since installing this antenna, this has increased to between 0.4 and 9.9HNT per day—more than double the performance.
Previously, I'd get the occasional witness that is miles away. This would sometimes be one based in Barrow In Furness, so the signal crossed 33km over the sea to Blackpool.
However, now I had a much higher density of local hotspots plus three going out as far as Blackburn which is measuring at 36km. I then have another 5 that sits around 10km away from me.
Overall, I am very happy with the kit. It is not cheap at all, and I was worried it wouldn't offer that much benefit and the ROI would be minimal, but it looks like it will pay itself off in a couple of months. I just wish I had forked out the money to do things properly a year ago!