fenvi PCIe WiFi 6 Card Review Rating
Summary
An easy and affordable way to add Wi-Fi 6 to your desktop.
With more routers, mesh systems and access points launching with Wi-Fi 6 it finally looks like the new super-fast Wi-Fi standard will go mainstream in 2020.
The Intel Wi-Fi 6 AX200 was announced back in April last year, and I reviewed that back in June, as well as the Killer Wi-Fi 6 AX1650 based on the same chip.
Since then many motherboards and PCIe adaptors have launched with Wi-Fi 6, and all of these solutions will be based on the Intel AX200.
The Fenvi Wi-Fi 6 PCIe Card is one such option, and it is one of the cheapest available at just £34.99 with the opportunity to get a further 8% off via voucher on the Amazon page.
This is a PCIe card with the Wi-Fi 6 AX200 contained under a large heatsink and then a sizeable wired antenna allowing you to get the best placement possible.
There are various products on Amazon offering similar with random brands names such as Ziyituod and MQUPIN, but the Fenvi appears to have the best aerial design.
You could go for a branded solution, there is the ASUS PCE-AC58BT for £55, the ASUS PCE-AX58BT for £85.99 and the TP-LINK Archer TX3000E for £59.99, They may have marginally better aerials, but I doubt they will offer a performance gain to justify the price difference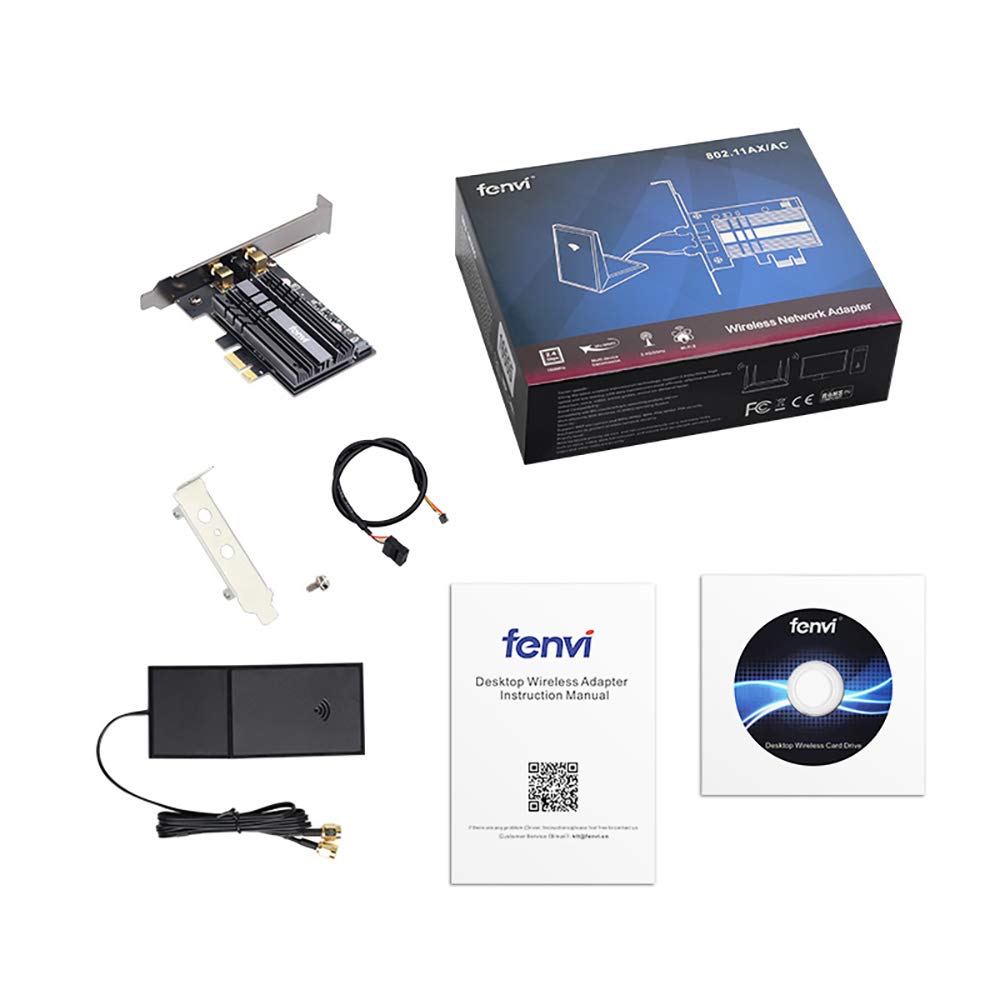 Specification
The fenvi Wi-Fi 6 AX200 internal desktop computers adapter is a WLAN card that supports 802.11ax via 2×2 MU-MIMO antennas over the 2.4 GHz and 5 GHz bands. for PC motherboards in the PCI-E/x1/x4/x8/x16 form-factors, based on the "Cyclone Peak" PHY powering the Wireless AX-22260 NIC family. As a Wi-Fi 6 adapter, it supports 802.11ax over 2×2 MU-MIMO antennae, and peak bandwidth of 2.4 Gbps, with support for both the 5 GHz and 2.4 GHz bands.
Matching Wi-Fi 6 devices adapters desktops will deliver the best results for example: ASUS Gigabit WiFi Router GT-AX11000 RT-AX88U RT-AX92U RT-AX95Q RT-AX95U GT-AX6000 RT-AX58U ROG Rapture Arris SURFboard mAX W31 TG9442 D-Link DIR-X6060 DIR-X9000 Netgear RAX200 (Nighthawk Tri-Band AX12) RAX80 (Nighthawk AX8) RAX120 (Nighthawk AX12) RAX40 (Nighthawk AX4) RAX40 (Nighthawk AX4) AC1900 Dual Band WiFi Router TP-LINK Archer AX11000 Archer AX1500 Archer AX1800 Tplink Archer AX6000 Calix GigaSpire ect
4x Longer OFDM Symbol Make Latency A Thing of The Past The Wi-Fi 6 standard uses OFDMA for increased efficiency. Imagine your WiFi connection as a series of delivery trucks delivering data packets to your devices. With 802.11ac WiFi, each delivery truck or "packet" could only deliver one parcel to one device at a time. But with OFDMA, each truck can deliver multiple parcels to multiple devices simultaneously. This vast improvement in efficiency works for both uploads and downloads.
Setup
Apart from the physical installation of the card, there was no installation required, I didn't need to install any software or additional drivers. The card does come with a CD, but I don't have a CD drive. Like most of these devices, it works fine out of the box. If you do need a driver you can download it from Intel here.
Performance
The best(fastest) Wi-Fi 6 device I have on hand is the Netgear Nighthawk AX8 which sits on the mid-end of Wi-Fi 6 routers, I will be reviewing the TP-Link AX11000 soon and will update the results with that.
Unsurprisingly the performance was about the same as both the Intel Wi-Fi 6 AX200 and the Killer Wi-Fi 6 AX1650 which I tested on laptops.
When transferring large files, the Fenvi and Netgear will happily cap out my gigabit ethernet with transfer speeds staying consistently over 110MB/s.
Using a basic HTML5 speed test on my server this also reaches gigabit at 979Mbps
When using jperf using 8 streams I was able to achieve 810 Mbits/sec or higher consistently
The Netgear Nighthawk AX8 is limited to gigabit speeds so I am unable to test if any of these cards can go beyond gigabit, like Wi-Fi 6 promises.
Overall
There were no surprises here, the Fenvi is just an adaptor for the exact same hardware I have previously tested. However, it is an easy and affordable way to get Wi-Fi 6 on your desktop, and with this you can expect close to gigabit speeds consistently depending on where your router is located.
Last update on 2022-05-19 / Affiliate links / Images from Amazon Product Advertising API