With the main CES 2020 announcements out of the way, it now looks like WiFi 6 may finally get some traction in 2020.
If you are considering buying a router or mesh system in the near future you should definitely think about investing in something that is WiFi 6 compatible making you as future proof as possible.
Even if you don't have any WiFi 6 devices yet, a mesh WiFi 6 system will help increase speeds as the devices themselves will use WiFi 6 as the backbone, which has considerably more bandwidth than WiFi 5.
Ubiquiti AmpliFi Alien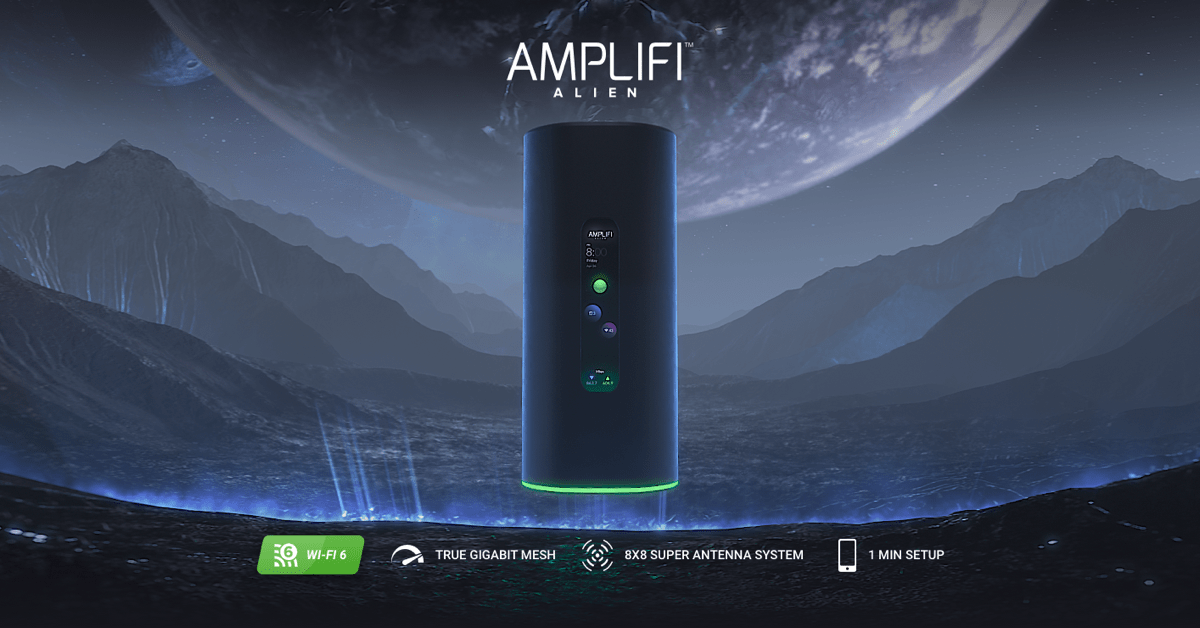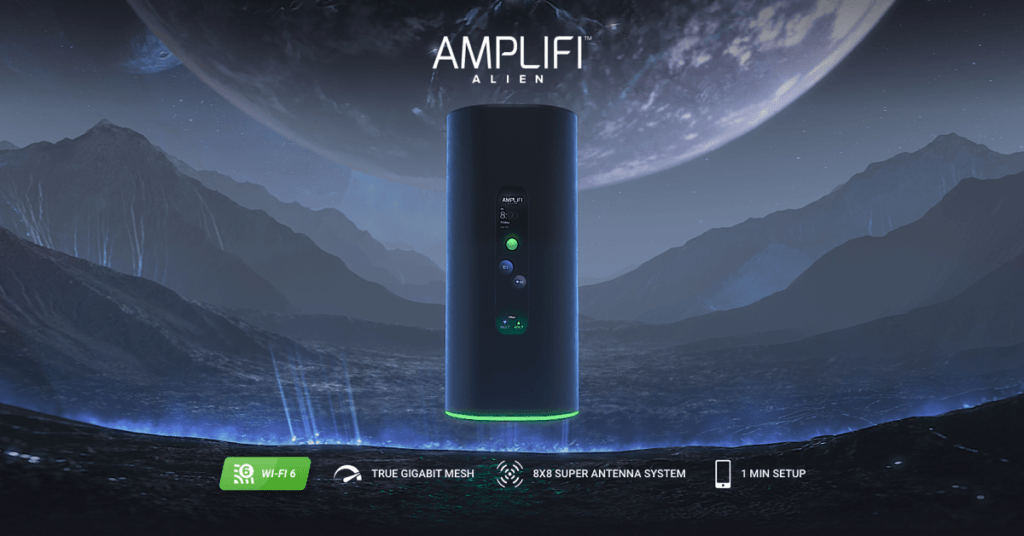 Launched a few weeks ago the Ubiquiti AmpliFi Alien is sold individually as a router but can be paired up with other devices to create a mesh wifi system. With each Alien costing $379.00 it is one of the more expensive options out there but it is also one of the best-specced. It has a 7685 Mbps total capacity and 16 spatial streams from a single AmpliFi Alien unit.It is one of the few routers on the market with 16 spatial streams giving you 4×4 on 2.4GHz, then 4×4 low band and 8×8 high band on 5 GHz.
2.4 GHz: 1148 Mbps
5 GHz: 1733 Mbps (low band)/ 4804 Mbps (high band)
Asus AIMesh with WiFi 6 multiple options

With the AIMesh technology from Asus, you can mix and match routers as you please. So for example, if you want the best speeds possible you could use the ASUS GT-AX11000 as the main router in the centre of your house, then pair it up with the more affordable RT-AX56U or RT-AX92U.
ASUS RT-AX56U – single router
The most affordable Wi-Fi 6 router from Asus, this has 2×2 dual-band capable of 800Mbps 574Mbps on the 2.4GHz band and 1201Mbps on the 5GHz band
ASUS RT-AX92U AX6100 Tri-band – 2-pack
Sitting in the middle, this two-pack works out cheaper than WiFi6 mesh systems from other brands. This model has bandwidth for 4804Mbps on the 5GHz-2 band channel (160Hz).
ASUS GT-AX11000 – Single router
This is the flagship device from ASUS and offers speeds of:
802.11ax (2.4GHz) : up to 1148 Mbps
802.11ax (5GHz) : up to 4804 Mbps
It uses 4×4 for all of the channels compared to 2×2 of the RT-AX92U and it also includes a 2.5Base -T port for multi-gig transfers
Netgear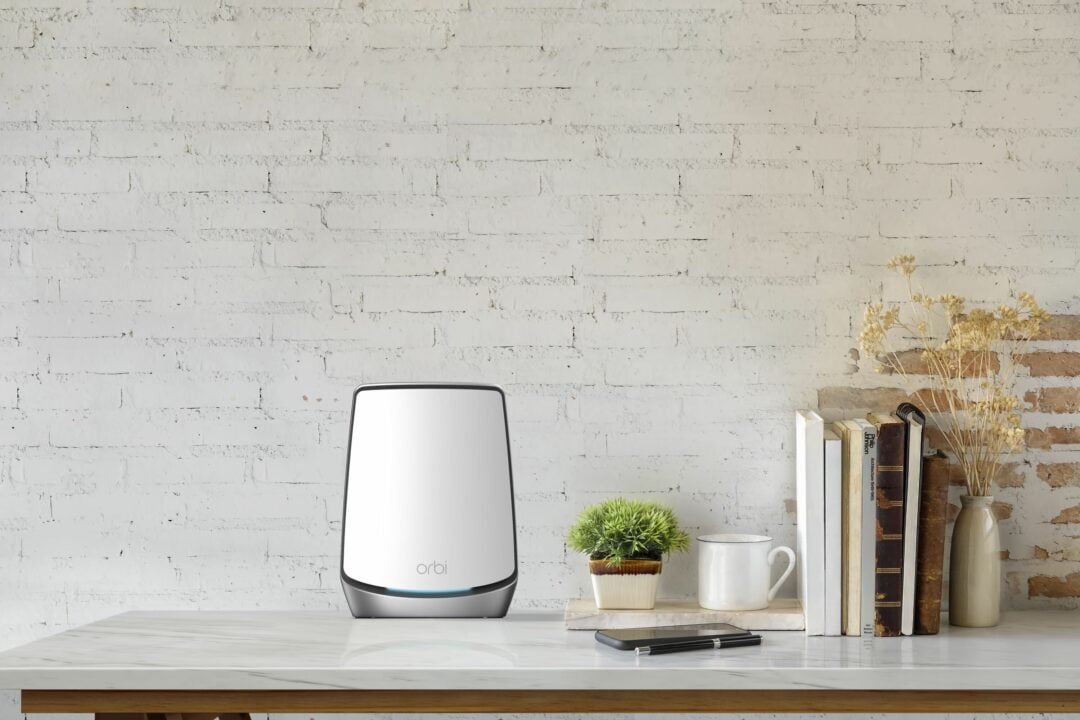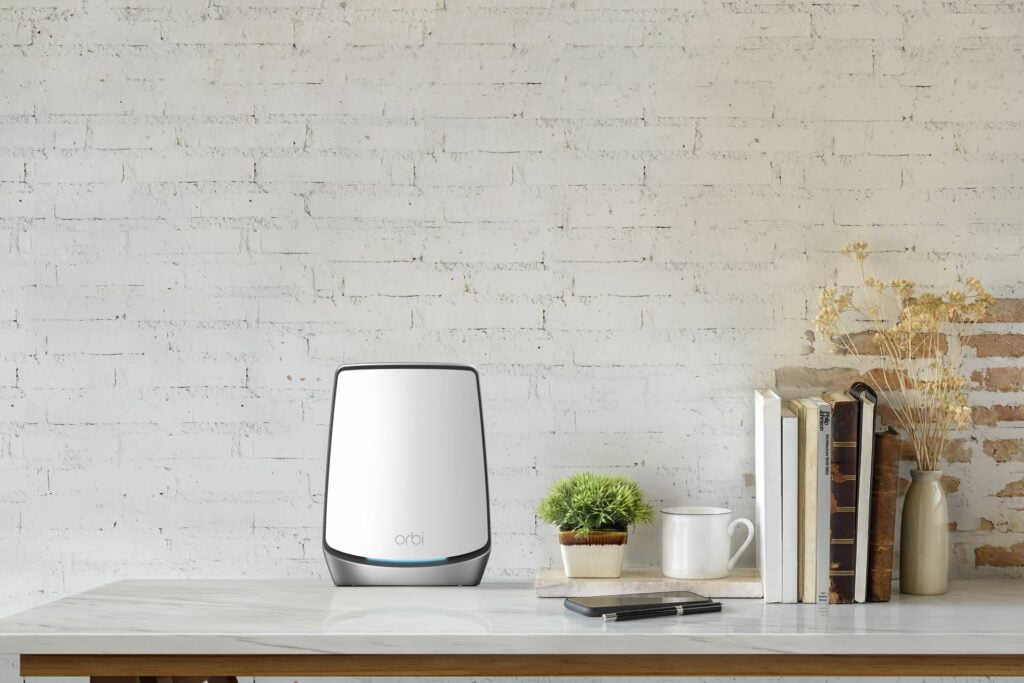 Orbi Whole Home Tri-Band Mesh Wi-Fi 6 System (RBK852)
This is currently the only option for Netgear in the UK. The Orbi RBK852 is the flagship system they will be offering moving forward, so the price reflects this.
There is a 2.5-Gbps WAN port on the main router and each 5GHz channel offers 2400Mbps bandwidth while the 2.4GHz channel has 1200Mbps.
Nighthawk Mesh WiFi 6 System (MK62)
Amazon UK – Not available yet
Just announced at CES 2020 this is an incredibly affordable system, and it is EasyMesh compatible so you can combine it with other EasyMesh devices including the RAX50 below, or even the D-Link options further down.
The reason why it is more affordable than the RBK852 is the lower overall spec. It is a dual-channel system and each channel offers half the bandwidth that the RBK852 has so 2.4GHz has 600Mbps and 5Ghz has 1.2Gbps.
Nighthawk AX6 AX5400 WiFi 6 6-Stream Router (RAX50)
Amazon US – Not available yet
Amazon UK – Not available yet
Padding out the other Nighthawk WiFi 6 routers, this is the first to be certified for EasyMesh, so you can combine it with any other. I have reached out to Netgear to see if any of the older routers can or will be upgraded to EasyMesh.
This offers 600Mbps on 2.4GHz and 4.8Gbps on 5GHz
AX1800 4-Stream WiFi 6 Mesh Extender (EAX20)
Amazon UK – Not available yet
The last device from the Netgear CES launch, this is a dual band extender with the same spec as the MK62 where the 2.4GHz has 600Mbps and 5Ghz has 1.2Gbps.
D-Link
D-Link don't currently have any Wi-Fi 6 mesh systems on the market, but they did announce a large number of devices at CES. All the options are compatible with EasyMesh so they will work with each other, or with the EasyMesh options from Netgear.
D-Link Smart AX1500 Mesh Wi-Fi 6 Router (DIR-X1560-US), Q1 2020, $120
D-Link Smart AX1800 Mesh Wi-Fi 6 Router (DIR-X1870-US), Q2 2020, $140
D-Link Smart AX2400 Mesh Wi-Fi 6 Router (DIR-X2460-US), Q3 2020, $160
D-Link Smart AX5400 Mesh Wi-Fi 6 Router (DIR-X5460-US), Q1 2020, $280
D-Link AX1800 Mesh Wi-Fi 6 Range Extender (DAP-X1870-US), Q2 2020, $130
D-Link AX1800 Whole Home Mesh System (COVR-X1872-US), Q2 2020, $270
Last update on 2022-06-19 / Affiliate links / Images from Amazon Product Advertising API