Acer Swift 5 2020 Review Rating
Summary
A sub kilo 14-inch laptop with little in the way of competition at this price
I reviewed the Acer Swift 5 back in 2018, so this review is much the same but with upgraded hardware and a new lower price point.
The Acer Swift 5 remains one of the lightest laptops on the market with a listed weight of just 990g up a touch since my last review.
The last review had the laptop at an RRP of £1,099.99 with it available for around £950, which included a 512GB SSD. This model is just £800 but you do get a bit less (but faster) storage with a 256 GB NVMe SSD.
If you have a bigger budget, Acer has a model for £1,149 which uses the i7-1065G7 and has a dedicated MX250 GPU.
Features & Specification
Display: 35.6 cm (14″) Full HD (1920 x 1080) 16:9 IPS
CPU: Intel Core i5-1035G1 Processor
RAM: 8GB
Storage: 256 GB NVMe SSD
There are various options available for this laptop, but the one I have been sent to review seems to be the most common, and also looks the most appealing due to its reasonably affordable nature.
As far as the spec and features go, there is not much difference between this and the 2018 model I reviewed. The Intel Core i5-1035G1 will give you a bit more processing power, the NVMe is a bit quicker, and it now features the latest Wi-Fi 6.
The biggest feature of this is the 990g weight, making it one of the few options out there under a kilogram and as far as I can tell, the cheapest too.
Design & Build
Much like the last review, this has a very plasticky build which is necessary to get that sub-kilo weight, it is well made though and the plastic body feels durable enough to take a few knocks in your bag as your commute.
Picking this up feels very strange, it is extraordinarily light and it can fit into my messenger bag with barely any noticeable weight change on my shoulder.
Unlike some ultra-portables, especially convertibles, you get multiple USB ports, there are two USB-A and one USB-C, the same as the previous review, but the port placement has changed. You even get an HDMI port.
Strangely, Acer us a pin style charger the Swift 5 and I was ready to heavily criticise them for sticking with this style of charging. However, the USB-C port is power delivery compatible, so you can optionally charge via that. It is a little disappointing that they have not ditched pin style port and added a second USB-C and made the included charger a USB-C, but at least you are not tied down to the Acer supplied option.
Like most thin laptops, there is no ethernet, it just isn't thick enough to handle the port. It is easy enough to fix with USB-C Ethernet adaptor though.
This retains the fingerprint sensor from the last generation, it works well and can be quicker than having to type your password in.
It is a bit smaller than the last model at 14.95mm x 318.7 x 210.5 mm vs 15mm x 329mm x 228m.
Keyboard & Trackpad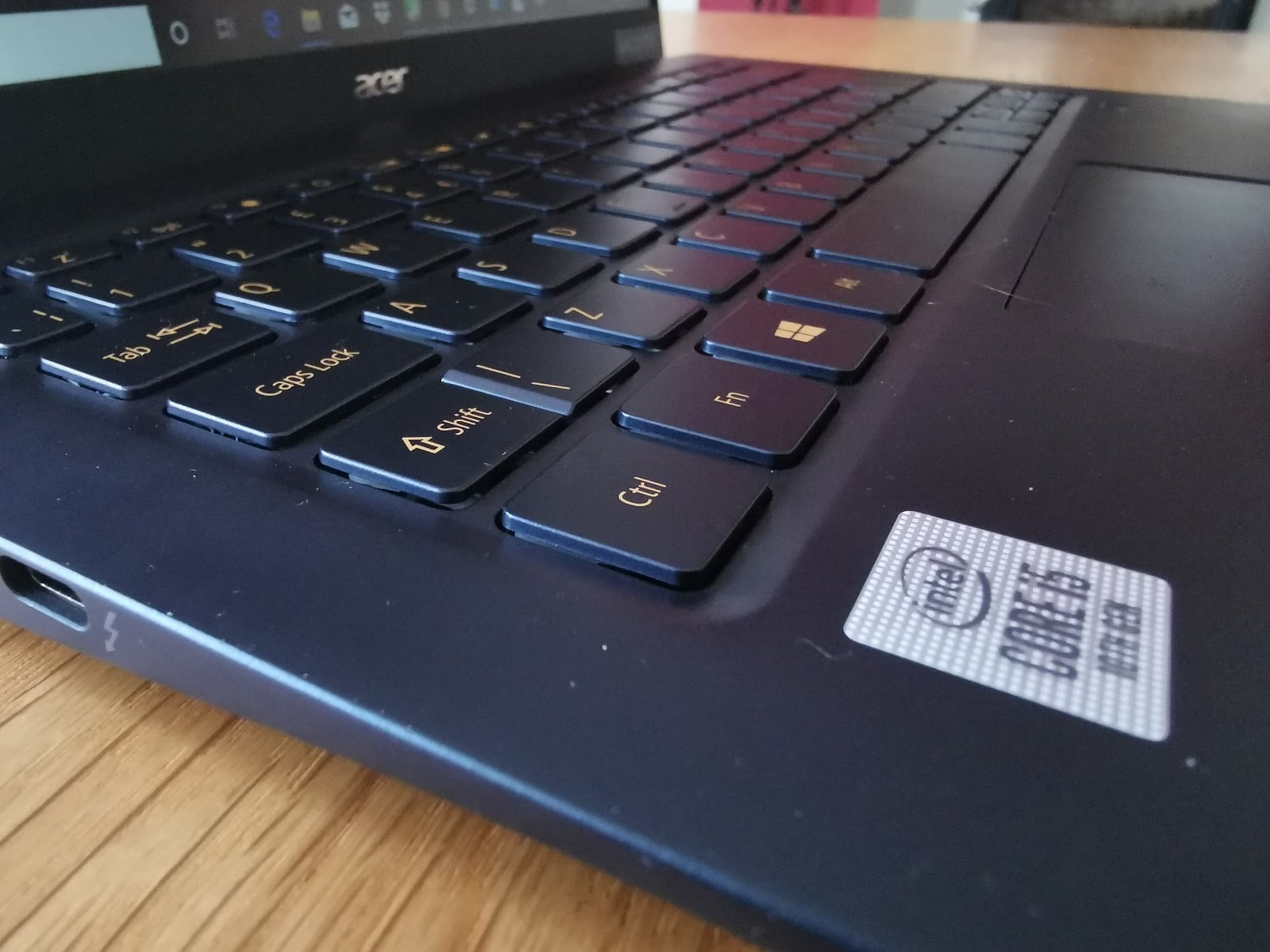 Both the keyboard and trackpad are decent, the keys are well spaced using the chicklet style. There is not a huge amount of travel on the keys but that's just the nature of thin laptops. It is perfectly usable for working on for a few hours, but like all laptops, I wouldn't really want to type on this all day every day.
I like the fact there are dedicated Pg Dn and Pg Up buttons, something my Dell lacks, it makes reading content easier if you don't want to use the touch screen, but they are a little crammed in sitting above the left and right key.
The trackpad is more or less average, I occasionally right click instead of left but apart from that it is responsive enough and gets the job done.
Screen
The 14-inch screen using an IPS display running at Full HD 1920 x 1080p it looks like Acer have reduced the bezel size for this model, and this has likely contributed to the fractionally smaller overall dimensions of the laptop.
The screen is touch screen with multi-touch gestures, it is not something I found myself using a lot but it can be good when reading documents, long web pages or viewing photos.
Overall, based on my subjective opinion, the screen quality is excellent with good colour reproduction and bright enough for any environment I used it in.
Performance
The small lightweight nature of the laptop means you have to have a low powered CPU. The Intel Core i5-1035G1 Processor is one of the 15w models so not the absolute lowest powered option out there, but it doesn't have as much grunt as larger more expensive laptops. This, therefore, is great for day to day tasks, office work, maybe occasional video and photo editing, but I wouldn't recommend it as a primary computer if you do a lot processor intensive activities, and it is certainly not designed for gaming due to the integrated GPU.
The model with an i7-1065G7 and MX250 GPU will have much more flexibility in what it can handle but this comes at a much higher price.
For whatever reason the only benchmark I wrote about in the last review was PC Mark 10, the Intel i7-8550U on that model achieved a score of 3208 whereas this scored 3556 showing a 10% improvement. Not massive but still plenty of processing power to do all the things an ultra-portable is designed to do.
Running 3DMark Time Spy, the laptop managed a meagre 501, which was to be expected.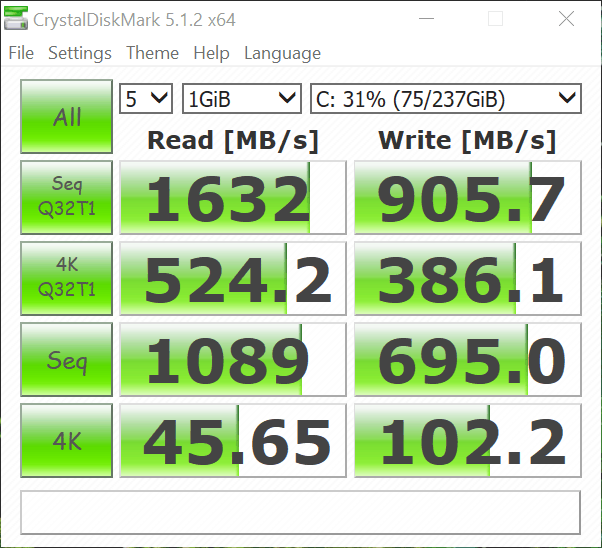 The NVMe drive is not class-leading, achieving read and write speeds of 1600MB/s and 905MB/s but that is still more than triple the speed of my 2018 review.
Battery
The battery life is more than acceptable and should last you a full day in the office without having to charge, though you may be getting a little anxious about it towards the end of the day.
Acer does quote 12 hours for this, which may be accurate depending on what you do, but in general, I found it capable of 8 hours or so.
Everything Else
Fan Noise
The last review criticised the fan noise with it spinning up under light loads and being quite high pitched. While I am working from memory, things seem to have improved, or my hearing has got worse. The fans always seem to be on but don't seem as eager to spin up as loud, for most light use I have to press my ear against the laptop to hear them. The pitch seems to have improved too making the noise less grating when you do hear them.
Wi-Fi 6
I don't normally test the Wi-Fi on laptops much, they all perform about the same. Things have changed recently, with the launch of the Intel AX200 Wi-Fi 6 module many companies are including this on their laptops, as the module doesn't cost much more than its Wi-Fi 5 counterpart. So if you have a Wi-Fi 6 router you can enjoy all the benefits that offers.
In my recent TP-LINK Archer AX11000 review I was able to achieve multi-gig transfer speeds with this laptop, with peak speeds of 1413 Mbits/sec when tested on jperf, and real-life transfer speeds over 140MB/s. Range was excellent too, with this laptop and the router I was able to pick up a signal in every room of my brick-built 4-bed semi with the router centrally located.
Price and Competition
This is priced at £799.00, which represents excellent value in my opinion. If you specifically need a very light laptop, that is semi-affordable, I have struggled to find much that can compete.
The older Acer Swift 5 which I previously reviewed with the Intel Core i5-8250U will save you over £100. I doubt you would notice the drop in performance, fan noise maybe a bit worse, and there is no Wi-Fi 6.
The ASUS ZenBook UX434 is a possible option, it costs £100 more, has a slower Intel i5-10210U but includes a quirky 2nd screen/mouse pad which may have some productivity uses.
The Microsoft Surface Laptop 3 is an attractive choice with a marginally more powerful i5-1035G7 processor, better screen, but less storage, heavier and £200 more.
The Dell XPS 13 doesn't look particularly appealing purely from a price/spec point of view with prices starting around £1300 depending on what offers they have on at the time.
Conclusion
I liked the last Acer Swift 5, with the nature of my work I find myself carrying a laptop a lot, so a laptop that weighs under a kilogram is always going to be appealing to me. At the same time, I don't earn enough or commute enough to want to spend well over £1,000 on an ultra-portable. I think Acer has done an excellent job of carving themselves out a niche with this, an affordable ultra-lightweight laptop which I imagine is a tempting option for many people.
Performance has improved as you would expect for a laptop with a CPU two generations apart, but more importantly, the price has dropped to a reasonable £800 separating this apart from other ultra-lightweight laptops.
My last review made comparisons to the popular Dell XPS 13, which is a touch smaller but heavier at 1.2kg. The starting price for that is £1,239 or 54% more, it may be a fantastic laptop, but that is a tough sell for a tight-fisted northerner such as myself.
So if you are looking for a small ultra-portable but can't afford a Dell XPS 13 you should seriously consider the Acer Swift 5, saving yourself over £400.
Last update on 2022-01-22 / Affiliate links / Images from Amazon Product Advertising API