I have worked with Thermaltake a lot in the past year, they produce some great products that cater for all budgets and tastes in the PC market.
They do some excellent premium grade hardware, in particular their PC cases, and they have a particular love for RGB so the announcement of WaterRam RGB Liquid Cooling DDR4 Memory is a logical step for them.
WaterRam RGB Liquid Cooling DDR4
Built with tested 3200MHz DDR4 Ram and the stable support of Intel XMP 2.0 the ThermalTake WaterRAM RGB memory is a hybrid cooling kit to give you the maximum performance, Thermaltake allows you complete flexibility to choose between liquid cooling and heatsink convection cooling with this product. With a 2mm thick black aluminium finish on the heatsinks and more efficient thermal conductivity combined with a water cooling kit that increases cooling efficiency by 37% you can see instant improvements in system speed. For the visual appeal, the ThermalTake WaterRam block includes RGB lighting compatible with many 3rd party software's and components.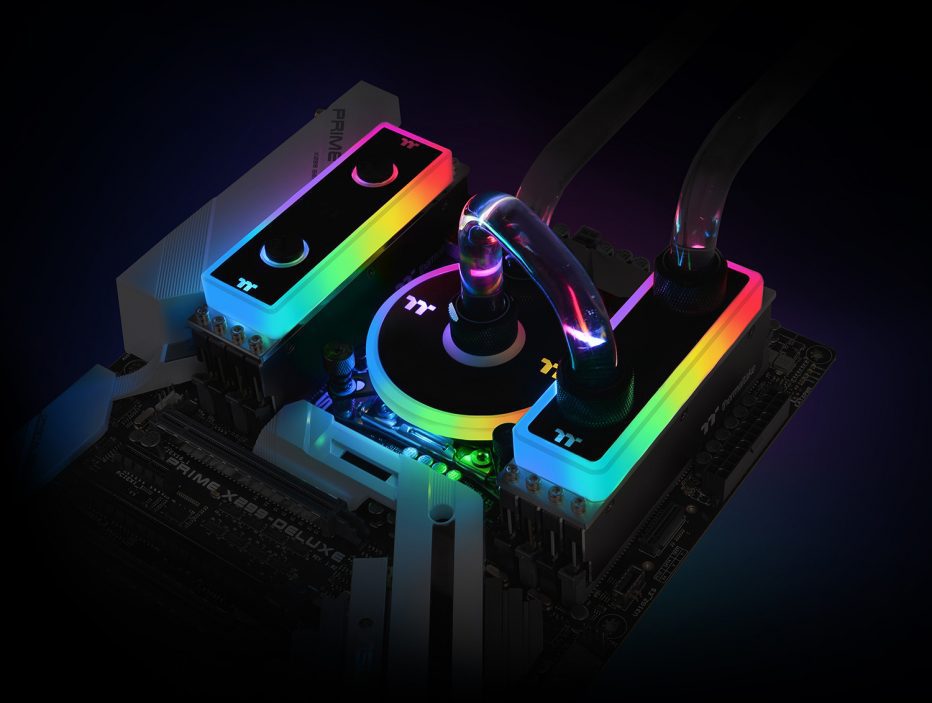 High water flow design with universal compatible system crafted to efficiently cool up to four DDR4 memory modules at once. Play lights with your choice of 16.8 million colours to bring the right atmosphere to your system. Bright up every moment perfectly with over 20 present light modes.
The WaterRam are already available to buy from Scan for £237.49 for 32GB and they look like they cost about £30 more than equivalent  3200MHz RGB RAM which I don't think is too bad as you also get one of the Thermaltake Hub included with it.
If I am honest, I am not sure how much benefit there is to liquid cooling your RAM, I know there have been water blocks for it before, and air cooled options, so there is some demand for it. Either way, these will no doubt be popular in high-end custom cooled rigs and have watercooled RGB RAM is certainly something that will make you build stand out from other.
Pacific C240/C360 DDC Hard and Soft Water Cooling Kits
If you are wanting to get into custom loop watercooling then have some great new options for you. The new Pacific cooling kits are a complete solution including radiator, pump and reservoir combo, CPU blog, plus all the tubings, fittings and water.


The kits are compatible with ASUS Aura Sync, GIGABYTE RGB, MSI Mystic Light Sync and ASRock Polychrome.
You can optionally buy the kits with soft tubing or hard tubing, with the soft option being a little easier for beginners to install.