The Garmin Forerunner 235 has been one of my main recommendations for friends wanting good quality but affordable fitness tracking for the past few years, though the Vivoactive 3 has dropped low enough to be a better alternative for most now.
With the launch of the new Forerunner 245, there is a new choice for people not wanting to spend a fortune on a sports watch. It does come at a big price increase compared to the current pricing of the FR235 and Viviactive 3, but it brings with it a lot of upgrades. In fact, it has so many upgrades that it has become a viable alternative to the Garmin 645.
So how do the watches compare?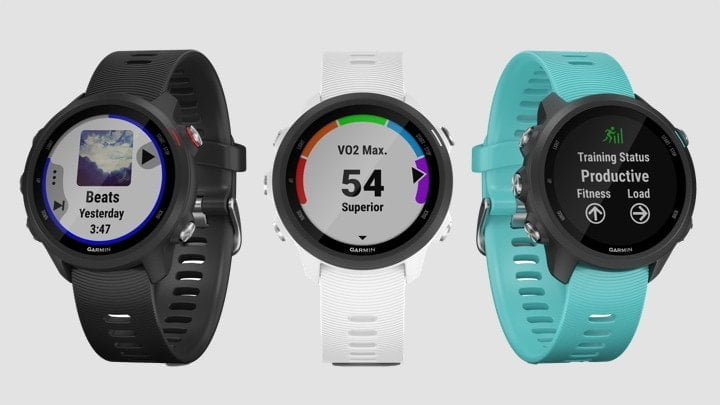 Price
I tend to be quite price sensitive with a lot of my reviews and recommendations so we had best get this out of the way.
The Forerunner 645 has an RRP of £350 or £400 for the music version. This technically puts it £100 more expensive than the FR245 and normally I would be inclined to say that for a lot of people, they would be better off with the FR245.
The problem being is that at the moment the FR645 can be bought for £289 or the music edition for just £299 from Wiggle making it exactly the same price as the FR235
Differences
Normally you would think that the FR645 is immediately better than the FR245 with it being higher up the product ladder, but with the FR245 launching a year later it has had a few tweaks and upgrade the other watch lacks.
Both watches have the Firstbeat feature but the Forerunner 245 offers 14 features compared to 11 of the FR645 with the addition of body resources, respiration rate.
Respiration rate
Respiration rate describes how often you inhale and exhale in a minute. It is also a primary vital sign along with heart rate, blood pressure and body temperature. Resting respiration rates are typically between 12-20 times per minute during rest and can be around 40-50 times per minute during intense physical activity.
You do need an Optical HR strap like the HR run or HR Tri
Body Resource
Garmin calls this feature body battery and takes the physical activity, stress, and recovery data and combines it. You then get a. Body battery score to enable you to make better, more informed decisions based on your physical condition.
Race Time Predictor
This feature is designed to give you a heads up on how long it will take you to complete several popular race distances. Distances include 5k, 10k, half-marathon and marathon.
The Forerunner 245 also has a superior battery life when using GPS, which could be essential for anyone into ultramarathons or other full day events.
The Forerunner 645 offers battery performance of;
Smartwatch Mode: Up to 7 days,
GPS mode with music: Up to 5 hours
GPS mode without music Up to 14 hours
The Forerunner 245 offers battery performance of;
Smartwatch Mode is up to 7 days
GPS mode with music is up to 6 hours
GPS mode without music is up to 24 hours
However, the Garmin Forerunner 645 has more sports profiles which should cover pretty much anything you do. That being said the FR235 has jumped up from three options to 16 options, and the other option is still there when you want to track something not listed.
The Forerunner 645 comes with barometric altimeter which will give you far more accurate elevation readings, as well as stairs climbed. You also get Garmin running power when you connect a compatible accessory. The final difference is the ability to be able to have more data fields during workouts.
Conclusion
It is a tough call, the music edition of the watches are currently priced the same, I am very interested in trying the new ELEVATE HR sensor with Pulse OX and the respiration rate on the FR245.
However, I think most fitness enthusiasts will benefit from the running power support, barometric altimeter and the Strava live segments. It also features the NFC contactless payment which is a handy feature if you have a compatible bank.
Or even cheaper at Eglobal, though this will be a grey import so Garmin may not honour any warranties.
[content-egg module=TradedoublerProducts template=list]
Comparison Table
DC Rainmaker does some nice comparison tables, I have included the FR945 too, just because it is newly launched.
| FUNCTION/FEATURE | GARMIN FORERUNNER 245/245 MUSIC | GARMIN FORERUNNER 645 | GARMIN FORERUNNER 945 |
| --- | --- | --- | --- |
| PRICE | £250/£300 | £289/299 (WITH MUSIC) | £519 |
| GPS RECORDING FUNCTIONALITY | YES | YES | YES (WITH GALILEO TOO) |
| DATA TRANSFER | USB, BLUETOOTH SMART, WIFI (ONLY MUSIC HAS WIFI) | USB/BLUETOOTH SMART/WIFI | USB/BLUETOOTH SMART/WIFI |
| WATERPROOFING | 50 METERS | YES - 50M | YES - 100M |
| BATTERY LIFE (GPS) | UP TO 24HRS REGULAR GPS, 24HRS+ FOR ULTRATRAC | 14HRS GPS/5HRS GPS-MUSIC | 36HRS GPS, 60HRS ULTRATRAC |
| RECORDING INTERVAL | 1-SECOND, SMART, ULTRATRAC | 1S OR SMART | 1S OR SMART |
| SATELLITE PRE-LOADING VIA COMPUTER | YES | YES | YES |
| QUICK SATELLITE RECEPTION | GREAT | GREAT | GREAT |
| ALERTS | VIBRATE/SOUND/VISUAL | VIBRATE/SOUND/VISUAL | VIBRATE/SOUND/VISUAL |
| BACKLIGHT GREATNESS | GOOD | GREAT | GREAT |
| ABILITY TO DOWNLOAD CUSTOM APPS TO UNIT/DEVICE | YES | YES | YES |
| ACTS AS DAILY ACTIVITY MONITOR (STEPS, ETC...) | YES | YES | YES |
| MUSIC | GARMIN FORERUNNER 245/245 MUSIC | GARMIN FORERUNNER 645 | GARMIN FORERUNNER 945 |
| CAN CONTROL PHONE MUSIC | YES | YES (FR645 MUSIC VERSION) | YES |
| HAS MUSIC STORAGE AND PLAYBACK | YES (MUSIC VERSION) | YES (3.5GB) | YES |
| STREAMING SERVICES | SPOTIFY, DEEZER, PANDORA | SPOTIFY, IHEARTRADIO, DEEZER | IHEARTRADIO, SPOTIFY, DEEZER |
| CONTACTLESS-NFC PAYMENTS | NO | YES | YES |
| BLUETOOTH LEGACY (PRE-4.0) TO PHONE | NO | NO | NO |
| BLUETOOTH SMART (4.0+) TO PHONE UPLOADING | YES | YES | YES |
| PHONE NOTIFICATIONS TO UNIT (I.E. TEXTS/CALLS/ETC...) | YES | YES | YES |
| LIVE TRACKING (STREAMING LOCATION TO WEBSITE) | YES | YES | YES |
| GROUP TRACKING | NO | YES | YES |
| EMERGENCY/SOS MESSAGE NOTIFICATION (FROM WATCH TO CONTACTS) | YES (VIA PHONE) | NO | YES (VIA PHONE) |
| BUILT-IN CELLULAR CHIP (NO PHONE REQUIRED) | NO | NO | NO |
| DESIGNED FOR CYCLING | YES | YES | YES |
| POWER METER CAPABLE | WITH SOME CONNECT IQ APPS (BUT CANNOT RECORD DATA) | NO | YES |
| POWER METER CONFIGURATION/CALIBRATION OPTIONS | N/A | N/A | YES |
| POWER METER TSS/NP/IF | N/A | N/A | YES |
| SPEED/CADENCE SENSOR CAPABLE | YES | YES | YES |
| STRAVA SEGMENTS LIVE ON DEVICE | NO | YES | YES |
| CRASH DETECTION | YES | NO | YES |
| DESIGNED FOR RUNNING | YES | YES | YES |
| FOOTPOD CAPABLE (FOR TREADMILLS) | YES (ALSO HAS INTERNAL ACCELEROMETER) | YES | YES |
| RUNNING DYNAMICS (VERTICAL OSCILLATION, GROUND CONTACT TIME, ETC...) | YES (WITH ACCESSORY) | WITH RD POD, HRM-TRI OR HRM-RUN (NOT VIA OPTICAL HR) | WITH RD POD, HRM-TRI OR HRM-RUN (NOT VIA OPTICAL HR) |
| RUNNING POWER | NO | YES WITH RD-POD OR 3RD PARTY APPS | WITH EXTRA SENSOR |
| VO2MAX ESTIMATION | YES | YES | YES |
| RACE PREDICTOR | YES | YES | YES |
| RECOVERY ADVISOR | YES | YES | YES |
| RUN/WALK MODE | YES | YES | YES |
| DESIGNED FOR SWIMMING | YES | YES | YES |
| OPENWATER SWIMMING MODE | NO | NO | YES |
| LAP/INDOOR DISTANCE TRACKING | YES | YES | YES |
| RECORD HR UNDERWATER | NO | NO | WITH HRM-TRI/HRM-SWIM (NOT WITH OPTICAL HR) |
| OPENWATER METRICS (STROKE/ETC.) | N/A | NO | YES |
| INDOOR METRICS (STROKE/ETC.) | YES | YES | YES |
| INDOOR DRILL MODE | YES | YES | YES |
| INDOOR AUTO-PAUSE FEATURE | NO | NO (IT'LL SHOW REST TIME AFTERWARDS THOUGH) | NO (IT'LL SHOW REST TIME AFTERWARDS THOUGH) |
| CHANGE POOL SIZE | YES | YES | YES |
| INDOOR MIN/MAX POOL LENGTHS | | 17M/18Y TO 150M/Y | 17M/18Y TO 150Y/M |
| ABILITY TO CUSTOMIZE DATA FIELDS | YES | YES | YES |
| CAN CHANGE YARDS TO METERS | YES | YES | YES |
| CAPTURES PER LENGTH DATA - INDOORS | YES | YES | YES |
| INDOOR ALERTS | | YES | YES |
| DESIGNED FOR TRIATHLON | NO | NO | YES |
| MULTISPORT MODE | NO | NO | YES |
| CREATE/FOLLOW CUSTOM WORKOUTS | YES | YES | YES |
| ON-UNIT INTERVAL FEATURE | YES | YES | YES |
| TRAINING CALENDAR FUNCTIONALITY | YES | YES | YES |
| AUTO START/STOP | YES | YES | YES |
| VIRTUAL PARTNER FEATURE | YES | YES | YES |
| VIRTUAL RACER FEATURE | YES | YES | YES |
| RECORDS PR'S - PERSONAL RECORDS (DIFF THAN HISTORY) | YES | YES | YES |
| DAY TO DAY WATCH ABILITY | YES | YES | YES |
| HUNTING/FISHING/OCEAN DATA | NO | NO | YES |
| TIDAL TABLES (TIDE INFORMATION) | NO | NO | NO |
| JUMPMASTER MODE (PARACHUTING) | NO | NO | YES |
| GEOCACHING | NO | NO | VIA GPS COORDINATES |
| WEATHER DISPLAY (LIVE DATA) | YES | YES | YES |
| FOLLOW GPS TRACK (COURSES/WAYPOINTS) | YES | YES | YES |
| MARKERS/WAYPOINT DIRECTION | NO | YES | YES |
| ROUTABLE/VISUAL MAPS (LIKE CAR GPS) | NO | NO | YES |
| BACK TO START | YES | YES | YES |
| IMPROMPTU ROUND TRIP ROUTE CREATION | NO | NO | YES |
| DOWNLOAD COURSES/ROUTES FROM PHONE TO UNIT | YES | YES | YES |
| ALTIMETER TYPE | GPS | BAROMETRIC | BAROMETRIC |
| COMPASS TYPE | N/A | | MAGNETIC |
| OPTICAL HEART RATE SENSOR INTERNALLY | YES | YES | YES |
| PULSE OXIMETRY (AKA PULSE OX) | YES | | YES |
| HEART RATE STRAP COMPATIBLE | YES | YES | YES |
| ANT+ HEART RATE STRAP CAPABLE | YES | YES | YES |
| ANT+ SPEED/CADENCE CAPABLE | YES | YES | YES |
| ANT+ FOOTPOD CAPABLE | YES | YES | YES |
| ANT+ POWER METER CAPABLE | NO | NO | YES |
| ANT+ WEIGHT SCALE CAPABLE | NO | NO | NO |
| ANT+ FITNESS EQUIPMENT (GYM) | NO | NO | NO |
| ANT+ LIGHTING CONTROL | YES | YES | YES |
| ANT+ BIKE RADAR INTEGRATION | YES | YES | YES |
| ANT+ TRAINER CONTROL (FE-C) | NO | NO | NO |
| ANT+ EBIKE COMPATIBILITY | NO | NO | NO |
| ANT+ MUSCLE OXYGEN (I.E. MOXY/BSX) | YES | YES | YES |
| ANT+ GEAR SHIFTING (I.E. SRAM ETAP) | NO | NO | YES |
| SHIMANO DI2 SHIFTING | NO | NO | YES |
| BLUETOOTH SMART HR STRAP CAPABLE | YES | YES | YES |
| BLUETOOTH SMART SPEED/CADENCE CAPABLE | YES | YES | YES |
| BLUETOOTH SMART FOOTPOD CAPABLE | YES | YES | YES |
| BLUETOOTH SMART POWER METER CAPABLE | NO | NQO | YES |
| TEMP RECORDING (INTERNAL SENSOR) | NO | YES | YES |
| TEMP RECORDING (EXTERNAL SENSOR) | YES (TEMPE) | YES | YES |
| COMPATIBLE WITH FIRSTBEAT HR TOOLS | - | N/A | YES |