Thermaltake A500 Aluminium Chasis Review
Product Name: Thermaltake A500 Aluminium PC Case
Offer price: 239.99
Currency: GBP
Availability: PreOrder
A few days ago, Thermaltake officially announced the A500 TG Aluminium Tempered Glass Edition Mid Tower Chassis and this represents an elegant departure from the all glass all RGB style that Thermaltake has been focussing on recently.
Features
The A500 features a sleek aluminium front panel, two 4mm tempered glass panels, two pre-installed 120mm front fans and a 120mm rear fan for optimal system ventilation. It has a built-in power supply cover for clean and easy cable management and also supports up to a standard ATX motherboard. Accommodating the latest PC hardware including the most advanced graphics cards and air/liquid cooling solutions, the A500 Aluminium TG is designed for those who are looking for a chassis with outstanding thermal performance that is further complemented by a clean and simply designed case.
Unlike many of the recent case reviews I have done, there are only two tempered glass panels here, one on each side. Both panels are on hinges and they open up via a turntable latch mechanism, avoiding fiddly thumb screws. Personally, I could probably live with one tempered glass panel and the second side panel being brushed aluminium like the rest of the system. Though with the two tempered glass panels you do get an attractive symmetry.
The front and top panel are slightly raised with side vents to provide ample airflow. The front, top and bottom also include dust filters which should help keep your system dust and maintenance free.
The is a well proportioned mid-sized case, nothing massive like the Level 20 XT, but you still get extensive component compatibility.
The A500 has support for a CPU cooler with a maximum height of 160mm, combined with a dual expansion slot VGA of up to 420mm in length without an HDD rack, as well as a power supply with a length of up to 220mm.
You can hide the drives bays outside of the main chamber with the 3.5-inch drive cage fitting in the lower chamber and there being a single 2.5-inch mount on the back side of the case. This then provides more room for complex liquid cooling configurations.
The three fans are normal none RGB, and there is no hub included, as the front panel is brushed aluminium you can't see the fans anyway, and the Thermaltake hub is as much about controlling the RGB as it is the fan speed.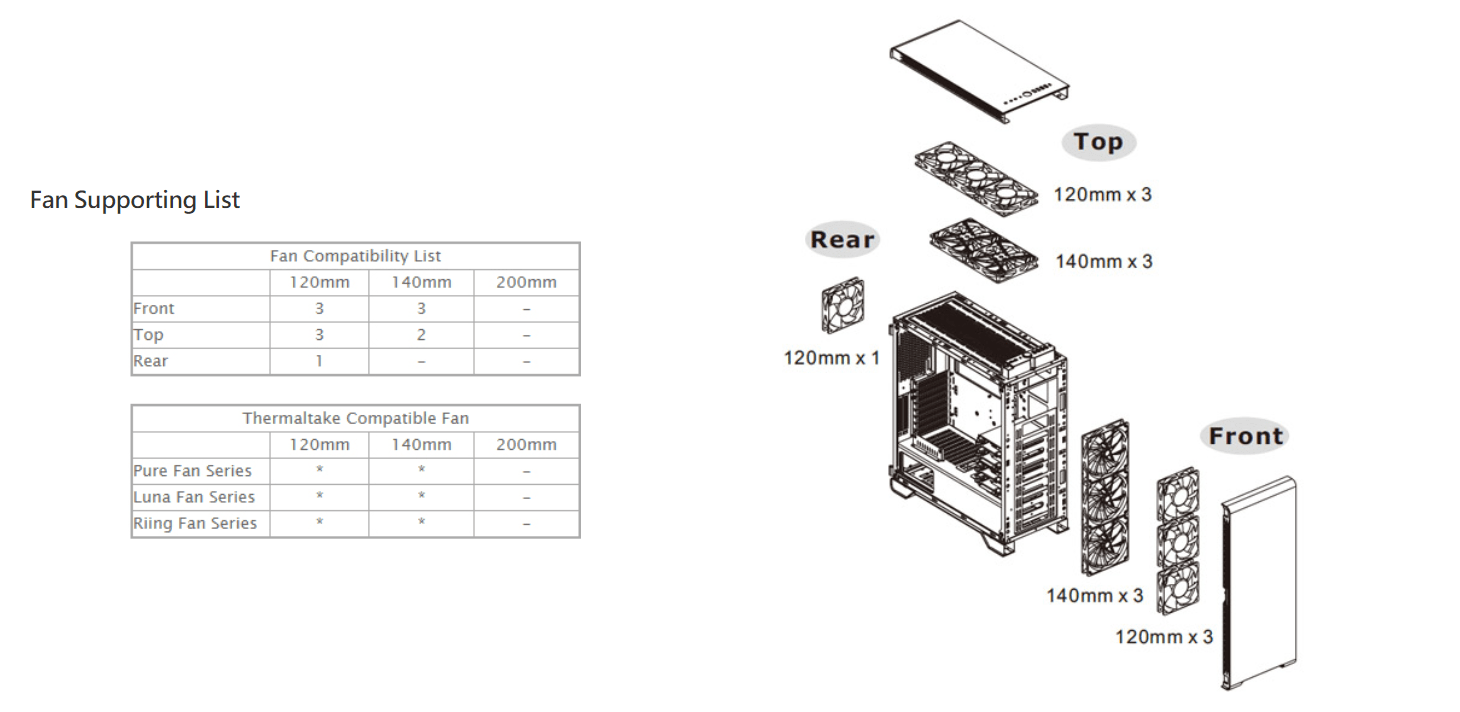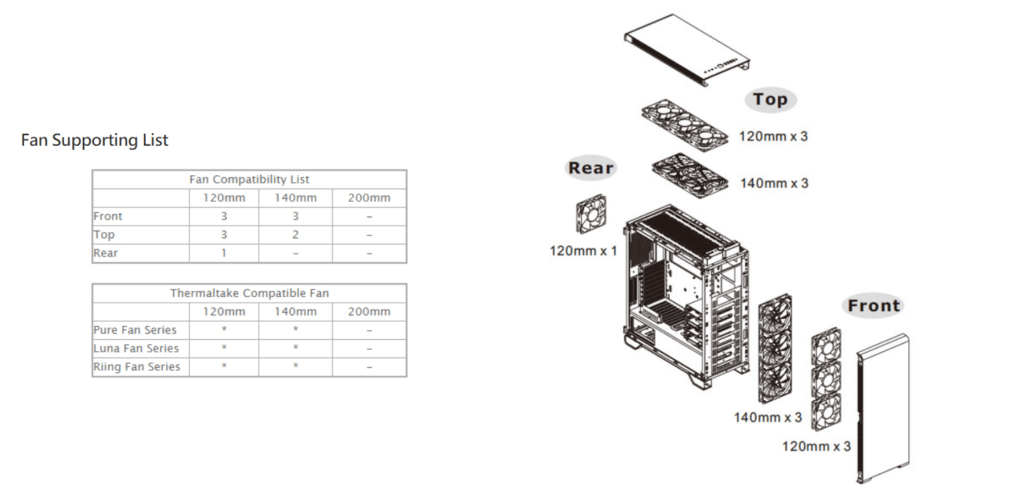 Fan support is above average, with three 120mm or 140mm points in both the front and top, while on the rear is a single 120mm option.
In the front, you can fit radiator up to 420mm which the top can handle 280mm. The rear is just a standard 120mm.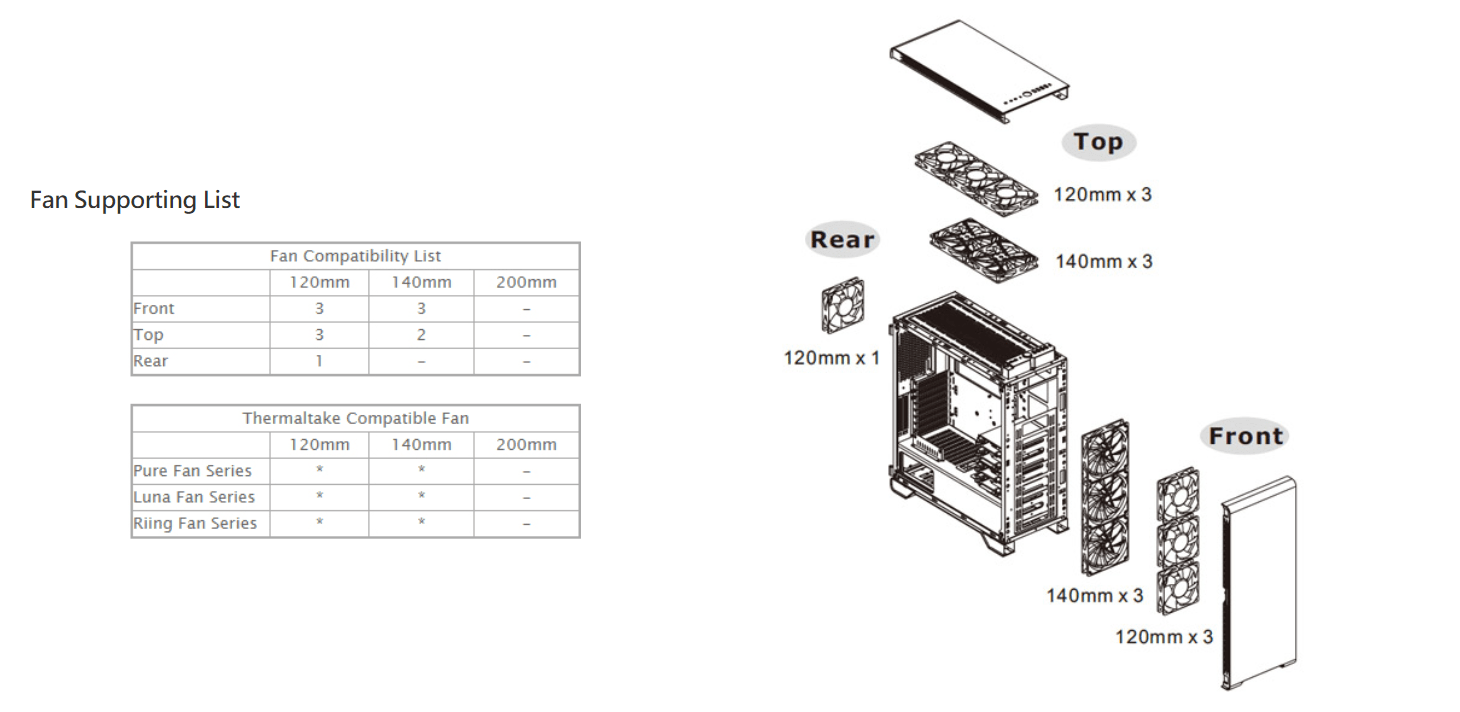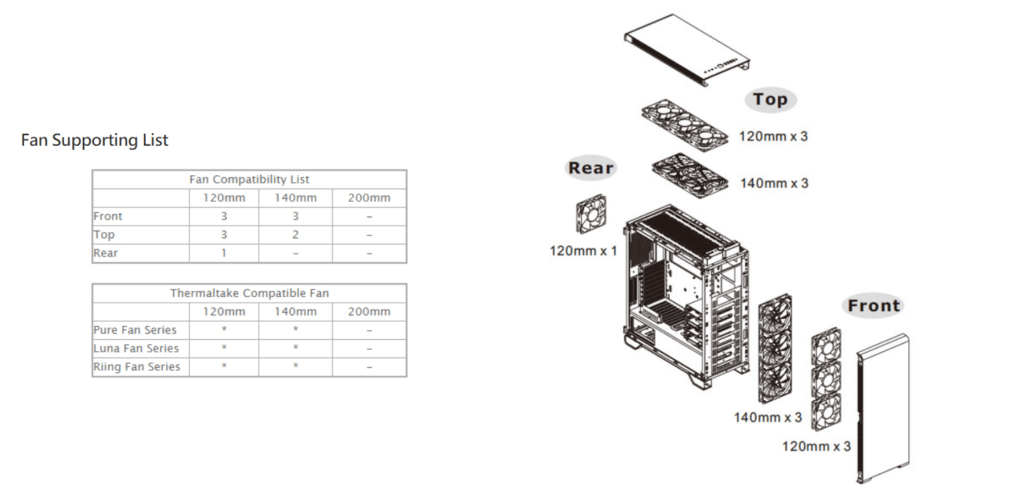 The top panel can handle any of the Thermaltake all-in-one water-cooling options such as the Floe series, and it should be no problem to fit other brands.
As usual with Thermaltake nowadays, they used the Dismantlable Modular Design which allows you to strip apart everything from the base frame and customise it how you please. This is perfect for modders, but also simplifies the build process and can allow you to free up space for improved airflow.
Build Quality & First Impression
For me personally, I think this is the best-looking case Thermaltake have sent to me. I am more of an understated looks kind of guy. While I have slowly come around to RGB, I prefer to use it sparingly rather than on display left right and centre. This is a case that will look great in any setting whether you use it at home or in an office.
As much as I love a massive case, due to them being easier to build in and upgrade options they have, I think this offers a great balance of size and component compatibility.
The case feels exceptionally well made, I love the tempered glass panels being on hinges with a built-in latch. It makes accessing the case much easier when you need to do minor tweaks, and in my case avoids me trying to force a glass panel onto mount points against a mess of cables.
The motherboard tray has a huge number of cut-outs in it which should allow you to route cables easily, and the built-in cables are already pre-tidied with the cable ties. Running down where the drive cage is mounted normally are four square cut-outs which give easy access to the power and SATA ports of your drive.
Similar to many other cases from Thermaltake there is compatibility for a vertical GPU mount, allowing you to avoid sagging and show off the built-in RGB of modern cards.
Airflow has been thought about with inlet channels to the side of the top and side panels. How much air it actually lets in would require extensive testing, but from experience of Thermaltake cases, and my old Define R5 a solid front or top panel is not too much of an issue as long as there is a gap behind it.
Conclusion
I do love this case, I think it is probably the best-looking case Thermaltake do. While I also think the Level 20 XT and GT cases are exceptional cases I can appreciate that their looks are not necessarily for everyone, and the XT dimensions might not suit a lot of peoples layout.
However, if you want a case with this level of refined elegance, you will have to pay for it. Costing £239.99 on Scan, it is one of the second most expensive mid-tower windowed case they list. It is only £50 less than the Thermaltake Level 20 GT RGB Plus which includes two very expensive 200m Riing fans and hub, plus a rear 120mm Riing fan. That being said, skimming over Scan I can't find anything that looks as impressive as this at any price point, and the CNC cut aluminium panels will likely add significantly to the manufacturing costs.
Overall, if you can justify the cost, and want something a bit more grown-up looking this is a great choice.