[Originally posted on 21-April-2019]
Originally this was posted in April, as of October, it now looks like the SD735 is real and it will launch before the end of the year, with Realme, Nokia and OPPO all expected to launch a 5G phone running the currently announced 7nm Snapdragon 735 chipset all before the year is out.
It is just days since Qualcomm announced their latest lineup of chipsets that cover the mid-range market. The Snapdragon 665 is designed to replace the SD660 with the Snapdragon 730/730G chipsets will be replacing the SD710 and 712. During the transition period that will leave 9 different chipsets covering the upper-midrange for current phones.
Qualcomm will always have a replacement chipset in the works, likely multiple generations worth, but a recent leak has already indicated a new Snapdragon 735 chipset that will be launched later this year. I am sceptical of some of the information here, so take it with a pinch of salt.
The upcoming Snapdragon 735 will be manufactured on the 7nm LPP process. This could be Samsung's EUV based 7nm Process which went into production in October 2018. Samsung claims the 7nm LPP process delivers up to a 40% increase in area efficiency with 20% higher performance or up to 50% lower power consumption as compared to 10nm FinFET predecessors. Compared to Snapdragon 730's 8nm process, the gain would be 10-20%.
The leaks suggest the new chipset will come with an integrated 5G modem which on one hand makes sense, 5G has launched after all, and this chipset could run alongside the SD730 as a 5G solution. However it is unlikely Qualcomm will launch a mid-range integrated 5G chipset before the Snapdragon 865, and the current Snapdragon 855 required a separate X50 modem for 5G. If this is true, it could be that the SD735 is launched this time next year, following the SD865 launch.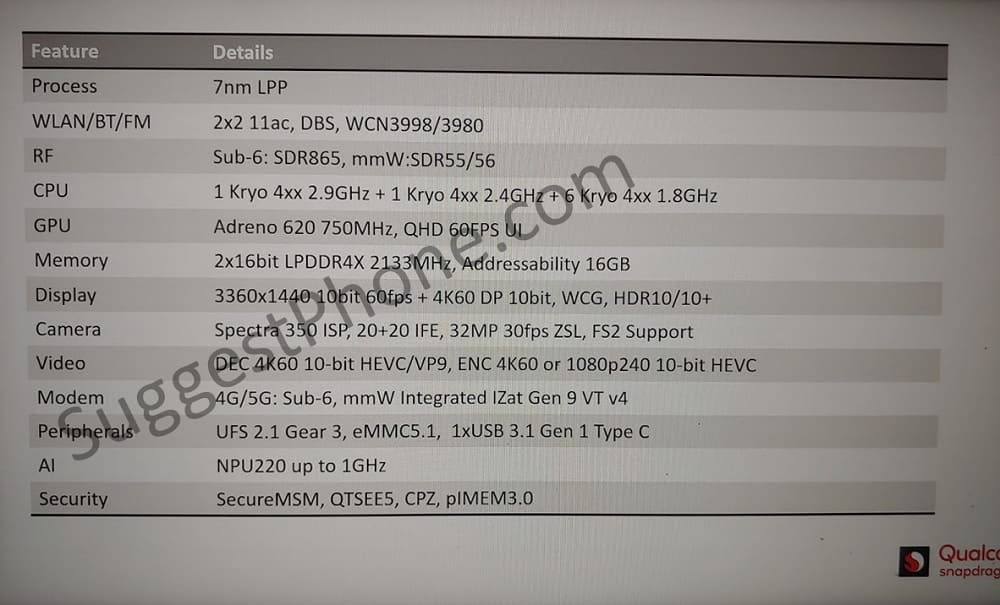 The leaks indicate that this will now use a 1+1+6 core cluster instead of the 2+6 we saw on Snapdragon 730. There will be 1 Kryo Prime core running at 2.9GHz, 1 Kryo core at 2.4GHz and 6 Kryo cores at 1.8GHz. The GPU is going to be upgraded to Adreno 620 with a max frequency of 750MHz. This is another area am not too sure about. The SD710 and SD730 are clocked at 2.2GHz so this would be a huge jump. The SD855 is clocked at 2.84GHz for its performance core, but unlike the 700-series, this has a 1x3x4 cluster.
For memory, we are going to see addressability for up to 16GB of LPDDR4X RAM and for Machine learning we are going to see a new NPU 220 running at up to 1GHz. The older 700-series models had 2x 16-bit @ 1866MHz LPDDR4X whereas the SD855 has 4×16-bit @ 2133 MHz so this part is believable.
The specifications for WLAN, Display, Camera, Video, Peripherals, and Security are going to be almost the same as what we have on Snapdragon 730. There is support for 3360×1440 21:9 aspect ratio displays. For storage, we have UFS 2.1 and eMMC 5.1 as well. For video, there is support for 4K at 60FPS. There is a notable absence of Wi-Fi 6 which the SD855 has and something I would have thought to be included for a chipset available later this year or next year.
It is believed that this will be announced in Q4 this year with phones launching early next year.