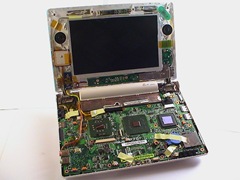 Hacking your EeePC is becoming a bit of a geek hobby at the moment, and this hacked EeePC has to be the ultimate of them all. This hacked EeePC has been documented over at IVC Wiki and takes hacking your EeePC to a new level.
The upgrades include USB hubs, GPS Module, Bluetooth, SDHC reader, WiFi, FM transmittor, modem and a 2 GB DDR2 module.
The cost? Well not that cheap really.
USB hubs – 11.20 USD
GPS module – 36.70 USD
Bluetooth – 5.65 USD
SDHC card reader – 6.45 USD
Adata SDHC 8 GB – 74.50 USD
Corsair VoyagerGT 4 GB USB drive – 90.94 USD
Switch + Prototypingboards – 2.66 + 30.10 USD
Intel Wireless adapter – 62.69 USD
Airplay FM transmitter – 14.98 USD
Conexant Modem – 11.89 USD
Crucial 2 GB DDR2 module – 106.62 USD
Totaling 454.38 USD which included the shipping to Europe. More Pictures after the jump or go to IVC for a detailed run down of the mod.