WD My Book 10 TB Desktop Hard Drive Review
The Western Digital My Book 10TB is regularly discounted on Amazon, with prices typically hitting just under £160, this gives you a price of £16 per TB which is one of the best value options on the market.
If you wanted to buy an internal drive, the cheapest option on the market is the Toshiba N300 which will set you back around £250. Or if you want to stick with Western Digital that will be £305 for a Red drive.
[content-egg module=Amazon template=list]
This has therefore led a large number of users by external drives with plastic enclosures and rip them apart from all the goodies they contain inside.
I think at one time WD used red drives in these devices or similar devices, but eventually, they started using something called a white label. For all intents and purposes, this seems to be a red label tweaked to differentiate it from the £305 version you buy without a plastic enclosure.
There is an issue with the White label drives though, they use a 3.3V pin which prevents it from spinning up in most cases. It is an easy fix, all you need to do is prevent that pin from working, either by covering it up, removing it, or other means.
Using the drive as external storage
Personally, I think 10TB of storage over USB is not the best. If you need that more storage a NAS of some form will be far better. I have had plenty of USB drives corrupt over the years and losing 10TB wouldn't be fine.
That being said, the drive works well, just like every other USB powered external drive.
Shucking the Drive
This particular enclosure isn't the easiest to open up, especially if you want to do it without breaking any of the tabs.
The below guide is useful for a visual explanation. Personally, I just use some knives from the kitchen drawer to lift apart the side and leave them in place. Then another knife to lift up the shorter sides, the first time I did it I broke a load of tabs, the second no damage was done, so it can take a little practice.
Easiest Method
The easiest method and the one I use is to power the drive via a Molex-to-SATA power adapter, which goes between the hard drive and the power supply.
All you need to do is connect the adapter to a molex connector coming from your power supply, and the other end to the hard disk. These adapters effectively bypass pin 3 on the SATA power connector. Please note that some cheaply made adapters have been known to catch fire, so please do some research and purchase a high-quality adapter.
Apart from this being an easy method, I use it as I am running out of SATA power cables.
Tape / Removal Method
The third pin from the left needs to be covered to prevent the 3.3V pin issue. Thankfully the first three pins are not needed at all, so the easiest method is to cover all three. I first did this with some electricians tape, but the recommended tap is Kapton.
This is a special type of non-conductive tape that's stable at both low and high temperatures and is yellowish in colour. Take a piece of backing paper from a sheet of labels and place the tape onto it. Then take a piece of cardboard and place it underneath. The goal here is to cut a thin strip of tape – enough to cover that third pin – so take a razor and gently slice off a strip of tape. Next, on the hard drive, locate the third pin, and gently apply the tape. I highly recommend that you use an ESD wrist strap while you're doing this, as you are touching the contacts of the drive. The tape is too long for the pin, so snip off the excess with some scissors.
Going back to the computer, while the Kapton tape is on the third pin, connect the power cable which will slip right over the tape, and then the data cable.
Performance
These drives work a lot better than the old cheap drives I have used over the years. This will happily cap out a gigabit connection. I recently upgraded to 10-gigabit ethernet and read speeds tend to cap out at 220MB/s.
Testing with CrystalDiskMark when using it as a USB drive the speeds are around 210MB/s read and write.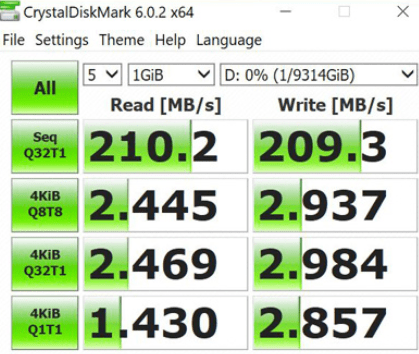 Overall
As an external drive this performs as expected, it is a huge amount of storage to run as one disk over USB so I would use it for backups or backups or data that is replaceable.
For a server or NAS, having to dismantle and deal with the 3.3V pin is a huge nuisance, but you are saving over £100 for each drive compared to red drives, which is an absolutely ridiculous amount of money. A word of warning would be that if the drive has any issues, you are going to need to get it back in its enclosure if you want to do a warranty replacement.
Overall this offers tremendous value for money, being the cheapest drive per terabyte for its size on the market. Performance is also superb, though it will be the same as other NAS drives.
[content-egg module=Amazon template=list]