If you are on the lookout for a new laptop this year then the Intel Core i7-1065G7 CPU is shaping up to be the perfect option.
Intel's new 10nm Ice Lake CPU will be found in premium laptops such as the Dell XPS 13 7390 2-in-1 which is due to launch by the end of this month.
Previous leaks have shown this now mobile CPU performing very well in single core performance on GeekBench against full-fat desktop CPUs.
Now, a second benchmark result has been discovered, this time in PassMark by a Twitter user. Passmark removed the page but sadly for them, there is no stopping Google and the page has been cached and we can see how the new Intel compared against the new AMD Ryzen 5 3500U mobile chip.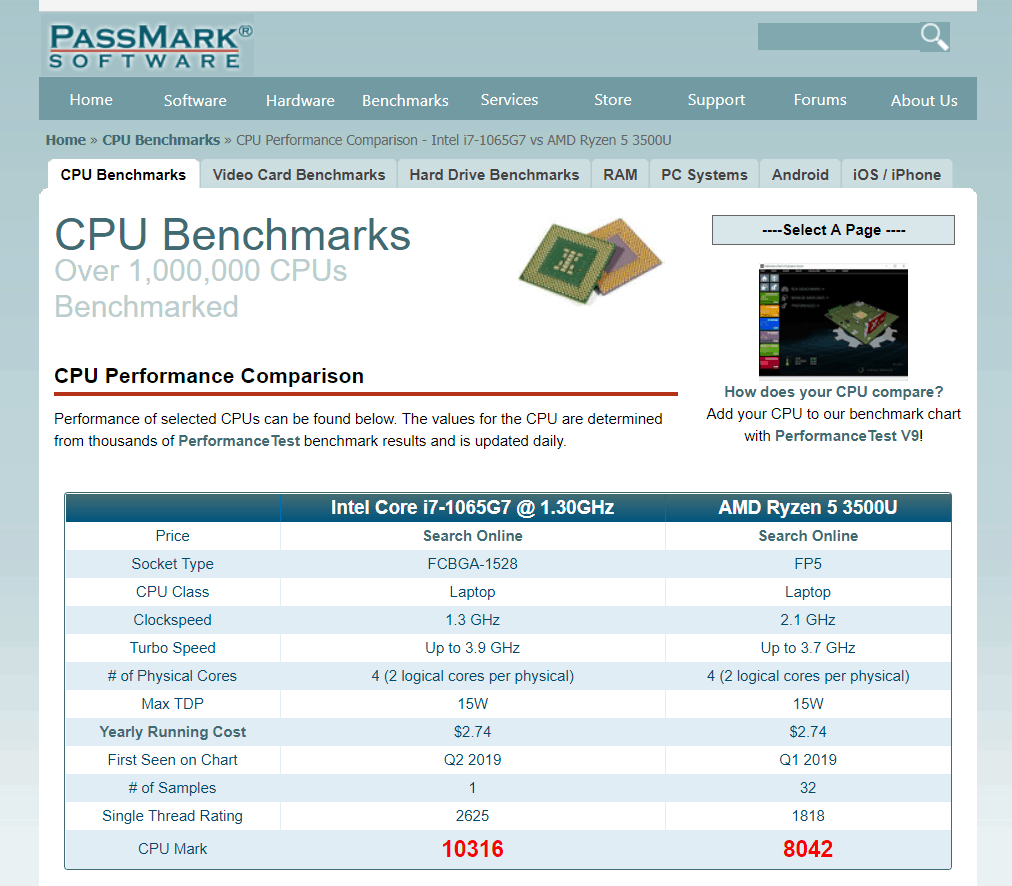 Despite the Core i7-1065G7's lower base clock of 1.3 GHz, the Core i7-1065G7 scores 2625 in the single thread test, beating the Ryzen 5 3500U with a score of 1818 at 2.1 GHz. In terms of single thread performance, the Ryzen 5 3500U is at an 807 point deficit as the Core i7-1065G7 pulls ahead by nearly 30%. It's worth noting that the Core i7-1065G7's slightly higher turbo clock of 3.9 GHz compared to the Ryzen 5 3500U's turbo clock of 3.7 GHz.
Both the Core i7-1065G7 and Ryzen 5 3500U contain four cores and eight threads, yet the Core i7-1065G7 manages to score a CPU score of 10316 compared to the Ryzen 5 3500U's score of 8042. In this case, the Core i7-1065G7 outperforms the Ryzen 5 3500U by 2274 points, or by 22%.
In comparison to Intel's own chips, the Core i9-8950HK, while the i7-1065G7 doesn't quite compete in PassMark, looking at GeekBench it offers almost the same single core performance than the unlocked mobile chip. It does, however, fall behind a little with the multi-core score.
A lot of people were hyped at the claims the new AMD Ryzen 3000 chips offered a 15% IPC improvement, with the Intel 10nm mobility chips, Intel is claiming an 18% improvement!
While the Intel chip looks considerably better than the AMD alternative, it worth remembering where these chips will sit in terms of pricing. The Dell XPS range comes in at premium prices, while a lot of AMD CPUs have been used on the more affordable end of the market. So the cost/performance ratio may not be quite as advantageous for Intel.
Furthermore, AMD is working the opposite way around from Intel, their laptop chips are a generation behind their desktop CPUs, so the Ryzen 5 3500U is based on Zen+ with its 12nm fabrication process.