Creative Outlier Air V2 Review Rating
Summary
The Creative Outlier Air V2 are easily the best sub-£100 earbuds I have used and they are perfect for fitness. The only reason not to buy them is that the original Outlier Air can often be had for well under £50
Pros
Battery life
Sound quality (bass dominant)
Value for money
Cons
Stupid case
Arguably not as good value as the older model
I have always heard good things about the original Creative Outlier Air, they are often posted on HotUKDeals, with an affordable RRP of £75 they are frequently reduced to below £50 making them an absolute bargain.
Creative Outlier Air V2 vs Outlier Air v1 vs Outlier Gold

Creative has now launched the Outlier Air V2. Not a massive number of things have changed from the original model with these now sitting somewhere between the V1 and the Gold
The drivers are the same across all three earphones, so the sound quality should sound similar, I suspect Creative will tune each one slightly differently.
However the original Air could not connect to the Super X-FI app, this then allows you customise the audio slightly.
Battery life has improved from 10 hours to 12 hours per charge with 34 hours from the case vs 30 on the original.
The Outlier Gold are still the best option on the market for battery life with 14 hours and 39 hours respectively.
The microphone technology has been tweaked; these now use Qualcomm cVc 8.0
Finally, the button press controls have been switched to touch.
All the earphones have IPX5 ratings making them suitable for exercise and rain. They all support aptX, AAC, SBC, and use Bluetooth 5.0.
Specification
Drivers: 5.6 mm graphene driver diaphragm
Frequency response: 20-20,000 Hz
Audio Codecs: AAC, APTX, SBC
Microphones: Qualcomm cVc 8.0 noise reduction
Connectivity: Bluetooth 5.0
Charging: USB-C
Bluetooth Profiles: A2DP, AVRCP, HFP
Microphone: omnidirectional, one per earbud
Weight : 6g each
Battery Life: 12 ours per charge
Charging case: up to 34 hours
Charging time: Earbuds 12 hours, case 3 hours
Water resistance: IPX5, sweatproof
Design & Fit
First up is the case; this is a departure from your typical small case with a flip up lid. While I am not opposed to the larger case, it doesn't hide away in a pair of jean pockets.
The case itself is quite frustrating, it slides out to reveal the earbuds, I inevitably slide it out the wrong way around every single time so end up getting confused why the earbuds won't fit it. When you do slide it out with the L and R in the right direction, you have to turn your earbuds upside down to place them in. It's the most minor of annoyances but annoying, nonetheless.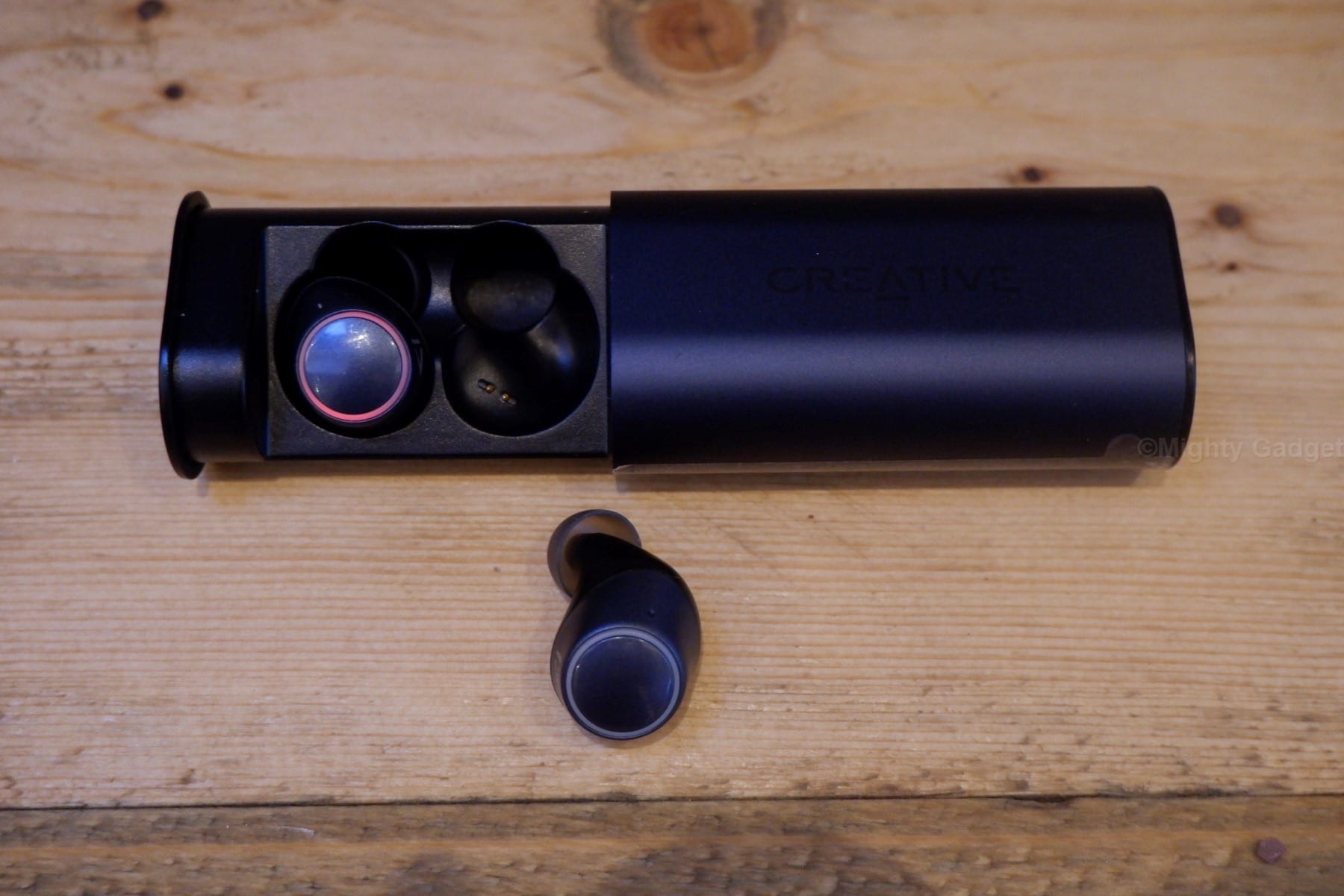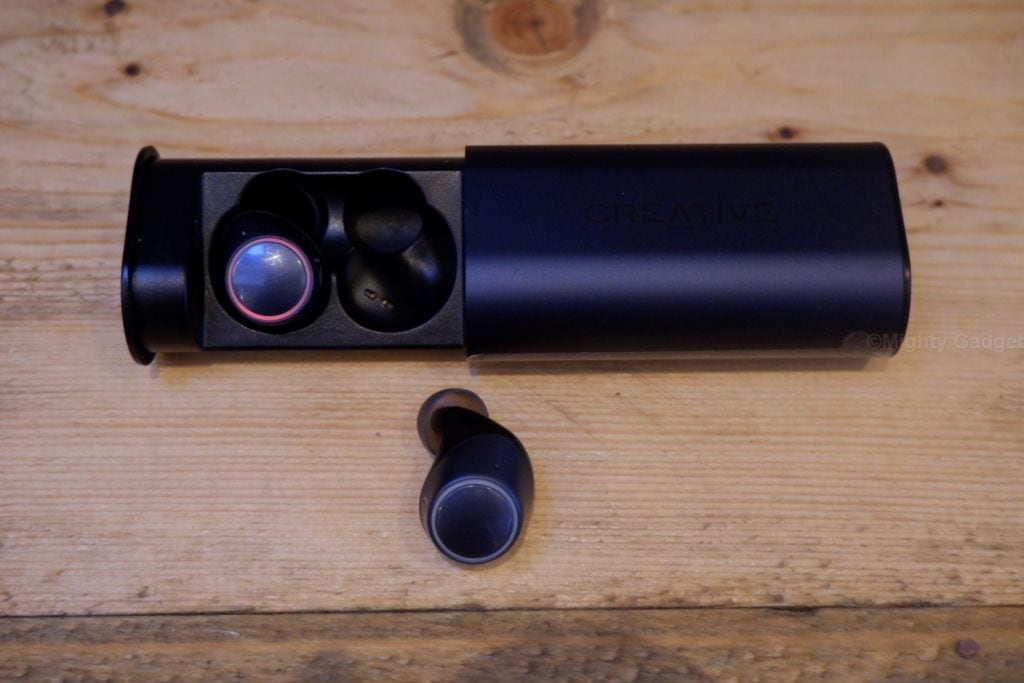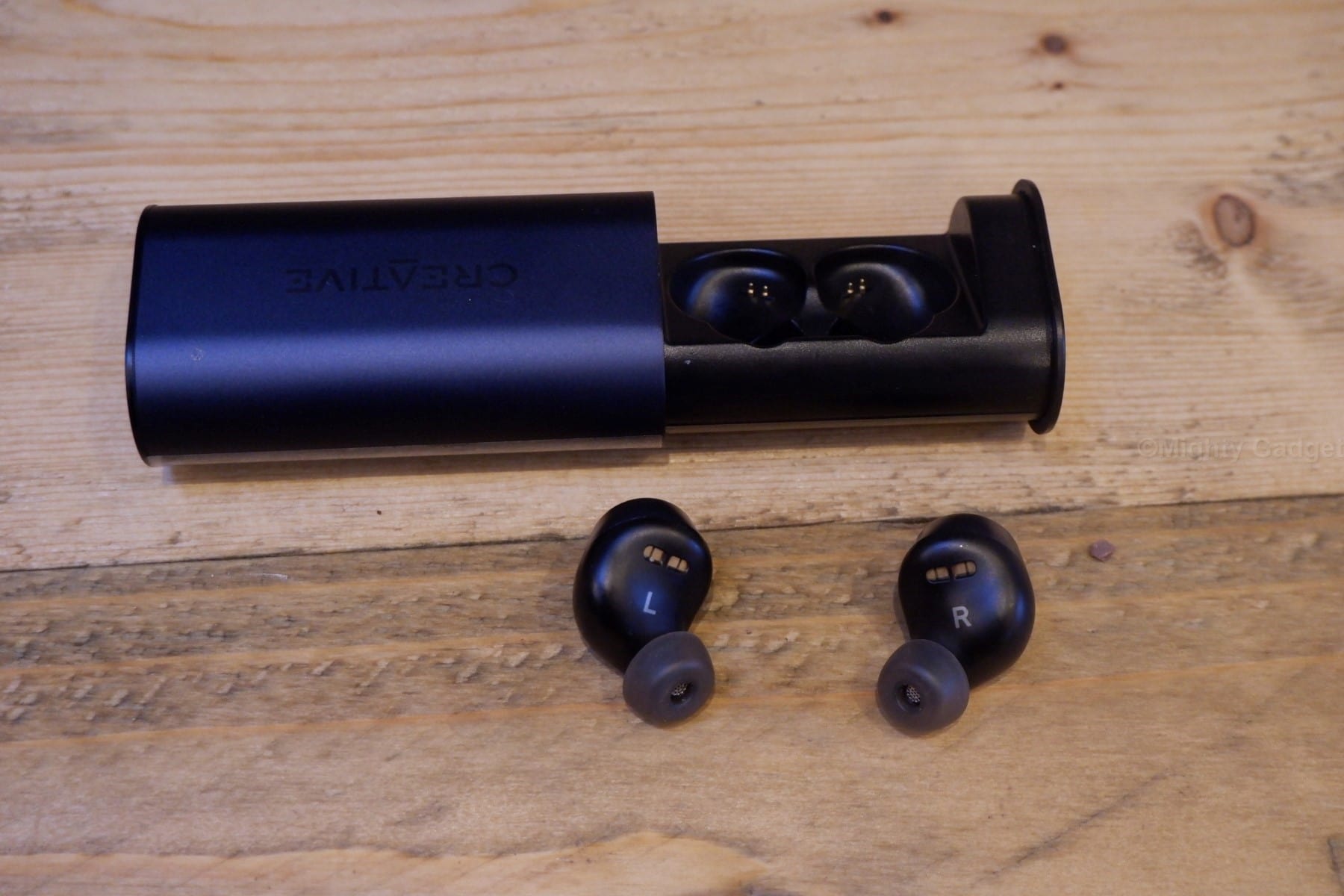 The case does have one advantage of many others. Its larger size has a little more room to accommodate third party ear tips. Sometimes I just can't get earphones to fit right in my ears, but using different ear tips either silicon or foam can often fix this.
There is nothing wrong with the earphones themselves, the earbuds are reasonable large but fit snugly inside the dome/concha part of your ear. They are not dissimilar to the Jabra Elite 75t, just a bit larger.
Fit is superb for me; they stay comfortably in my ears with multiple sized ear tips. Like most earbuds, I need the larger size silicon tip for the best sound quality. At 6g they weigh a touch more than the Jabra which are 5.5g. Both earphones feel light and comfortable in my ears.
Setup
For most TWS earphones nowadays it is barely worth writing about the setup process, you take them out of the box, pair them up via the Bluetooth menu, and you are done.
These are a little different as they show up as two separate earphones in the Bluetooth menu. When you pair one, the 2nd should then automatically try and pair.
Once paired, I found that my Huawei P30 Pro doesn't report the remaining battery life, a small but useful feature I have come to rely on with many of my wireless earphones. However, this looks to be a Huawei issue, when paired with the Oppo Reno4 Z and the Realme 7 the battery indicator is shown.
Sound Quality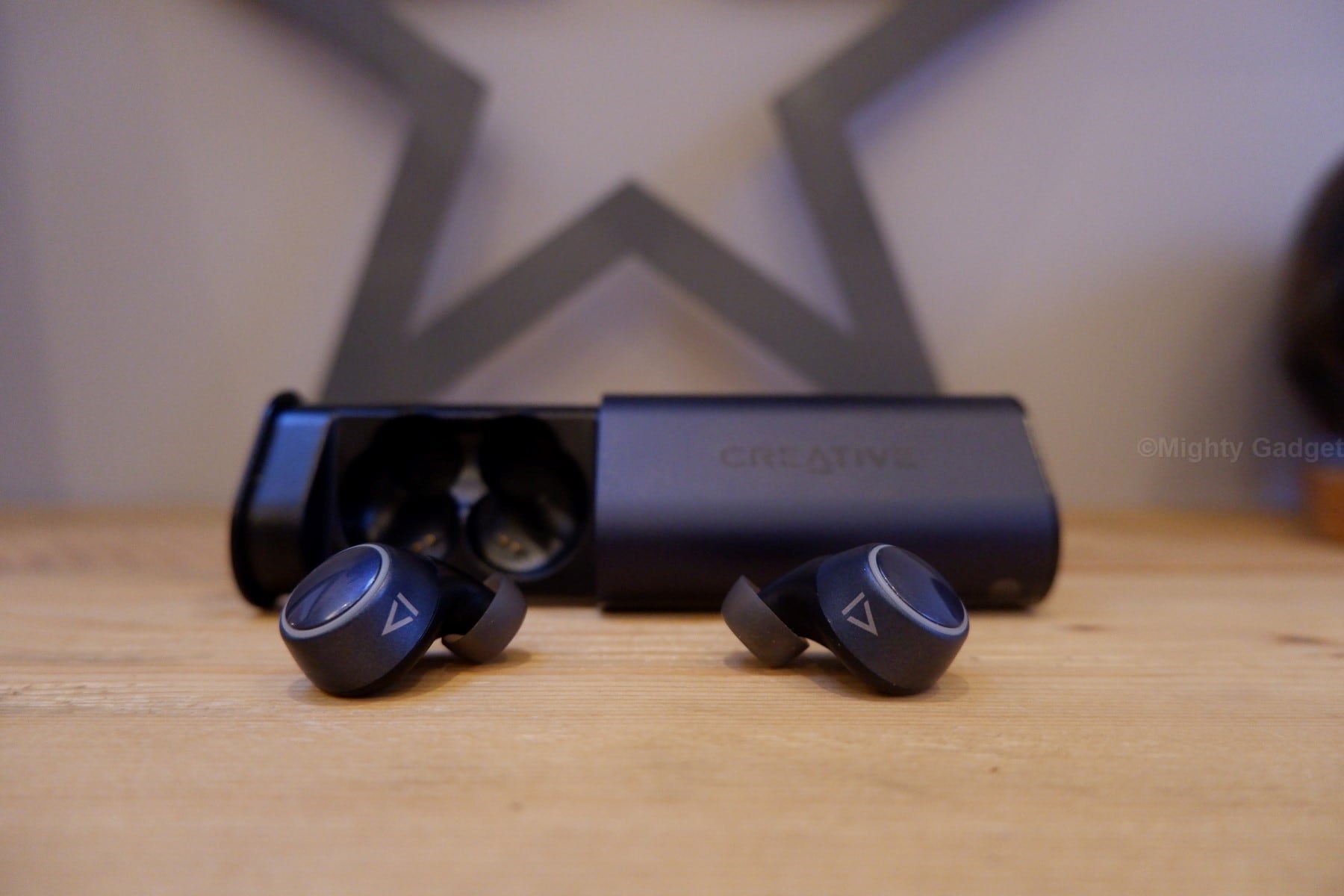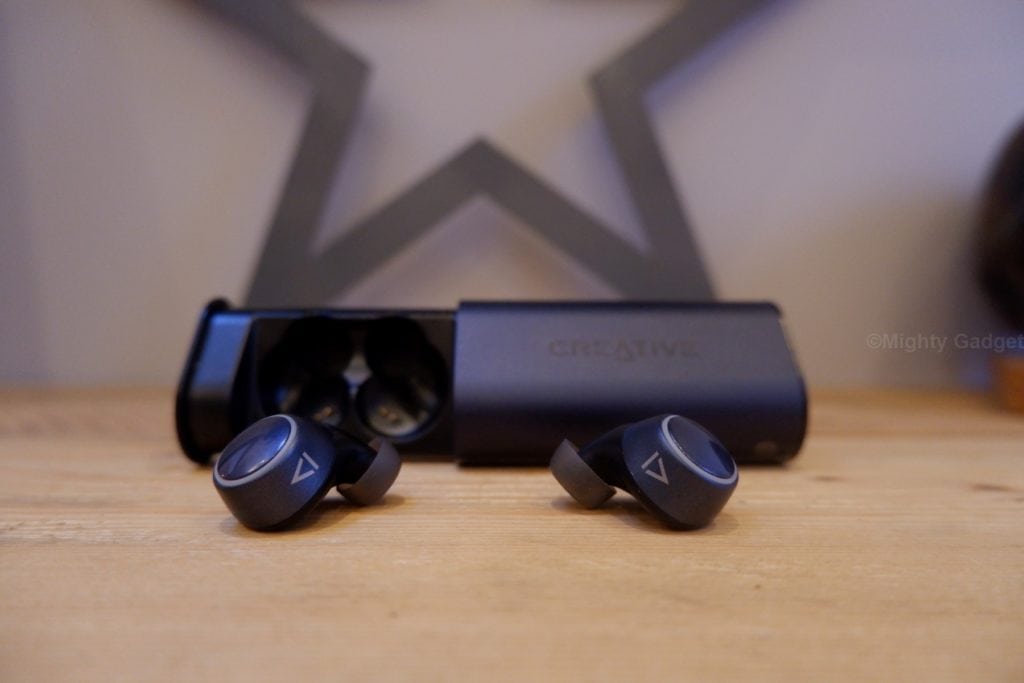 Sound quality is superb. With the pre-fitted silicon tips in, they were a little underwhelming at first, sounding quite flat, but switching to the larger ear tip brought out all the bass.
With a proper fit, these become quite bass dominant, maybe not quite as much as the Jabra Elite 75t, but I would say the overall sound quality and audio profile is very similar.
Audiophiles need not apply, they are definitely not reference earphones, but most people have a preference to a little more bass, and this is also often better for sports usage.
Unlike most sub-£100 earphones, mids and highs perform well. Quite often with cheaper earphones once you start hitting the treble, I find there is an unpleasant harshness which forces me to turn down the volume.
I found they performed well across all genres, vocals were clear and concise where needed and instruments were well separated. With me using these predominantly in the gym, my musical preference leaned towards electronica, hip hop and metal/punk; these handles all these more energetic genres with ease.
Call Quality
I do my best to avoid speaking to people, but I was forced to do a Microsoft Teams call recently, and opted to use these. They performed surprisingly well indoors, I had no complaints with clarity, and it didn't seem to pick up many unwanted noises.
Testing outdoors wasn't quite as good; some more expensive options have multiple microphones to counter unwanted noise.
Battery
The Creative Outlier Air V2 have the longest battery life of any TWS earbud I have ever reviewed They are rated for 12 hours, and I will admit I have not come close to testing these on a full charge.
Amazingly, that's not even the best battery life Creative can do, the Outlier Gold goes all the way up to 14 hours.
I can't image ever listening to some in-ear earphones for a 12 hour session, but this ridiculously long battery life gives you the comfort in knowing they are not going to die on you in any situation if they are fully charged.
This makes them particularly appealing for exercise, a 4-hour marathon + the time before warming up etc. can easily push the limits of the vast majority of earphones. There is nothing more annoying than an earphone beeping at you with battery warnings when you are an hour or so away from finishing an event.
The case itself should be able to provide around two additional full charges to your earphones.
Price and Alternative Options
These have an RRP of £75 and are currently reduced to £65 via Creative. While they are far from the cheapest earphones I have reviewed, there is little to no competition at this price point.
The original Creative Outlier Air is the best alternative, at just £47 on Amazon, you lose out a little on battery, microphone performance and no app compatibility, but they should perform about the same. Or for a little bit more money than the V2 you have the Gold which offers a superior battery life and much the same elsewhere.
I have not used the Cambridge Audio Melomania 1, but they are possibly the best-reviewed sub-£100 earphones on Amazon. They cost more, and the battery life is not as good, but Cambridge are one of the most respected names in the audio business, so I image they sound pretty good.
The Jabra Elite 75t are the earphones I have used the most this year; they have excellent comfort, sound quality and battery life. They have recently been upgraded with ANC too. At £170 they are not exactly comparable, but the incredible popular Jabra Elite Active 65t often drops as low at £95, battery life is a generic 5 hours, but they are IP56-rated design and comes with a 2-year warranty against damage from sweat and dust. So they are arguably a better option for fitness fanatics that are very sweaty.
Overall
The Creative Outlier Air V2 have a few quirks that make them not quite perfect, but they are not far off, depending on your requirements.
I am not an audiophile; most of my earphone usage is done in the gym or when running. For this usage scenario, they are outstanding.
These offer decent quality audio with a bass-forward sound signature, good waterproof rating, massive battery life and at a price point that I won't cry if I lose or break them. It ticks pretty much all my boxes for a fitness focussed earphone.
You could argue that many affordable earphones are now offering ANC, and these don't. In my opinion, at this price point, ANC performance is never that great, and it is often detrimental to the overall sound quality.
Overall, these are easily one of my favourite TWS earphones. I have used this year and easily the best sub-£100 earphones. The Huawei FreeBuds Pro and Jabra Elite 75t being the other two highlights, which both cost quite a bit more.
Last update on 2022-05-17 / Affiliate links / Images from Amazon Product Advertising API