The Jabra Elite 75t was launched at IFA this year offering all the aspects that made the Elite 65t massively popular but improving key feature including increasing the battery life by 50% and reducing the overall weight and size.
With a £169.99 asking price, these fit into an increasingly crowded premium earphone marketplace, but do they offer enough to stand out?
Specification
Design – Close fit with silicon eartips
Battery – 7.5 hours plus 20 hours charge from the case
Charge – 2 hours and 20 minutes for full, 15 mins for 60mins use
Connectivity – Bluetooth 5.0
Audio Codecs – SBC, AAC
Noise-cancelling – Passive
Microphone – 4-microphone technology for superior call quality, even in noisy and windy environments
Weight – 5g per earpiece
App – Yes with EQ, find my earphones and hear through customisation.
Voice Assistant – One-touch access to Amazon Alexa, Siri, and Google Assistant
IP Rating – IP55 with 2-year water and dust warranty.
Jabra Elite 75t vs 65t
The Elite 75t is very similar to the 65t but with some significant upgrades that help justify its increased cost.
The battery has had a massive upgrade taking the Elite 75t to 7.5 hours vs 5 of the Elite 65t this makes them one of the longest-lasting earphones on the market.
There have been some design changes too, while they look very similar the new Jabra Elite 75t weighs just 5.5g per earpiece, whereas the Elite 65t and Active weighs 6.5g on the right and 5.8 on the left. The physical size of the earphones has also been reduced by 20%. It is not a big difference but it should help ensure the earphones stay in your ear even with vigorous movement at the gym.
For a more details comparison, check out my post comparing the Jabra Elite 75t vs 65t vs Apple Airpods.
Design and Fit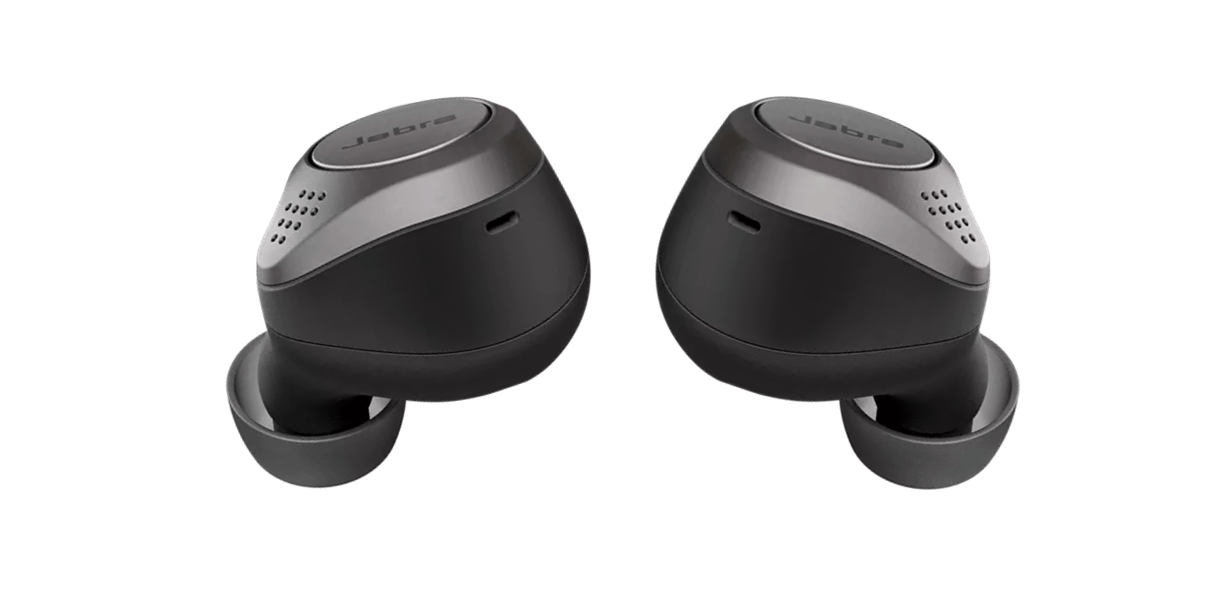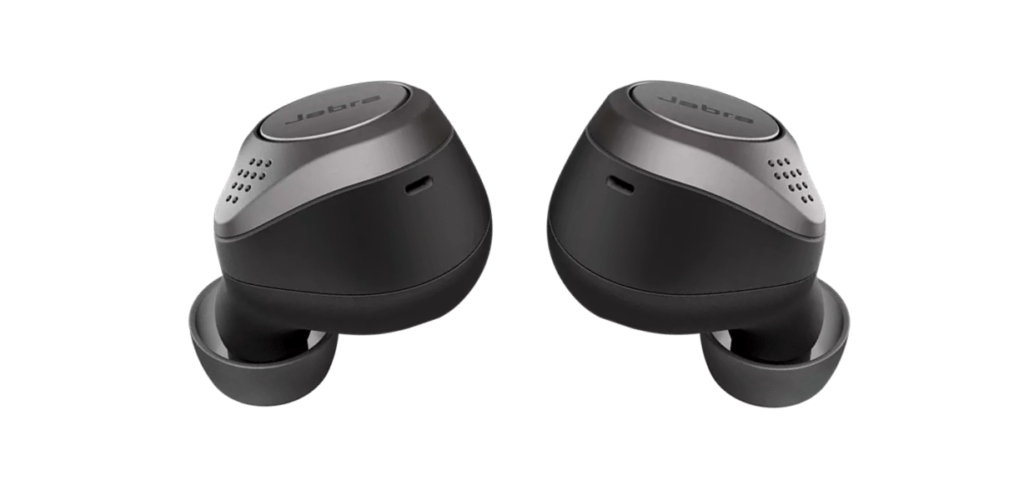 These adopt a closed fit with changeable eartips like most earphones and in my opinion a far superior design to the open fit style you have on the Apple Airpods and Huawei Freebuds 3. You get a better fit, that is also adjustable, and improved sound through increased bass.
In the past, I disliked true wireless earphones, getting a good fit that didn't require regular adjusting was a nightmare. It is annoying when walking, but disastrous in the gym or out on a run when you have to stop doing what you do to retrieve a lost earphone. This year, I found this issue to be less frequent, and only really occurs for the open fit style now.
These so far have been the best yet. At 5g and 20% smaller in size than the Elite 65t, these fit snugly into your ear with very little overhang, the combination of this means the earphones happily stay in place even without ear hooks either over your ear or the inner ear fins that anchor them in place. During my regular and often very intense gym sessions where I weightlift, row and use the treadmill a lot, they have not fallen out. They even stay in place when I get changed and have to pull a jumper/t-shirt over my head. I have done a few short outdoor runs with them with no issues at all, and thanks to the exceptional battery life I am likely to promote these to my earphones for long runs.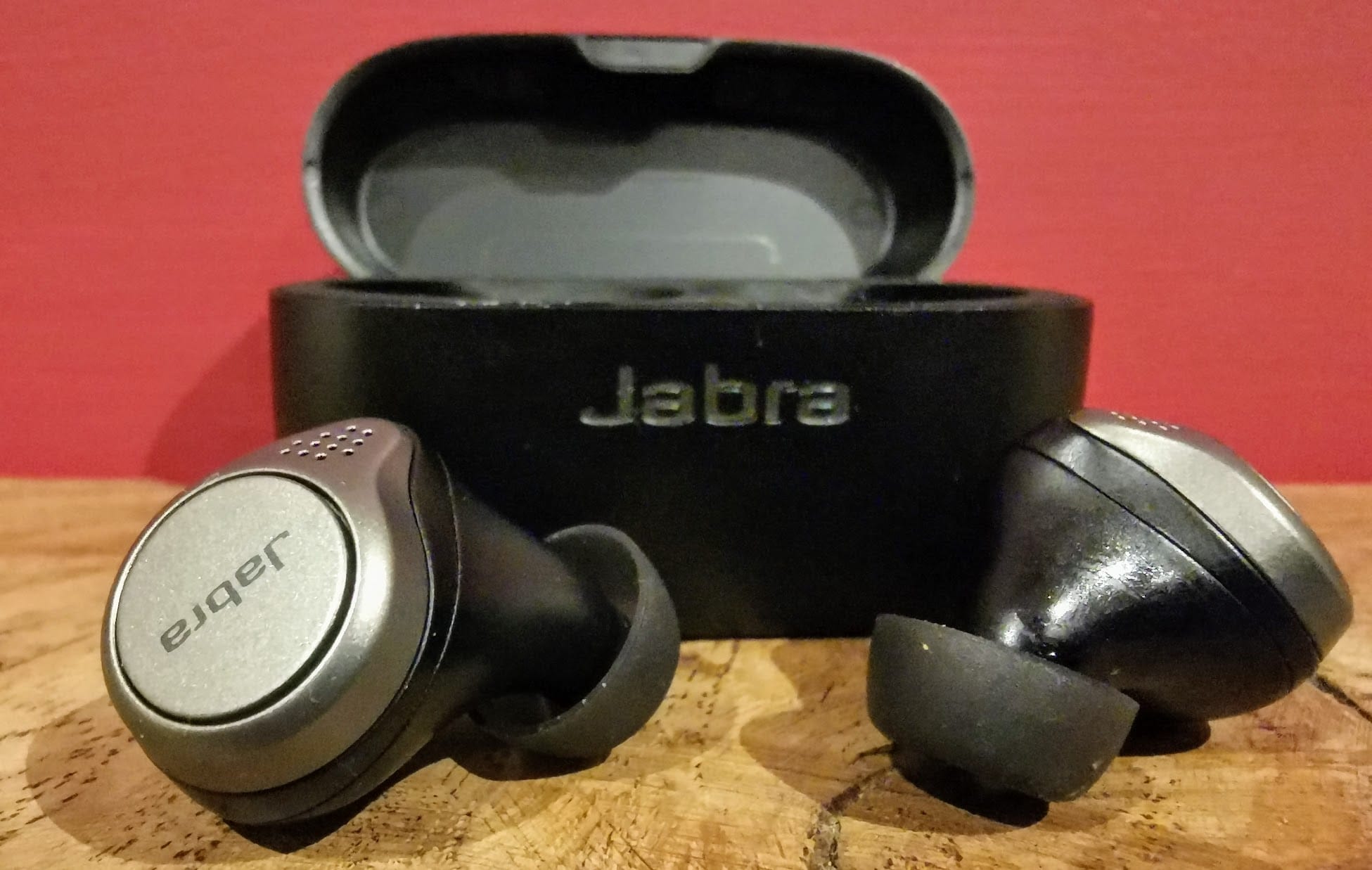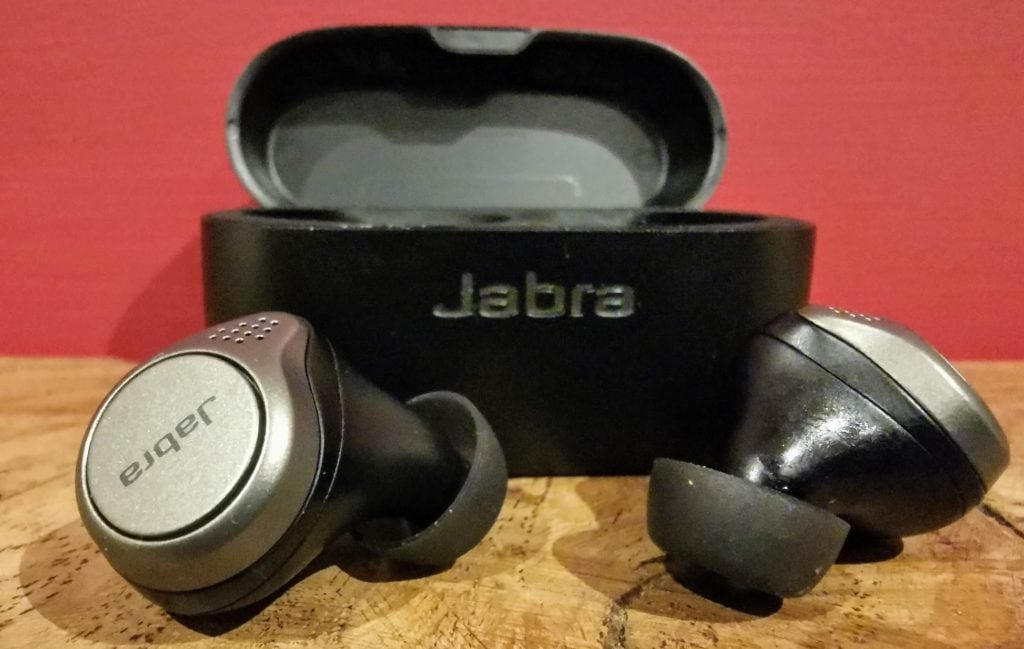 The lightweight nature of these also makes them comfortable to use for prolonged periods of time, apart from the noise isolation of a closed fit, you can hardly tell these are in your ear.
While I have found these superb for gym use, with the IP rating and warranty giving some confidence they won't break, they have a lower IP rating than the Elite Active 65t which is IP56, and even lower than the IPX7 of the Jaybird Vista. I am an extremely heavy sweater and so far I have had no issues with these, nor do I expect to have any in the future.
Furthermore, while I have achieved a good fit with most earphones recently, I almost always have to use third-party ear tips to get a better fit (I have big ears). So far I have not had to do this with these. However, if you do use third party eartips you will almost certainly have to remove them before putting them back into the case to charge. This seems to be an inevitable design issue with using a case to charge your earphones.
The case itself is mostly unremarkable. It works well, and that's what is important. The magnets are strong, so the earphones lock in place without adjustment (unlike Groov-E), and the case is small to average in size so you can happily carry it around in your pocket. The stand out feature here is the USB-C charging which is more convenient now that nearly all phones all use USB-C (ignoring Apple). However, there is no wireless charging.
App & Set-up
Like most £100+ earphones, this has a companion app, and this is better than your average one. You can do the usual stuff such as upgrade the firmware and monitor the battery levels of each earphone plus the case. You can then tweak the EQ, either by the presets or manually, then enable and tweak hear through mode allowing you to hear the environment around you, and finally locate your earphones, including playing a sound to help find them.
You will also need the app to register the extended warranty.
Performance
These are boomy, with deep, and resonant bass. I set the EQ to be on bass boost at first, and for some tracks, it was just too much, so much it felt a bit distorted for some bass-heavy tracks by Run The Jewels and other hip hop.
The EQ is a blessing here, you should be able to tweak the sound to your liking, switching to speech mode drops nearly all the bass out. I found myself sticking with default, smooth or energise for most music.
While you can tune out the bass, these have clearly been tuned to favour low-end frequencies, and some people may not be overly keen on this. Even with the EQ I think you may struggle to find a neutral sound.
For me, I don't care, I love the sound profile, I mainly use them for exercise, so I like my music to be more energetic, and the extra bass is fundamental to this.
While they are very bassy, I have found both mid and treble accuracy to be good. Vocals are clear and precise. There is no harshness or tinniness with the mids and highs.
These go loud too, with some TWS earphones, they just can't handle the volume, so again, they are good for the gym.
The hear through option is a nice addition to the earphones, it is not something I use very often, but it can be useful/important for things like running, allowing you to hear the ambient noise around you. You can tweak the settings to your liking. Using a very scientific method I set hear through all the way up, played a YouTube video on my speakers then played music on the earphones. The vocals on the video go from entirely incomprehensible for me with hear through off, to being able to just about to make out what the person is saying. These won't be as good as the Plantronics BackBeat Fit 3100 which sort of sit partially in your ear, but they do provide improved situational awareness over many closed fit earphones.
Within the app you can set up hear through to pause your music too, so this will allow you to stop and talk to someone without taking your earphones out.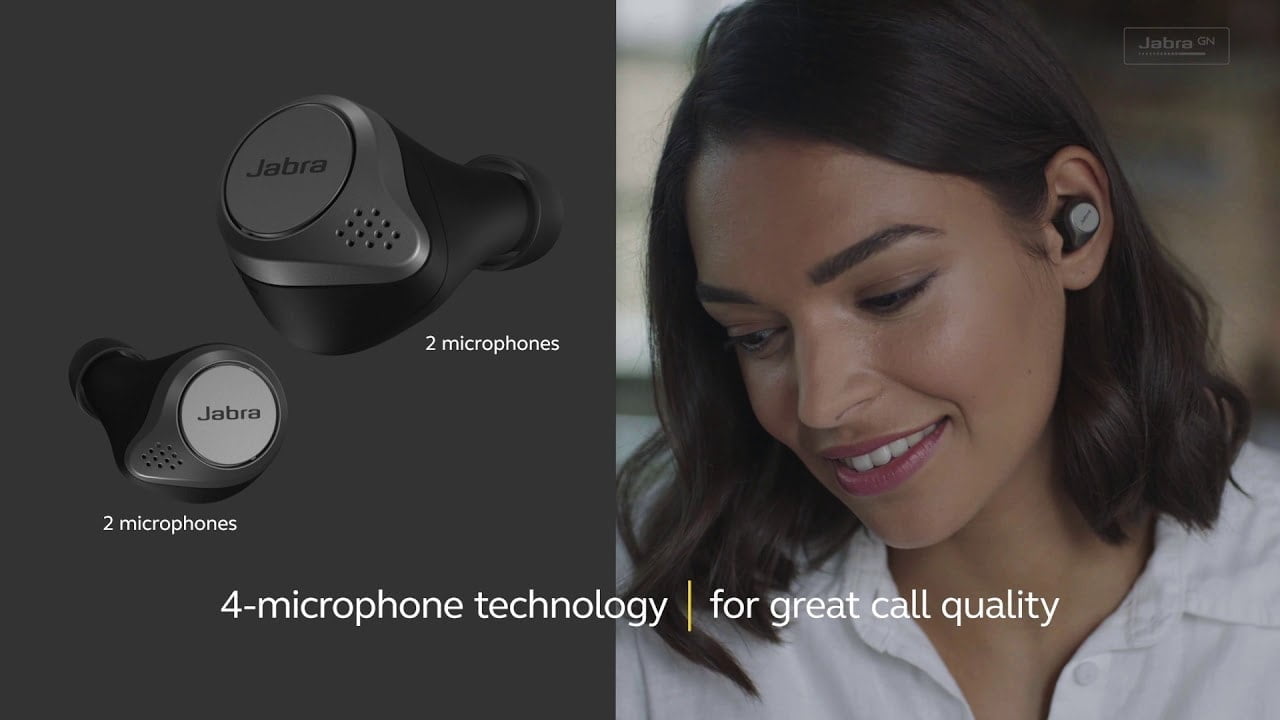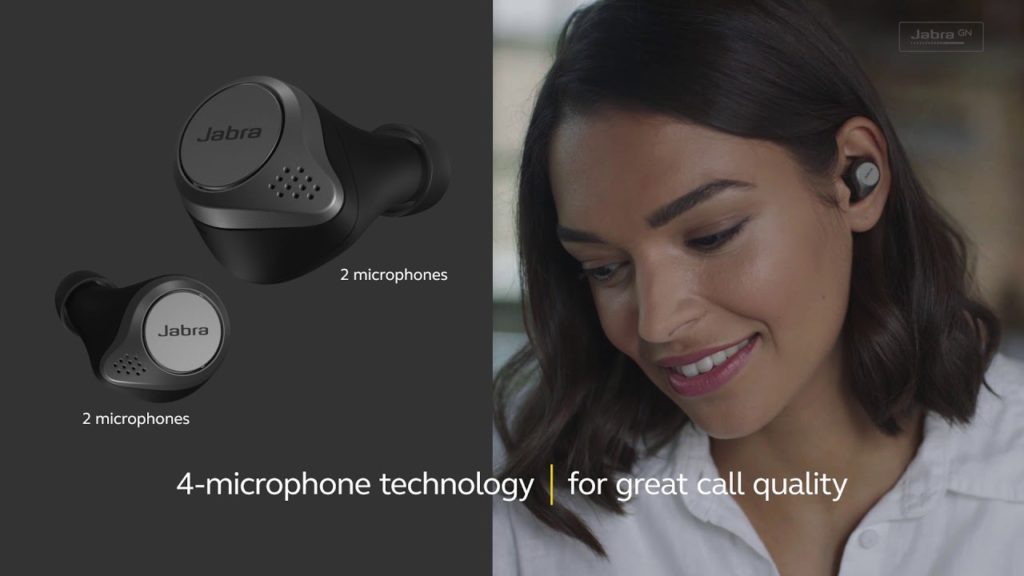 I loathe speaking on the phone, and taking calls with earphones is even worse, but I did try them out a few times to test the call quality. I don't have a huge frame of reference, but they worked well on all the occasions I used them, including when I was walking around in breezy weather. They are definitely better than the cheaper xFyro Aria earphones I recently reviewed.
Watching video, the earphones continue to impress with no notable latency issues when watching movies or TV shows.
Controls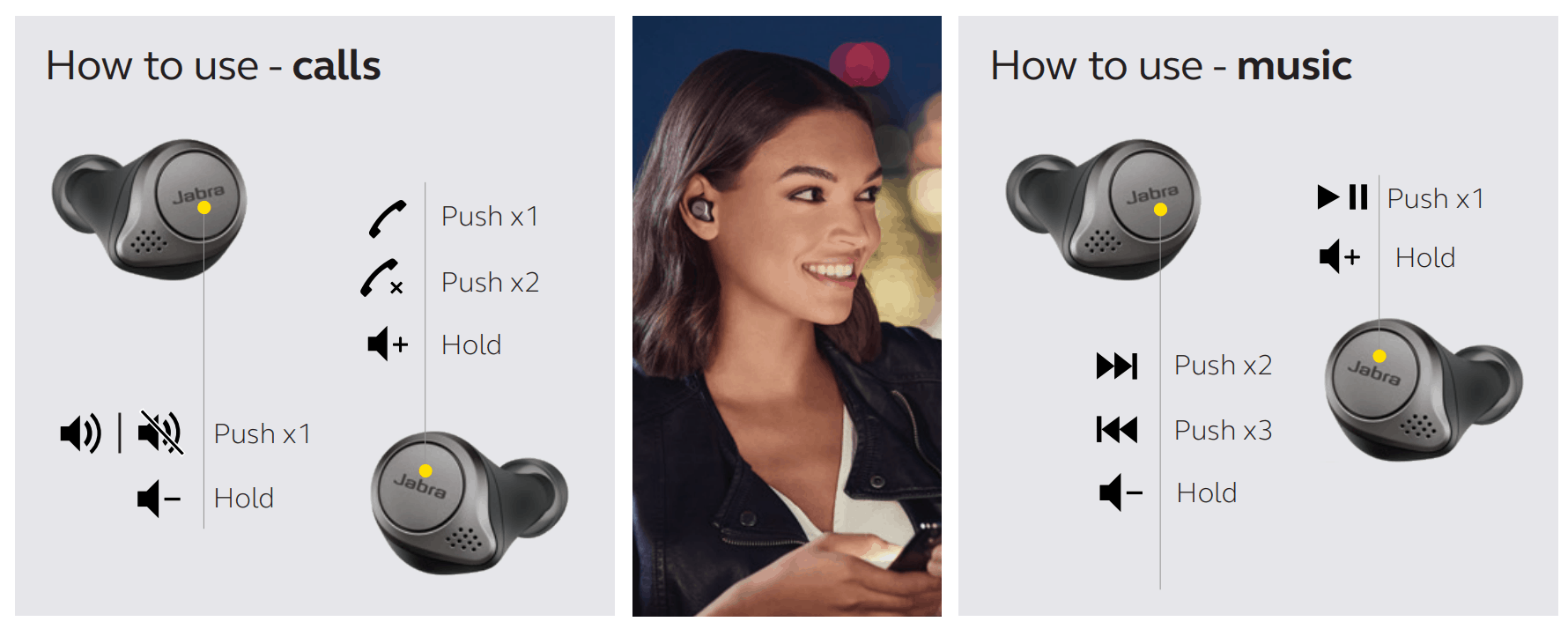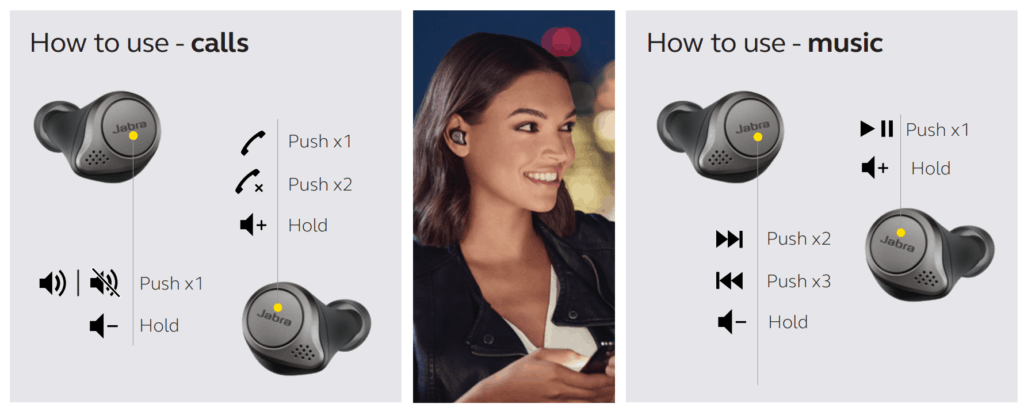 I generally hate earphone controls, I put my music on, set the volume on the phone and then get one with my business, but these came out of the box not at full volume, so I was forced to read how to turn them up. It turns out this is quite easy on these and once you know what does what, they are easy to operate.
Battery
With a claimed 7.5 hour rating I am not sure of any true wireless earphones on the market that can compete with these, which is amazing since they are some of the lightest earphones made too.
In reality, the battery life performs slightly under the marketing claims from what I can tell. I haven't run them fully down in one use yet, but a bit over 3-hours of use took them to 51% on the morning I wrote this review. I would expect I could squeeze 7 hours out of them though. This still makes them one of, if not the best on the market.
While it is rare I would ever need this much battery, a long flight can clock up almost that much usage. During marathon training I could wear earphones in excess of 4 hours when I factor in warming up, stretching etc. So not having to stress about battery life is important for me. My current running earphones, the Plantronics BackBeat Fit 3100 won't even last 3.5 hours which makes them inadequate for most peoples marathon times.
Price & Competition
At £169.99 there are a lot of superb choices for a similar amount of money including:
None of those choices can compete on battery life, the Jaybird being the best option 6-hours. All of these options weigh more, which will, in turn, affect fit.
While I have not used all of these earphones, I think the Jabra Elite 75t does more than enough to stand out here.
Perhaps the most significant competition comes from the Elite 65t which can be bought for as low as £127 and if you can cope with 5-hour battery life are quite possibly a better buy.
Overall
For me, based on my personal usage, the Jabra Elite 75t are close to perfect. 90% of my usage is in the gym or running, and I need exceptional battery life, water-resistance and a sound profile that favours more lively and aggressive music. These tick all the boxes.
That doesn't mean they are perfect for everyone, the bass is aggressive which audiophiles may not approve of. You can, of course, tweak the EQ to tone this done, but even on flat default, I found the bass to be very pronounced.
As stated above, it is a competitive market, I think these do well to stand out from the crowd and justify their price tag.
Overall I think these are superb and an excellent buy if you enjoy a little more bass with your music.
Last update on 2022-06-19 / Affiliate links / Images from Amazon Product Advertising API