Plantronics BackBeat Fit 3100 True Wireless Sports Headphones Review
Summary
Perfect for most normal outdoor runs and short bike rides – they offer a great balance of sound quality and situational awareness through ambient noise. The short battery life and sound leakage both in and out will limit their appeal elsewhere.
I spend a ridiculous amount of time exercising, so I am always on the lookout for the perfect pair of sports headphones. However, I have never been too fond of true wireless headphones for any exercise, as they always run the risk of falling out. This may only be a slight annoyance in the gym, but it is problematic mid run even worse if you are out on a bike.
The Plantronics BackBeat Fit 3100 is one of the few wireless options that should avoid this issue. It is a simple solution and my preferred style of earphone for all sports, it has a hook that goes over your ear. Even for Bluetooth earphones that have a wire, I prefer this as it means you only ever had to adjust the earphone if they slip out slightly.
These are currently priced at £129.99 direct from Plantronics and for some reason more expensive on Amazon at £177.
[content-egg module=Amazon template=list]
These come packaged in their own charge case, and I would say that these look and feel better than any other wire-free alternative I have used. The case has a pleasant soft-touch feel to it and it protects you're the headphones well, as with most earphones like this it also charges them when not in use. The company claims that these will last 5 hours and the case will provide an additional 10 hours of charging.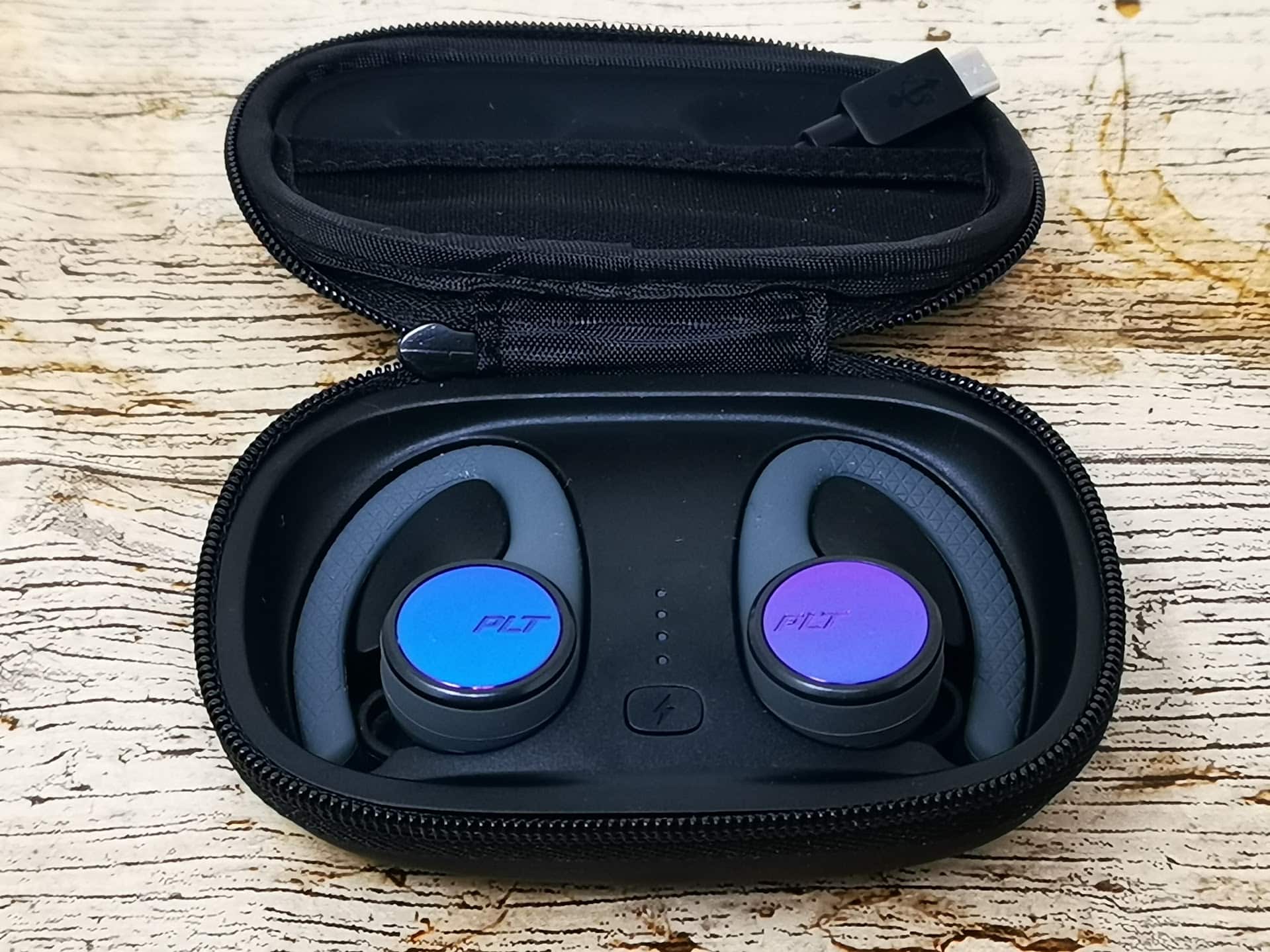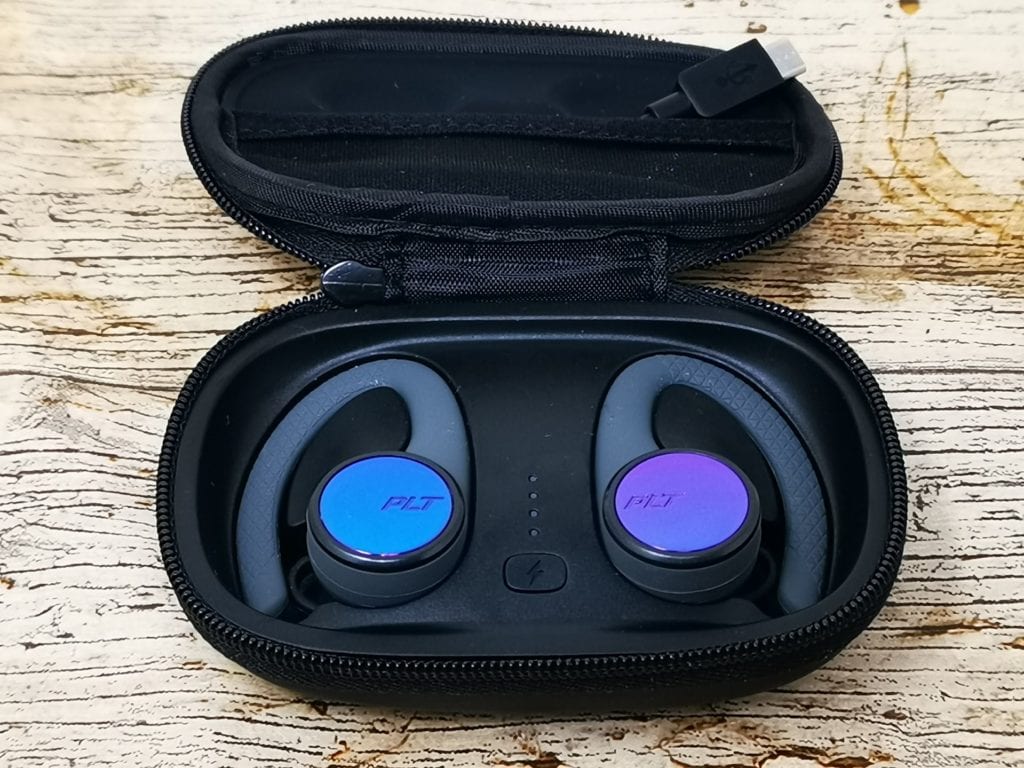 As you would hope with sports earphones, these have a good waterproof rating of IP57. I am cursed with sweating a lot, and I tend to train more intensely than most, nearly every waterproof earphone I have used has died on me within a year. These inspire more confidence as the charge point is via three metal contact pins and not a USB port on the earphones. I am sure water ingress through the USB socket is what kills most of my earphones.
It is worth noting that these have a non-standard design. At first, I thought it was a major oversight, but it is deliberate. The packaging doesn't include replaceable ear tips which in turn means that these don't fit perfectly in your ear, they just kind of sit there. While this has various negative effects, it is designed to allow ambient noise in, allowing you to hear what is around you. So these are particularly suited for outdoor use, but not as good for gym use (assuming they play music), or office use due to sound leakage.
Many earlier wire-free headphones had issues getting to work together, but these feature Bluetooth 5 which I believe alleviates pairing issues. In my case, they switched on and paired up with each other before I had a chance to put them in my ear. Similarly pairing them with my phone was quick and easy. I experienced no issue with intermittent sound with these, either between the connection on my phone or the earphones themselves. This is another area that Bluetooth 5 has improved on.
These are very comfortable to wear, but it does feel a little odd at first as the ear tips feel like they should go further into your ear.
You can optionally download an app for these and customise some of the functionality. This mainly includes the buttons on the earphones. By default it is volume, but you can personalize it for various settings including start a stopwatch, set a timer or select your favourite playlist directly.
The design feature affects audio quality too, in particular, the lack of a seal negatively affects bass, so these are not ideal for bass heads, but it is a lot better than expected. Bass does make a nice welcome presence, but it is a bit more balanced than many other earphones with a sealed design.
Even though they are not the bassiest I found these to have an excellent sound quality, they might not compete with the likes of the 1MORE triple driver, but for a sports orientated earphone they sound great. In particular, they sound better than the bone conduction used by Aftershokz, though it is worth noting that the Aftershokz offer superior ambient noise awareness and are the only brand allowed by the athletics association. Mids and highs are vibrant and the overall sound quality is superior than most earphones.
I found that these are not the loudest earphones, but they are loud enough. I had them near maximum volume for my runs, and this was more than adequate. However, due to noise leakage I found that I had to use them at max volume in the gym.
Where these do excel is their ability to stay in your ear. I used them for some intensive gym sessions including rowing and hill sprints, plus two 13+ mile runs, and I never had an issue with the fit.
I have not tested the battery to its full ability, but I found that when putting them on and receiving a high charge notification they would last about 2 hours before being told I had a low charge. So I would say the five hour use time is a little optimistic, this was possibly due to the high volume I have them at, lower volumes should last longer. It does mean that these are not the best solution for full marathons (or half for many people), nor long sportive bike rides.

Overall
I like these a lot they are easily the best truly wireless earphones I have used, they have a great build and design and surprisingly good audio quality even with the Always Aware fit they use. If you have a habit of killing waterproof earphones, I feel like these have a better than average chance of surviving. I have only had them a few weeks so time will tell in my case.
However, they are quite niche, they are ideally suited for outdoor use and for regular length runs/rides. Granted that is a niche covering a lot of people, nearly all runners will be fine with these. Endurance athletes may find the battery life a little short, and if you like to block out the noise in the gym then the always aware nature of these may not be ideal either.
For me, these have now been promoted for my regular outdoor runs, then  I use the Aftershokz for bike rides as they offer better ambient noise awareness and superior battery (at the cost of sound quality), and then cheap MPOW ones for when I am at the gym.