Huawei FreeBuds Pro Review Rating
Summary
Great sound and the best ANC from in-ear earphones I have used. At £169.99 these are cheaper than big brand rivals making them the best choice for a premium ANC earphone in my opinion.
Pros
Superb sound quality
One one the best options on the market for active noise cancelling
Lower price than other high-performance ANC earphones
Cons
Awkward to get out of the case
Disappointing decision to adopt an AirPods Pro design
During the Huawei developer conference most people were hoping for a Huawei Mate 40 announcement, at least the Kirin 9000 launch.
However, these are sadly delayed, so Huawei appeased our needs with the launch of the Huawei Freebuds Pro, Huawei Watch GT Pro, and a refresh of their laptops.
I reviewed the Freebuds 3 last year, while I am not a fan of the open fit design, I did love them (when pair with eartips), and have continued to use them throughout 2020.
So how much of an improvement are the Huawei Freebuds Pro?
No products found.
Specification
Single 11mm ultra-large amplitude dynamic driver
Up to 40dB noise cancelling
Different ANC modes and transparency mode
Mechanical audio stabilisation
3-mic system with 2 outward facing mics
Bone sensor to improve the quality of voice calls
Bluetooth 5.2
Dual anti-wind noise design with 2-mics on the top and bottom of the stem
30 hours battery life (case+earphones)
4 hours batter with ANC, 7 hours without
Design and Build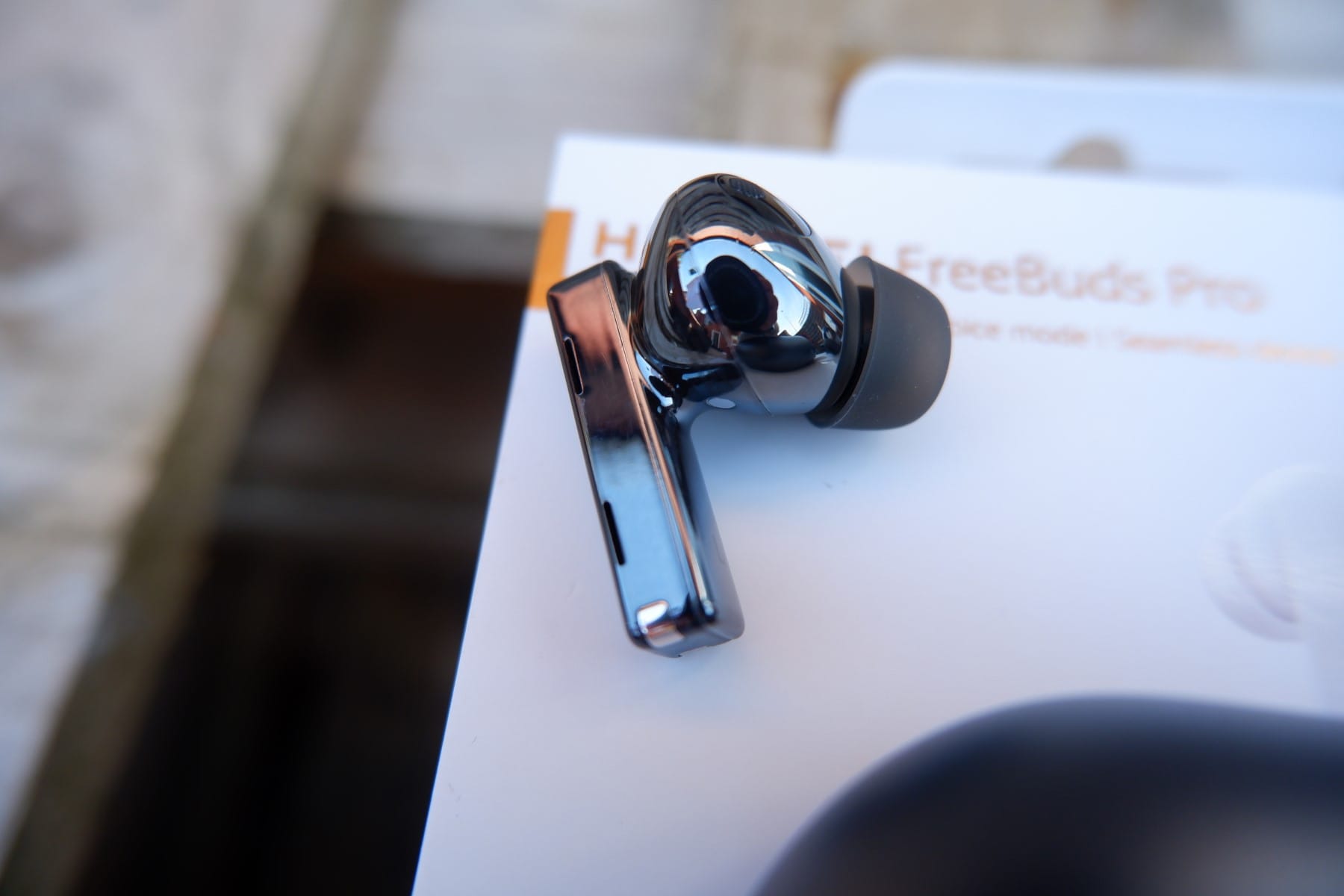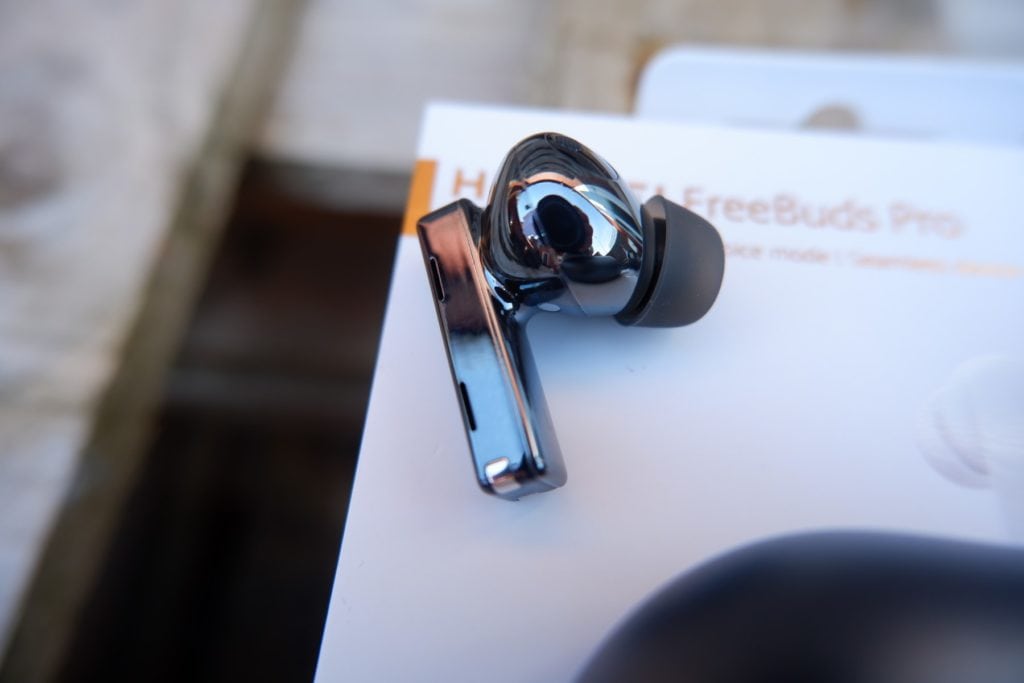 Huawei have adopted a frustratingly familiar design to the AirPods Pro. I don't see the need to do this, they are more than capable producing amazing products without copying designs.
Thankfully in real life, they are a bit different, the stem is thicker and more square, and the Silver Frost colour is certainly different to the white on the AirPods.
Gone is the circular case of the Freebuds, now you have an elongated oval/pillbox design. There is nothing particularly remarkable about the design, it looks nice that's about it. However, the shiny silver earphones are quite slipped and sit quite deep into he case, this makes it quite hard to get them out. It is a minor annoyance, but I am not sure how something so simple slipped through the design and prototyping phase.
Like most closed fit earphones you get multiple silicon ear tips, unlike most of these earphones, the silicon tip is not a standard size, so you won't be able to easily swap around tips with third party options.
Like the Freebuds, these are charged either via USB-C or wireless charging.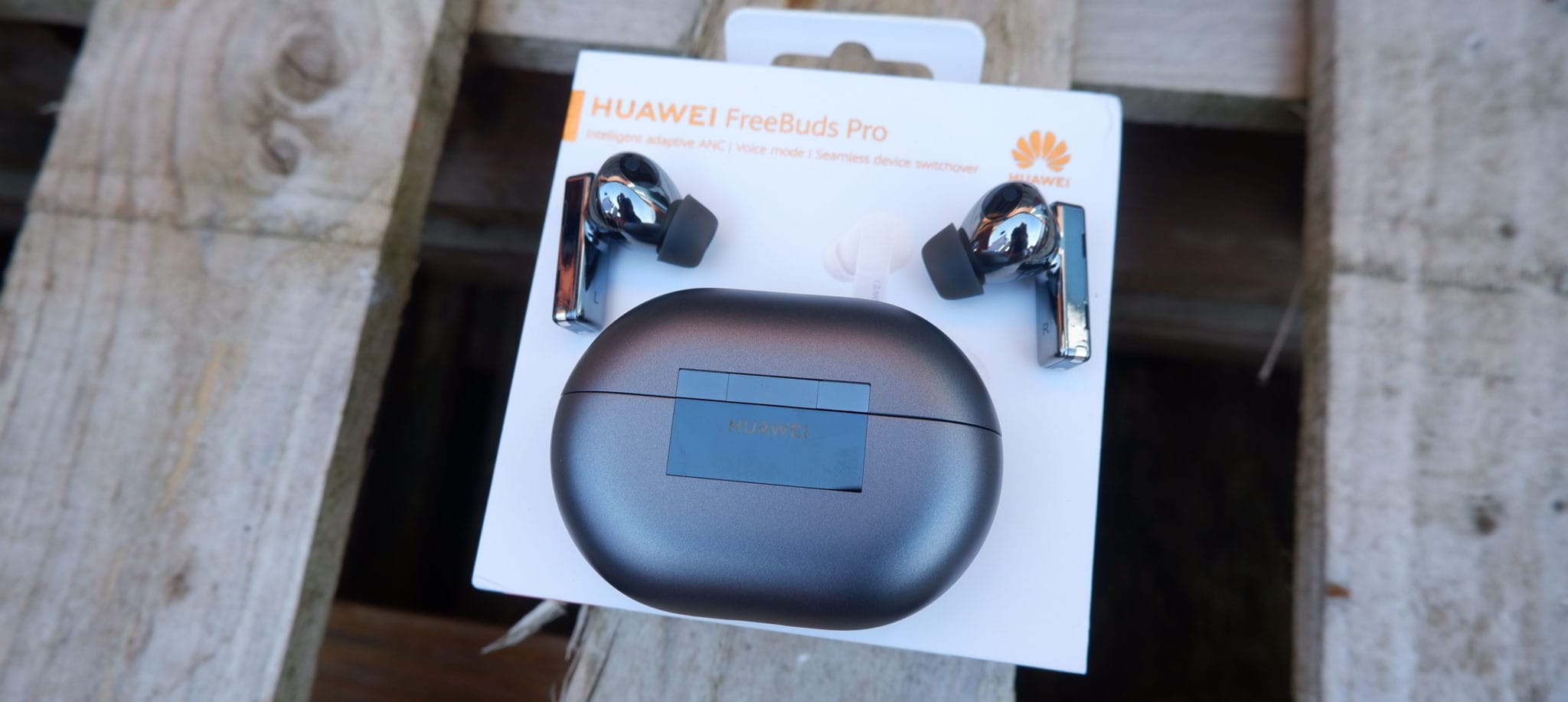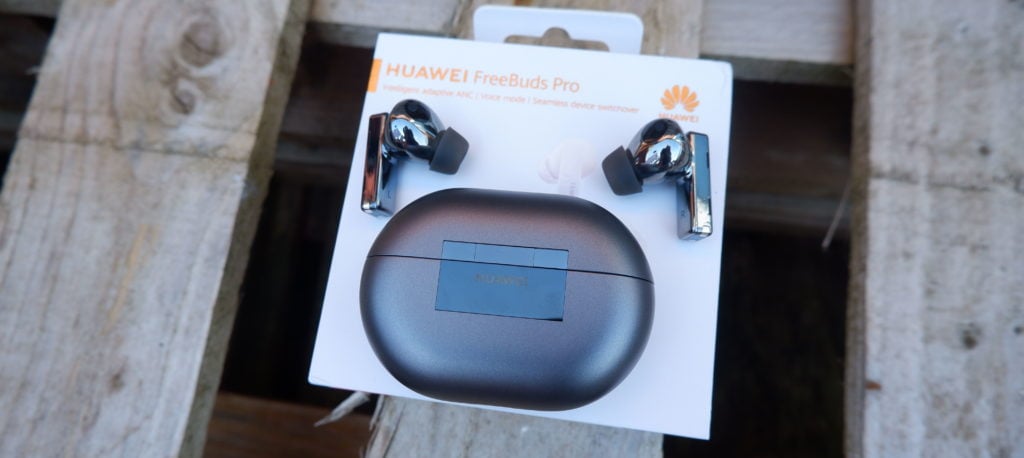 Sound Quality
I am not audiophile with super accurate hearing, so trying to objectively compare the sound quality to other earphones is a little hard, but I will do my best.
Overall, the sound good. I feared the sound quality would have suffered from the smaller 11mmdynamic driver compared the 14mm + bass tube of the Freebuds 3.
The audio profile is very different, which is unsurprising considering the switch to a sealed design vs open fit. These are much more bass forward. While the Freebuds 3 inevitably leaked bass with the open fit, I almost always wore them with third party silicon ear tips to create a proper seal. Even with these in place the bass is less dominant, I would say there is better separation with the bass on the Freebuds 3, though.
There is no comparison to be made when looking at these vs the Freebuds 3i. This sound significantly better, as you would expect for a Pro named product vs the affordable option.
Active Noise Cancelling
To me, the main appeal of ANC headphones has for flights. Thanks to covid I haven't been on a plane since last year, so I have resorted to using cabin noises on YouTube for my testing.
I have not reviewed the Sony WF-1000XM3 or Apple AirPods Pro which would be the two most obvious options to compare again. However I took a selection of ANC earphones I did have to see how well the Freebuds Pro did.
This includes the Huawei Freebuds 3, Freebuds 3i, Edifier TWS NB, and the Mu6 Space 2 Headphones (over ear).
The Mu6 Space 2 Headphones claim to offer superior performance than any other over the head earphone, and these generally offer superior performance than in-ear.
Huawei Freebuds Pro:
With these there is a noticeable difference when going from off to on. In comparison to the Mu6 Space 2 over the head earphones there is a less of a reduction in noise.
Ultra-mode works well taking the cabin noise from intrusive and distracting to mild allowing me to easily listen to audio without having to rely on cranking up the volume.
With these, these is no perceived head pressure, or at least considerably less than the headphones.
Moving away from my artificial environment, I have used the dynamic mode quite a lot while out walking. This will switch between general, cosy and ultra modes dependant on the noise it detects. While I never really felt the need to use ANC while walking before, it does block out almost all ambient noise, allowing you to enjoy what you are listening to (albeit sacrificing situational awareness).
Huawei Freebuds 3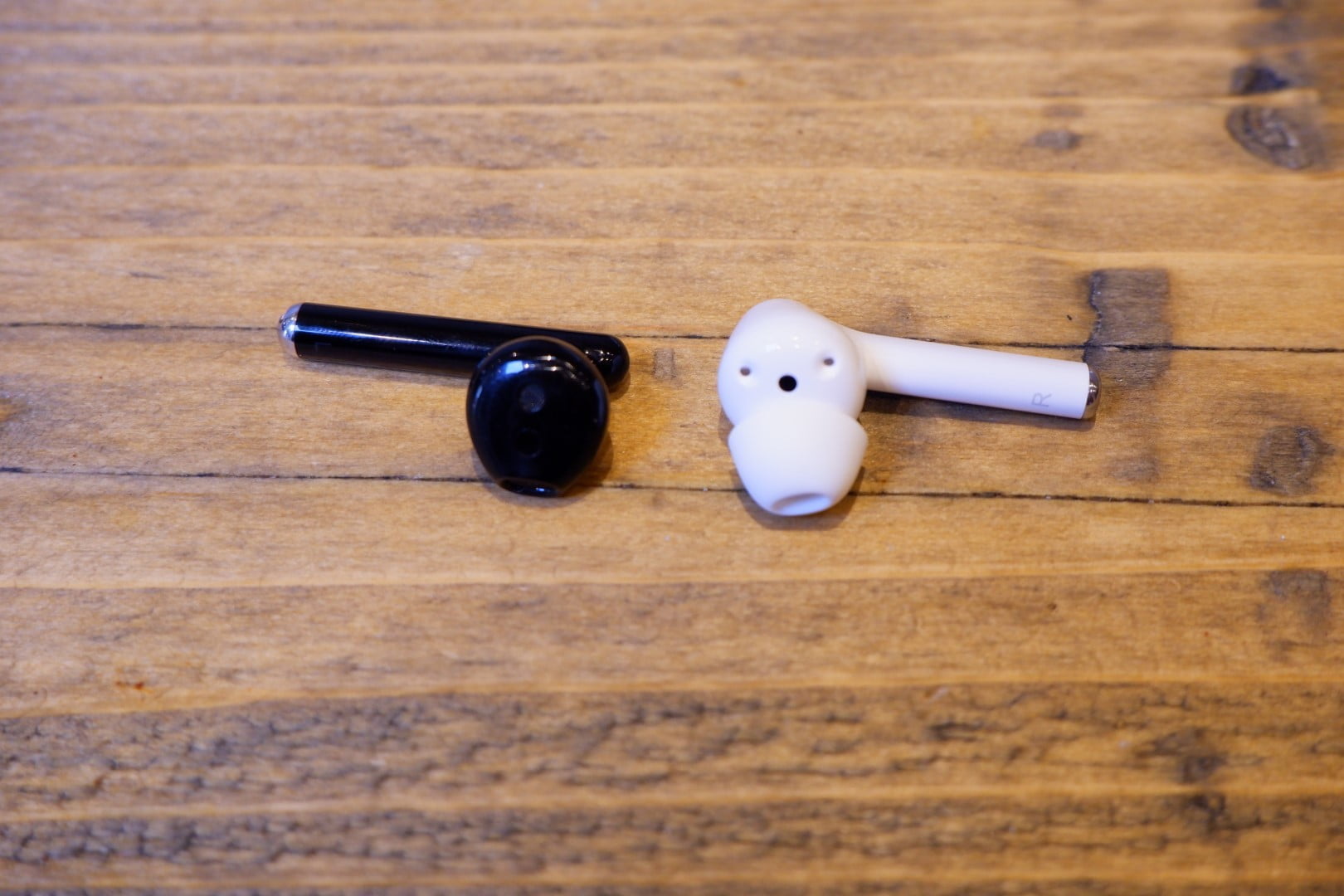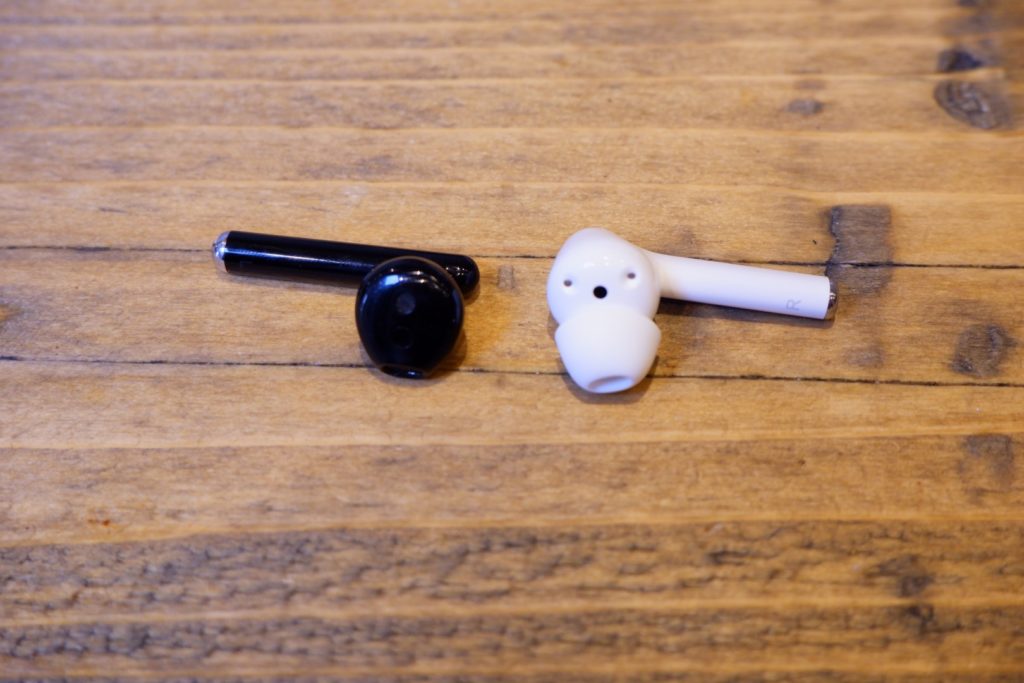 Enabling the ANC and then using the tuning options with the AI Life app allows you to reduce the cabin noise considerably making listening to audio, in particular spoken word, much easier. However, the open design of these means the ANC overall is no where near as good as the other earphones.
Huawei Freebuds 3i
ANC is surprisingly good for a pair of ANC earphones that launched for under £100. Again, cabin noise is clearly audible but there is a significant reduction making listening to movies or TV quite easy.
Edifier TWS NB
Comparable to the Huawei Freebuds Pro, a significant reduction in noise, but still clearly audible cabin noise. The app is not good on these, however I like the fact they have physical push buttons, and you can enable and disable ANC via these.
Mu6 Space 2 Headphones (over ear)
Significant reduction in sound, outperforming the all the others. The passive noise cancellation of earcups is a massive benefit to this style of headphone. However there is a noticeable head pressure created from using them.
In order of ANC performance, I would say:
Mu6 Space 2 Headphones
Huawei Freebuds Pro
Edifier TWS NB
Huawei Freebuds 3i
Huawei Freebuds 3
I probably could have guessed that order without even using the earphones. While the Huawei Freebuds 3 sit at the bottom of that list, it is hardly surprising considering the open nature of their design. If you can get a good fit, the audio quality of the Freebuds 3 easily out performs the 3i and the Edifier TWS.
Battery Life
Battery life has been excellent. I can't say for sure the exact performance I got from them, but I started using them daily on September 15th and the case and earphones finally died on the 21st.
I have been using them 2-3 hours a day, and quite often with the dynamic ANC enabled which will drain the battery much faster than without (4 hours vs 7 hours claimed).
When the battery did die on me leaving the left earpiece dead and the right one with 10%. I think this is a result of my primarily using the Freebuds with my Realme X50 Pro. The Kirin A1 chipset supports dual channel synchronous transmission (sending the audio to both earbuds at the same time), which is what reduces latency, it should also reduce the battery drain on one of the earphones. I am pretty sure this only works on Huawei phones running recent versions of EMUI. Having one ear piece die and not the other is a pretty standard occurrence with competing brands.
Other Features
Latency
Huawei made a massive deal about the low latency performance of the Freebuds 3 and their ability to do dual channel synchronous transmission. Not a single word has been said about it this time. However, I think this is all a feature of the Kirin A1 chipset in general, so I assume it all still applies.
I didn't experience any noticeable latency issues when using this with either my Huawei P40 Pro or the Realme X50 Pro.
Outdoor Call Quality
I prefer not to speak on the phone at all, let alone outside, but occasionally you get caught out. During my limited testing, performance was good. Blackpool has been unusually mild the past few days so I have not been able to test on our typically windy days.
Price and Alternative Options
The Huawei Freebuds Pro will be available from 199-Euros or £169.99 which is the same launch price as the Freebuds 3, and I think you are getting a much-improved product.
If you order before 20th of October you will also be able to claim a free Huawei Band 4 Pro.
Currently the Amazon page is live, but at a higher than RRP and no stock. They should be available to buy at for £169.99 on Amazon in October.
I don't feel like the Freebuds 3 are a comparable product, they are very different, even if these are the successor. However, if you like the open fit style they are a bargain at under £100.
The Apple Airpods Pro will set you back £249.00. It is not really a alternative product though, they are best if you are on iOS, and these are better on Android.
I recently reviewed the Edifier TWS NB, which are possibly the ugliest earphones I have ever reviewed but at around £100 they are excellent, in particular, the ANC performance isn't that far from these.
Sony WF-1000XM3 vs Huawei Freebuds Pro
The Sony WF-1000XM3 are almost certainly the best alternative to these, the RRP is a lot higher but now they have been out a while you can pick them up for the same price of £169. These are universally well reviewed and often regarded as the gold standard of ANC earphones.
During the Freebuds Pro announcement, Huawei made big claims about the ANC performance, stating that the Freebuds Pro can do 40dB vs 33dB on the Sony WF-1000XM3 and 38dB on the AirPods Pro. Neither Sony or Apple state the noise reduction numbers, so it is hard to say how accurate this claim is.
The WF-1000XM3 is a little easier on the batter, with ANC on you get 6 hours with it off you get 8 hours, then the case can charge three times.
I have not had chance to review the WF-1000XM3 myself, but they use a tiny 6mm dynamic driver vs 11mm on these, so it would be interesting to hear how they compete.
Overall
As a pair of ANC earphones, these are orders of magnitude better than the Freebuds 3 they superseded. As much as I loved the Freebuds, combining ANC with an open fit design was just a bizarre decision.
Audio quality is superb, there is perhaps a little less clarity in the separation, and certainly more bass than the Freebuds, but they sound great to me.
They are launching at the same price as the Huawei Freebuds 3, and they are considerably cheaper than the Apple Airpod Pro, so in that regards they are an absolute bargain.
However, I wouldn't dismiss the older Huawei Freebuds 3 which are less than £100 now.
Last update on 2022-05-25 / Affiliate links / Images from Amazon Product Advertising API