I feel like there have been a lot more chipset launches than normal this year. If it is not Qualcomm it is MediaTek.
Yesterday, Qualcomm took the wraps off their latest mid-range 5G contender, the Qualcomm Snapdragon 750G
As the name suggests this sits between the SD765G and SD730G but with its adoption of the new Arm Cortex A77 cores it will quite like offer superior performance than the SD765G in CPU intensive tasks.
The TLDR of this post is that the chipset is effectively the same as the Qualcomm Snapdragon 690 but with higher frequency cores, faster memory and a switch from the integrated Snapdragon X51 to the Snapdragon X52 which allows them to support mmWave 5G.
I have regularly criticised Qualcomm and MediaTek for rehashing old chipsets as new, but that's normally for year old chipsets being passed off as something new. In this case, the SD690 is already new, and this newer model offers a bit more performance.
The switch from the 600 to 700 series is a little odd though. If it wasn't for the switch of modem, this would effectively be a Snapdragon 690G.
Qualcomm Snapdragon 768G and Snapdragon 732G
For the sake of this comparison, I will ignore all the limited release customised variations such as the Snapdragon768G and the Snapdragon 732G. Both these chipsets are currently limited to just one phone each (both Xiaomi), and I suspect they were custom orders made by Qualcomm specifically for Xiaomi.
There is also the Snapdragon 720G which is newer and very similar to the SD730G but it is too messy to compare each minor difference.
Chipset Comparison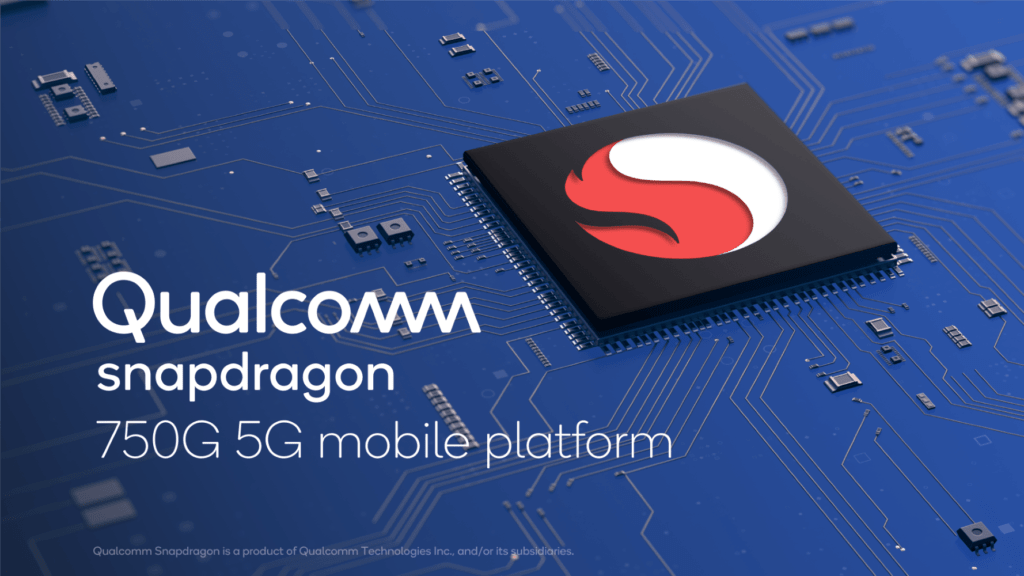 SoC
Snapdragon 765G
Snapdragon 750G
Snapdragon 730G
Snapdragon 690
CPU
1x Cortex A76 @ 2.4GHz (765G)
1x Cortex-A76 @ 2.2GHz
2x Cortex-A77
@ 2.2GHz
2x Cortex-A76 @ 2.2GHz
2x Kryo 560 (CA77)
@ 2.0GHz
6x Cortex-A55 @ 1.8GHz
6x Cortex-A55 @ 1.8GHz
6x Cortex-A55 @ 1.8GHz
6x Kryo 560 (CA55) @ 1.7GHz
GPU
Adreno 620 @ 625MHz
+38% perf vs 730G
Adreno 619
+10% perf over 730G
Adreno 618 @ 575 MHz
Adreno 619L
60% perferformacne vs 675
DSP / NPU
Hexagon 696
HVX + Tensor
5.4TOPS AI
Hexagon 694
HVX + Tensor
4TOPS AI

Hexagon 688
HVX + Tensor
Hexagon 692
HVX + Tensor
Memory Controller
2x 16-bit 2133MHz LPDDR4X / 17.0GB/s
2x 16-bit 2133MHz LPDDR4X / 17.0GB/s
2x 16-bit 1866MHz LPDDR4X 14.9GB/s
2x 16-bit 1866MHz LPDDR4X 14.9GB/s
ISP/Camera
Dual 14-bit Spectra 355 ISP
1x 192MP or 36MP with ZSL
2x 22MP with ZSL
Dual Spectra 355L ISP
48MP single 32+16MP dual
Dual Spectra 350 ISP
1x 36MP with ZSL
2x 22MP with ZSL
Spectra 355L
48MP single 32+16MP dual
Integrated Modem
Snapdragon X52
LTE Category 24/22
5G NR Sub-6 4x4 100MHz
mmWave 2x2 400MHz
Snapdragon X52
LTE Category 24/22
5G NR Sub-6 4x4 100MHz
mmWave 2x2 400MHz
Snapdragon X15 LTE
Category 15/13
Snapdragon X51
LTE Category 24/22
5G NR Sub-6
Fabrication Process
Samsung
7nm EUV (7LPP)
Samsung
8nm (8LPP)
Samsung
8nm (8LPP)
Samsung
8nm LPP
CPU
The Arm Cortex A77 CPU was first implemented on the flagship SD865, this is now rolling down to the lower end. So we are now in that confusing transition where you have some chipsets lower down the ladder, looking better specced than the higher end models.
Both the SD690 and SD750G have the same CPU configuration but the SD750G has a 10% boost on its to A77 cores giving:
Then the older models are using the Cortex A76 cores
I feel like it is time that the Cortex-A55 is due an upgrade!
GPU
Things are less clear for the GPU as it is just a generically named Adreno GPU which Qualcomm say is x% better than another GPU.
SD750G – Adreno 619 +10% performance over 730G
SD690 – Adreno 619L – 60% more performance than the SD675, no idea how the L model differs from the normal Adreno 619
SD765G – Adreno 620 +38% performance over 730G
SD730G – Adreno 618 – no performance claims
Memory
One other small difference is that the SD765G and SD750G both use faster 2x16bit 2133MHz memory vs 1866MHz
Modem
With the Snapdragon765G and SD750G, they both use the integrated Snapdragon X52 modem which offers 5G NR Sub-6 4×4 100MHz and mmWave 2×2 400MHz
That allows a theoretical download speed of 3700 Mbps and uploads of 1600 Mbps
The Snapdragon 690 has the Snapdragon X51 which can only do 5G NR Sub-6 giving it 2500Mbps and 1200Mbps speeds.
The SD730G is 4G only with the older Snapdragon X15 LTE modem.
In reality, there will not be many times that the X52 with its mmWave will offer any benefit over the X51. mmWave has very poor penetration and is best used in dense urban cores and venues with large crowds. By the time Covid has cleared and stadiums and city centres roll this out, you will probably be using a phone with a newer chipset.
Phones with the Qualcomm Snapdragon 750G
This has only just been launched but it is rumoured that Samsung may be the first company to use the chipset with the Samsung Galaxy A42 5G, either that or it will use the SD690.
Benchmarks – Geekbench
No phones means no official benchmarks.
Back in August a leaked Geekbench benchmark of the Samsung Galaxy A42 5G came out with scores of 619/1799.
We don't know which chipset that phone is using, either the SD690 or SD750G but the result is promising. The single-core score is a touch higher while the multi-core score is a little lower than the SD765G on the Realme X50 which achieved 612/1899.
Overall
The chipset doesn't offer much over the SD690 but both chipsets look excellent giving consumers and affordable entry into 5G and offering more than enough performance for most people.