Yesterday Google launched the new Nest Hub Max, with Nest Hub being the new branding for Home Hub.
As the Max name implies, this is the Home Hub but bigger and better; the screen has been upgraded to 10-inches and a new smart camera that helps you keep an eye on your home and keep in touch with family and friends.
However, the Nest Hub Max also does what the JBL Link View and Echo Show have done to smart displays, bolt a big speaker on its rear side making this much more flexible as a device. For me at least, a device like this is perfect in the kitchen, offering a decent speaker plus access to all the smart display functions.
So how does the Google Nest Hub Max compared against the Link View and Echo Show?
Price
Price is a significant factor, and unlike the Pixel pricing, Google has priced this keenly at just £219, which suspiciously is exactly the same price as the All-New Echo Show (2nd Gen) and cheaper than the JBL which costs £249.99.
Speaker
The official specification for the Nest Hub Max speaker is Stereo speaker system (2x 18mm 10W tweeters, 1x 75mm 30W subwoofer)
For the Echo Show they state Dual 2″ drivers with a passive bass radiator
The JBL has 2 x 51mm (2″) full range driver 2 x 10W RMS and a 5-inch, rear-mounted passive radiator.
It is hard to get a good idea of how the three compete, exact specifications are difficult to find. The tweeters of each speaker appear to be rated at the same volume, but the Amazon and JBL are 51mm drivers while Google is 18mm so this could make a large difference.
The subwoofer performance will make a large impact too, I have only personally used the JBL Link View, if anything it is over-dominant in the bass department and it can be a bit boomy, though this could be a placement issue as it was located in a kitchen on hard surfaces. The JBL has forward facing speakers which will likely help it with the overall audio quality.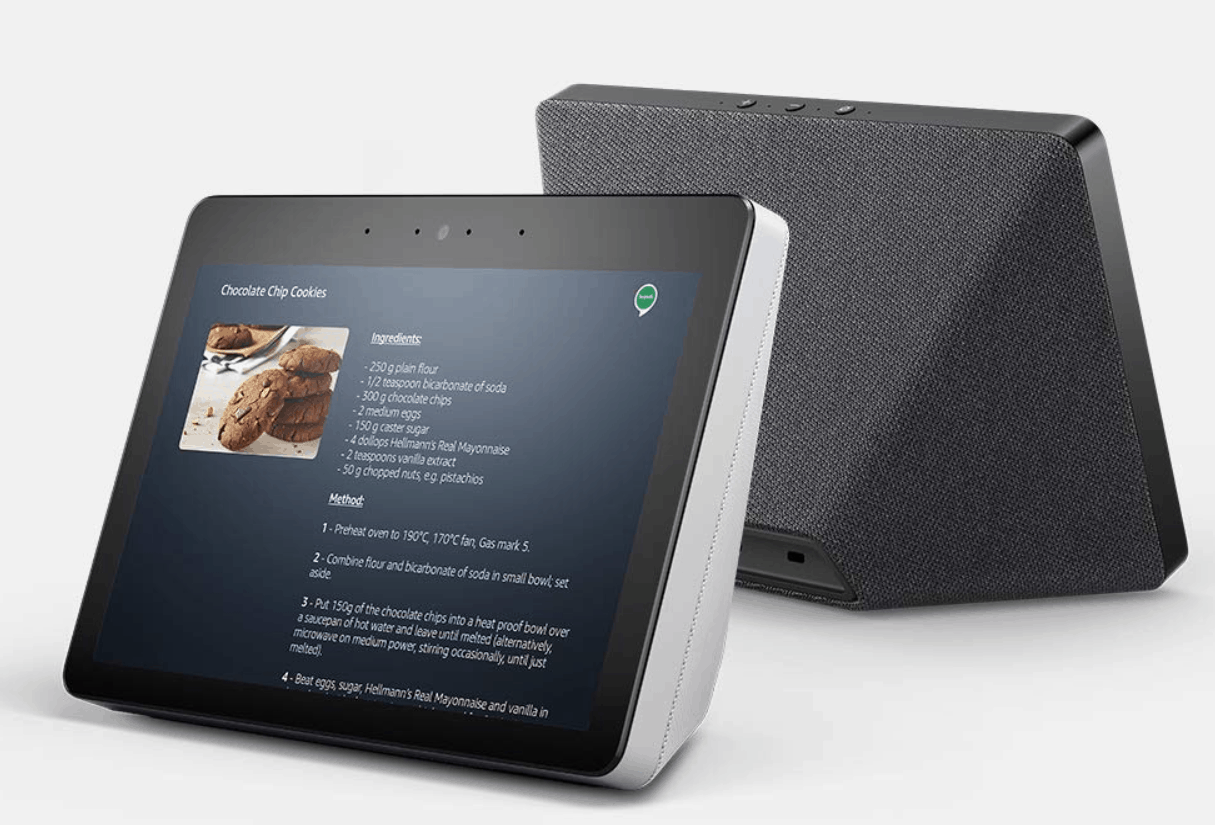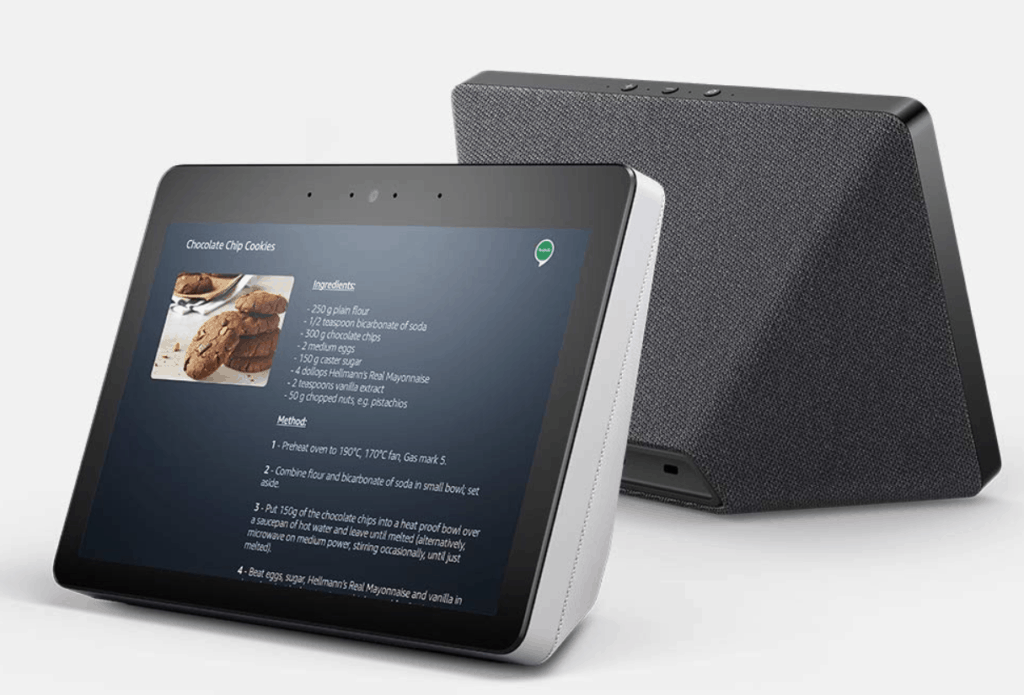 Display
Both the Google and Amazon device has a nice large 10-inch touchscreen whereas the JBL has a much smaller 8-inch screen
Design
Google and Amazon adopt a very similar design and their overall dimensions look similar. The Nest Hub Max is 250mm wide and 182mm high while the Echo Show is 246mm wide and 174mm high.
The JBL is awkwardly shaped, being 332mm wide and 152mm high. With the speakers sticking out the side and the comparatively small screen I don't think it is particularly good looking either, not that the other two look fantastic, but they look much nicer.
Both the Nest Hub Max and Link View weigh in at 1.32 kg while the Echo Show is 1.755kg. Not that weight matters, but sometimes it can be a good indication of the speakers inside, bigger heavier speakers will often perform better.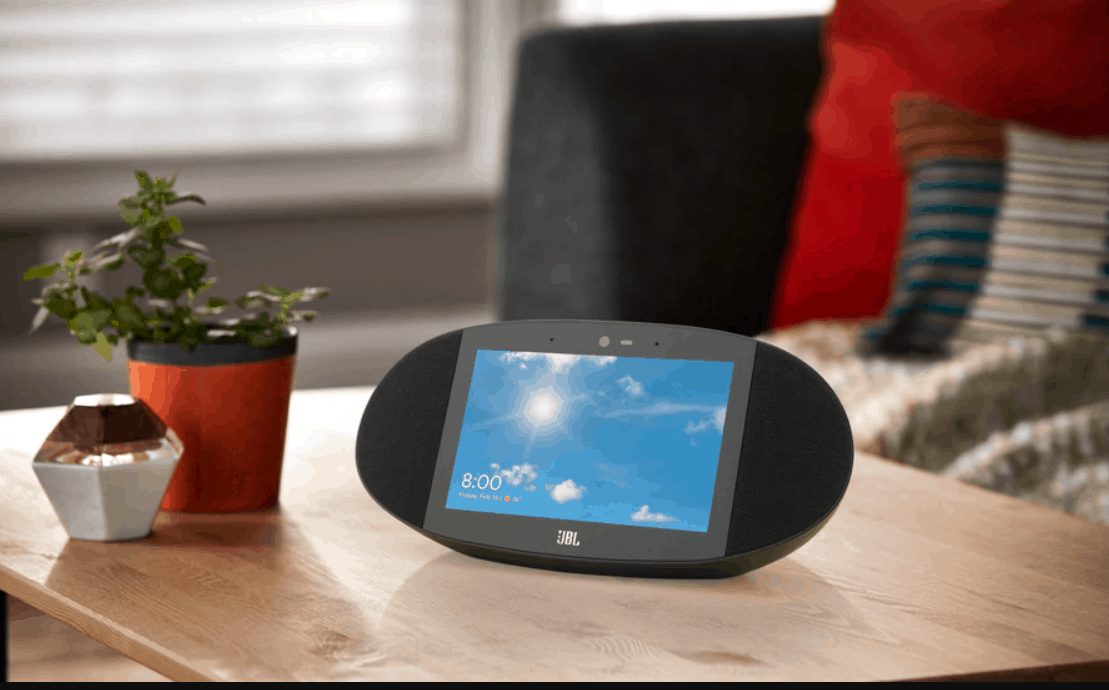 Camera
Google has introduced a front-facing camera with this model, allowing you to do video calls and other features. The specification of this camera is 6.5-megapixel camera with 127-degree wide field of view and auto-framing, it also has face match technology and there is a mic and camera privacy switch.
The face match feature sounds impressive and creepy at the same time. . Like Voice Match, this will allow Google Assistant to recognise your face and give you a personalised experience. That means that when you approach the Nest Hub Max, it will be able to serve you your calendar, for example.
The change of name to Nest is because they have built-in nest functionality to this, so the camera can work as part of your home security. I am not a big fan of indoor cameras, but if you are it is worth considering as it will save money on buying two separate devices, assuming you want to commit to Nest cameras.
Finally, the camera also enables gestures. This will let you pause and play music and videos without having to use your voice or physically touch the display.
Both the Amazon and JBL have 5MP front-facing cameras with not much else listed in terms of spec.
Overall
I am quite excited about this device when I first got the JBL Link View for review I was not so sure about it, but once I placed it in the Kitchen, I started to love it. It is a bit ugly though, and quite expensive. When it comes to devices for music, I prefer Google as I find it integrates better with Spotify, whereas Amazon pushes their own service too much.
So in theory, the Google Nest Hub Max appears to be the best option for me, however, its speaker configuration doesn't look as good on paper and how well this performs will make it or break it for me.
[content-egg module=Amazon template=list]