BlackBerry KEY2 Review
Summary
The Blackberry Key2 excels at what it is designed to do, offering superb productivity and security features, but has limited appeal for the general consumer that is more interested in Instagram than emailing.
This review is a bit late to the game, but I have finally got my hands on the Blackberry Key2. In a world of generic glass slabs, the Key2 is perhaps one of the most unique phones on the market with a specific focus on business users or people more interested in productivity and security over gaming and photos.
I loved the idea of the Blackberry Keyone but it was let down by the midrange processor which I found was often overwhelmed by the additional software that Blackberry added onto it. This phone, however, has a significant bump in specification going from the Snapdragon 625 to the Snapdragon 660 as well as doubling the RAM. This should, therefore, eliminate all the issues I had with the Keyone.
[content-egg module=Amazon template=list]
Specification
Display – 4.5 inches, 1080 x 1620 pixels, 3:2 ratio, 55.2% screen-to-body ratio
SoC – Qualcomm Snapdragon 660
RAM – 6GB
Storage – 64/128 GB
Rear Camera – 12 MP, f/1.8, 1/2.3″, 1.28µm, dual pixel PDAF & 12 MP, f/2.6, 1/3.4″, 1.0µm, PDAF
Front Camera – 8 MP, f/2.0, 1/4″, 1.12µm
Battery – 3500 mAh with 18W fast charging
Everything about the Blackberry Key2 goes against the grain compared to other companies, which makes it quite difficult to compare with other brands, because this is not competing with anything else. This phone is designed for business users with a focus on productivity and security.
On paper not much looks good when you compare with other devices, the specification is mid-range, but the price of around £600 puts this well into the premium category, around the same price as the Samsung Galaxy S10e. So for your average consumer, this does not represent good value for money.
Blackberry justifies that cost with the full QWERTY keyboard, and a significant number of security and privacy focussed features that are baked into the phone from the firmware upwards. While the mid-range specification doesn't look that appealing, it has been done for a specific reason, a powerful Snapdragon 855 SoC uses a lot of power, and if you spend all day tying out emails, you are not going to benefit from the processing power that chipset offers but you will likely have to have to charge your phone mid-day.
The SD660 SoC combined with that 4.5-inch screen running at 1080 x 1620 pixels is more than enough to do all your productivity-related tasks, while at the same time being kind to the battery, allowing well over a full day of heavy usage.
Design and Features
I love the way this is designed and how it feels in my hand, perhaps just because it is different, but I think it does look amazing. The back is plastic but with a matte rubbery feel, something you would not expect from a £600 phone, but it feels great and is proof that glass backs are not necessary for a premium phone.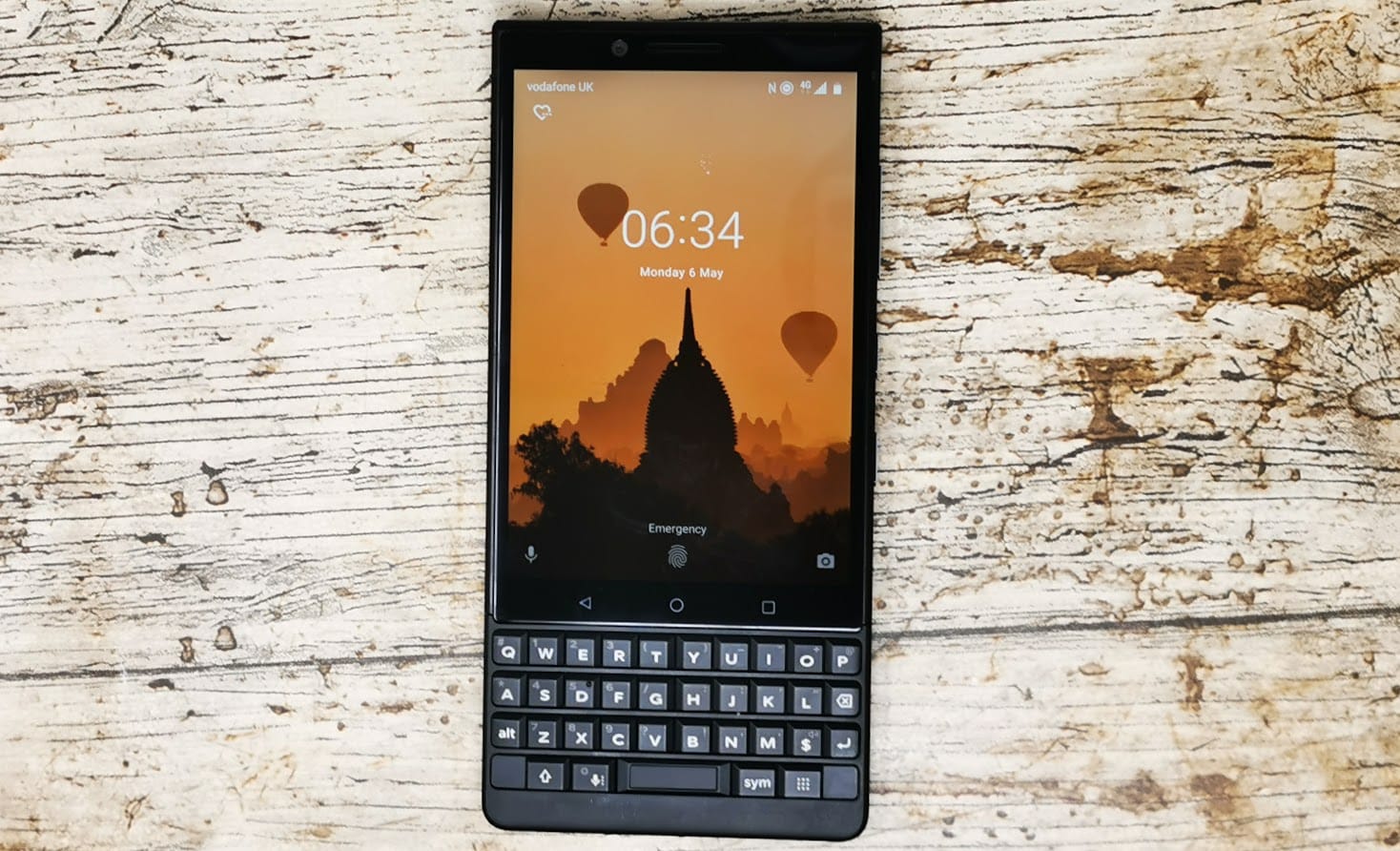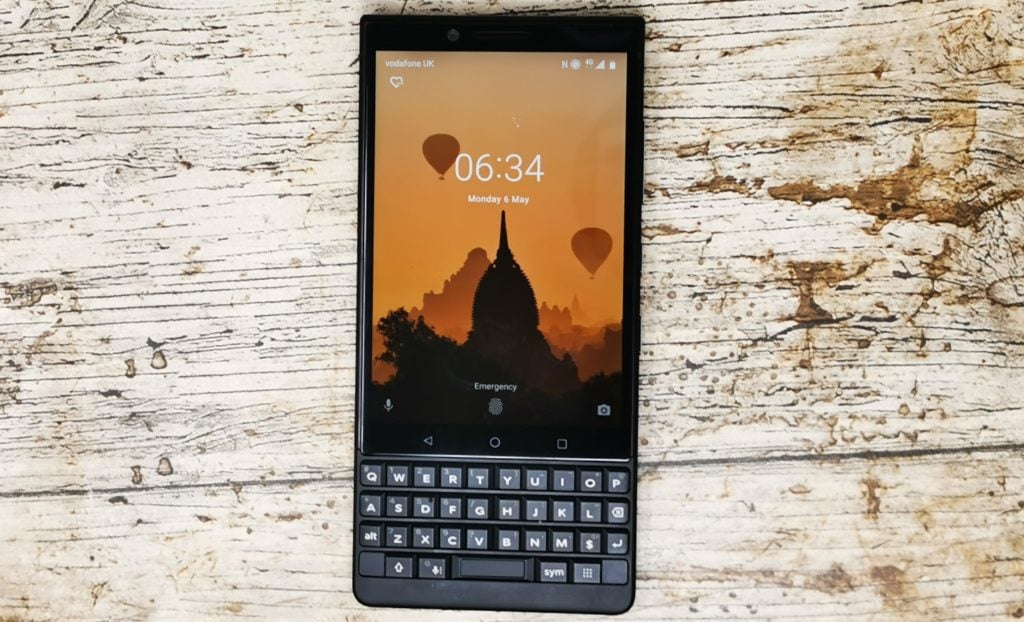 With its small screen, you would expect its overall dimensions to be quite small, but its footprint isn't that much different than the Huawei P30 Pro, except for being 7mm shorter. It measures 151.4 x 71.8 x 8.5 mm and weighs 168g, while the P30 Pro measures 158 x 73.4 x 8.4 mm, however, the P30 Pro weighs 192g thanks to its glass design. The Black Shark 2 which I have just reviewed is much larger and comes in at 163.6 x 75 x 8.8 mm weighing 205g.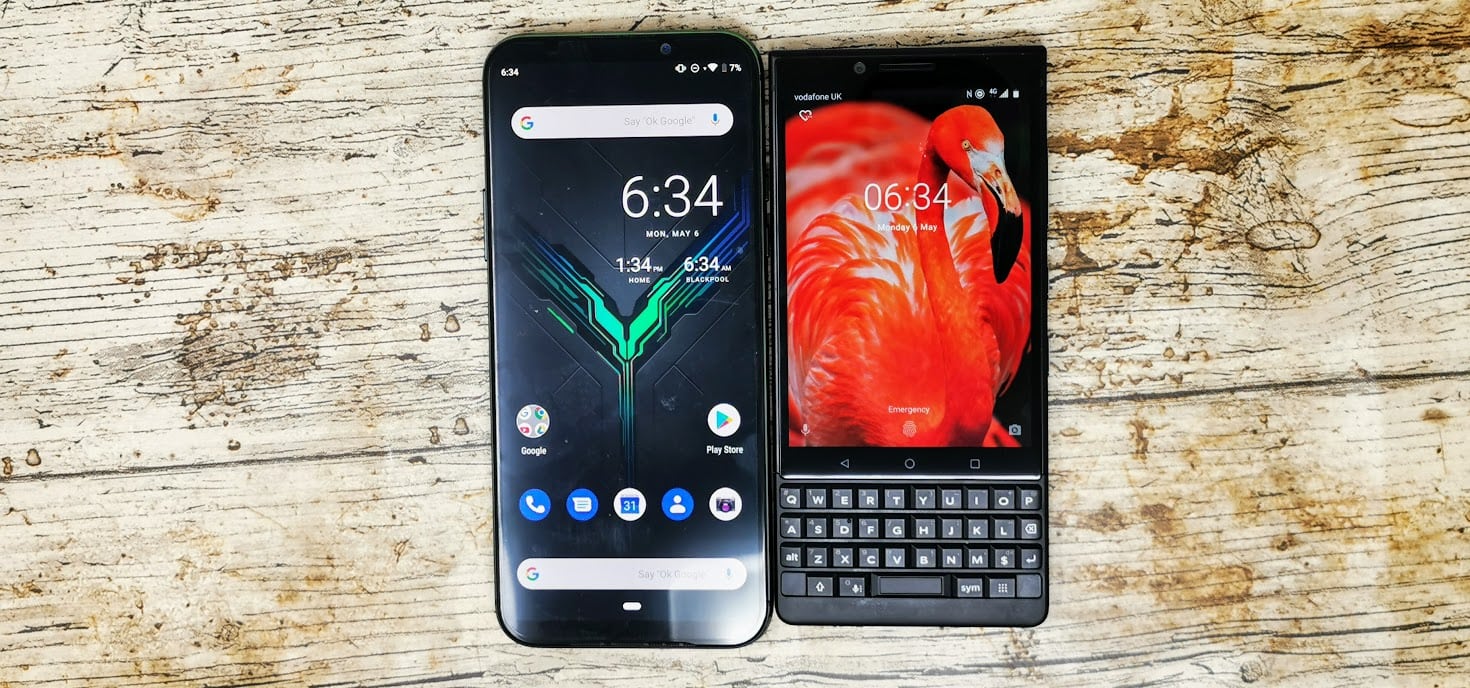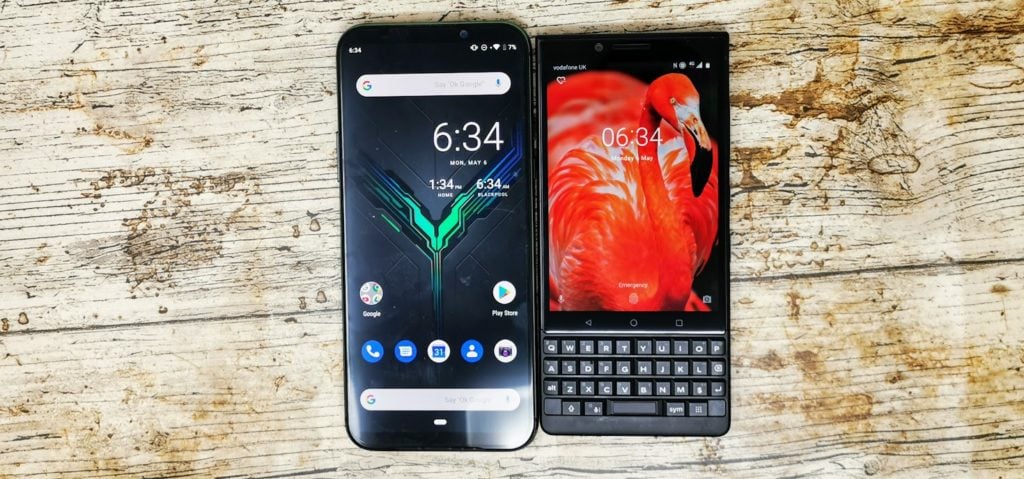 The front of the phone is what differentiates this from most options on the market; you get a full-sized QWERTY keyboard which means that the screen is limited to just 4.5 inches with a 55.2% screen-to-body ratio. The phone also still uses capacitive navigation buttons, which take up some physical space of the phone, if they had used onscreen then they could have squeezed in a slightly larger screen.
On the right-hand side of the phone is the usual power and volume buttons, but also a convenience key which can be configured extensively. Unlike Samsungs Bixby button, you can do almost what you want with this key, bringing up Google assistant is one option, but you can have it display shortcuts based on a profile which include meetings, home and car. So in the car, when it connects to the car Bluetooth, I could have the button bring up the maps option.
On the top of the phone is a 3.5mm headphone jack, something that is becoming increasingly rare, so always a pleasant surprise when it is included.
Display
Compared to most phones of 2019, the 4.5-inch display with its a 55.2% screen-to-body ratio is almost comical compared to modern standards. It is not the brightest or most colour accurate from what I can tell, its IPS display can't compete with the AMOLED option that many companies use now.
However, it gets the job done, for anything productivity related I found it to be good enough, I never felt like the screen as too small when reading emails or replying to them.
It can't fit quite as much vertical content on the screen when using social media or browsing the web but this is not a major issue.
The display size and the 3:2 aspect ratio make this less than ideal for watching media, but this phone was never designed to focus on this.
Keyboard
If you are buying this phone, the main reason is for the keyboard. Blackberry is the only major phone manufacturer on the market that produces phones with a full keyboard. The only other options I am aware of are the Fxtec Pro1 and Gemini PDA. The Gemini PDA, is as the name suggests, a PDA rather than a phone with a keyboard, and the Fxtec Pro1 hasn't even launched yet.
Blackberry has always had a great keyboard and the Key2 stays the same. Typing on it is a pleasure, so much nicer to use than an onscreen keyboard. I find typing speed doesn't feel significantly faster, but my accuracy is far better, which avoids the inevitable problems that arise from predictive typing.
Similar to the Keyone, the fingerprint sensor is located in the spacebar, this makes the sensor size smaller than standard rear mounted thumb sensors, but I find it a lot easier to use and more accurate than the increasingly popular in-display scanners. The spacebar does have an unusual wobble to it, but I have not found it too much of a concern for my typing accuracy.
The one small issue I have with the keyboard is that you need to use the default onscreen keyboard software to make the most of it. I use Swiftkey for most of my phones, and that remembers a lot of the stuff I type, so sometimes when doing standard replies I keep hitting the recommended word and never have to type. Or for example phone numbers or URLs that I frequently type. The Blackberry keyboard will learn this itself, but it is just frustrating having to start from scratch. Swiftkey does work OK with this, but you lose out on some of the features.
Performance
While this is will perform poorly compared to other similarly priced phones for things like benchmarks or gaming, what is important is that it performs well compared to the Keyone and for its target market.
The Snapdragon 660 sits somewhere in the upper middle of Qualcomm's line-up and is a significant improvement over the Keyone which makes a huge difference. During my time with the phone, it experienced no slow downs, apps were not laggy, and the overall user experience felt fantastic.
Camera
Blackberry has improved the camera, and it does a good enough job, but this is clearly not designed to be a camera phone. With me reviewing it in 2019 its specifications look worse with the relatively common 48MP camera phones, or triple and quad lens setups.
The dual lens camera allows for 2x optical zoom, and the 12MP lens is capable of producing decent shots in good lighting. The camera app itself is a bit lacking, there is no easy way to switch between modes, and there is no AI. Overall though, this will produce decent enough photos when you need.
Dark Peaky Blinders themed pub
Battery
The Key2 may not be quite class-leading compared to others in terms of battery size, but the 3500mAh is larger than many on the market. The combination of the processor and screen make the overall battery performance superb. I comfortably lasted well over a day, during a trip to Liverpool, setting off at 8 am and not charging it, it was still going when I got home at 5 pm the next day. Even my P30 Pro doesn't last that long, and that has a 4200 mAh battery.
I suspect this is why Blackberry opted for this specification rather than something more powerful, most productivity apps don't require a Snapdragon 855 (or SD845 when this was released), and something mid-range allows far superior battery performance.
Software
Blackberry Key2 runs mostly stock for its base OS but has a lot of additional software, usually this is a pretty big downside, and with the Keyone is did have some performance impact. However, most of the additions to this phone are well thought out and specific to productivity and security.
Key additions are the Hub, DTEK and Locker. There is also BBM which was loved by many for years, but sadly it will shut down at the end of this month.
For me, Blackberry Hub is the stand out app, which is a unified messaging app for all your emails, texts and call logs. For me, I have four main email accounts, so having everything unified into one easy to navigate app is a blessing. The downside of this, is that it does not nativity pull in your Gmail accounts, so you will need to add them as IMAP accounts within the app, and if you want to avoid duplicate notifications, you will have to disable any notifications from Gmail. The Hub offers a plethora of settings allowing you to customise things just how you need. One particular favourite of mine is setting up quick responses for emails, allowing you to have multiple canned responses. This is something the Gmail app lacks apart from its signature or intelligent recommendations. With this, I was able to copy all my outlook signatures over and send default replies to the barrage of generic PR and marketing emails I get daily.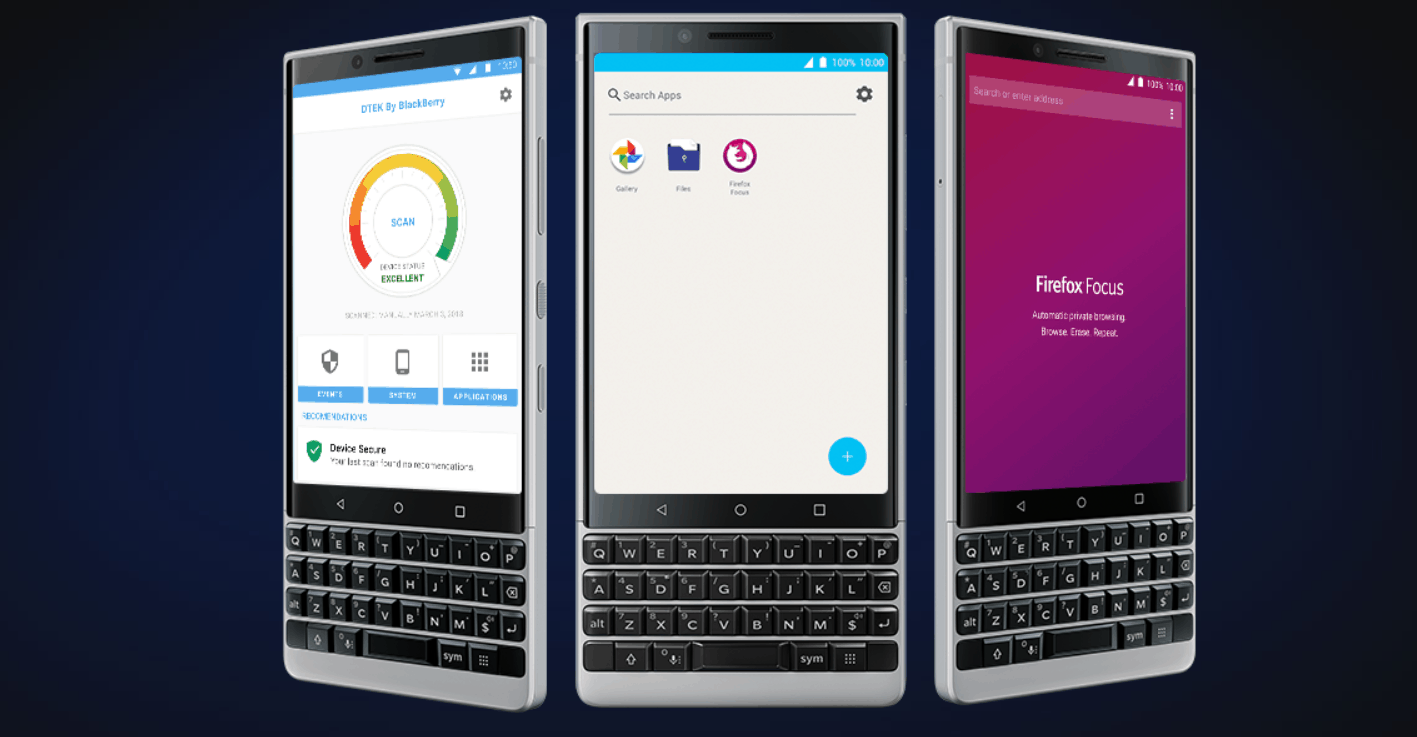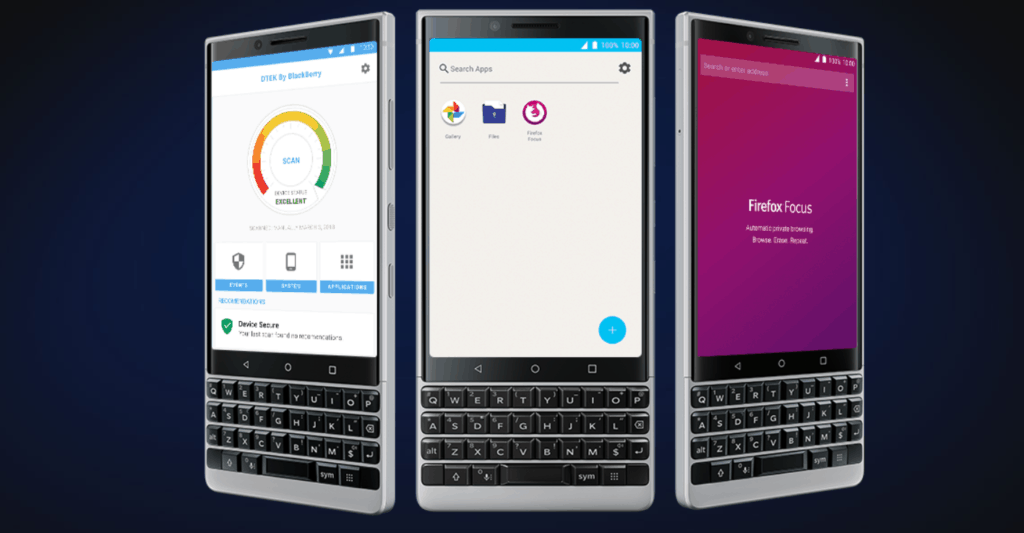 The security focussed features are another area where Blackberry stands out from the crowd. It is something that allows them to justify the cost of the phone. Blackberry has added more than just a couple of secure apps, security is baked in from the hardware up, including the firmware and the core OS itself. They have taken security so seriously they even have a 31-page PDF document explaining it all. If you are a business user or someone that is concerned over privacy and security in general, these features are very appealing. However, this is another area that will alienate your average consumer due to it adding to the final cost of the phone.
Unfortunately, all these security tweaks to the firmware and software mean that it is slower for software upgrades to be pushed out. Blackberry will be very proactive in releasing security updates, but at the time of writing the phone still uses Android 8.1. Android 9 Pie is expected to be released, and it took over a year for the KEYone to get Oreo, so you can probably expect the same sort of timing with this phone, with the Pie update landing late in the year.
Conclusion
I personally love this phone, and it works well for a specific use that very few if any can compete with. If you spend all day emailing, messaging and generally typing out things, there is little that can compete with the Blackberry, which makes it the perfect business phone, which, as always, is what Blackberry phones were designed for.
For everything else it is hard to recommend, the 128GB dual SIM option is available on Amazon for £591.98 but an RRP of £629.00. For that sort of money, you could choose multiple other options which are superior to this in every way apart from the productivity. The Honor View 20 and the new Xiaomi Mi 9 are considerably cheaper and have a vastly superior processor and camera. Then there is the similarly priced Samsung Galaxy S10e.
This isn't designed to compete with those phones though, and Key2 will appeal to any business person that spends all their day on the phone, whether you are a sole trader or CEO. This may not represent the best value for money, but the improved productivity for emails or any typing related activity will likely justify the cost and some.
The security focussed features are also an area that will make this popular with specific users. It is one of the best phones on the market for security; only obscure specialist phones can compete with this. Phones such as the Blackphone 2 have mediocre specs and offer very low value for money apart from the security features, so the Blackberry Key2 would represent a far more rounded and well-priced solution.