The Samsung Galaxy S20 series launched yesterday with pricing starting at £799 in the UK for the Samsung Galaxy S20 4G with 128GB storage.
A new Geekbench result has popped up online testing the Samsung Galaxy S20 features the Exynos 990 chipset, which is what we will get in the UK.
In previous years the Exynos models have come under fire due to their poor performance compared to the Qualcomm equivalent. Last year tests done by AnandTech showed the Snapdragon 855 ahead of the Exynos 9820 in almost every test they carried out. Furthermore, the chipset was criticised for its poor battery performance.
Samsung S20 series – Exynos 990 vs Qualcomm Snapdragon 865 Geekbench results
With GeekBench 5 the Samsung Galaxy S20 with the Exynos 990 recorded a single-core score of 938 and a multi-core score of 2726.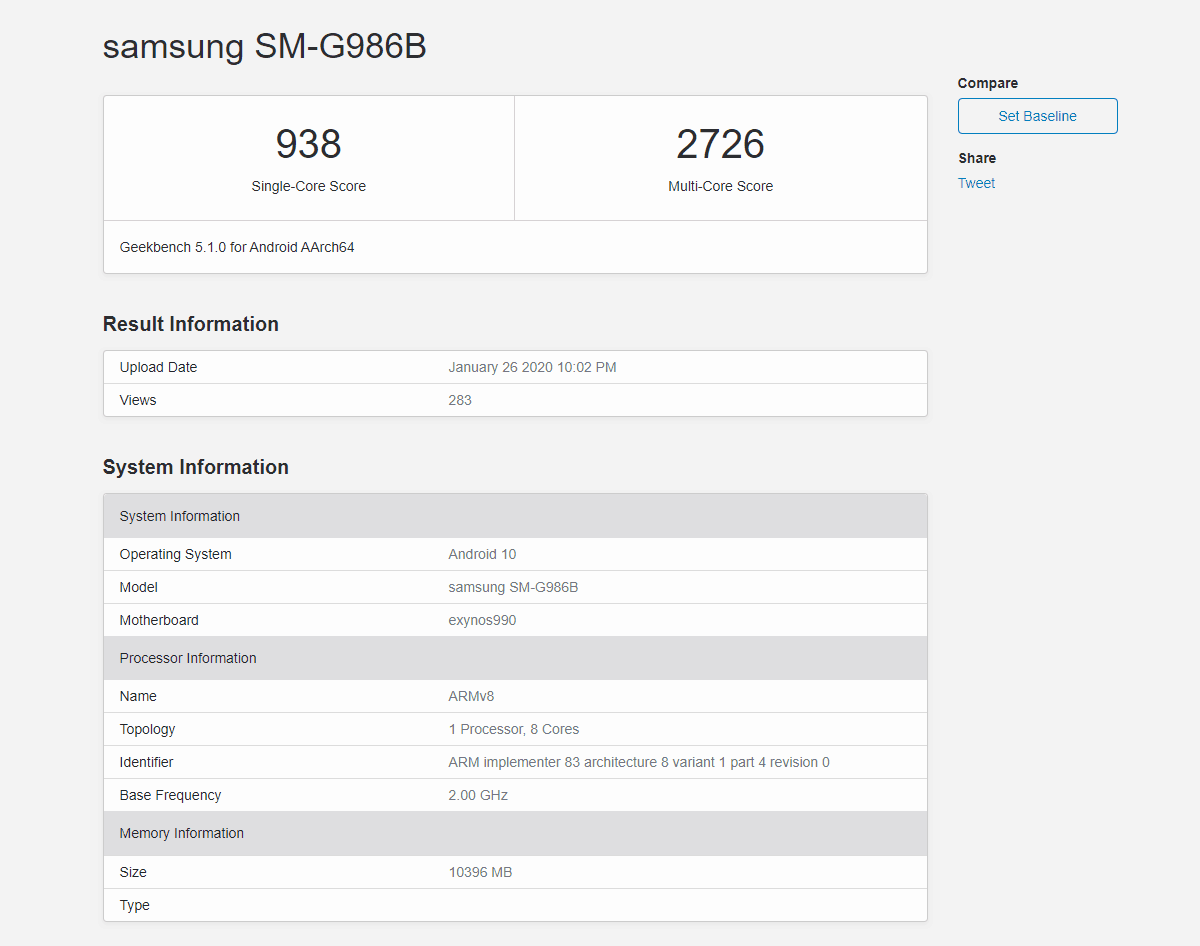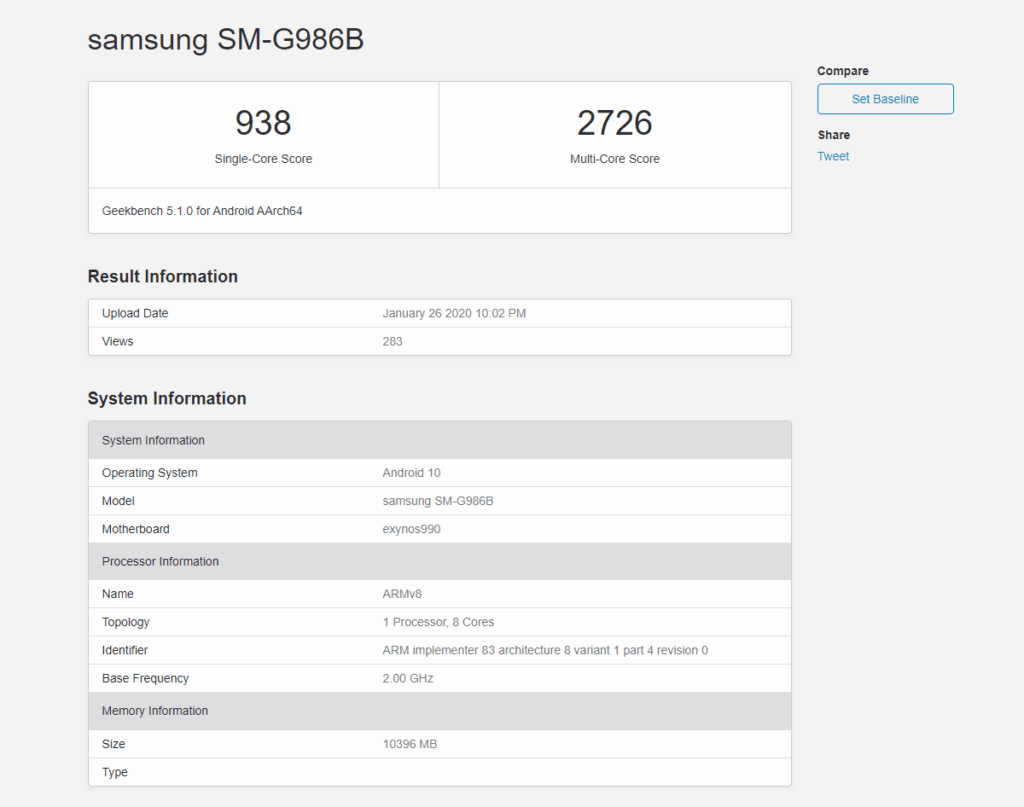 This does not fare particularly well against Qualcomm which managed to score 923 and 3267 in the single-core and multi-core tests respectively.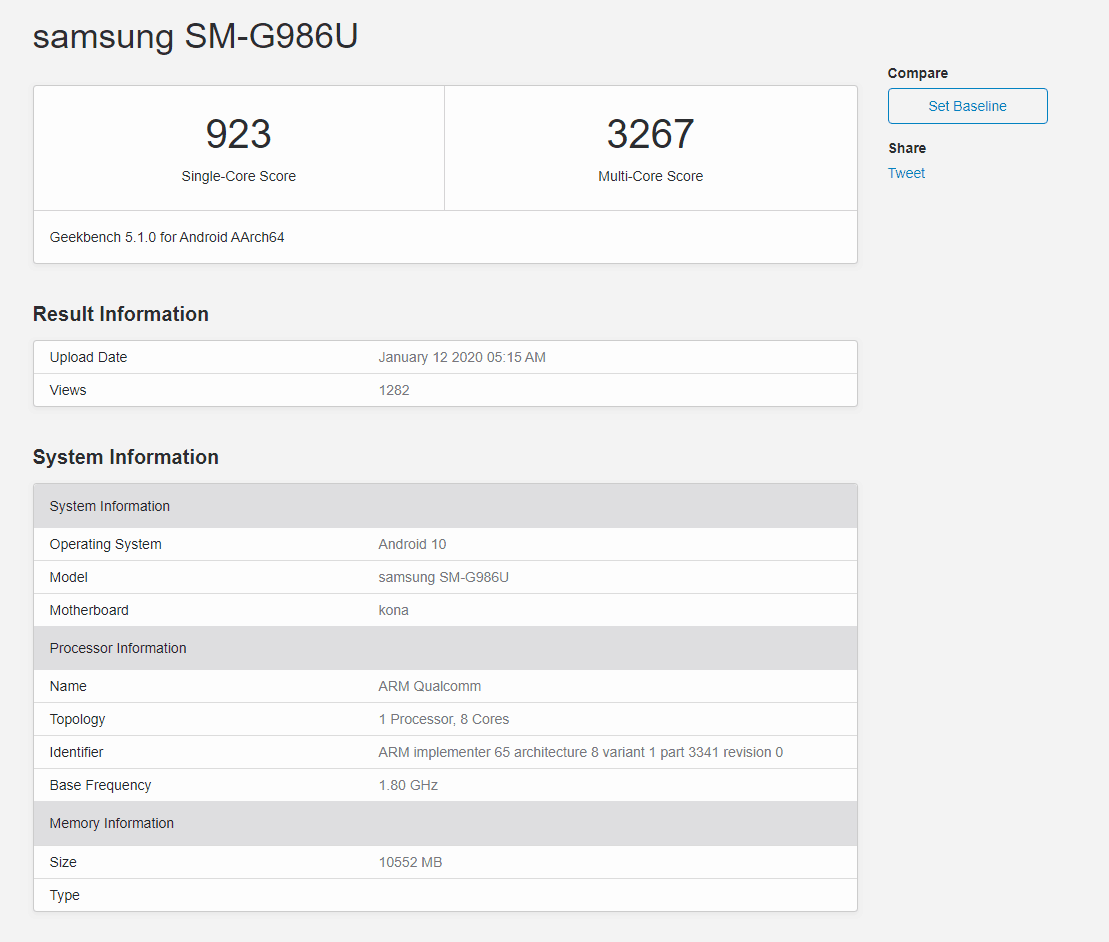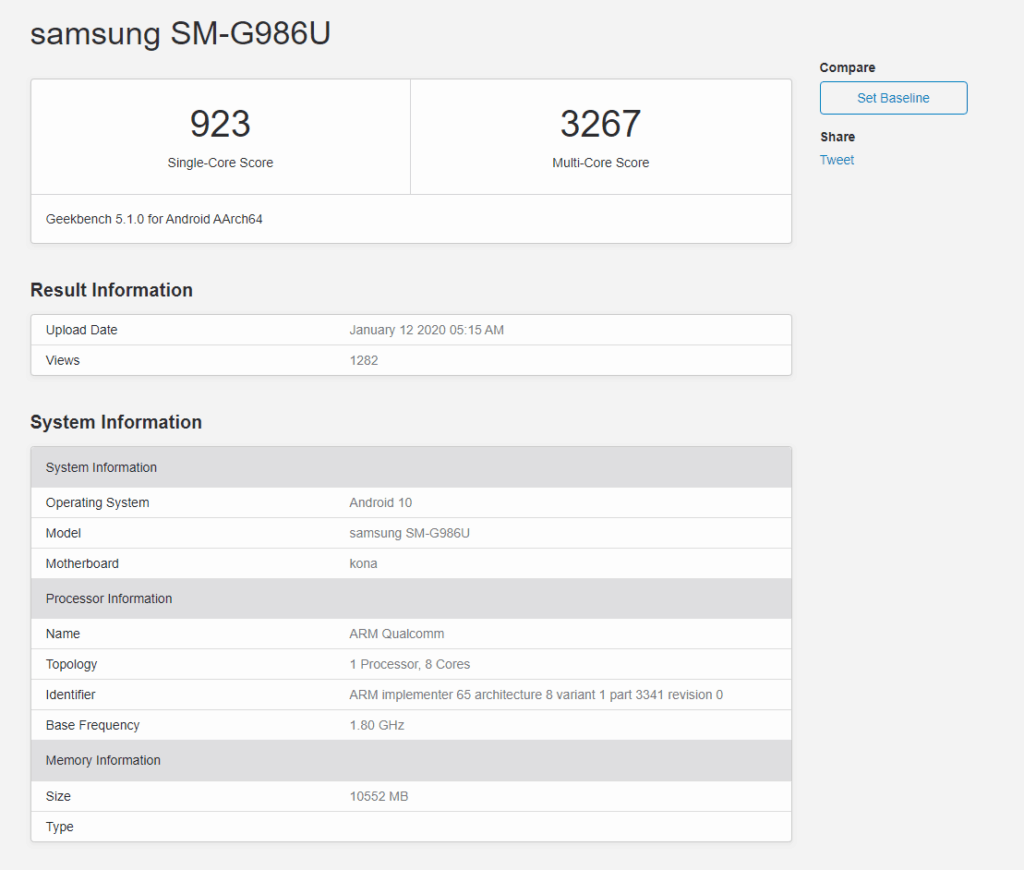 This would give the Samsung Exynos 990 a 2% advantage over Qualcomm for the single-core performance, but Qualcomm shoots out ahead with a 20% advantage with the multi-core performance.
Qualcomm Snapdragon 865 vs Samsung Exynos 990 Specification
This year both the Exynos 990 and Snapdragon 865 are made on the same 7nm fabrication process, so Samsung may be able to improve the battery performance with this generation.
The CPU designs have important differences that reveal why the Samsung underperforms compared to the Qualcomm.
The Samsung Exynos 990 uses:
2x Exynos M5 @ ? GHz
2x Cortex A76 @ ? GHz
4x Cortex-A55 @ 1.95GHz
Qualcomm uses:
1x Cortex A77 @ 2.84GHz 1x512KB pL2
3x Cortex A77 @ 2.42GHz 3x256KB pL2
4x Cortex [email protected] 1.80GHz 4x128KB pL2
We don't know much about the Exynos M5 but it obviously helps the Samsung achieve higher results for the single-core speeds. However, the inclusion of the older Cortex A76 cores is likely the reason why the Samsung Exynos 99 falls behind with the multi-core score.
The Exynos 990 is likely to be the last chipset that uses the custom cores made by Samsung, they have now ditched designing custom CPU cores themselves and will instead likely use Arm Cortex designed moving forward.
Considering the consistently poor performance of Exynos vs Snapdragon it is perhaps no surprise that Samsung has given up on their custom designs.
Qualcomm SD865 is 5G only. Samsung Exynos 990 has 4G variants
The new Samsung Galaxy S20 series launched yesterday and it was confirmed that there will be 4G models of the phone. However, these models are only available in the UK/EU or where the Exynos variant is launch.
In the US where they use the Qualcomm Snapdragon 865 you only have a 5G option. We already know Qualcomm insisted on using the 5G X55 modem, so it is clear that Samsung are using a 4G modem on some of their Exynos 990 based devices (or just disabling the 5G bit).
Samsung Galaxy S20 Series Pricing
| | | | |
| --- | --- | --- | --- |
| Samsung Galaxy S20 | US | Europe | UK |
| 4G 128GB storage | N/A | €899 | £799 |
| 5G 128GB | $999 | €999 | £899 |
| Samsung Galaxy S20+ | US | Europe | UK |
| 4G 128GB storage | N/A | €999 | N/A |
| 5G 128GB | $1,199 | €1,099 | £999 |
| 5G 512GB | $1,299 | €1,249 | N/A |
| Samsung Galaxy S20 Ultra | US | Europe | UK |
| 5G 128GB | $1,399 | €1,349 | £1,199 |
| 5G 512GB | $1,599 | €1,549 | £1,399 |
| Samsung Galaxy Z Flip | US | Europe | UK |
| 4G 256GB | $1,380 | €1,480 | £1,300 |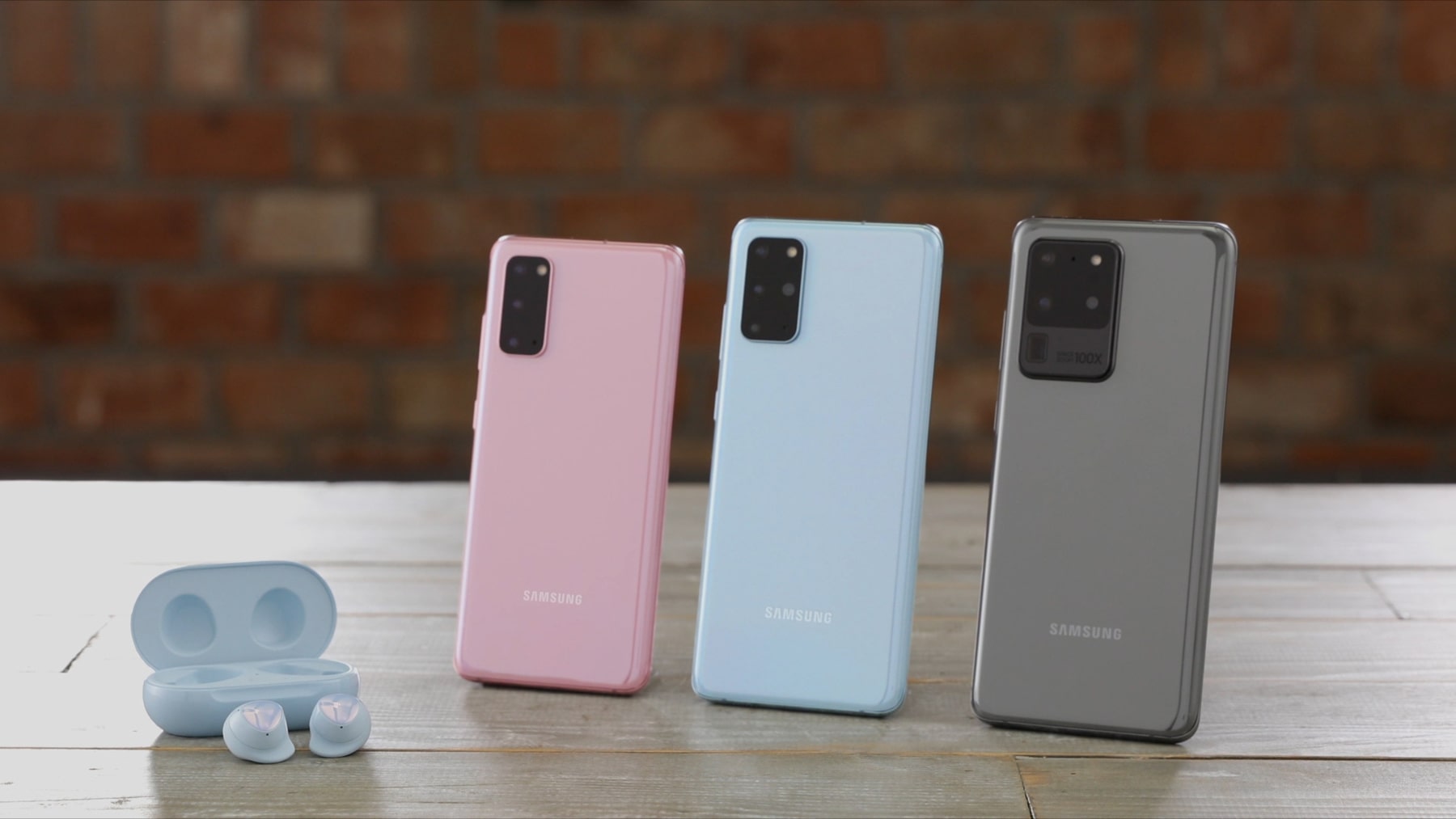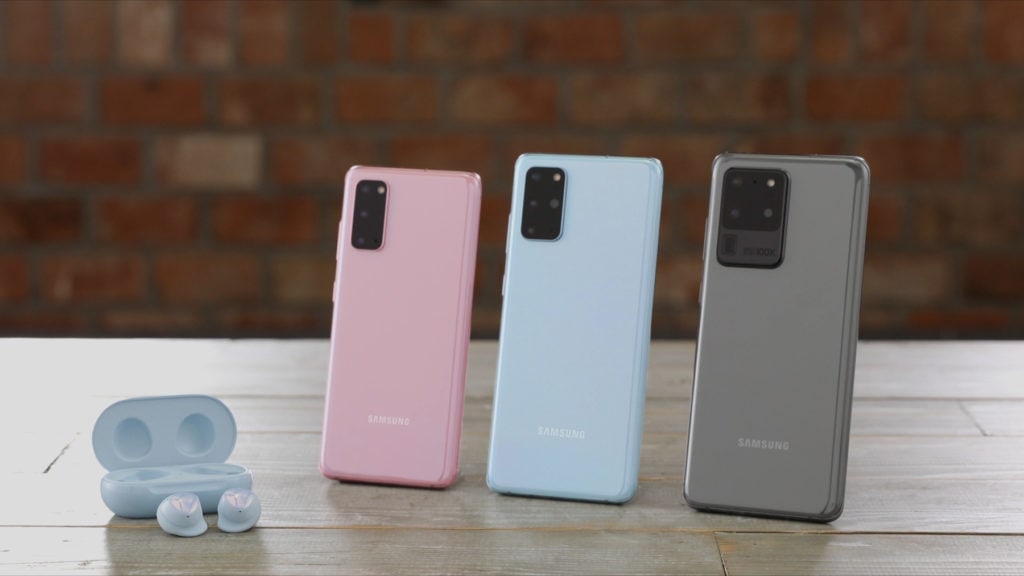 [Originally posted on  31st January 2020 ]
Last Updated on
Last update on 2020-02-17 / Affiliate links / Images from Amazon Product Advertising API