Yesterday Polar announced their new Ignite sports watch, which could turn out to be one of the best sports watches of the year.
Priced at £174.50 this sits comfortably cheaper than the Garmin Forerunner 45 or Fitbit Versa. While the Fitbit is not really the same product as either the Garmin or Polar, I think the pricing will make it optional for many casual fitness enthusiasts. In reality, its lack of GPS doesn't make it a good sports watch, but it is a great device sitting in between more expensive smartwatches and fitness trackers.
[content-egg module=Amazon template=list]
One of the features of the Polar Ignite that make it stand out from the crowd is its sleep tracking feature which includes breathing rate/heart rate/heart rate variability (ANS data) to figure out if you're recovering at night. The only other device that I am aware of that uses breathing data for sleep tracking is the Spire health tags.
It will then use a 'FitSpark' feature which gives you daily workout options based specifically on history + Nightly Recharge. This feature is not seen on any other fitness device, including Polar's more expensive offerings.
I am someone that does not sleep well and there is a huge effect on your performance if you have had a bad nights sleep. For very bad night sleep, it is normally quite obvious as you feel dreadful immediately, but this feature should give you some insight into those nights that are less than ideal, but you don't specifically notice that you have had a bad night sleep. In general, I have found sleep tracking on sports watches to be questionable at best, so it will be interesting to see how well the Polar does.


With many cheaper sports watches, you get a limited number of activities to track. The Garmin FR45 has Running (outdoors), Treadmill, Cycling (outdoors), Walk, and Cardio (catch-all bucket) by default, but you can then add indoor Track, Bike Indoor, Walk Indoor, Elliptical, Stair Stepper, Yoga, and the mythical 'Other'. You are limited to just 6 activities on the watch at any one time though.
In comparison the Polar has a maximum of 20 sport profiles on the watch itself and 100 sports on their platform you can choose to add. This, therefore, makes the Polar a far more versatile budget fitness watch.
All the watches are waterproof so can be used while swimming; however, it is only the Polar that has swim tracking features, for both the pool or open water.
The one big downside of this watch is the display is not always on, it only activates when you raise your wrist, this gives the watch a battery life of 5 days, GPS battery time of 17 hours. However, the Garmin has up to 7 days and GPS mode up to 13 hours.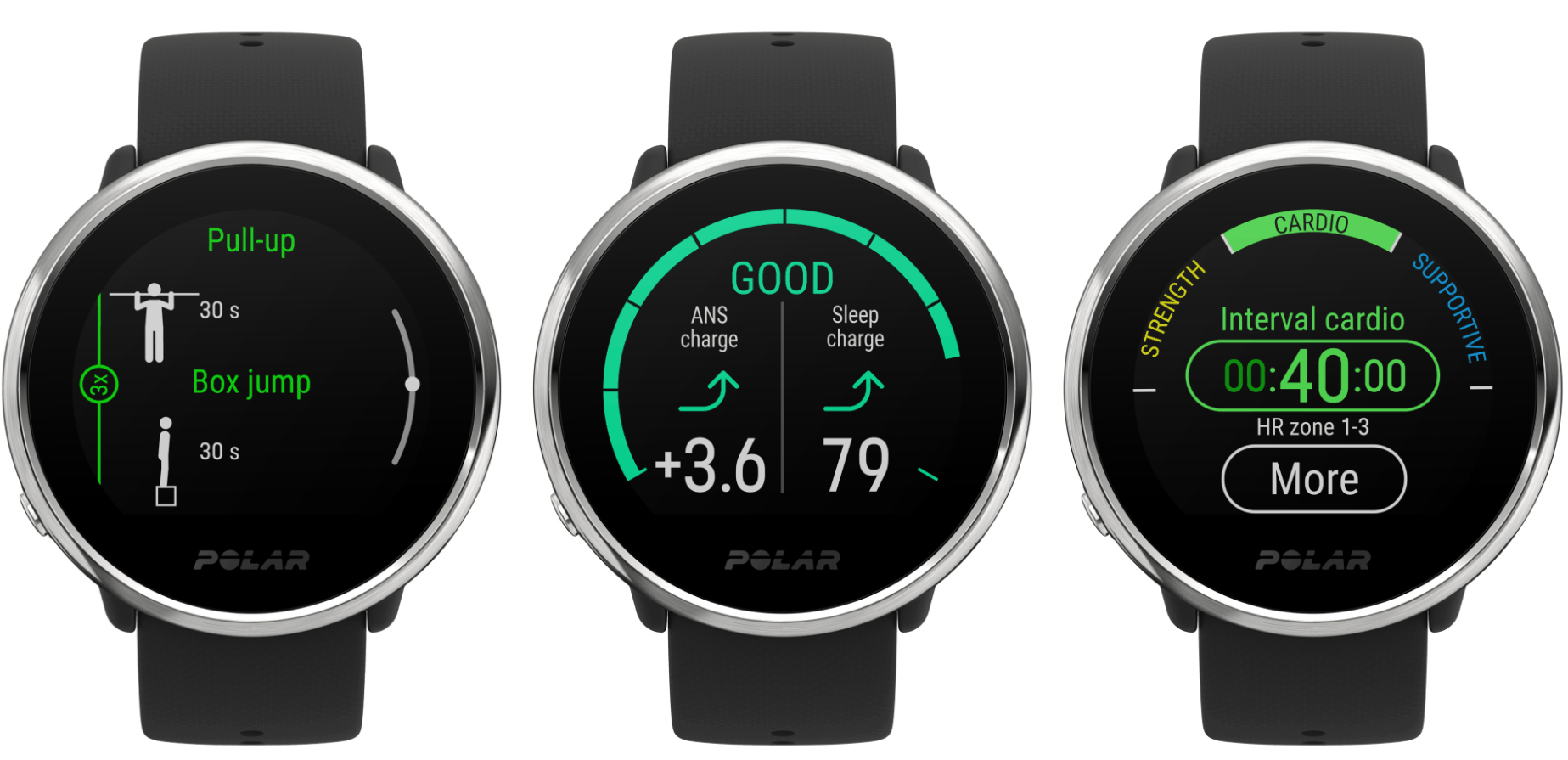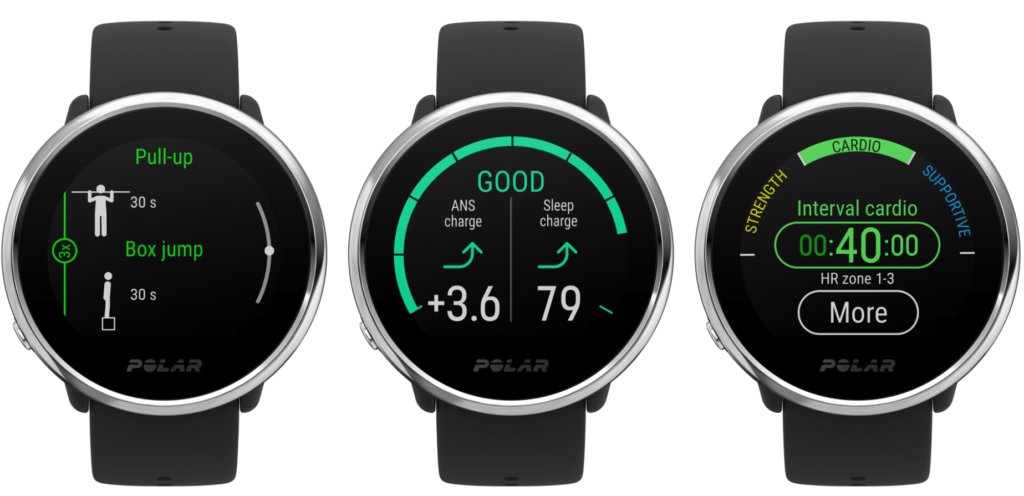 The slightly lower battery life could be attributed to the Polar using a colour touchscreen which seems like an unusual choice for an affordable watch. I would have thought buttons would be cheaper to implement.
The Garmin has GPS, Glonass and Galileo whereas the Polar is only listed as using a Sony GPS sensor similar to the one found in the Vantage series. For me at least, this is not a major concern, at this price point, extreme accuracy is not overly important. The Fitbit Versa uses assisted GPS, so it needs to connect to your phone to acquire a GPS signal.
The HRM on the Polar is the Polar Precision Prime, which is the same as the Polar Vantage and is quite a large sensor array that should in theory, offer superior performance than the Garmin.
For external sensors, you will be restricted to Bluetooth Smart sensor support, mainly because Ant is a Garmin technology. Both the Polar and Garmin can use multiple sensors; however, neither are compatible with power meters.
Both the Garmin and Polar have things like VO2 Max, activity history and training plans. The Polar will, however, use the sleep data to help form its training plan.
Neither the Polar or Garmin have NFC or music. The Fitbit Versa is more a smartwatch than sports watch and this can therefore store and stream music, it also has NFC which can be used for mobile payments.
Overall
From purely a specification point of view, the Polar looks amazing; it is a far more versatile sports tracker than anything at this price point that I am aware of. Not only that but the sleep tracking features combined with the training recommendations which ises the sleep data is a first for any sports watch, regardless of the price. How useful that feature is and how accurate it is remains to be seen.
Obviously, one area Polar may struggle to compete with is the overall ecosystem. Garmin is the market leader, and they have (mostly) superb software and a wider range of devices, especially cycling computers, so it is easier to have all your sports and fitness devices under the Garmin roof compared to Polar.
For you casual fitness enthusiast wanting to upgrade from a basic fitness tracker like the Fitbit Charge, then the Polar looks like it could be the best option on the market.
[content-egg module=Amazon template=list]