The Reno 10x Zoom is not even 6 months old, I am still waiting on a review sample, and OPPO has just announced its successor which launches in India for the end of this month.
It is a bit of a strange move and will be interesting to see how this plays out in the Western markets. At the moment this looks like a poor attempt to maintain traction with the Reno series. They launched the 10X just after the Huawei P30 Pro, and Huawei are will be launching the Mate 30 series in a couple of months which will no doubt put many of the phones released in the first half of the year to shame thanks to a new chipset and what is likely to be a big camera improvement.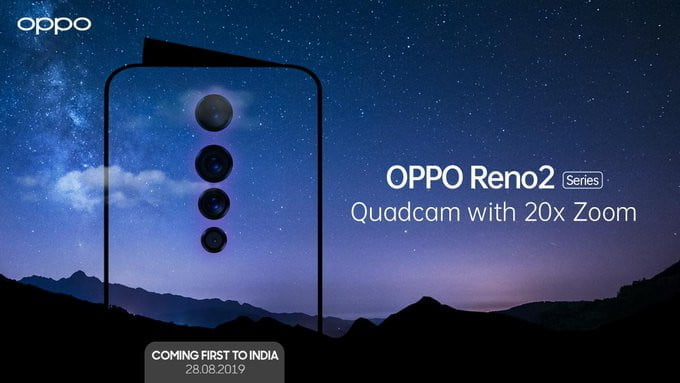 Smartphone tech hasn't moved on all that much in the 4 months or so since the predecessor was announced, so don't expect big improvements for all aspects of the phone.
However, OPPO is doing some interesting-sounding things with their camera. The new phone will have up to 20x hybrid zoom and will have a quad-camera set-up. How they achieve that level of zoom is unknown, from what I can gather they will still be using the 5x optical zoom, and I would guess the additional lens then allows them to do some black magic and double the hybrid zoom from 10x to 20x.
Apart from that, nothing is known about the phone spec-wise, I would hope, at the very least, they include the Snapdragon 855+ so at least there is a bit more differentiation between the two models than just a minor camera improvement.
A teaser video posted by OPPO also reveals the Reno 2 will come with an Ultra Steady Video with OIS, Ultra Clear Mode, as well as Ultra Dark Mode to capture clear images even in extreme low light conditions.
The phone will keep its unique shark fin pop-out selfie camera design.
The phone launch is just in time for IFA, so it will be interesting to see if it makes an appearance there.