[Update 21-07-2020] MediaTek have now made the Dimensity 720 official. Details are a little thin at the moment, but this is a brand new chipset, rather than a tweaked existing design.
[Update 23-07-2020] The chipset is officially official now.
The Dimensity 720 is based on the 7nm fabrication process featuring an integrated 5G modem, and MediaTek's UltraSave technology, leveraging both network and content awareness intelligence and operating mode in real-time.
Following on from the previous Geekbench leaks, it is confirmed that this is using two Arm Cortex-A76 big cores operating at 2GHz, with the remaining cores being Cortex A55. It is then equipped with an Arm Mali G57 class GPU, fast LPDDR4X memory and universal flash storage (UFS) 2.2.
This will also support 90Hz displays, MiraVision HDR10+ and support for up to 64MP or 20+16MP dual cameras.
I will update this post with a more details specification when available.
–
MediaTek is due to announce their latest chipset in the next few days, rumours had circulated about a Dimensity 600 chip, but Mediatek currently lists the Dimensity 720 on their own website amongst the other 5G SoCs.At the moment the page leads nowhere its specification and performance pure speculation.
Announcement Date
The chipset was announced on the 23st of July 2020
Specification
Mediatek has a tendency to reuse chipset designs, for better or worse. Sometimes this involves tiny frequency changes and seems like a marketing gimmick. Others, like the Dimensity 820, offer a significant upgrade that justifies the launch of a new chipset.
I had previously speculated that this was just an underclocked Dimensity 800, but it now looks like I was wrong and this is brand new.
CPU & Fabrication Process
The current Dimensity 800 chipsets use four Cortex A76 cores and four Cortex A55 cores, but the new Dimensity 720 changes to a more mid-range design with two Cortex A76 cores combined with six Cortex A55 cores.
All the chipsets are made on the 7nm fabrication process and they all feature an integrated 5G modem.
Dimensity 800:
4x Cortex A76 @ 2.0GHz
4x Cortex A55 @ 2.0GHz
Dimensity 820:
4x Cortex A76 @ 2.6GHz
4x Cortex A55 @ 2.0GHz
Dimensity 720:
Based on the current news the new chipset has a similar CPU design to the Mediatek Helio G90T
2x Cortex A76 @ 2 GHz
6x Cortex A55 @ 2 Ghz
GPU
The Dimensity 820 uses the same Arm Mali-G57 GPU design as the 800 but increased the core count by 25% from 4 core to 5 with both GPUs having the frequency set at 650Mhz.
Now the chipset has finally been officially announced it is revealed that it is using Arm Mali-G57 MC3 so a 25% reduction in the number of cores compared to the Dimensity 800.
The latest news confirms the chipset has a Arm Mali-G57 GPU, but at the moment there is no word on the exact specification.
Price Point
I don't think there is any phone that has launched in the UK or EU with the Dimensity 800 yet. However, prices range from around £215 for the Honor X10 Max (in China) to around £300 for the OPPO A92s 5G.
The Redmi 10X with the MediaTek Dimensity 820 is available from around £200 too.
Benchmarks – Antutu & Geekbench
At the moment we have no idea of the specification.
The Redmi 10X managed to achieve over 400k in Antut, which is close to what many flagship phones achieved last year.
Geekbench benchmark for MediaTek Dimensity 720 similar to Helio G90t
The latest tidbit of information about the MediaTek Dimensity 720 is a new Geekbench benchmark listing of the OPPO A72 which will be the first phone to feature the chipset.
The phone manages to achieve a score of 513 for the single core and 1659 for the multi core results with the CPU clocked at 2.00Ghz.
This is very similar to the MediaTek Helio G90t, and this is to be expected, with them using essentially the same CPU design.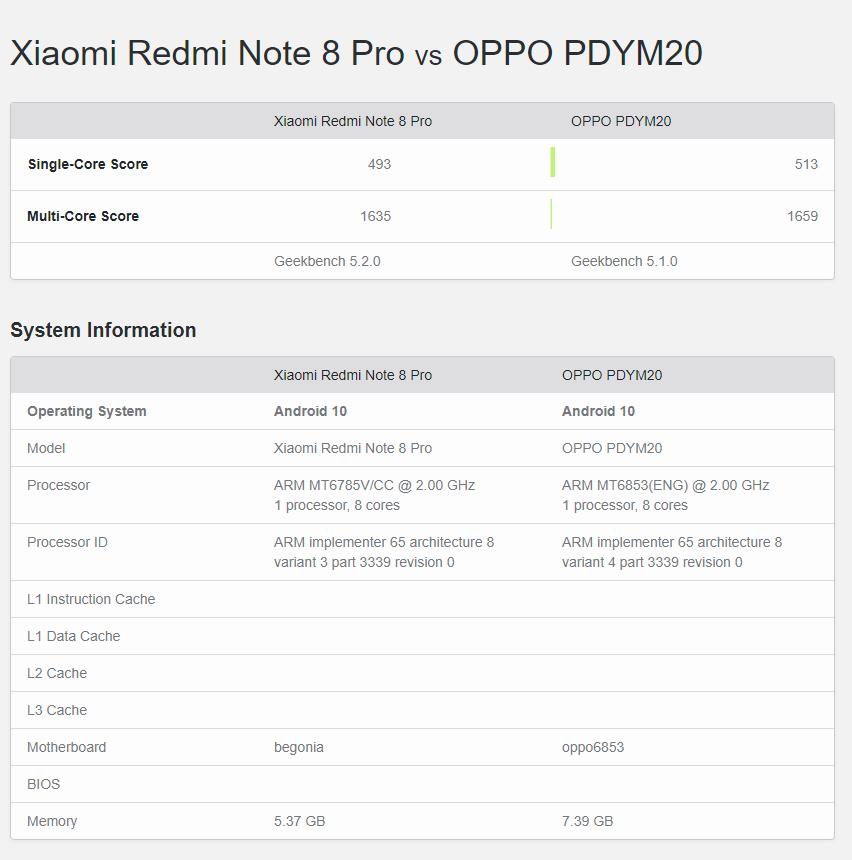 Specification Comparison Table
SoC
Dimensity 720
Dimensity 800
Dimensity 1000L
Dimensity 1000
CPU
2x Cortex A76 @ 2.0GHz
4x Cortex A76 @ 2.0GHz
4x Cortex-A77 @2.2 GHz
4x Cortex A77 @ 2.6GHz
4x Cortex A55 @ 2.0GHz
4x Cortex A55 @ 2.0GHz
4x Cortex-A55 @2.0 GHz
4x Cortex A55 @ 2.0GHz
GPU
Mali-G57
Mali-G57MP4 @ ? MHz
Mali-G77 MC9
Mali-G77MP9 @ ? MHz
APU / NPU / AI Proc. / Neural IP
3rd Gen APU
3rd Gen APU
3rd gen APU
3rd gen APU
"three cores"
2 "big" + 3 "small" + 1 "tiny"
2 "big" + 3 "small" + 1 "tiny"
+2.4TOPs total perf
4.5TOPs total perf
Memory
2x 16b LPDDR4X @ 2133MHz
2x 16b LPDDR4X @ 2133MHz
2x 16b LPDDR4X @ 2133MHz
4x 16b LPDDR4X
ISP/Camera
1x 64MP
1x 64MP
80MP
80MP
2x 20+16MP
2x 32+16MP
Dual 32MP+16MP
32MP + 16MP
Encode/
2160p30
2160p30
Up to 4K Ultra HD
2160p60
Decode
H.264 & HEVC
H.264 & HEVC
H.265 (HEVC), H.264 (AVC), VP8, VP9)
H.264 & HEVC
& AV1 (Decode)
Integrated Modem
5G Sub-6
5G Sub-6
Integrated 5G Helio M70
5G Sub-6
Connectivity
WiFi 6 (802.11ax)
WiFi 6 (802.11ax)
Phones with Mediatek Dimensity 720
At the moment we don't know of any phones that will launch with the new chipset. Xiaomi has been reported as working with Mediatek directly to develop a chipset, and in recent months they have been one of the early adopters of new Mediatek chipset.
Overall
Nearly all of the above is pure speculation apart from that the Mediatek Dimensity 720 exists. As soon as I know more information, I will update the content with accurate information
[Original Post – 11th of July 2020]
Last Updated on