Rock Space AC 1200 Dual Band WiFi extender Review Rating
I have not reviewed a WiFi repeater in years, my recommendation has typically to use a mesh WiFi system which will seamlessly extend your WiFi across your home. However, not everyone wants or needs to spend north of £100 on a basic mesh system.
WiFi range extenders/repeaters are still a thing, and they can be a viable option if you have a spot in your house that struggles with WiFi.
The Rock Space AC1200 is just £39.99 on Amazon offers dual-band Wi-Fi with 2.4Ghz and 5Ghz channels with speeds up to 300Mbps and 866Mbps. It features a single 100Mbit Ethernet port allowing you to either wire in a device for a more stable connection, or use this as an access point.
The 100Mbit port is a little disappointing, it maybe expected at this price point, but at the same time affordable mesh systems such as the Tenda Nova MW3 and Mercusys Halo S12 are a similar price to this, with similar Wi-Fi and ethernet specs, but the benefit of mesh.
US Buyers
For US buyers, you can buy this for $45.99 from TichTeh or $37.99 if you buy before 31st of July with the copon on the site. Furthermore, you can enter to win the WiFi Range Extender from Gadgetslootbox
1.Place an Order: Click"limited exclusive coupon"to get $8 OFF, and buy the Rock Space Wi-Fi range extender at $37.99 during July 2 – July 31.
2.Submit Product Reviews: Leave your use experience in Comments before August 12 (expiry date of review collection).
3.Free Product Sweepstakes: We will randomly select 10 lucky winners in Comments, and announce the winner list on our Facebook page.
4.100% Cashback: Winners get cashback to their payment accounts within 3-5 days!
Set up
I was pleasantly surprised about how easy it was to set up. Admittedly I criticised the Mercusys for lack of an app, and there is none here, but that's typical for a Wi-Fi extender.
All you need to do is plug it in, connect to the open Wi-Fi network (it should be secured with a supplied random password really) then follow the set-up procedure.
You then select your networks and supply the password, it will then use the same password as your current one for the new SSID.
By default, the repeater creates a new different SSID with EXT appended to the name, and this is one of the things that differences repeaters with mesh systems. As far as I am aware there will be no fast roaming functionality built into this, you can keep the same SSID, but this will often cause problems with connectivity when moving around your home.
WiFi Extender Performance
While this may be able to achieve a theoretical 866Mbps, performance is a long way off. Using the WiFi Speed Test Pro app to test the LAN speeds, I was able to achieve 124Mbits, albeit in a congested area. Testing actual internet speeds I was able to achieve 85Mbps download on my Virgin 350Mbps line on the 5Ghz network, then 28Mbps on the 2.4GHz network.
While those may not be amazing results, they are a little better than the budget dual-band systems from Tenda and Mercusys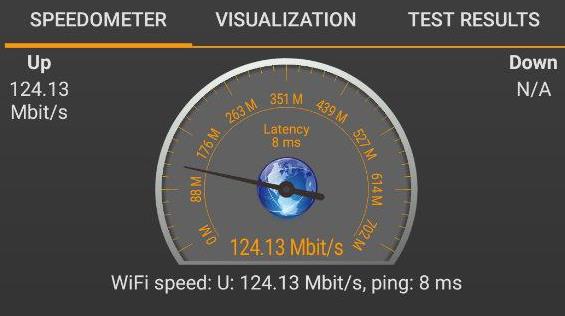 Price and Competition – WiFi Extender & Mesh Wifi
The Mercusys Halo S12(2-Pack) offers similar performance but using mesh and is cheaper at just £44.99. It won't extend from an existing router though, so this would end up providing the WiFi for your entire home, which may not provide enough performance.
Similarly, the Tenda Nova MW3-2 is £10 more than the Mercusys Halo S12 with the same spec, but generally more user friendly.
If you want a range extender similar to this, there are dozens of options many from unknown brands, some cheaper.
I'd say the TP-Link RE450 or TP-Link RE365 are the two stand out options, both cost a little more at £49.99 and £46.92, but both have the benefit of gigabit Ethernet ports and the reliability of a big name like TP-Link. The AC1750 should, in theory, be faster if the router it connects to also offers 1200 Mbps (5GHz), while the RE365 offers AC passthrough, so you don't lose a plug socket.
Overall
The Rock Space AC 1200 works as advertised, it is a cheap and effective way to eliminate any black spots within your home.
It was easy to set up, and performance was better than expected for something at this price.
WiFi speeds were a little better than the cheaper mesh Mercusys Halo S12, and if you are happy with the performance of your existing router for your main WiFi there is a good argument to choose this over a cheap mesh system.
That being said, depending on your needs, I would still recommend a mesh system over a repeater any day of the week. I would personally only use a repeater in an area of your home that you struggle to get WI-Fi on but is not heavily used (I used to have one in my guest bedroom).
Overall though, this is decent, better than expected from a piece of technology that has fallen out of fashion. Unlike most mesh options, this has the advantage of allowing you to keep your existing WiFi hardware, which in some cases will be preferable.
Last update on 2022-06-19 / Affiliate links / Images from Amazon Product Advertising API