I have been running a home server for several years now, doing the usual things, such as serving media via Plex Server, handling all my backups and acting as a test server for websites. I started with a dual-bay Synology NAS 10+ years ago, eventually upgrading to an HP ProLiant MicroServer, and then later reusing old PC parts to build a dedicated server.
Over the years things have been added on and upgraded as I go along, so it is not exactly the most elegant home sever, but it gets the job done.
For the past few years, I have used my old Fractal Designs R3, but as I have added more drives to it, it became increasingly messy, so finally took the plunge and upgraded to rackmount chassis.
One thing I quickly learned with these cases is that they are exactly cheap. The cheapest hot-swap chassis I can find is the Logic Case SC-316-ATX with 16-bays at £ 262.80 or the 24-bay SC-4824 for £343.10.
However, the Logic Case SC-415A, which lacks hot-swap, has support for 10 drives out of the box and an empty 3x 5.25″ Bay which can easily be expanded so the server can accommodate 15-drives.
It is a very basic case, but at £79.99 it is about the most affordable case you can find with this drive capacity.
Features
4U Rackmount Form Factor
560mm Chassis Depth
430mm Chassis Width
176mm Chassis Height
4U Mini Redundant PSU Compatibility
CEB (12″ x 10.5″) M/B Form Factor
3 Fixed Bays – External – 5.25″
10 Fixed Bays – Internal – 3.5″
1 Fixed Bays – Internal – 2.5″
7 Full Height PCI Expansion Slots
Build & Build Quality
For around £80 you can normally pick up a semi-decent quality PC case, the Antec P101S is a good option for servers with 8-bays, the Fractal Meshify C is a popular choice, and I have reviewed several excellent Thermaltake cases around this price.
With this, you need to adjust your expectations a little, it is reasonably thin steal with unpainted insides and molex fans, if it were a standard PC case, I wouldn't give you £20 for it.
However, coming away from the sometimes cramped PC cases, it is exceptionally easy to build in. Apart from the massive drive count compared to a consumer case, all the drives ports are close to where you need them, so there is much less logistics in terms of running your cables.
Slotting the drives in is pleasantly simple, but it is worth noting that the rails you use on the drives have side screws, only NAS and server hard drives have these holes. Most of my drives are shucked Western Digital drives, so you have to just hold the rail in place and then slot it in. When slotted in, they are clamped into place, so they not lose and I can see how they would become dislodged.
I opted to use the included Wraith cooler of the AMD Ryzen 5 2600X as it comfortably fits inside a server chassis, and I am not doing much to tax the CPU.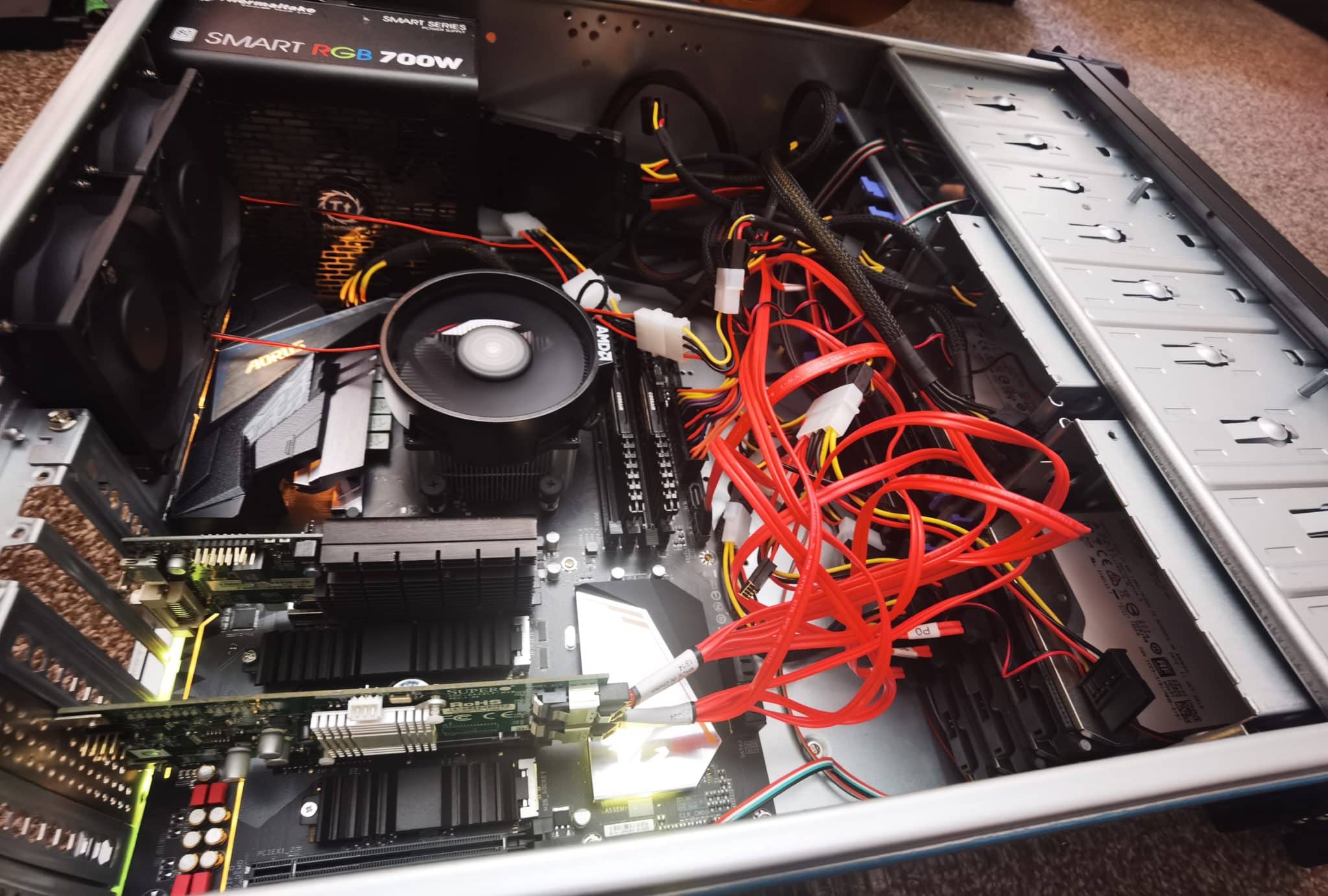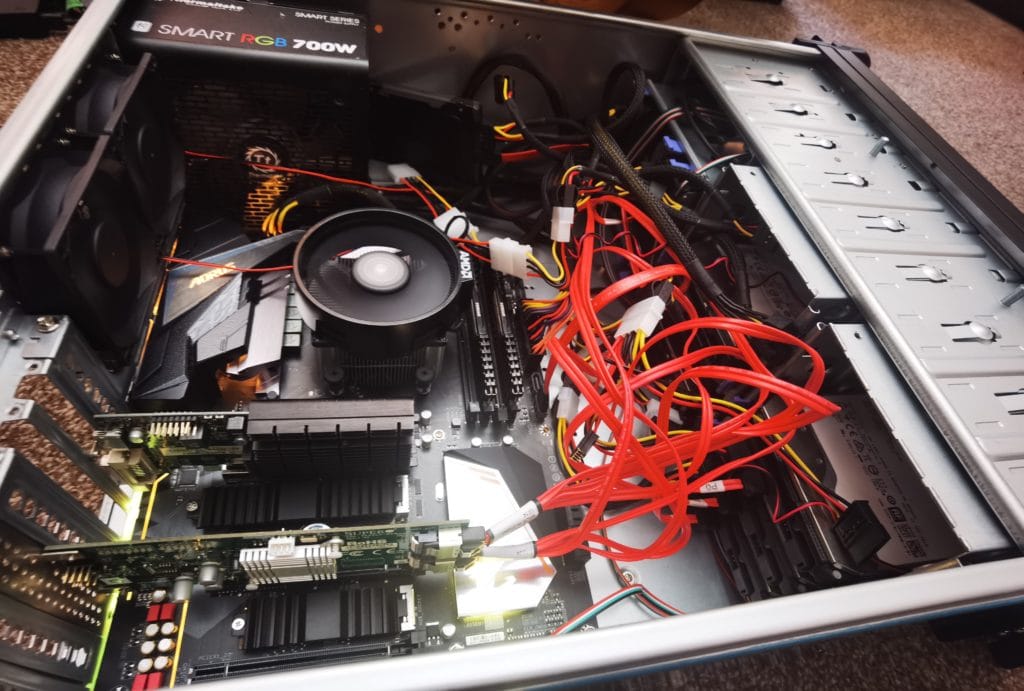 Expanding to 15x drive bays
You can easily expand the storage by 5 more drives using any 3x 5.25inch to 5x 3.5inch converter. I bought a cheap one from Amazon. It doesn't seem to slot in perfectly and didn't lock into place like the included bays, but it works.
The official part number you need for this is SC-055, but I am unable to find any stock for it. Amazon hasn't had it since 2017.
Fans (Noise and Upgrades)
Server cases are notoriously loud, and I wasn't too concerned about this, I have a dedicated room for my networking stuff. The molex fans are a bit out of date with their static RPM, and I was expecting to have to replace them. The 120mm fans are not as loud as I was expecting, I wouldn't want it in the same room as me, but they are less noisy than the Zyxel Nebula POE switch I use in that room.
Connecting the 80mm fans was a different issue entirely, these are extremely noisy and generally an unpleasant sound.
I had expected to replace all the fans, but the 120mm ones are fine for now. So I ended up getting a be quiet! Pure Wings 2 120mm for the new drive cage then two F8 PWM 80mm fans for a total cost of £20.95. Swapping them all out was easy, and the noise difference is significant. I can still hear it, but my switch is more irritating, and most importantly I can hear neither though the door
Overall
I am actually really happy with the Logic Case SC-415A, it will never compete with a decent quality hot swap server case but it is one of the few times I have cheaped out and been happy with the end result.
My build is still a massive mess, but it is marginally less messy than it was. Replacing the 80mm fans is a must, but that is easy and cheap. The 120mm molex fans are not that bad if it is in a dedicated room, if not I'd upgrade them too.
Ubuntu reports drives temperatures as being consistent around 30 degrees, and the CPU cores have never exceeded 50-degrees yet, with most of the cores consistently being under 35-degrees.
I appreciate that the quality of my build is poor compared to most, but I thought it was worth reviewing this for any other people building an affordable home server.
Last update on 2022-05-25 / Affiliate links / Images from Amazon Product Advertising API