Mercusys Halo S12(3-Pack) AC1200 Mbps Whole Home Mesh System Review Rating
Summary
The Mercusys Halo S12 has the potential to be good, but they need to update the firmware/user interface to close to the superior Tenda Nova MW3.
Overall performance is decent though and compatible the Tenda while being cheaper
Pros
Cheapest 3-pack mesh system on the market (ignoring the Halo S3)
Good enough performance for VDSL/ADSL connections under 100Mbps
Cons
Poor set up process
Browser only that is not mobile-friendly/No app
100Mbps ethernet ports
Mercusys Technologies is a new brand in the UK market, introducing some incredibly affordable networking gear.
In the past, it looks like their predominant market has been India, with products available on Amazon India for the past three years. Their UK introduction appears to be associated with TP-Link, but I am not sure how intertwined the two companies are.
It looks like they have had some success with the Mercusys AC12G Wifi Router which costs just £33 and has been as low as £25.
Most recently they have launched a range of mesh Wi-Fi products with two models, the Halo 3 and Halo 12.
These are ultra-affordable mesh systems, undercutting the already very affordable systems from Tenda.
The top of the range 3-pack Mercusys Halo S12 is just £59.50.
At that price, you may wonder what's the catch?
Mercusys Halo S12 vs Tenda Nova MW3 vs Tenda Nova MW5s vs TP-Link Deco E4 Specification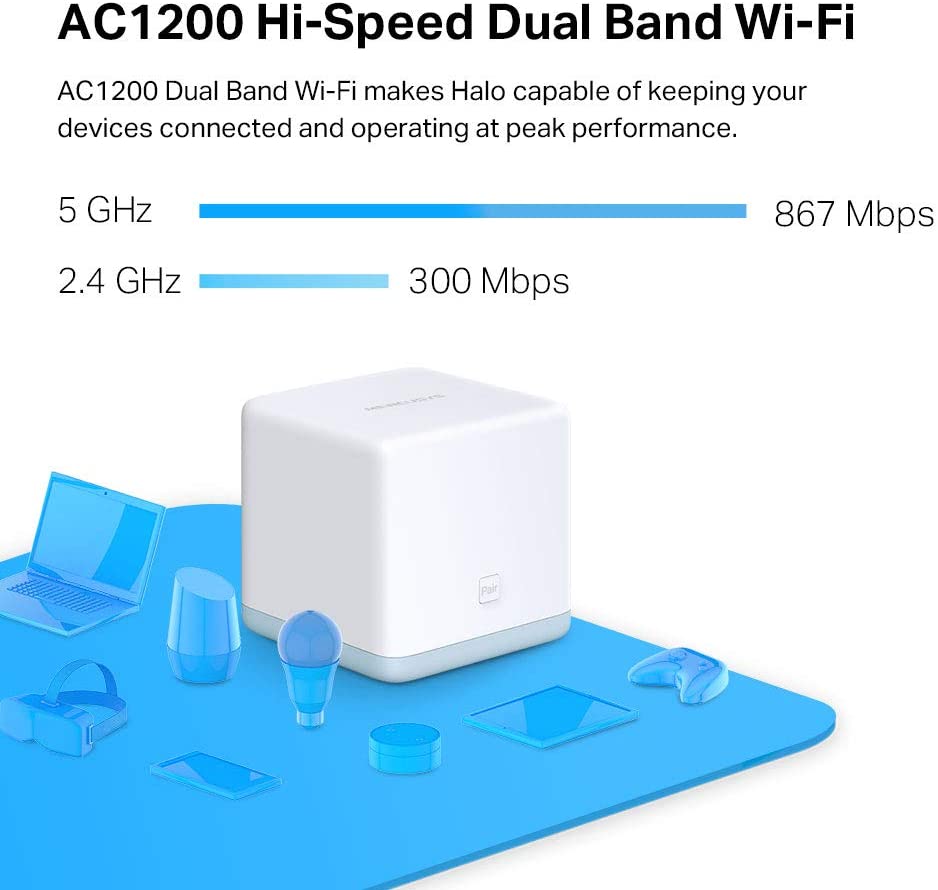 Mercusys Halo systems are very similar to the Tenda Nova options but based on current pricing, the Mercusys Halo is more appealing. The TP-Link Deco E4 is probably the most affordable big brand name system you will find.
All the systems are dual-band with a 2.4Ghz band and 5Ghz band. So performance is not going to be amazing, the big numbers they state is the two speeds combined so 300Mbps and 867Mbps. Then when you are on one of the satellites, you have to deal with signal loss causing a 50% drop in speed. So, in theory, the satellite nodes will lose 50% of their throughput per jump (you really don't want to daisy chain them).
Incredibly the Halo S3 system that Mercusys sell is just a single 2.4Ghz band giving a maximum speed of just 300Mbps which will then suffer signal loss on the satellites too. If you want anything other than the most basic Wi-Fi, do NOT buy this system.
Anyway, dual-band is not the only cost-cutting exercise. The Halo S12, Tenda MW3-3 and TP-Link Deco E4 all only feature 100 Mbps ports so claimed 867 Mbps speeds drop down to 100 Mbps or below immediately.
The Tenda Nova MW5s has a single satellite with a gigabit port which would allow you to make the most of faster broadband connections then the more expensive M6 has all gigabit ports. For TP-Link you need to move up to the M4 at £130 before you are all gigabit.
All these systems will provide basic Wi-Fi coverage around the home. People that are on VDSL, or worse, ADSL that do nothing intensive in terms of networking could benefit from these. Households with more demanding requirements will need something a little more expensive.
Set-Up
The set up is not the best and generally no user friendly. There are multiple issues:
Browser only interface, no app
Poorly written instructions (It basically tells you to plug it in and go to mwlogin.net
Uses an open Wi-Fi network when you first set it up
Brower interface is not mobile-friendly

It is so bad they have used tables for navigation elements such as the header something that died out with the introduction of os smartphones.

No access point mode
Limited features in general
Only one user can be logged in at a time, if you then log into another browser you have to wait for the session to time out. Even manually logging out won't work.
Devices are not pre-paired
Setting up via mobile was not fun because the interface was not responsive. So it will be easier if you can do it on a laptop. You will need to connect to the open Mercusys network then go to mwlogin.net and follow the quick set up guide.
Admittedly, doing the basic set up through this method is not particularly difficult.
To add the satellites you need to hit the pair button on the satellite and pair button on the main satellite.
I tried to set this up in a daisy chain configuration, reaching out to my garage, but it didn't seem to connect. I star configuration will provide the best performance anyway.
Performance
Performance is actually OK as long as you have realistic expectations about what a dual-band mesh system using 100Mbit ports can achieve. In short, I was able to get consistently over 50Mbits around my slightly larger than the average home. For many people, on VDSL or ADSL, that only use Wi-Fi for Internet, this is likely all you need.
Connecting to the main router using the Wi-Fi Speed Test Pro app, I was able to achieve speeds of just 302Mbps for LAN connections. This was only possible because of the bounces the data back to itself rather than passing anything through the Ethernet connection.
Testing this suing the SpeedTest app the speed was 70Mbps (my connection is 350Mbps), which is alright, VDSL in the UK caps out at around 76Mbps, and that's if you are lucky.
Range seems to be decent enough, moving to neighbouring rooms the sped only dropped down to around 50Mbps.
Connecting to the satellites doesn't appear to suffer from the same level of signal loss as I would have expected. I was consistently able to get over 40Mbps, my guess would be that the available Wi-Fi bandwidth on a dual-band system is still well above the 100Mbps the network is capped at.
While 40Mbps is not amazing, for context, Nextflix 4K uses 25Mbps, so if you are not in a data-intensive household, it is probably adequate.
On one occasion, I noticed that performance dipped quite a bit across all the devices with speeds under 10Mbps. I had to reboot the main Halo to get the speeds back.
Price and Competition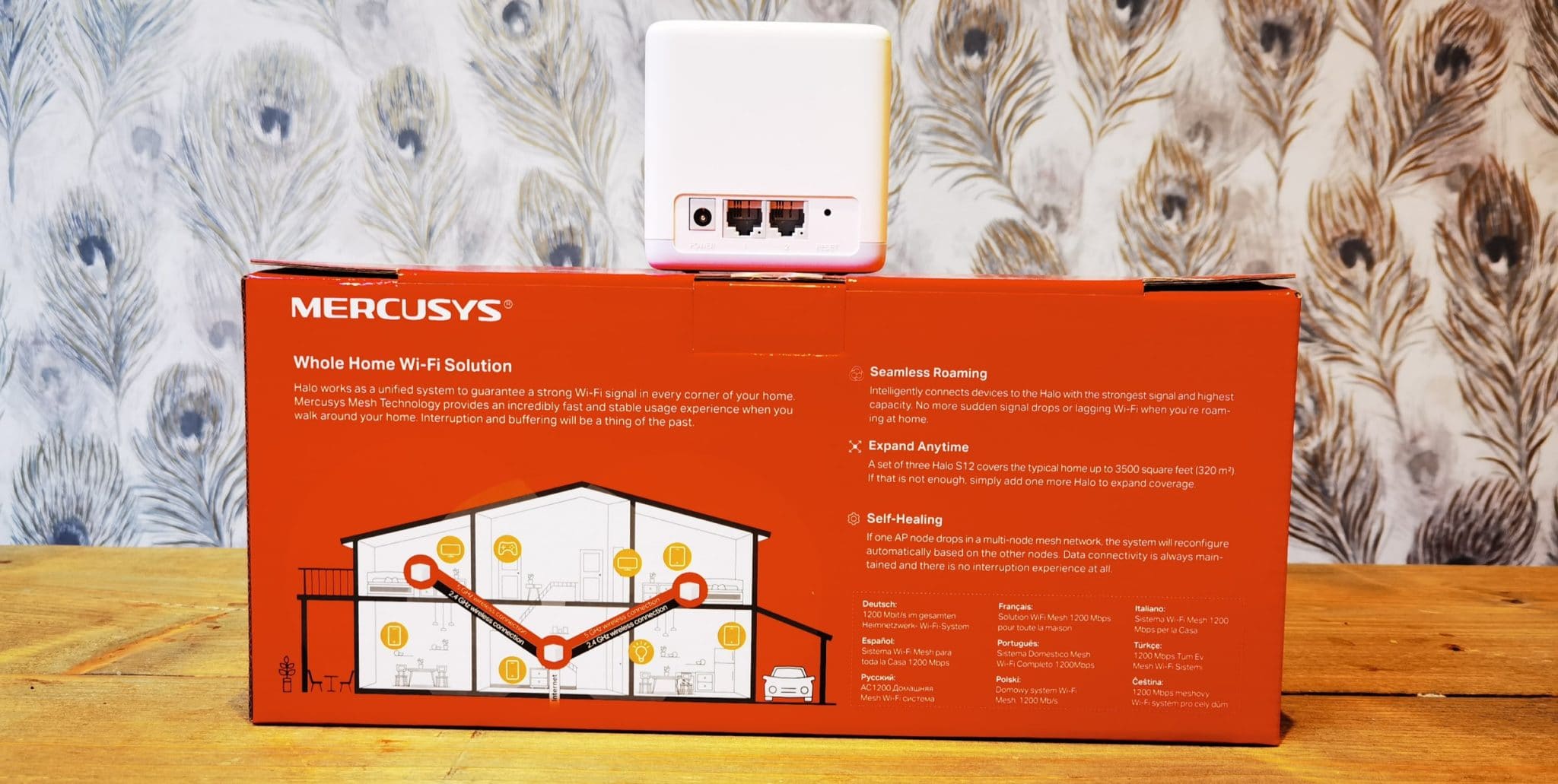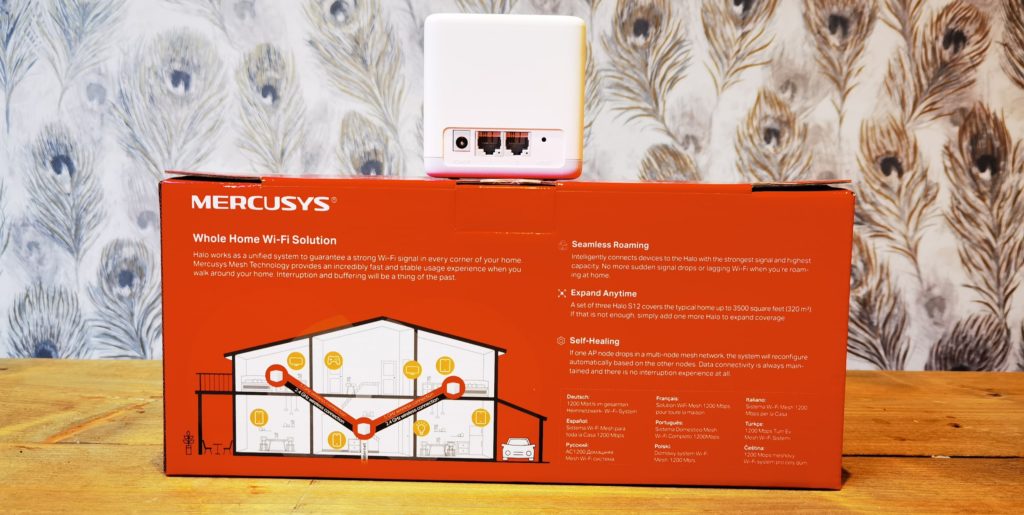 There is nothing as cheap as this as far as I am aware. Which is obviously the biggest appeal of this system.
You can regularly get the Tenda Nova MW3 for around £70. It is basically the same spec and same design, but the extra tenner is worth it for the more user-friendly experience. The price of this system and stock seems to jump around a lot. When I started this review, it was only available for £100 via 3rd parties. It is now back in stock with Amazon for £69.99.
Pushing double the price is the TP-Link Deco E4, this has the benefit of an app, and I have generally found the whole TP-Link system the most usable option out of all the mesh systems. The user-friendliness of TP-Link systems is what makes me surprised they are associated with this company at all, I suspect they may have bought the company rather than built it from the ground up.
Overall
While I can appreciate the low price point here, I think you would need to compare what else is on offer at this price before you commit to it.
The hardware itself is adequate, it is clearly good value for money, and the Wi-Fi performance is about as good as you would expect from a dual-band system using 100Mbit ports.
However, beyond that, the user experience is below average. Setting this up is like something from a decade ago. No app, browser only. There are limited settings, and I wasn't able to find any access point mode only, so you are doing to have to use that as your DHCP router. Even the web interface is antiquated and not particularly mobile-friendly. While the Tenda offers about the same level of performance, it was generally a pleasure to get up and running, with.
That being said, it is still not particularly hard to set this up, most people with a modicum of computer skills shouldn't find this too challenging.
At this price, there are no nice added features, but that was to be expected.
At the end of the day, this is the cheapest system on the market, so if your budget is extremely limited and don't mind a less than perfect set up process, this is worth considering. I would still advise that the Tenda Nova MW3-3 is a better buy, but only if you can pick it up for £70 (£11 more than this system)
If Mercusys put some effort into the web interface/firmware and maybe launched an app, this has the potential to an excellent mesh system.
Last update on 2022-05-17 / Affiliate links / Images from Amazon Product Advertising API