As I eagerly wait for Realme to launch a flagship device in the UK this year, they have whetted my appetite for what might come with the Realme 8 Pro.
The Realme 8 Pro is launching in the UK as the first sub-£300 phone to feature a 108MP camera.
Specification – Realme 8 Pro vs 7 Pro vs 6 Pro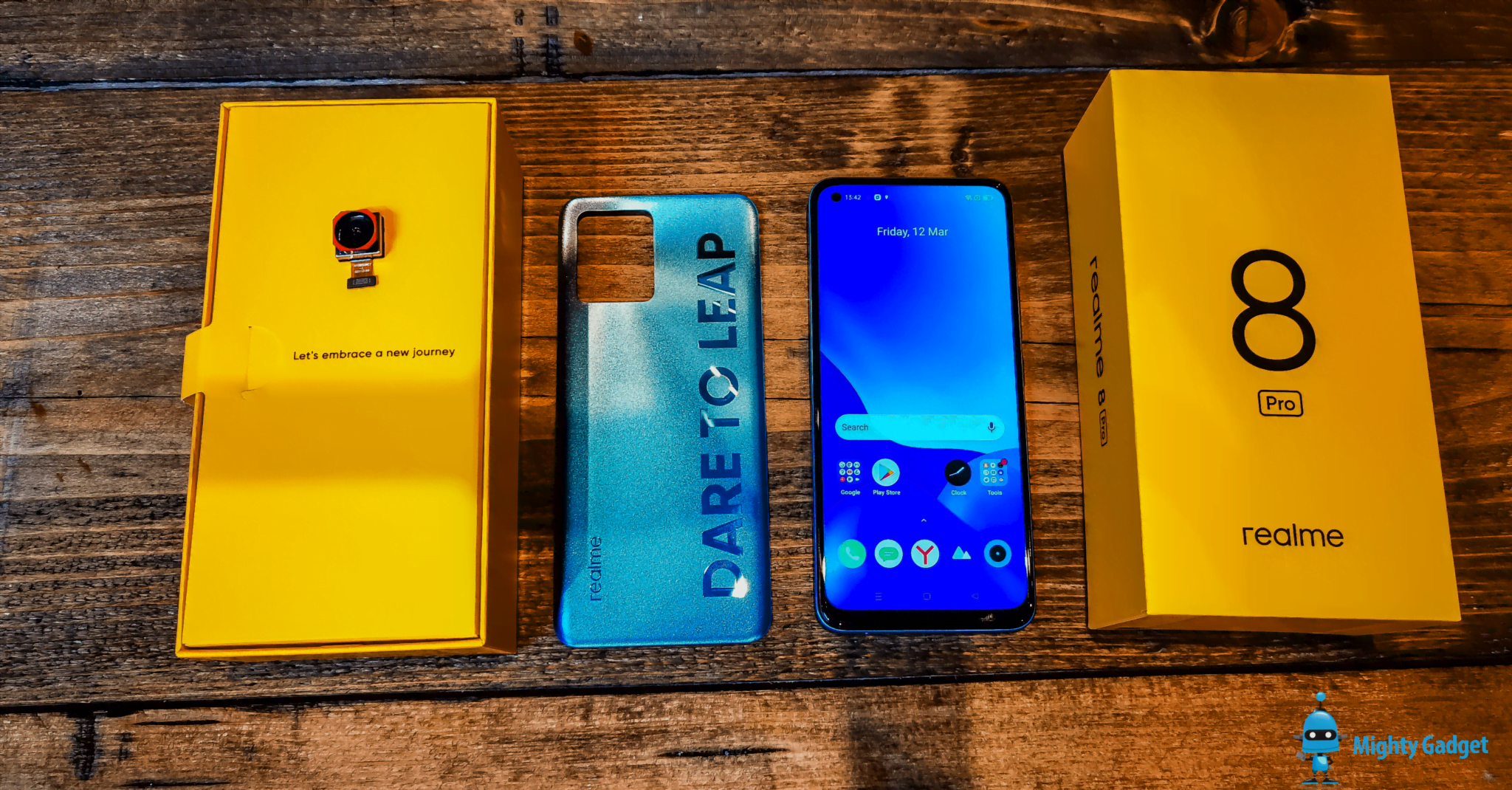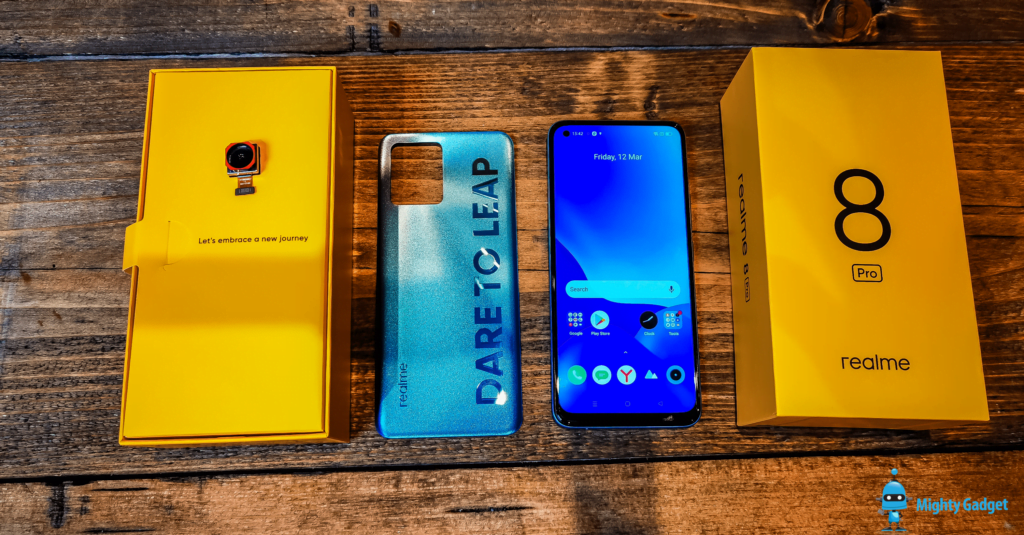 Realme 8 Pro
Realme 7 Pro
Realme 6 Pro
Display
6.4 inch AMOLED 2400×1080
1000nits peak brightness
60Hz refresh rate
180Hz touch sampling
6.4 inch AMOLED 2400×1080
6.6 inch IPS 2400×1080
90Hz, 480 nits
Chipset
Snapdragon 720G
Snapdragon 720G
Snapdragon 720G
RAM
8GB
8GB
8GB
Storage
128GB
MicroSD slot
128GB
MicroSD slot
128GB
MicroSD slot
Rear Camera
108 MP Samsung HM2 1/1.52″
8 MP ultra-wide
2 MP macro
2 MP B&W Lens
64 MP Sony IMX682 1/1.73″ Wide
8 MP ultra-wide
2 MP macro
2 MP depth
64 MP Samsung 1/1.72
12MP 2x telephoto
8MP ultrawide
2MP macro
Front Camera
16MP Sony IMX471
32 MP
16 MP
Battery
4500 mAh
50W charging (but 65W charger)
4500 mAh
65W charging
4300 mAh
30W
Other
Dual sim + microSD
3.5mm headphone jack
Dual sim + microSD
3.5mm headphone jack
Dual sim + microSD
3.5mm headphone jack
Dimensions
160.6 x 73.9 x 8.1 mm
176g
160.9 x 74.3 x 8.7 mm
182g
163.8 x 75.8 x 8.9 mm
202 g
Price
£279
8GB/128GB launch price £279
Current price £239
349.90 Euros (£305)
The excellent Realme 6 Pro was launched in March 2020, with the Realme 7 Pro landing in October and now the 8 Pro, so we are looking at a 6-month launch cycle. This inevitably means not much changes with each release.
The main difference going from the Realme 6 Pro to 7 Pro was that it ditched the IPS display in favour of an AMOLED which was quite unique at the time with most affordable phones using IPS.
The Realme 8 Pro then also only has one significant improvement. The primary sensor has been switched from the already good 64MP Sony IMX682 sensor to the brand new Samsung 108MP HM2 sensor.
This new 108MP camera isn't quite the same as you see on £750+ flagship phones from the likes of Xiaomi and Samsung, but it is not far off. The main difference is that the sensor is a touch smaller at 1/1.52″ vs 1/1.33″, reducing the pixel size to 0.7 μm from 0.8 μm.
Disappointingly, there hasn't been an improvement from the Snapdragon 720G, which itself wasn't much different from the Snapdragon 730G, which proceeded it, so the chipset is effectively 2 years old now.
In defence of Realme, Qualcomm has left its 7-series platform to go a little stale. The only realistic upgrade would have been the 5G Snapdragon 750G.
YouTube Mini Review
Because all the cool kids are YouTubers, I have reluctantly started doing it too. Not very good but my video gives you a quick overview and my thoughts.
Design and Display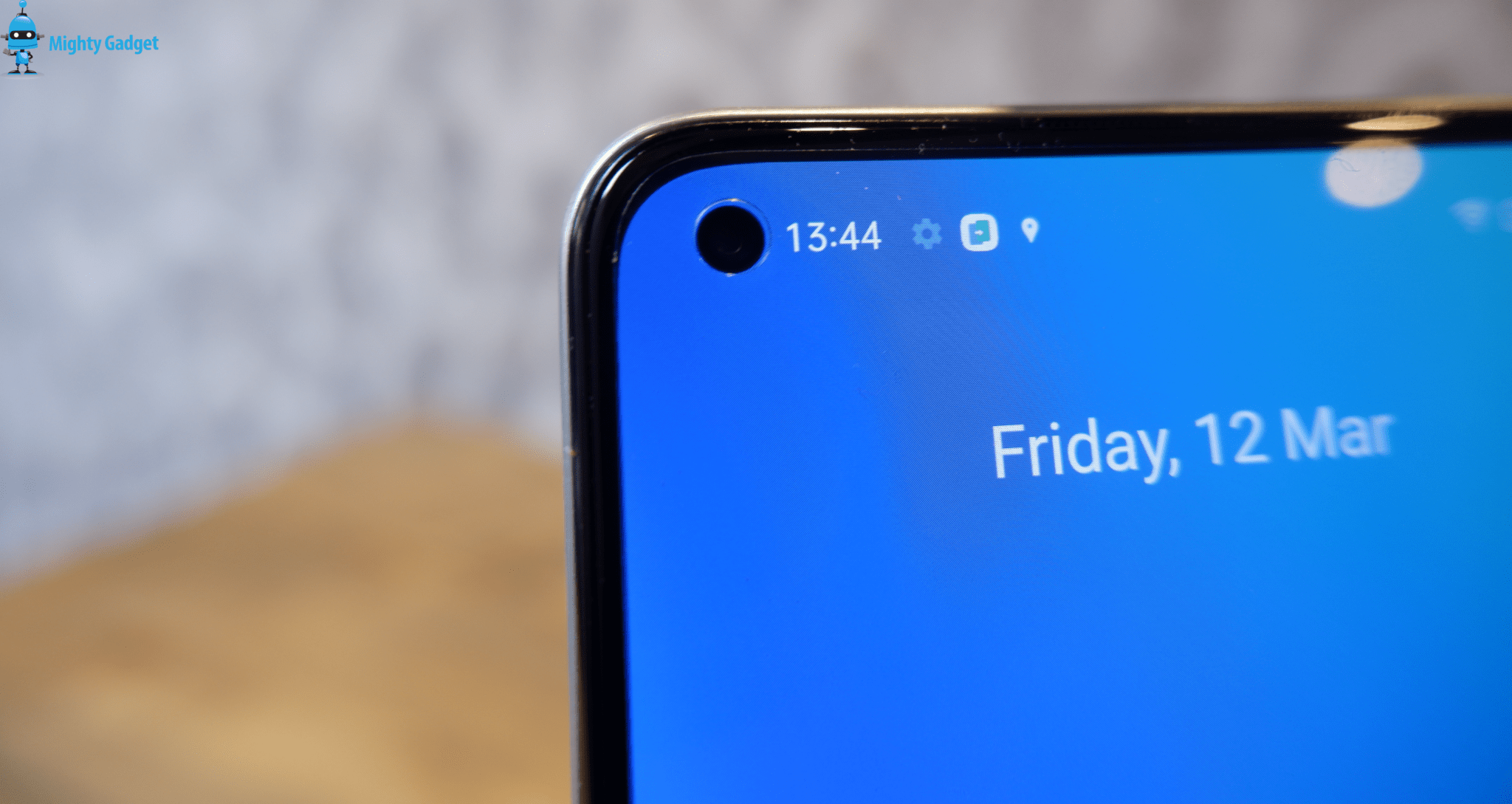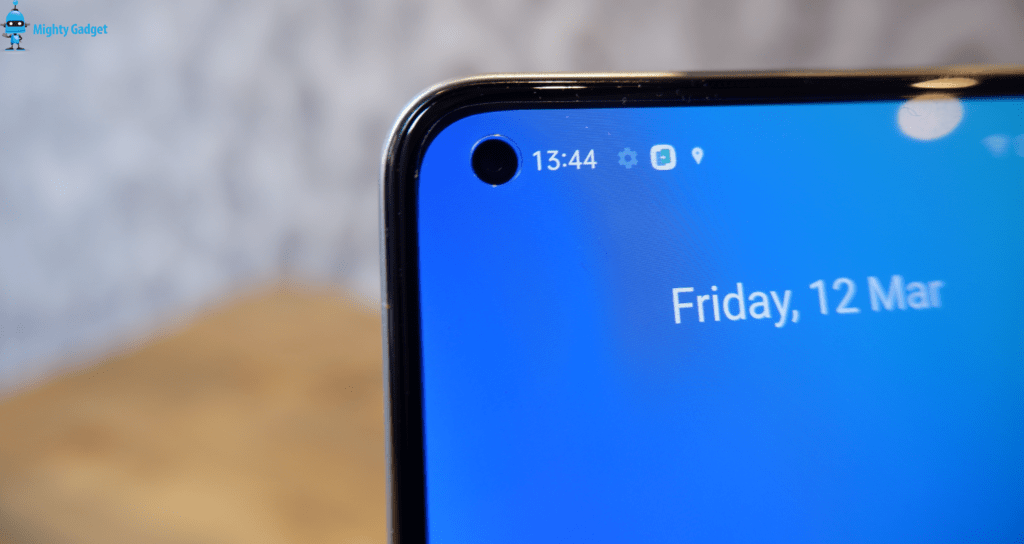 While the phone's rear design has changed a little since the Realme 7 Pro, it is clear that much of the Realme 7 Pro has been reused here.
Dimensions are almost identical, and the display appears to be the same specification.
Realme have decided to go all-in on branding with a big dare to leap slogan, don't the back, it is a little garish for my liking, but I am mostly indifferent to the way a phone looks.
This is a light and slim phone, it doesn't feel cheap at all, but it is quite a refreshing change from all the 200+g phones you get nowadays.
The camera bumps protrude quite a bit, which is to be expected when you have a 108MP camera, however with the pre-included clear case these site flush with the case itself.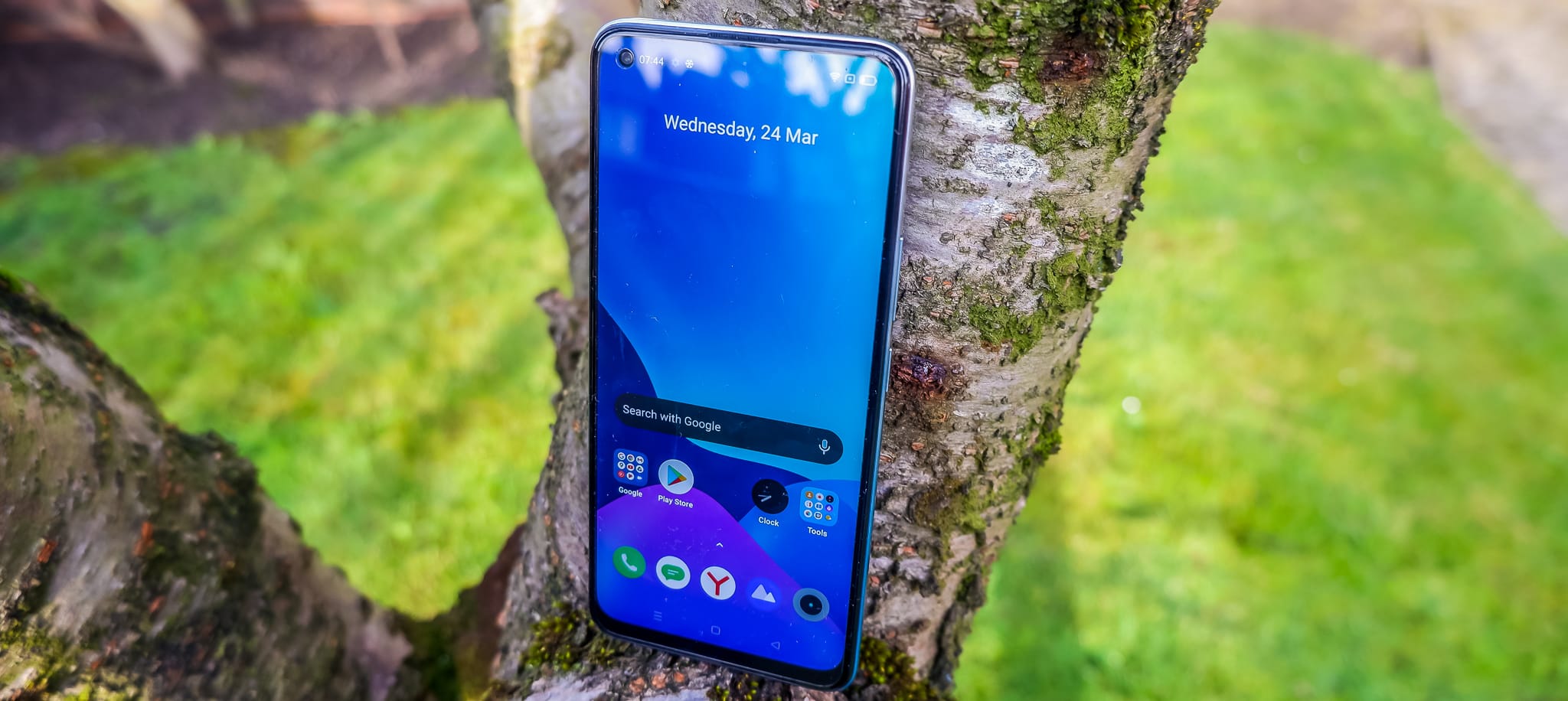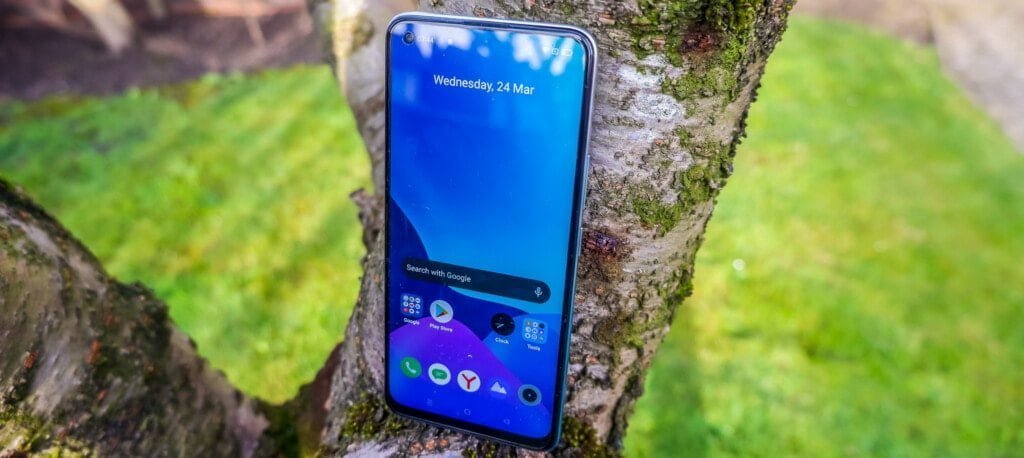 Camera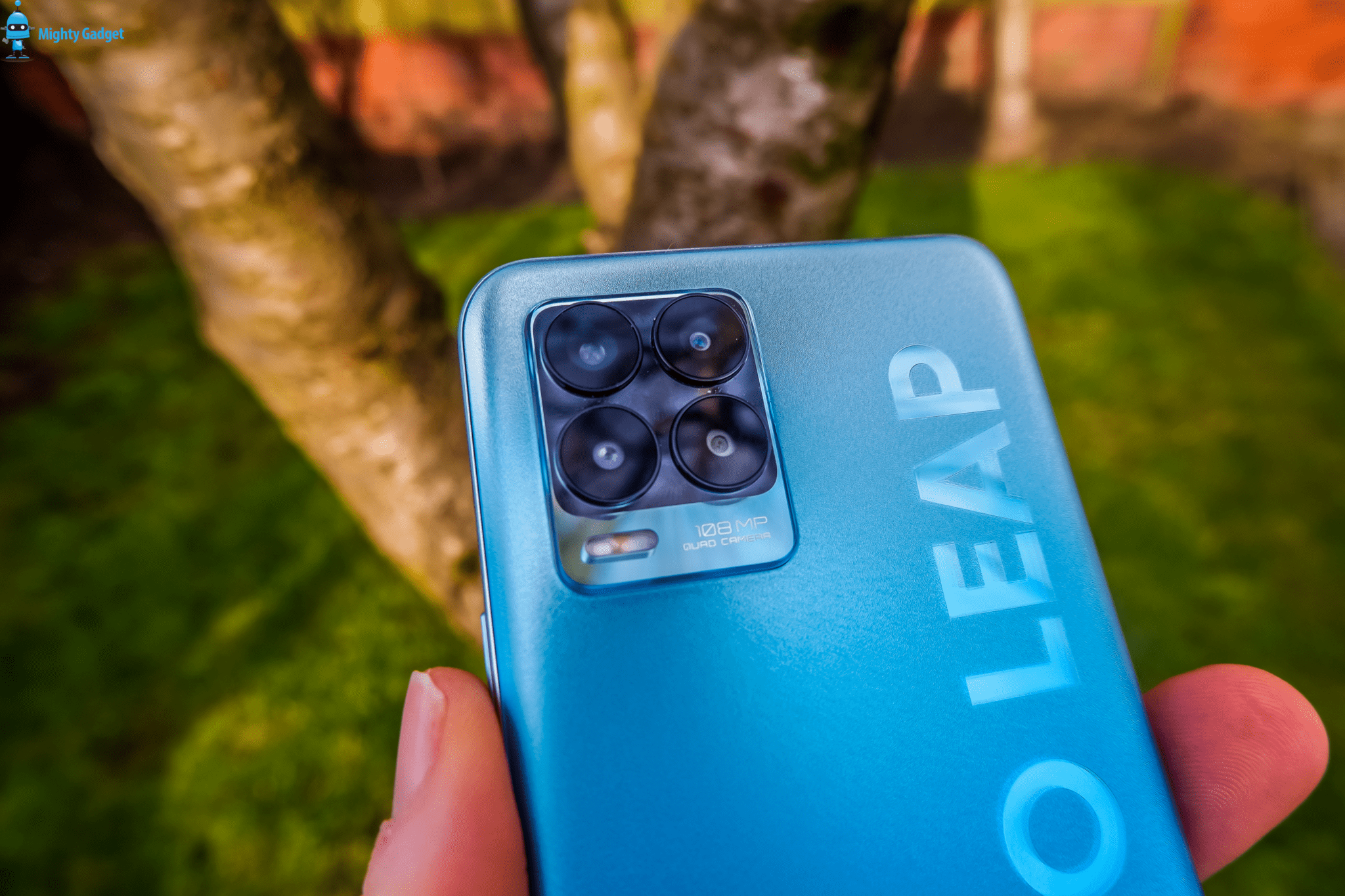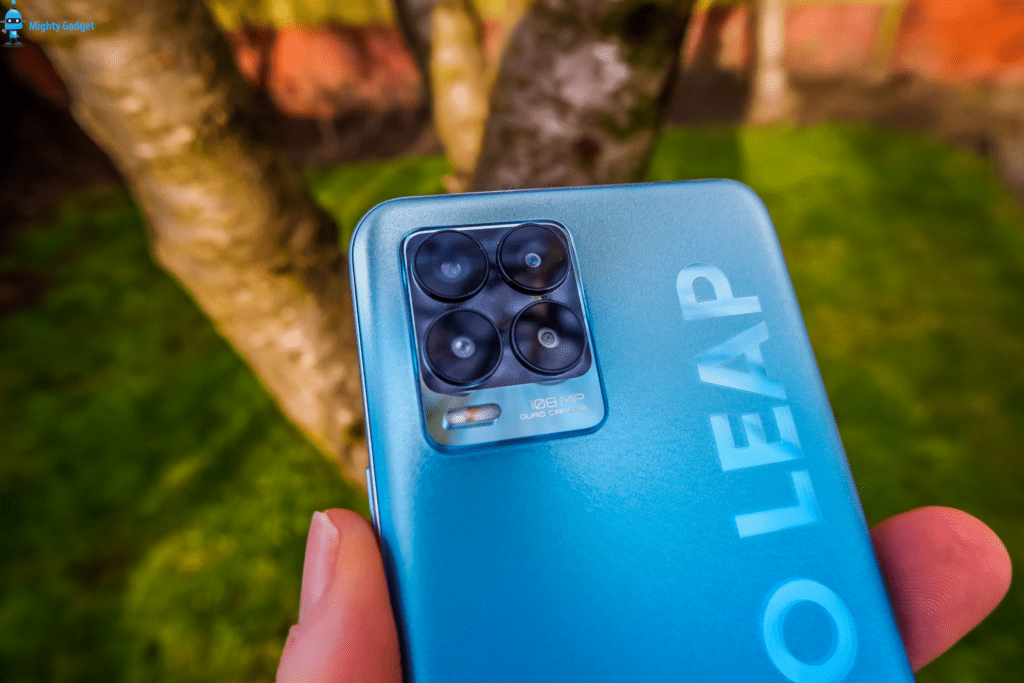 As you would expect, the 108MP camera is the star of the show. The 8MP ultra-wide is OK, but it is the same spec ultrawide used on many affordable phones, and Realme have used it going back to the Realme 5 Pro, the actual sensor may have improved, but at least since the Realme 6 Pro the sensor size is 1/4.0″.
The other two sensors are there mostly to pad out the numbers. The 2MP macro will likely be used a few times then forgotten about.
The main Samsung HM2 108MP camera has a 1/1.52-inch sensor that uses 9-in-1 Pixel Binning technology which enables nine adjacent 0.7μm pixels to be combined into one large 2.1μm pixel, improving image quality under dim light.
With the AI mode on, Realme have adopted the exaggerated colours style of photography. Greens, in particular, are extremely vibrant. Photography purists will probably dislike it, but your average user posting their photos to Facebook will likely love it, as it makes photos look impressively colourful.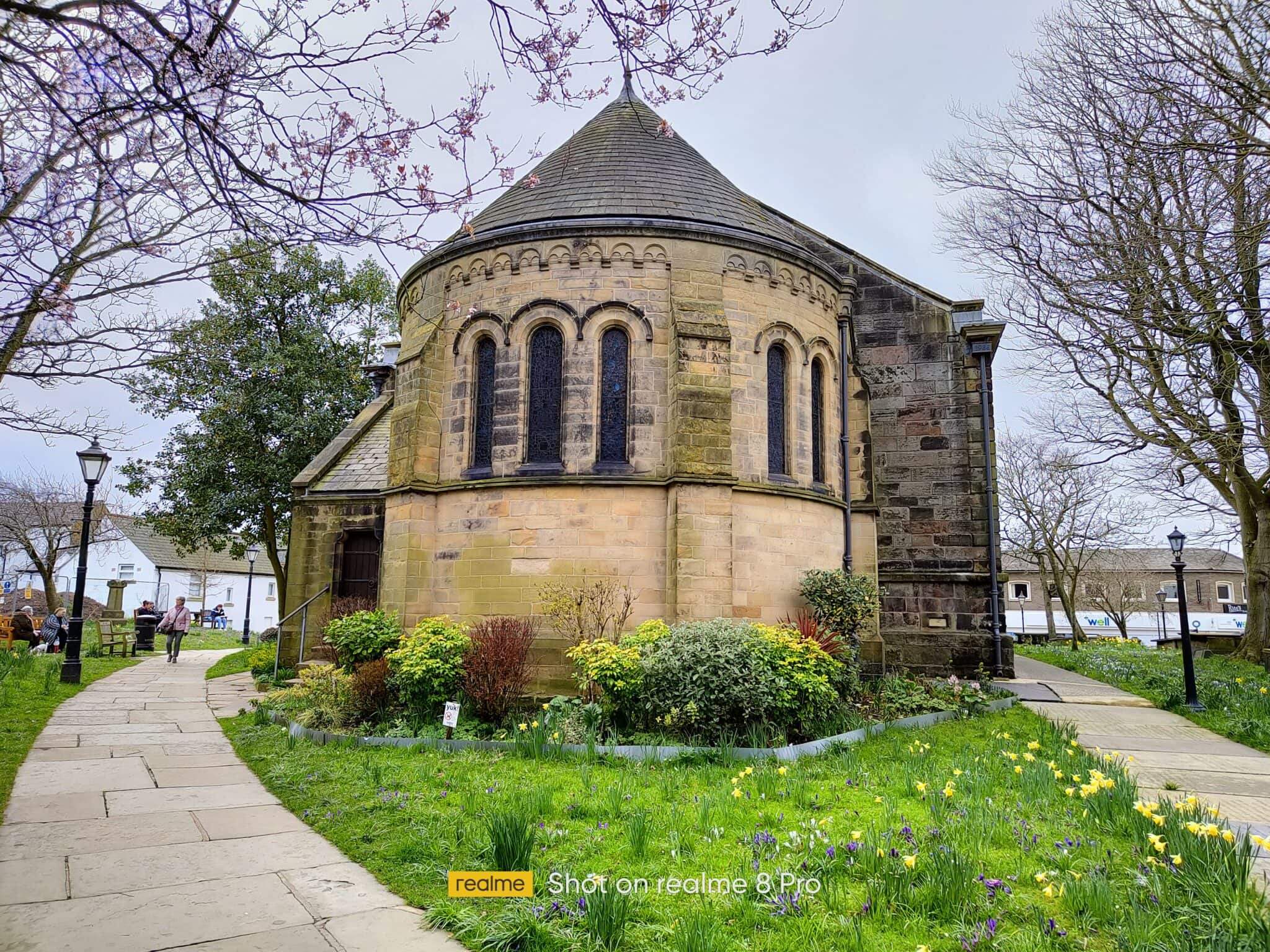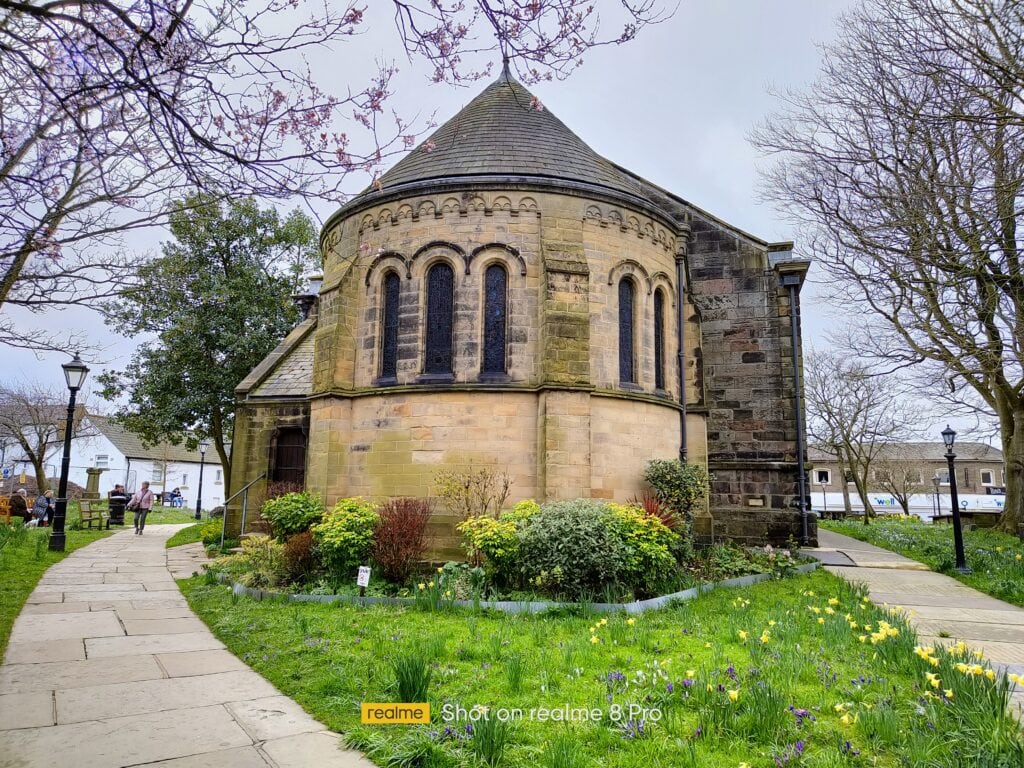 It is possible to shoot in full 108MP mode, but like most other phones, the is not that much difference in overall quality. Even when viewed on a large display, I doubt most people will tell the difference. The 108MP mode also introduces shutter lag due to the sheer size of a 108 MP (12000 × 9000) file, these vary between 15MB and over 30MB.
Realme ditched the telephoto lens on the Realme 6 Pro, which was a bit of a shame because I like the flexibility it offered. With the larger 108MP camera, digital zoom still deteriorates photos quickly, but much less so than lower resolution sensors. So, if you keep the zoom at a reasonable setting, you can get decent quality photos.
There are various camera modes; the Starry Time-lapse can capture 30 photos in 480s and then generate a 1s time-lapse video. With my limited time with the phone and overcast skies recently, I have been unable to test this properly.
The camera can take good low light shots, but I find you always need a stable hand with Realme. Premium-priced flagships from the likes of Huawei are much more forgiving with hand shake in low light.
Overall, the main camera on the Realme 8 Pro is easily the best I have used on a sub-£300 phone, and it will hold its own against phones twice the price.
Camera Samples
Performance and Benchmarks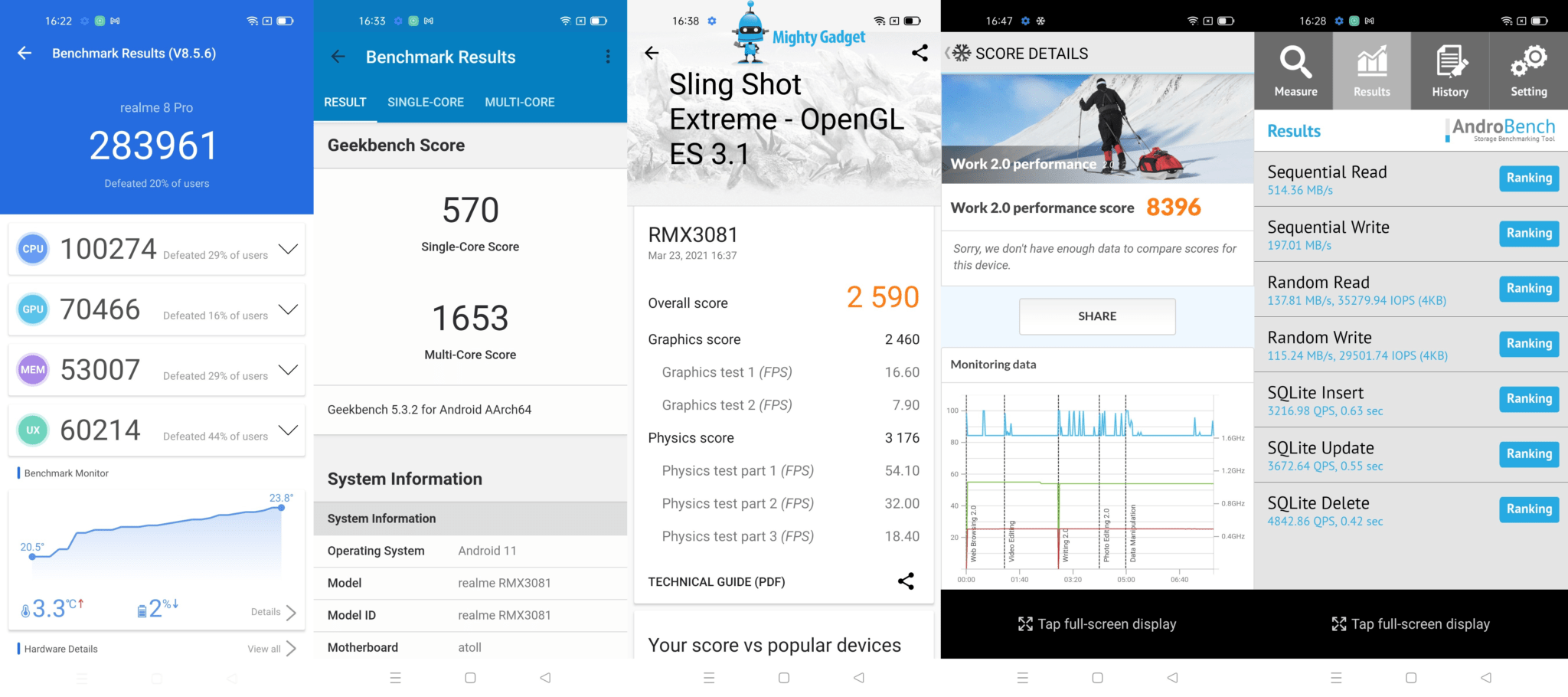 The Qualcomm Snapdragon 720G may be getting a little old now, but it is still a great little 4G chipset. If you are not a massive gamer or power user, it has all the performance you could need. I noticed no slowdowns, all apps a super quick and responsive.
The camera lag in full 108MP mode is likely due to writing to the disk. Sequential writes are 197MB/s, and some of the 108MP files are over 30MB. So, roughly 0.16 seconds to write to disk. That may seem like nothing, but it is a delay that is quite noticeable (especially vs the 4MB standard 12MP files).
It is almost pointless benchmarking this phone, the Snapdragon 720G performance has been extensively tested, and the overall spec of this phone is much the same as its predecessor, but I did it anyway.
Some of the benchmarks reported fractionally lower scores, but it is small enough that this is likely the standard variation within the benchmarks and certainly won't affect the real life experience.
Battery
The Realme 8 Pro has the same battery as the previous generation, combined with the same display and chipset; it has equally good battery life. 4500mAh may not be the largest on the market, but the SD720G and AMOLED display make it last an exceptionally long time. I could easily squeeze a couple of days out of this.
Disappointingly, Realme seem to have reduced the speed of the charging; the previous generation was 65W. This is now 50W. The 65W charging offered 0-100% in 34mins, this can do from 0 to 100% in just 47 minutes. So the drop in speed is hardly going to make a huge difference to your life.
Software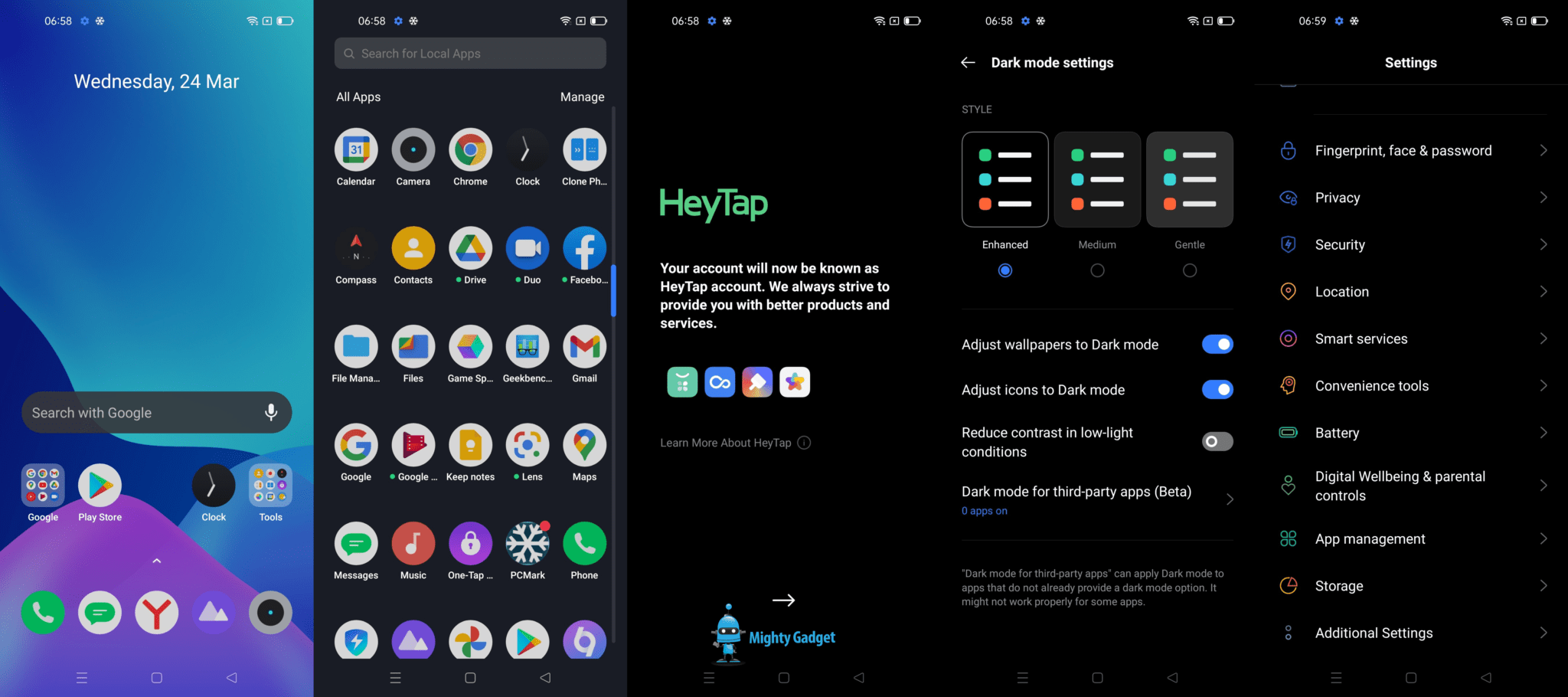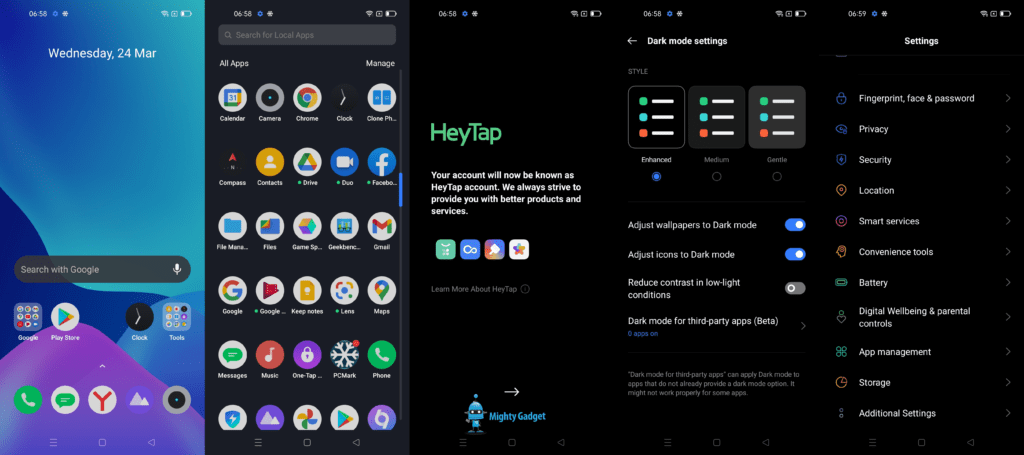 The 7 Pro had Realme UI V1.0, being one of the first phones to move away from ColorOS, which is now used on OPPO only (outside of China).
This launches with Realme UI 2.0, which is now based on Android 11.
I have no strong feelings towards the way each company customises Android; the only issue is getting used to the UI when you switch brand. I struggled with the Galaxy S21 Ultra then copped some grief for it because I missed easy fixes to the issues I faced.
I am quite familiar with the Realme UI, so I have fewer issues. Realme UI V1 ditched the user account that ColorOS had, but this has now been reintroduced in the form of HeyTap. I have not found it nags me as much as other brands for not logging in.
The rest of the changes appear to be a gradual improvement in the overall UI. Dark mode now offers three levels of darkness which I quite like.
There are a few additional apps installed, I wasn't sent the UK version as a review sample, so I think this will change. For example, I have Yandex installed, which seems unlikely to be installed for the UK market.
There is no annoying security scanning or built-in adverts, unlike Realme rivals Xiaomi.
Price, Availability & Alternative Options
The Realme 8 Pro lands at the same price as its predecessor with 8GB + 128GB is for £279, and it will be available from 31st March at realme.com/uk and Amazon UK.
The Redmi Note 10 Pro should be available at some point in the near future, using the same 108MP sensor, and it should be around the same price or a bit higher.
There are many options for under £300 that are superb, predominantly from Realme and Xiaomi. If the price is right, the Realme 7 Pro is still an amazing phone. The Poco X3 NFC or the Xiaomi Mi 10T Lite are superb, too, with all three of these using the 64MP Sony IMX682 for the main sensor.
If you are more concerned about how quick your phone is rather than the camera, the two new Poco phones offer incredible performance for the price while still offering an AMOLED display.
Overall
I loved the Realme 7 Pro, it was one of my favourite phones of last year, offering a fantastic display with a good camera for under £300. For your average user, there was little reason to spend more money.
Thanks to the 108MP camera, the Realme 8 Pro continues this trend. From the main camera at least, you are getting flagship-like performance from a phone that's a third of the cost of many flagship devices.
It is disappointing to see the lack of improvements elsewhere, but this is always going to be the case when you have a 6-month launch cycle.
Perhaps the biggest issue Realme faces with this launch is their main competitor, Xiaomi. In particular, the Redmi Note 10 Pro offers similar spec, but at the moment, it is not clear about price and availability.
Overall, though, the Realme 8 Pro. For most people, this will tick all the boxes you need, decent day to day performance, great camera, and excellent price.
Last update on 2022-05-25 / Affiliate links / Images from Amazon Product Advertising API