[August Update] Updated reviews – ASUS has changed the product URL bunching it with other routers and raising the score.
There are hundreds of routers on the market covering features and pricing to suit everyone. One specific feature set that doesn't have a lot of options is routers with a VDSL modem built in; this allows you to use one box for your Openreach/BT connection rather than a modem and router, or the BT HomeHub box.
If you are on BT and you don't need anything too fancy the HomeHub is actually a great option, it ha rated speeds of 1,300Mbit/s, 1xUSB and 4-ethernet ports. The firmware doesn't have too much functionality though so for some users they may want to upgrade.
It is worth noting, that my current recommendation if you live in a large home, would be to get a VDSL modem (or keep the ISP one if it is OK) then invest in a good mesh wi-fi system as this will provide superior coverage throughout your home.
Premium Routers
TP-LINK Archer VR2800
Billion BiPAC 8900AX-2400
NETGEAR D7800 Nighthawk X4S
ASUS DSL-AC88U
DrayTek Vigor 2862AC
AVM FRITZ!Box 7590
Price
165
249
200
227
254
229.99
Review Rating
4
4
3.4
4
4.1
4
No of Reviews
714
377
939
402
30
13
% of negative Reviews
15
8
24
12
10
15
Rated Speed
2167Mbps
2400Mbps
2530Mbps
3167 Mbps
2000Mbps
1733Mbps
Ethernet Ports
4
4
5
4
5
4
USB Ports
2
1
2
1
2
2
WiFi Design
4 external,
MU-MIMO
3 external
4 external
MU-MIMO
4 external
MU-MIMO
4x4 MU-Mimo
(5Ghz)
Internal
MU-MIMO
Nas Features
Yes
Yes, basic, DLNA
ReadyCLOUD
Yes
No
Yes
Ethernet
Aggregation
No
No
No
No
No
No
Extra
OpenVPN, PPTP VPN
Tripple WAN, VPN
VPM, Guest Network
Beamforming
Firewall, DMZ, QOS,
Voip, VPN
Firewall features
VLAN,
Failover
DDOS protection, Beamforming
VPN
VPN, VLAN
SSL VPN
Mesh ability
(future option)
Beamforming
Open Source
support
Dual WAN
WAN
Load Balancing
Mid-Range Routers
Most of the above routers have models below them with similar features but more attractive price points.
Two routers I would highlight for mid-range options are:
Price at £142 this has 16 reviews, all but one of them 5 star. From my experience you can't really go wrong with DrayTek, they tend to be more business orientated, so often reliable but less unnecessary bells and whistles than the links of Asus.
Supports VDSL2, ADSL, 3G/4G and Ethernet-based Broadband
Ethernet WAN (for cable modems etc.)
3G/4G USB Modem Support as primary or backup/failure
IPv4/IPv6 Dual-Stack
Four Gigabit LAN Ethernet Ports
I reviewed the AVM Fritz!Box 7530 back in January, but at the time there were only the EU models available. You can now pick it up on Amazon for just £134.99 which I think is a great price. While I no longer have VDSL myself I still use their 7590 router as the main router in my house due to its reliability and superb feature set.
There are only 4 reviews for it at the moment, but all five star, and I can personally vouch for it.
Affordable Routers
Check out the affordable VDSL router recommendations for a more detailed post. I was going to do a table similar to the above, however, Amazon merges all the routers together per brand into one page which makes review comparisons difficult.
The TP-Link appears to be the best choice out of the bunch. The TP-Link Archer VR400 AC1200 is both Wi-Fi 300 Mbps (2.4 GHz) and 867 Mbps (5 GHz) speeds and costs just £62.99
You could spend a little extra on the AC1600 model with combined wireless speeds of up to 300 Mbps (over 2.4 GHz) and 1300 Mbps (over 5 GHz). However to get the 1300Mbps speeds can be a challenge and requires a compatible Wi-Fi module such as the Intel 9260, or the new Wi-Fi 6 modules such as the Killer AX1650.
Modems
While this is a post about VDSL Wi-Fi routers, it is worth considering getting just a modem and then use something separate for Wi-Fi. This is especially true due to the popularity of mesh Wi-Fi systems and the introduction of the new Wi-Fi 6 routers.
For just a modem I would recommend going with the DrayTek Vigor 130 ADSL/VDSL Ethernet Modem which is just £80 on Amazon.
If you then combined it with the Netgear Orbi RBK20 you would have a superior Wi-Fi solution to many of the above options.
Overall
This review has been updated for 2019. Previously the Netgear D8500 was the highest specced option of the market, but it had mixed reviews and it now appears to be end of life. This, therefore, leaves the NETGEAR D7800-100UKS as the best Netgear model on the market,
I can personally recommend the AVM FRITZ!Box 7590 , it is a great router, and if for some reason you need a VOIP/DECT option then this is a great choice. The Fritz!Box software is superb, and I have always found all the AVM products to be very reliable. Price and specification wise, it probably isn't the best choice though.
The 2 stand out options based on reviews, price and features/performance is the Billion BiPAC 8900AX-2400 and TP-LINK Archer VR2800.
The Billion BiPAC 8900AX-2400 has the best reviews all around. The general consensus is that this router is much more reliable than Netgear products. It tends to be a bit more of a business-orientated router, so may not be as user-friendly as Netgear or TP-Link alternatives.


The TP-Link is the most affordable option on the list while having the 2nd best reviews, it has a rich feature set, you can set it up and manage the device via your mobile. The claimed 2167Mbps maximum speed is more than fast enough for the most demanding of users. The included USB ports make it compatible with 3G/4G dongles, and they can provide basic NAS functions such as SMB drives shares, media server etc. There are plenty of advanced functions such as VPN pass-through, DMZ, port forwarding, and parental controls. The biggest negative for me is the last of ethernet ports, a couple more would make this more appealing, but with it costing £80+ less than the Netgear options, it leaves plenty of money left over for a good switch. The TP-LINK Archer VR2800 should be a great choice for all users.
For a VDSL router with Wi-Fi, my overall recommendation would be the TP-Link Archer VR2800, and if that is too expensive for you the Archer VR900 is also a superb choice at just £99.99.
However, with a lot of these routers starting to look a little dated I would suggest the modem + separate Wi-Fi router is a better choice. Mesh Wi-Fi systems will offer you considerably better range in medium to large homes, while the new Wi-Fi 6 routers offer the best of the best in overall transfer speed performance.
VDSL Routers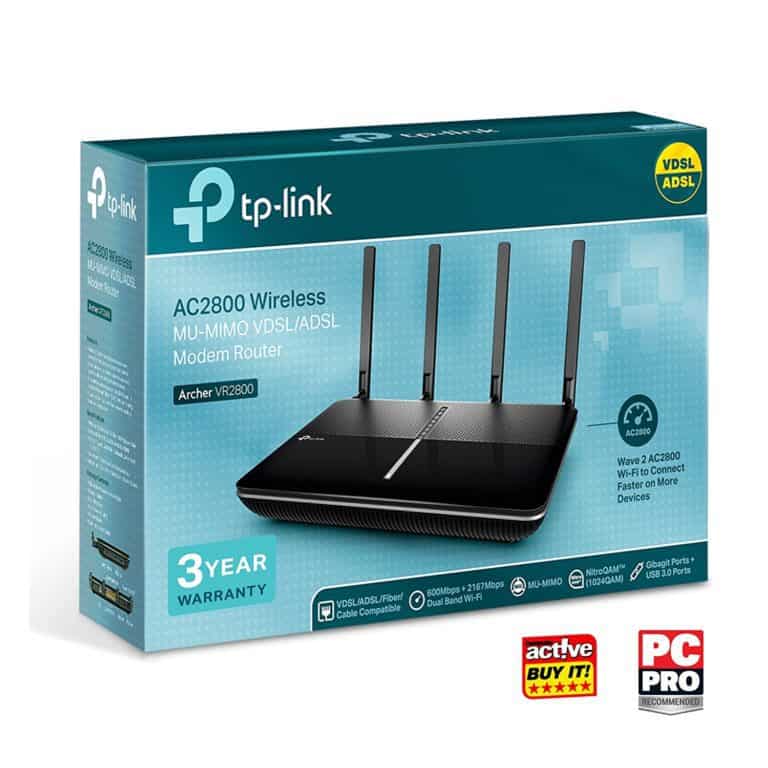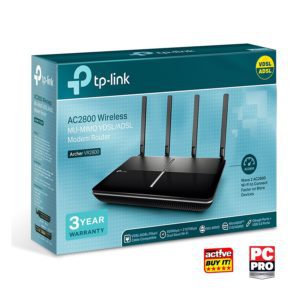 Product Name: TP-LINK Archer VR2800
Price: 180
Currency: GBP
Availability: InStock