AVM FRITZ!Box 7530 Review
Product Name: AVM FRITZ!Box 7530
Offer price: 137
Currency: GBP
Availability: InStock
I have covered AVM FRITZ!Box several times over the past few years, they may not be a household name in the UK, but they are massive in the EU. From my experience with them, they always make superb and reliable routers with regular updates that I think are well worth looking into if you plan on replacing your ISP supplied router/modem. Since 2015 I have used AVM products as my primary router, initially with the AVM Fritz!Box 7490 then the Fritz!Box 7590 which I still use today, even though I am now with Virgin.
The AVM FRITZ!Box 7530 is one of the latest routers from AVM and offers most of the features the 7590 has but in a more affordable package. At the moment the only UK availability is via Zen Internet with one of their broadband packages. I will update the post as and when the UK models arrive on Amazon and other sites.
Specification
VDSL or ADSL modem – Supports 300 Mbit/s VDSL connections, including 35b supervectoring
VOIP Telephone system
Integrated DECT base station for up to six cordless telephones
4 x gigabit Ethernet; WAN via LAN 1 port
Wireless AC (up to 866 Mbit/s gross, 5 GHz) and N (up to 400 Mbit/s gross, 2.4 GHz)
Multi-User MIMO
Wireless network range extended through repeater function
Compatible with the new mesh WiFi system AVM is rolling out (no UK availability yet)
Secure remote access over the Internet with VPN (IPSec)
Stateful Packet Inspection Firewall with port sharing
Media server makes music, pictures and videos available to devices in the home network (DLNA, UPnP AV)
FRITZ!NAS: memory shared by all data in the home network
Parental controls, push service, cloud contacts, online storage
In comparison to the 7590 this model is around half the price and the main differences include:
Wireless AC 1733 Mbit/s (5 GHz) on the 7590 vs 866Mbit/s
7590 features a dedicated gigabit WAN port while the 7530 featuring a shared port.
7590 features 2 x a/b port for analogue telephones, answering machines and fax plus one for ISDN. While the 7530 features just one analogue
2 USB ports vs one
There are probably many more differences, but these are the highlights I can find. I think, for UK users, the only two important ones are the slightly slower Wi-Fi and potentially one less ethernet port if you need to use the WAN port (like I do with Virgin).
That being said, if you are still tied down to a landline, or have a small business, the 1x analogue port could be very useful, allowing you to free yourself from a traditional landline.
AVM is rolling out a mesh adaptor which will allow you to convert this into fully functional Mesh Wi-Fi System. With this being predominantly an EU focussed company, at the moment the plug style adaptors are all EU only
Set-Up
The 7530 uses the same OS as its bigger brother so nearly everything about it is the same as the 7490. You can connect to http://fritz.box or directly to the router IP, and you can follow the setup wizard.
As I don't have VDSL anymore, I was unable to test this, but it is more involved than setting up just a basic router. However, this is the main selling point of this router, allowing you to get rid of the ISP supplied VDSL modem/router. During this set up you will need to know some of the basic settings of your ISP which you can either copy from the existing modem, or look online for guides.
AVM doesn't use default passwords, and the initial password you need to log in is located at the bottom of the router. This used to be quite a unique feature, but many other routers I have reviewed recently have also ditched default passwords in favour of something unique.
For me, I had to set up the system with an existing connection of WAN and have my internet fed into port one of the routers (which is the WAN port on LAN1). Similar to the last review I had to change the IP to get it working with my existing network set up. AVM like to use 192.168.178.* whereas I prefer 192.168.*.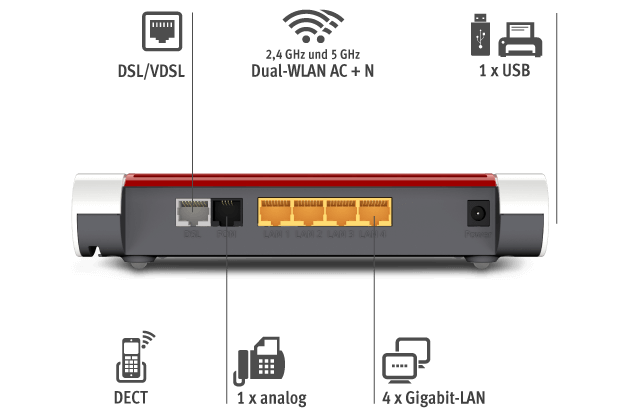 FRITZ!OS 7
The OS has seen regular updates over the years, and the new version 7 has rolled out some of the Mesh features. I have not been able to test this thoroughly, but under the mesh option you get a useful (basic) network topology layout, allowing you to see what's connected to what.
In the home page, you get a brief overview of all your devices, including connected devices, phone calls and power usage. You can view internet usage over time within the online monitor section, this should allow you to diagnose performance issues and optimise your network.
The OS will try and pull in a name for the device for easy identification, you can also manually name the devices and also always assign the same IP to that device. This is a feature I rely on heavily as I prefer not to assign static IPs, but at the same time, I need to know the IP address of a lot of devices on my network, such as network cameras etc.
Within the device screen, you can set up various parental controls, set up independent port sharing and also enable the Wake on LAN which lets you start a computer automatically as soon as it is accessed from the internet. With the parental controls you can define what times the internet can be accessed, so you could disable your child's internet access on schedule. You can also specify what applications can be used, as well as black and white lists.
You can enable basic NAS features via the USB port, and this can work with USB 3.0 or in a power saving USB 2.0 mode. The USB port can also be used for remote connection to USB printers and scanners.
Security
As mentioned in my previous reviews FRITZ!Box devices appear to have fared quite well in terms of being exploited. They are not perfect, no device is, and there are some references of exploits, but considerably less than many competing brands such as ASUS, Netgear and Virgin.
You can have the router auto update the firmware which will limit your exposure to hacks further, and AVM has a current security notification page identifying current concerns.
Performance
For me, the most important aspect of a router is how reliable it is, and during my use of the 7530 it has been rock solid with no reboots needed or issues with connectivity. This has always been one of my favourite aspects of AVM products, and my current 7590 only ever gets rebooted when I need to turn the power off to the house. I have not used the VDSL modem on this model, but when I did have fibre through Plus Net I never had issues with connectivity on the 7590 and I expect the same will be true with this.
Wi-Fi performance is good even if it is not class leading. Most real-world scenarios will experience the same performance, with a moderate range from the router maxing out the connection to the internet. Overall range appeared to be good too, placing the router in the centre of my house allowed me to achieve a reliable connection in all rooms, and I live in an old fashioned 4-bedroom house with thick brick walls.
The NAS functions also perform similarly to the 7490, I wouldn't want to use this as my main NAS but it is more than satisfactory for basic backups.
Conclusion
I loved the Fritz!Box 7590 and this is functionally mostly the same while being considerably cheaper, so it comes as no surprise that I think it is excellent. The improved interface of FRITZ!OS 7 makes things easier to manage and introduces new mesh features which should make the router more appealing when devices are available in the UK.
The main reason I like this and all AVM products is its reliability with my Internet connection. Granted I only tested this on the WAN port, but there is no reason why it won't offer exemplary performance over VDSL fibre just as the 7590 does.
At under £140, it is considerably more wallet-friendly than the 7590 making it a very appealing investment. It is worth noting that the VDSL model equipped router market has grown in recent years, so this is not the cheapest or best WiFi specced model with Netgear and TP link both having multiple options across price points nowadays though none of these has the VOIP function the Fritz!Box does.
AVM has been in touch and the model sold on Amazon.co.uk is the German model and will not work in the UK. The only current UK availability is via Zen Internet who are one of the best broadband providers in the UK in terms of customer service. You can find more information here.