Dell OptiPlex 7060 Micro Review
Large PCs are slowly going out of fashion with the consumer enthusiasts frequently building PCs using small form factor allowing you to fit a powerful PC on your table without taking up much room.
Small PCs make even more sense in a crowded office environment, where large desktop PCs can become a nuisance taking up space and causing cable clutter.
Solutions such as the Dell OptiPlex 7060 Micro provide a great reasonably priced solution. With a form factor that is small enough to have the base unit mounted just behind the monitor, these low power low noise machines are great in a busy office.
According to a recent Forrester report, 52 percent of PC buyers cite space utilization as a top challenge when it comes to traditional desktops. As the need for office space steadily increases, the demand for micro PCs has never been greater. 72 percent of IT decision makers are either maintaining or increasing their investment into micro PCs.
The Dell OptiPlex 7060 is the latest iteration introducing the six core six thread i5-8500T which is more than powerful enough for all office work while having a very low TDP of 35W.
The OptiPlex includes options for VESA mount or the OptiPlex Micro All-in-One Stand allowing you to effectively turn any VESA compatible monitor into an all in one, reducing cable clutter across tables or floors.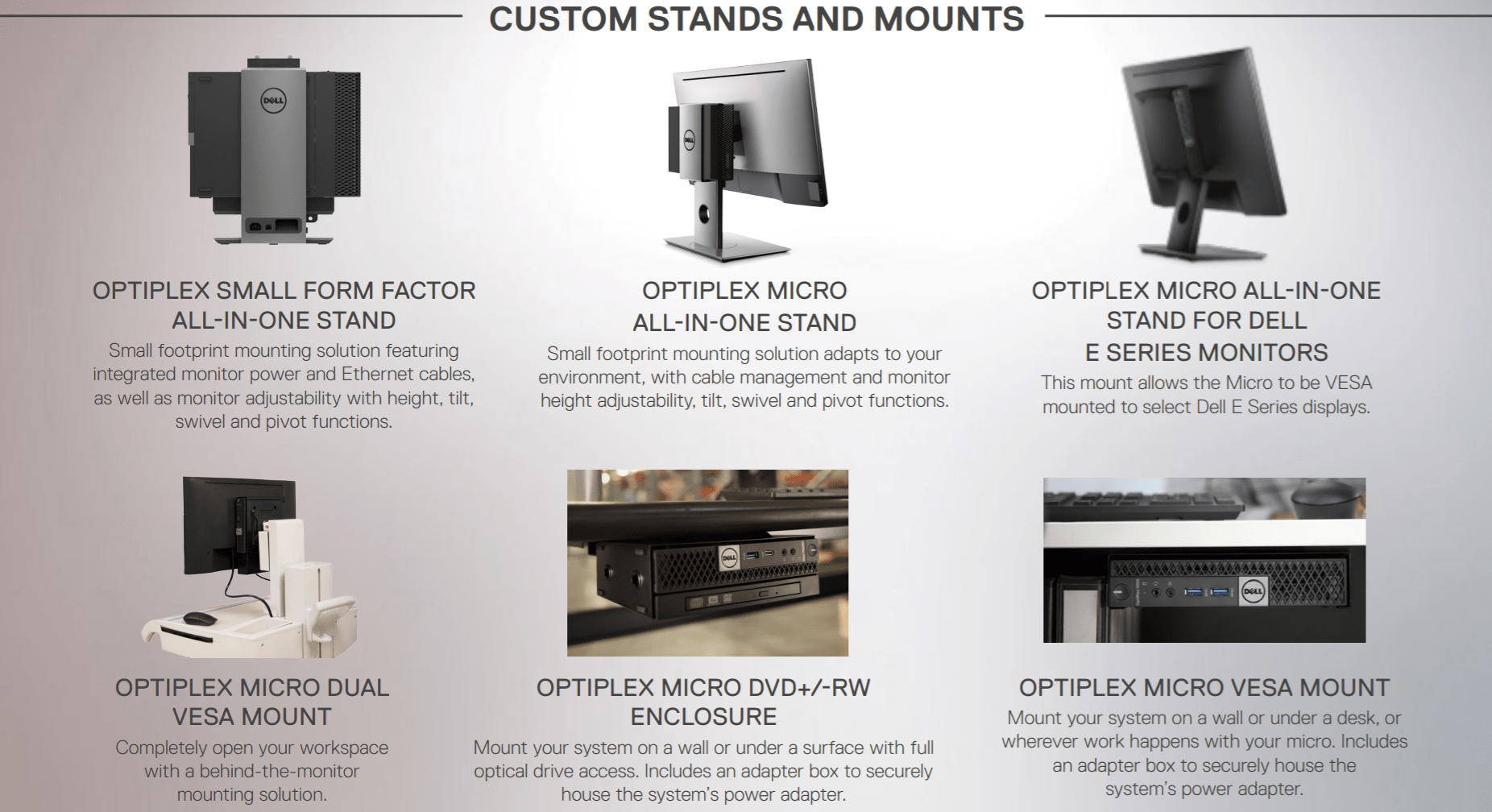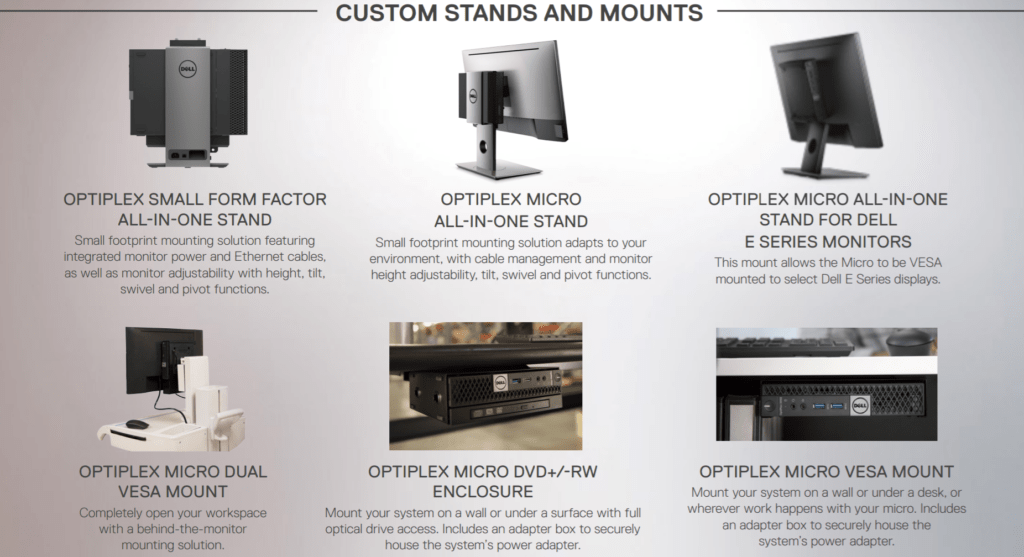 The model I have been sent looks like it costs £728.99 on dell, which is reduced from £1,121.53.
The available options go from £579.00 for the i5-8500T with 8GB RAM and M.2 128GB to £969.00 for a model with the Intel Core i7-8700T, 16GB 1X16GB DDR4 2666MHz Non-ECC and M.2 256GB.
The cheapest model looks like the best buy as you could easily install a second 2.5-inch SSD, though most business probably won't want to do this.
The price is also comparable if not cheaper to larger PCs too, for example the OptiPlex 7060 Mini Tower costs £739. The only real advantage it has is using the i5-8500 which has a higher TDP of 65w allowing it to be clocked higher at 4.1GHz. Its larger form factor allows it to use full sized 3.5-inch drives and maintenance or upgrades should be easier.
Full Specification
Intel Core i5-8500T (6 Cores/9MB/6T/up to 3.5GHz/35W)
Intel UHD Graphics 630
Windows 10 Pro
8GB 1X8GB DDR4 2666MHz Non-ECC
M.2 256GB PCIe NVMe Class 40 Solid State Drive
1 x USB 3.1 Gen 2 Type-C and 5x Type-A (1 front/4 rear; 1 front with PowerShare)
1 RJ-45
2 DisplayPorts
1 UAJ (front)
1 Line-out (front)
The PC also comes with a mouse and keyboard; they are basic but perfectly functional for a business environment. The keyboard uses slim chicklet keys which is not my favourite for typing on, but won't be as noisy as a mechanical keyboard.
You can gain easy access to the internals via a thumb screw and siding the top off. This then reveals a few upgrades that can be made, though obviously, these are limited. There is relatively easy access to the two M2 slots, one for storage and one for wireless. Plus an additional 2.5" bay.
I didn't remove the CPU fan, as I don't like to risk damaging review samples, but underneath the fan appears to be two DIM slots so you could easily upgrade it to 16GB.
The unit itself is impressively made; you are getting a lot of computing power in such a small form factor. The only downside is the relatively large power brick you need to plug in.
Port options are impressive with four standard USB ports on the rear and one on the front then a USB Type-C also on the front. The inclusion of Wi-Fi is also handy allowing you to minimise cable clutter further, not that I would recommend a large office all be connected to Wi-Fi.
This will drive two monitors via the display port connector which an ideal layout for office use in my opinion.
In use
As you might expect this is a superb little machine capable of doing everything it is designed for. It is not going to be the best for graphic designers due to lack of a graphics card, but for all other office use this will be more than adequate. The UHD Graphics 630 is about as good as it gets for an iGPU though, so it can still drive games or other GPU based applications reasonably well.
This will typically outperform most laptops, especially those at a similar price point. The i5-8500T inside this does not have to worry about power or heat as much as a laptop. This scores a Passmark of 10,028 putting it ahead of the excellent AMD Ryzen 5 2400G. In comparison to laptop-based chips the i5-8500T CPU in this will outperform the i7-8565U found on the new 15-inch Vostro notebooks and even the i5-8300H found on the Dell G5.
While this is very quiet, it is not silent, and the fans are always on. In complete silence they are audible, and the sound profile is quite high pitched. Almost any background noise will drown out the sound though, so this should not be a factor for most office use, but it is worth considering if you want to use one at home (in silence).
There is no much bloatware on the device, it comes with Dell Command Suite which provides an automated system to update drivers etc.
Overall
For business use, this is a great little PC in an extremely convenient form factor, and I would say the £579 base model is extremely good value for money.
Comparing it to other brands it is similarly priced too, if not a fraction better value. The Fujitsu ESPRIMO Q558 and Acer Veriton VN4660G are around the same price but use the lower specced 8400T.
An alternative to a SFF office PC could be a laptop, but this machine provides more power for a similar, if not lower price point.