Huwder A2002 150W Power Delivery Charger Review Rating
Summary
The Huwder A2002 has a high specification while being more affordable than competing options and appears to offer good build quality/safety. 
Pros
Highest powered PD charger I can find (currently available)
Very affordable
3-prong AC Power cord
Cons
Like other PD chargers, only a small number of phones will be able to use the high watt charging
Huwder is not a company I have heard of before, and they don't have any presence on Amazon UK. I was a little bit sceptical of their attractively priced and very high spec USB chargers when they approached me for a review.
I was, therefore, left pleasantly surprised when this turned out to be a superb charger, and they are a brand I think is worth keeping an eye on.
Features / Specification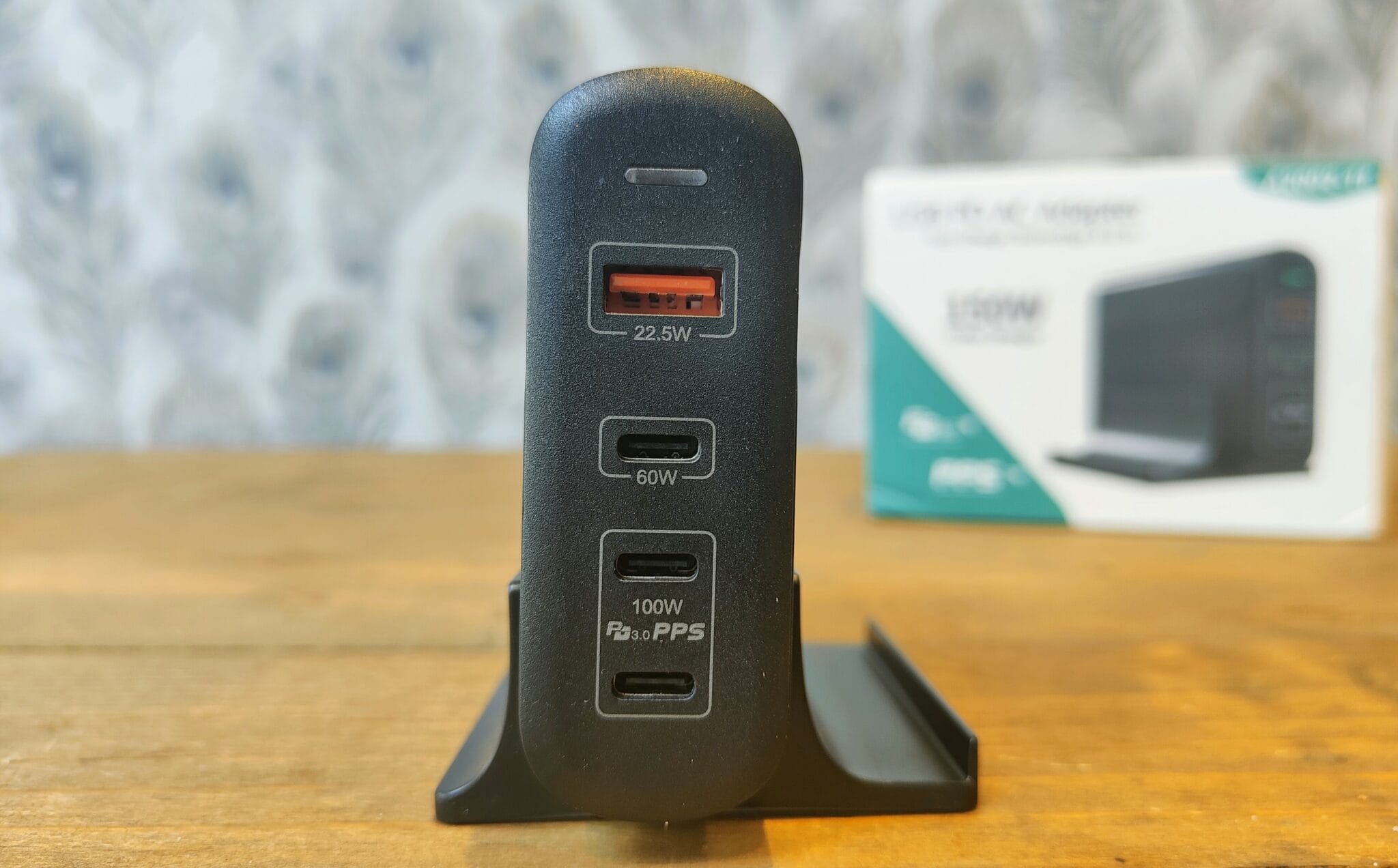 1 x USB-A @ 22.5W (4.5===5A,5V===4.5A,3.6V-6V===3A, 6V-9V===2A,9V-12V===1.5A)
3 x USB-C

1 @ 60W (5V/9V/12V/15V===3A,20===5A)

2 @ 100W PD 3.0 PPS (3.3-20V===5A)
Many of the chargers I have revived with how power outputs are GaN chargers. However, this one is not. All charge stations Huwder do are silicon-based, they have just two wall plug chargers that are GaN
The below table provides some examples of port usage. The total power output at one time should be 150W, though in column 7, with the C1 and C3 port in use, they indicate 160W.
You can charge up to 4 devices separately, but this will reduce the max output per port, with port C3 being the highest at 60W.
This supports various fast-charging protocols, including QC3.0/2.0, Apple2.4A, Samsung AFC, Huawei FCP/SCP, MTK-PE+2.0, etc.
It does not support the fast-charging technologies used by OPPO or OnePlus (and I assume Realme). This includes SuperVOOC/VOOC/DASH/WARP.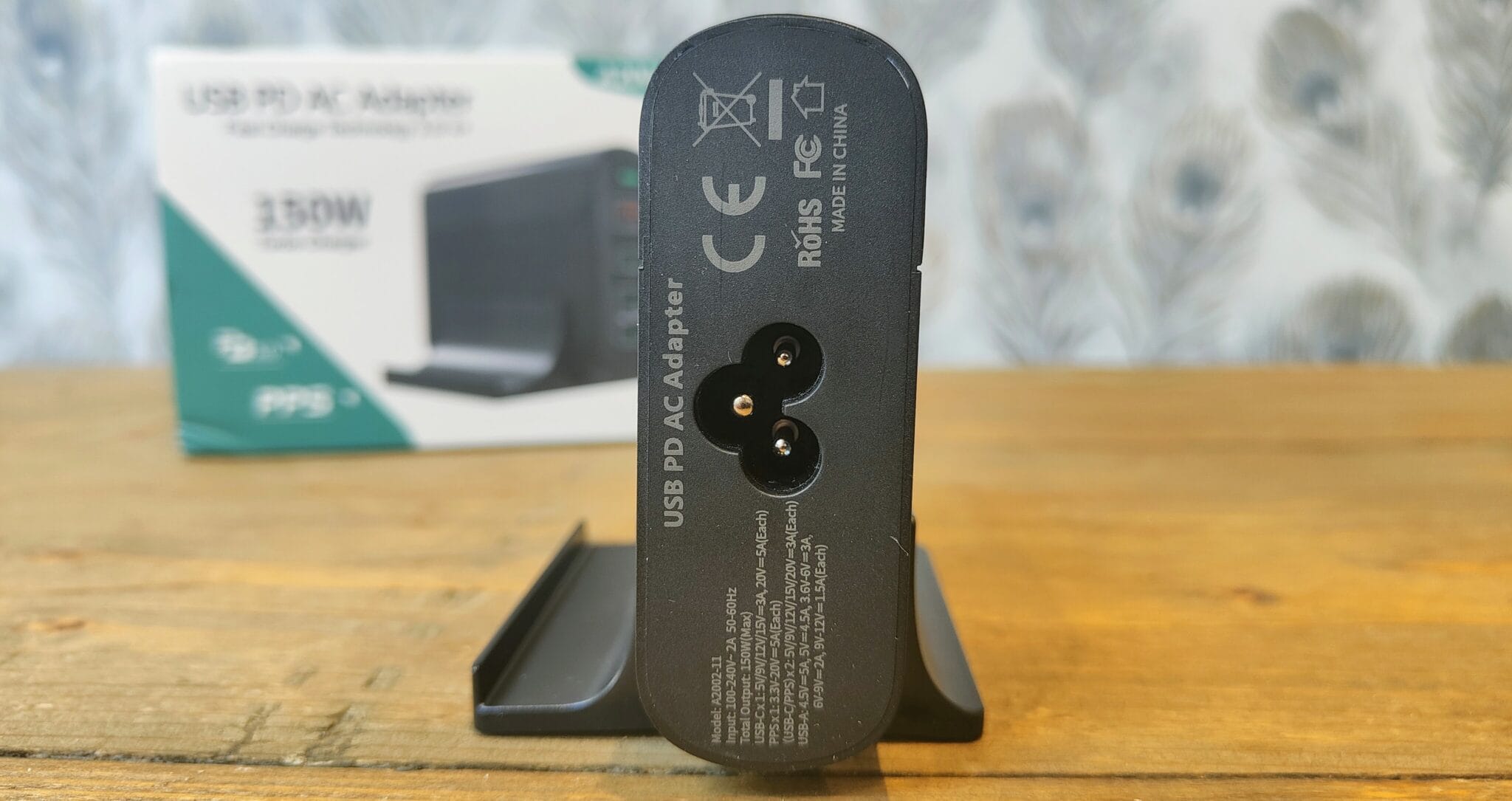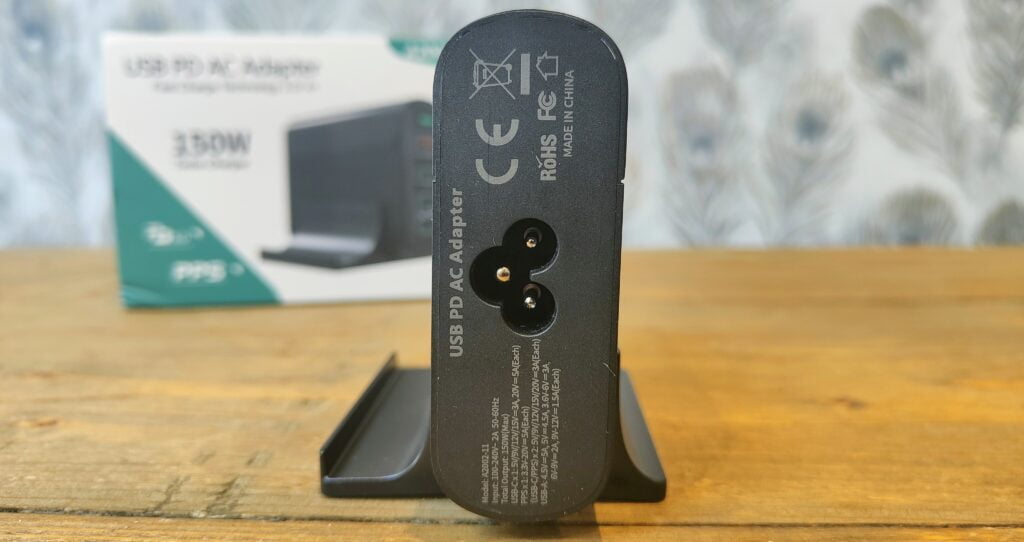 In Use
I tested the charger with:
I used some USB-C cables specifically rated for 100W, I am not sure how much of a difference this makes, but better safe than sorry.
I don't currently have a device that can draw up to 100W, the MateBook goes up to 65W, then both the Huawei phones can do 40W charging. The MateBook happily took a charge over 55W when I observed it, but the phones were limited to just under 15W with the FastCharge icon shown, so I assume it is not actually SuperCharge compatible.
The Realme GT and OPPO phones can do 65W, but the proprietory charging standard on those phones does not work with this. These only managed 10W charging.
While it would have been great if the phones charged at full speeds, I don't think I have ever used a third-party charger to successfully charge phones at their full speed if they use a proprietary standard. Phones that use Power Delivery wouldn't have this issue, such as Xiaomi.
A little research indicates favourable opinions on Reddit, in particular, the overall safety of this product looks good. The website chongdiantou.com (in Chinese) did a teardown of the A1903 model.
Price, Discount Code and Alternative Options
The Huwder A2002 currently sells for $70.99 direct from Huwder with free shipping to the UK but a $3.43 service charge totalling $74.42 or £53.79. I incurred no import or additional fees.
Huwder have also provided a coupon code that is valid until September.
Using huwderA2002 you will get $10 off.
There are currently competing products on Amazon UK from any brands, let alone well-known names.
There is the Nekteck 111W USB C Charger for £55.99 or the MINIX 100W USB Wall Charger for £54.90
There was a 150W Hunda charger available back in December, it has a different port layout, but I am 99% sure this is the same hardware as Huwder. It was for sale for £80.
Chargeasap has two GaN chargers, the Omega 100W and Omega 200W. Neither appears to be available yet, but they have an RRP of $99 and $149.
Overall
To the best of my knowledge, Huwder is offering the highest rated USB chargers on the market and undercutting the big brand names.
My testing indicated that it performs well. Other user teardowns show that the overall build quality is much better than you would expect from an affordable and relatively unknown Chinese brand.
It would have been nice if it was a GaN charger, but at this price, it is hard to criticise.
Overall, this is a superb charger.