EnGenius SkyKey & EAP1250 Review Rating
Summary
An affordable cloud-managed networking range that can compete with the popular Ubiquiti option.
I am a big fan of cloud-managed networks, it massively simplifies managing everything related to a network. While my experience with it has been within the home and small business, for anyone managing a larger network, cloud networking has the potential to save hundreds of hours of work.
I have previously reviewed Zyxel Nebula and Netgear Insight, both are superb in their own right. My preference is Zyxel Nebula, but some features are restricted to quite a pricey subscription model (most are free). Similarly, Netgear has a subscription-based model which you are required to pay after the first couple of devices, this is quite cheap, but if you have a lot of devices it can add up.
For free(ish) options, Ubiquiti is the big networking company with a free cloud-managed approach, which you can do either via installing their software on your own device or buying one of their cloud keys.
EnGenius is lesser-known(to me), but are a popular commercial solution and was one of the first companies to launch a Wi-Fi 6 access point. I previously reviewed that AP, and while it works perfectly well by itself, you can then optionally manage it with the ezMaster software. You can optionally install ezMaster on a server or you can buy the EnGenius SkyKey.
EnGenius kindly sent me out a EAP1250 to review, and as part of my home renovation I have switched out the two Zyxel access point I have and used the EAP1250, the EWS357AP Wi-Fi 6 access point and the EAP1750H access point which I picked up on Amazon for just £100.
Price Comparisons
With my usage being more home and small business, price is important so a quick comparison of the 3 systems I have used plus Ubiquiti which I have not.
EnGenius
Ubiquiti
UAP-AC-LITE – £72.28
UBI-UAP-AC-PRO – £128.48
UniFi Cloud Key – £78.34
Zyxel
NWA1123-ACV2 – £78.90
NWA1123-AC PRO – £125.33
Netgear Insight
WAC505-10000S – £70.54
WAC540-10000S – £184.28
Each company has a lot more hardware than the above, in particular, they all have various switches, but for the sake of this, I will just compare similar products to what I am reviewing. So they are all sort of around the same price for an access point. Ubiquiti offer the most affordable solution overall, but I would say EnGenius have more affordable high-performance options.
SkyKey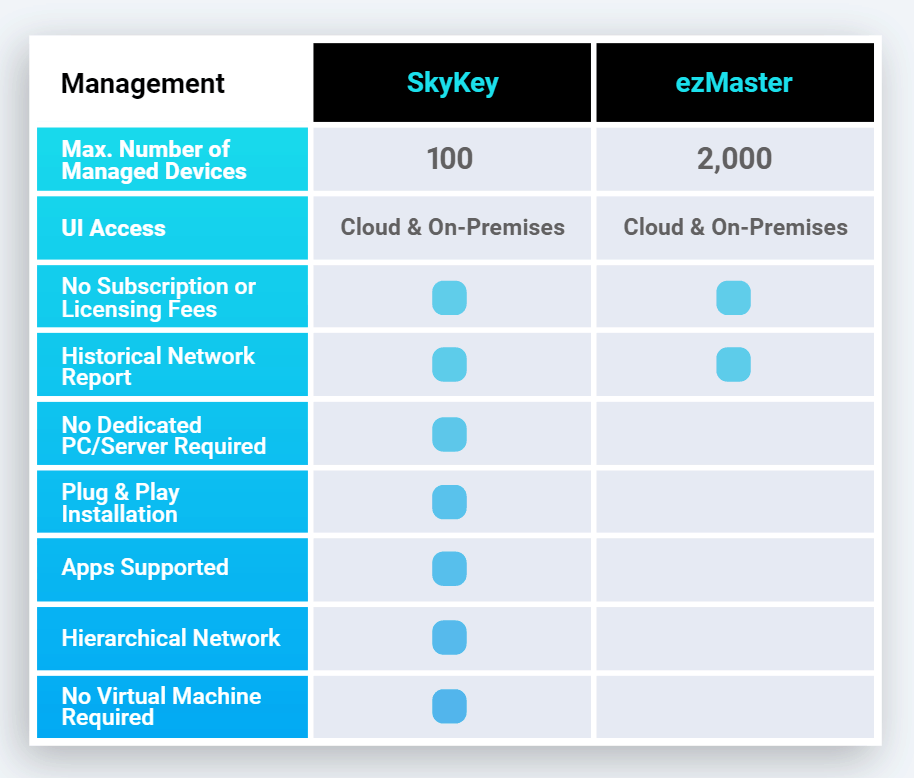 The EnGenius SkyKey is the brains behind the network, essentially it a small PC built using the Qualcomm IPQ4019 running the ezMaster. You can skip this and run your own hardware with ezMaster, you can even run it on the Amazon AWS platform, but the SkyKey solution is the quickest method to get up and running.
A brief overview of the SkyKey
Network Management for Up-To 100 EnGenius APs & Switches
Provides On-Premises and Subscription-Free Cloud Network Management Capability
IPQ4019 SoC with 4x ARM Cortex A7, Quad-core CPU
Plug and Play Installation. Simply plug into Ethernet Switch, no additional downloads or training required.
Simple, Intuitive interface via ezMaster Network Management software for local or remote AP & Switch configuring & monitoring.
Save up to 7 Days of Management Data
Micro SD Slot for Extra Back-Up
802.3af/at or DC12V Input Power Source
The 100 device limit is a lot smaller than solutions deployed by yourself, but this should be more than enough for one LAN for a small to medium-sized business.
If you manage multiple network locations, you can use the SkyKey in each one and manage them all within the same system. Though a hosted ezMaster server would likely be the more logical solution here.
Set up
I found the set up not to be quite as user-friendly as Netgear or Zyxel. Notably, the access points from the other systems worked as one system by default.
With this, I needed to create access point groups, but I was unable to do this properly because one was a US import while the other two were European and I would get an FCC / ETSI error. With Zyxel I can set the region to wherever I like in any country, with these, they are restricted to the countries of their prospective region.
With the access points that worked with groups, it is possible to manage all the settings as one unified device. While this makes my life easier, it could save considerable time and money for any moderately sized network using many access points.
Part of the setup procedure includes updating all the devices firmware, again this is all done within the ezMaster system so it makes managing large networks far more effective.
While it took me a little longer to get to grips with the system than the other brands, I still managed to work things out and get everything set up within the hour, so it is hardly very complex.
Features
One unique feature of this system is the mesh Wi-Fi, something Zyxel lacks, but something Netgear has introduced. With this feature, you have the options to have multiple access points connected to wirelessly rather than using ethernet. You only need one root device wired to your network. Like all mesh networks, the performance of the mesh nodes is reliant of the wireless connection itself.
There are a comprehensive reporting and analytics function withing the SkyKey including topology views, floor plans, mapping and wireless coverage display. Some features such as the topology view are obviously restricted to networks using EnGenius switches, so I was unable to test this. Similarly, I don't have a floor plan of my house nor do I need to show the location of the access points on a map, but these functions will all help manage large networks.
More useful to me is the stats and monitoring features. Within the stats, you can monitor real-time usage, the highest use access points and wireless clients.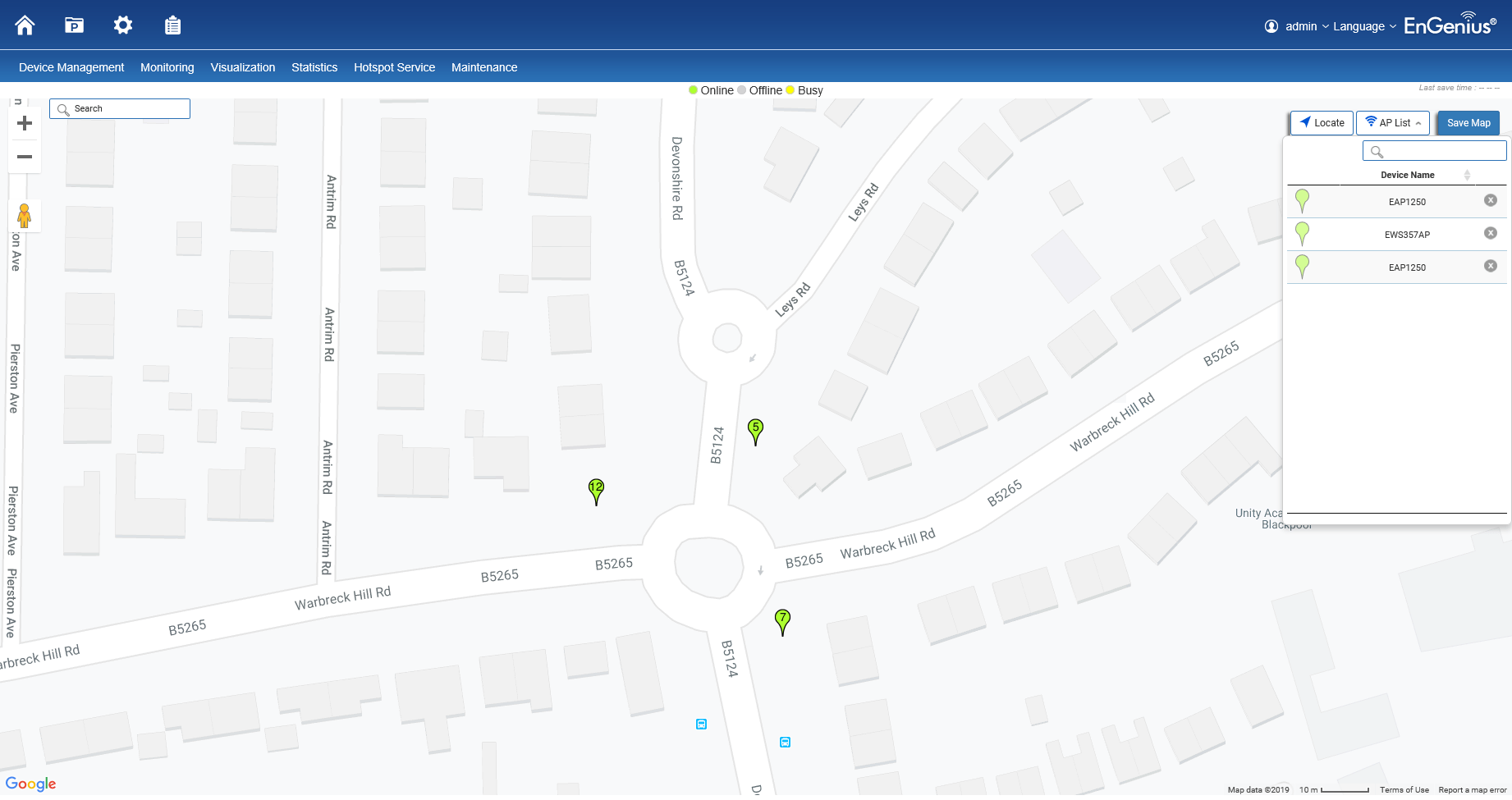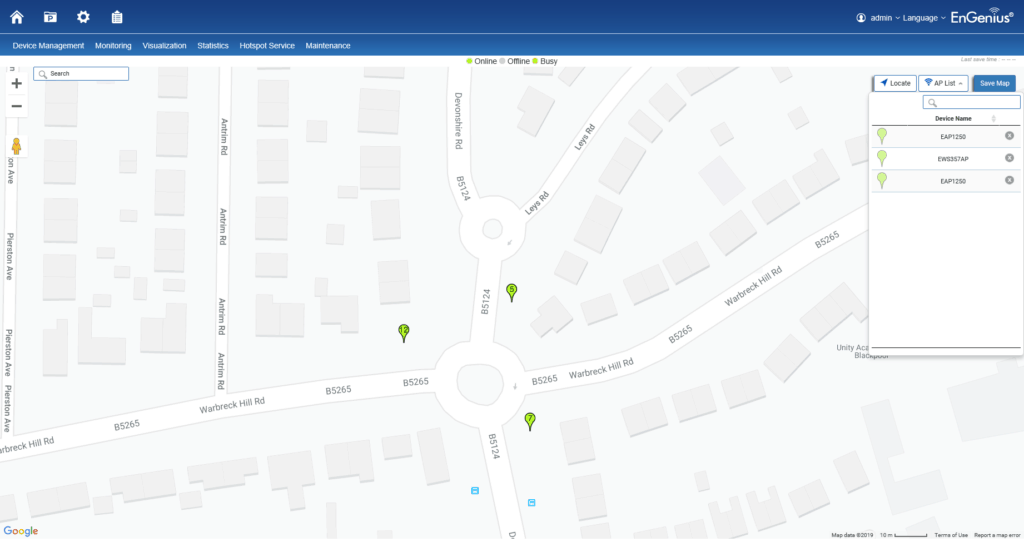 Under monitoring you can view all the current client connected to the network, it provides a client name, IP, mac, OS, SSID, the band and various other stats. If you see a client that shouldn't be there you can kick them off the network too.


Then under rogue APs you can see all the access points and SSIDs that are in your neighbourhood. If more than one AP detects a signal each one will list the RSSI which should help you identify how close the rogue APs are in relation to your AP.
One of the features you have to pay for with Zyxel is the configuration backup and restore which I imagine is one of the features business users would want, if not find essential. This is, of course, free within the EnGenius system.
Similarly, I was a fan of Netgear with its notifications allowing you to immediately identify and diagnose network issues, this is restricted to paid users of Zyxel. With EnGenius, this again is free, but you do need to set up the emails properly, so you will need access to an SMTP server.
Remote Access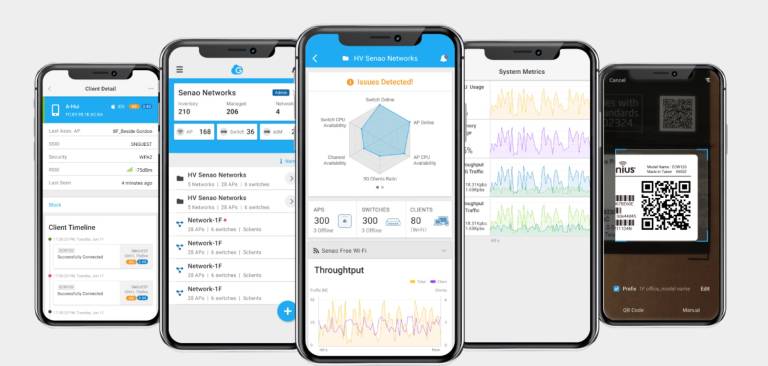 You can manage your EnGenius with the SkyKey isolated from the world on your LAN, some people prefer this method, but if you have multiple locations you will want remote access.
Engenius has the EnGenius Cloud which is free to use from what I can gather. Using this, you can add your SkyKey and any access points your manage. To add devices, you will need to type in the serial number or use the mobile app to scan the QR code.
You can then view all your SkyKey devices under the EnSky section and login to the key remotely. This screen gives you a brief overview of what is online and offline, so you should be able to quickly diagnose problems across multiple networks.
Overall
Overall, I have been impressed with the EnGenius SkyKey and the access points I have used with it. Once set up, I have experienced no problems with Wi-Fi performance, roaming seems to work well enough that I have never seen any random drops in performance. No disconnects or reboots have been necessary, so everything so far has been rock solid.
I am inclined to say I prefer the Zyxel Nebula system in terms of the overall interface and usability but that requires you to use the Nebula website and depending on your requirements there is a chance you could need the expensive licences.
With no subscription fees at all, you have the potential to dramatically cut costs, hosting the hardware and software yourself is also a solution preferred by many.
A big plus for this over competing brands is the option for Wi-Fi 6 access points. A lot of people moan that Wi-Fi 6 hasn't been fully ratified yet, but if you are deploying a new network right now and want future proof access points, these are about the best and most affordable. Cisco seems to be the next most affordable and the Cisco Catalyst 9115 is currently £453.52.
The region limitations of devices is quite frustrating for anyone looking to grab a bargain, you can import devices from the US much cheaper, but you will then be restricted to using those devices only if you want easy management of the system.
Last update on 2022-05-17 / Affiliate links / Images from Amazon Product Advertising API