Cubii Under Desk Elliptical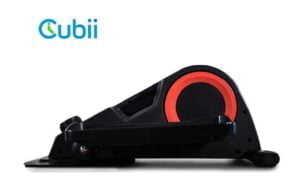 Product Name: Cubii Under Desk Elliptical
Offer price: 299
Currency: GBP
Availability: InStock
Build -

75%

Software -

90%

Performance -

75%

Price -

70%
If like me, you spend all day sat behind a computer screen, you are probably aware of the health consequences of being sat down immobile all day.
Over the past few years, we have seen a boom in sit/stand desks which aim to alleviate some of the issues we face. Then there are more extreme examples such as the treadmill desk, which seems excessive to me.
For a more affordable and easy to install option an independent company called Cubii have come up with a potential solution, the under-desk elliptical. This product was successfully backed on Kickstarter and is the only Bluetooth enabled elliptical on the market.
If you have ever used an elliptical before, this is mostly the same, but it just fits under your desk. There is a battery built in, and you can charge it via MicroUSB. The elliptical also has Bluetooth, and you can pair it with your phone and connect to the Cubii app. Within the app, you can track your daily progress, set goals and it will even sync with Fitbit and HealthKit to help improve your daily step goal.
Priced at £299 on Amazon, it isn't particularly cheap, in fact, it is one of the more expensive under desk ellipticals on the market. However, it is the only smart one, and it is specially designed to fit more ergonomically under the desk than other models.
Set-up
Setting up the Cubii is exceptionally straightforward, it is almost entirely assembled, you just need to attach the foot paddles with using the included screws and screwdriver.
Once built you will need to charge the unit, or just leave it plugged in via USB. You can then download the app and connect via Bluetooth. The whole process took me about 15 minutes from opening the box to using the device.
Performance
The device itself is supposed to be more desk friendly than other models, but with my setup and long legs, it was impossible to use it in my regular seating position. I use a Herman Miller Aeron, so it has a good range of height adjustments and dropping the chair down to its lowest settings did allow me to use it under the desk if I leaned back. This meant it was not possible to do any actual work though. Clearly, each person will have different experiences here, but in general, if you want to use this while working, you will need a very tall/adjustable desk.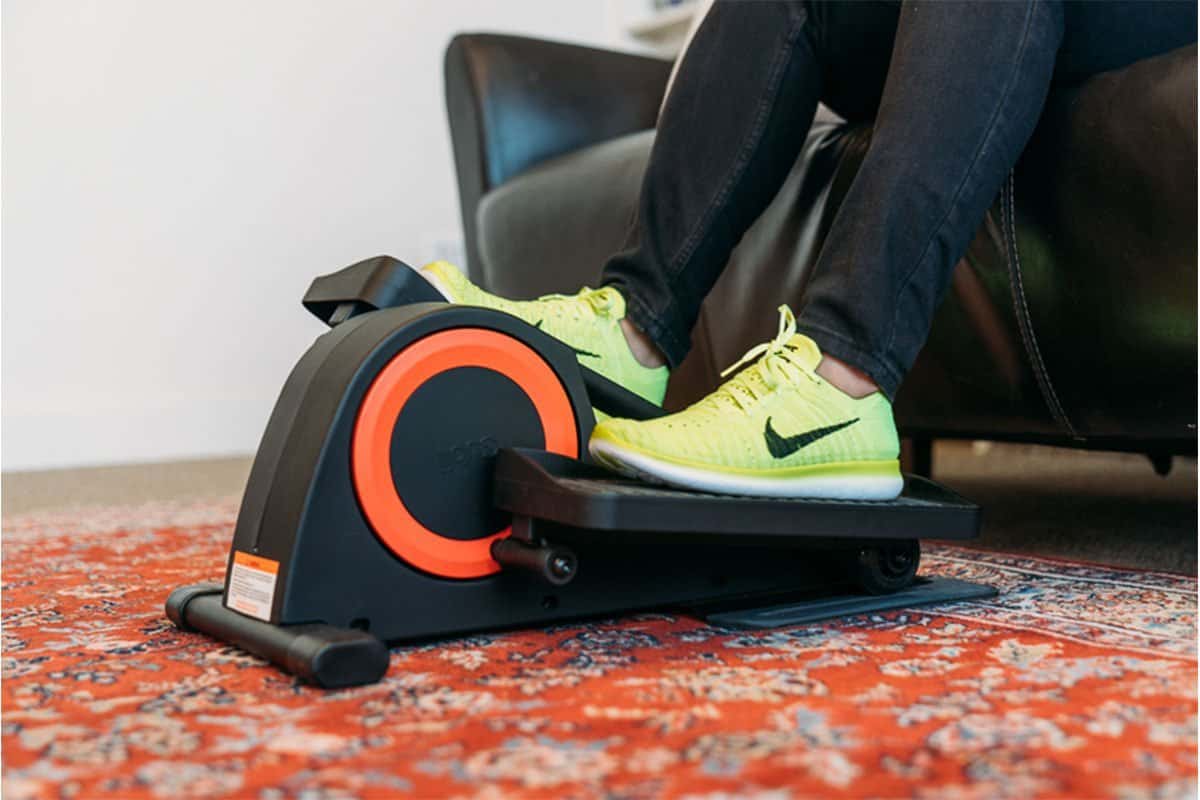 The Cubii comes with a pair of feet for chairs with wheels, and I found this was essential to stop you moving backwards. However, dependant on how you are sat, and how vigorous you are with your steps, the Cubii itself will get pushed back unless it is wedged against something. With the Cubii being smooth on the bottom this is inevitable, and they should really include a mechanism to avoid this issue, perhaps some spiked feet or just a textured bottom.
Software
Usually, niche gadgets come with poorly designed glitchy apps but the Cubii app is well designed, easy to use and I have had no issues with connection. When you peddle/step you get a nice animation of cycling, as well as the RPM and calories, burned. There are resistance settings on the elliptical but the resistance isn't displayed within the app and I am unsure if the calories counting takes this into account.
To avoid yourself getting bored of using the Cubii, or just coasting with no effort, you can set challenges and track your progress. You can even connect with other Cubii users to compete against them. I am a big fan of these competitive features in fitness apps as it helps motivate the user. My Girlfriend is always trying to up her step count to win specific Fitbit challenges, and I found the competitive nature of Zwift helped me push myself a little harder.
Even though I had issues with using the elliptical whilst working I did start to use it during my lunch on a regular basis. I tend to fast until lunchtime, then eat a huge lunch and nearly fall asleep while I watch a TV show at my desk. I carried on doing the same, but instead of mindlessly browsing the internet in a food coma I started to use the Cubii for 30 mins, and I found it quite good. I wouldn't say it is enjoyable, but some form of movement is better than nothing and using the Cubii helped alleviate the post-prandial dip generated but such a large amount of food, which in turn got me back into a working mindset quicker.
Overall
This is a quirky gadget riding the waves of the health and fitness trend; it is considerably cheaper than the impractical treadmill desks and dependant on your set-up you can use it while working. However, it is still a significant investment and if you can't find a way for it to work under your desk I suspect it may go neglected.
I like the smart features of the device, I think if anyone is going to use this consistently it is important to monitor your progress, or you will just fall into the habit of doing a few mins here and there, and it will eventually peter off.
If you are sat at a desk 8 hours a day and don't have time to get up and move then I think this is worth looking into, it's the best elliptical on the market from what I can tell, and it is easier to implement than a sit/stand desk or treadmill desk.