Sit-stand desks have grown hugely in popularity in recent years as people have become all too aware of the harmful effects of sitting down all day. I reviewed the excellent VariDesk Pro in September last year and recently I have been trying out the FlexiSpot 35″.
As you would imagine they offer essentially the same functionality, however, the FlexiSpot comes in at £90 cheaper than the VariDesk making it a very appealing product.
There are 2 sizes of the FlexiSpot, the 35" (89cm) or the 27" (69cm). I chose the larger one as this was closer in size to the VariDesk I reviewed so it would be easier to compare.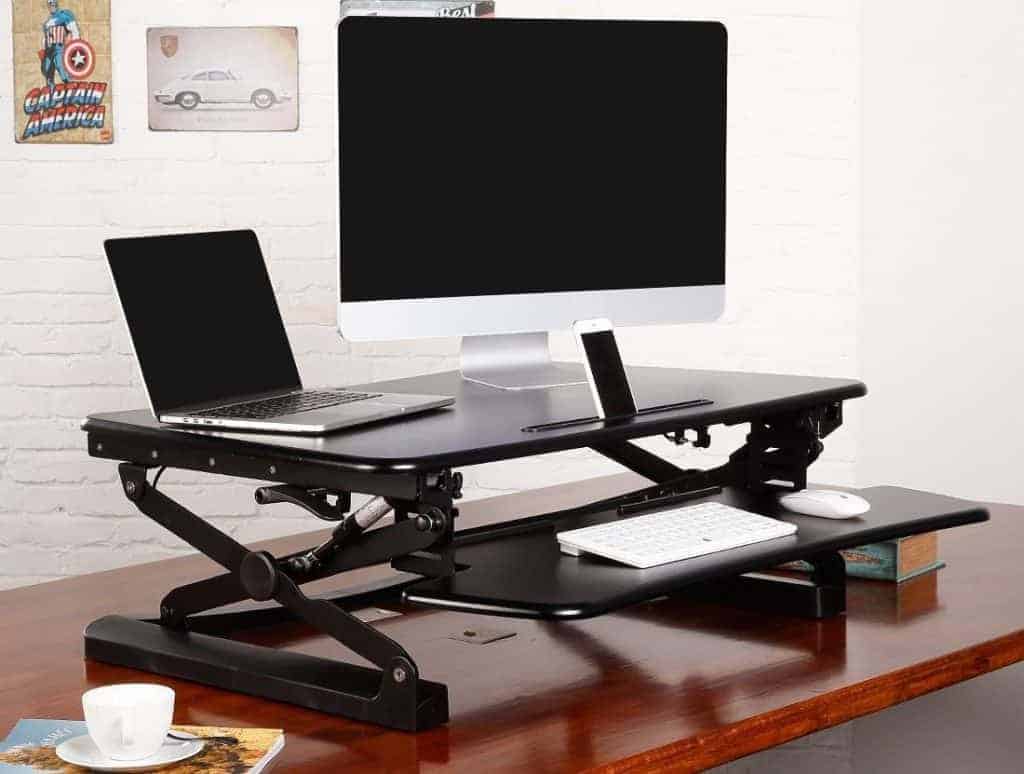 Both desks have similar weights, with the VariDesk coming in at 24KG and the FlexiSpot being 25KG, so even though it is cheaper there is still a great deal of weight to it. They are also both rated for the same weight at around 16KG.
The weighted base of the FlexiSpot is 78CM and it is 56CM deep and the height ranges from 15CM to 50CM. The Varidesk has very similar dimensions here too, 76.2cm wide, 60cm deep and height from 11.5cm to 44.45cm.
There are some differences, though, the FlexiSpot has a handy little tablet holder at the front of the desk, and I would say more surface area where the monitor sits. The VariDesk has the keyboard area cutting into the desk area, providing more area for your keyboard/mouse. The keyboard area also extends out further in the raised position than the FlexiSpot.
Operating the FlexiSpot is simple and overall build quality seems to be fantastic. The gas spring movement is nice and smooth and it doesn't feel like it is struggling when carrying a heavy monitor. Even at the full height, they is no noticeable sway or rattling. It suffers the same issue as the VariDesk, not being very attractive, but this is the price you pay for your health.
Overall, I don't think the design is quite as good as the VariDesk, as I like the larger area for my keyboard, but this is just a personal preference. The tablet holder on the FlexiSpot could be a major advantage for others. However, based on the significantly cheaper price, almost identical dimensions and overall performance, the FlexiSpot is going to be the better product for the majority of people.
You can buy it today directly from Amazon for £275.99