Now all the desktop CPUs have been upgraded to Zen 2 it is time for the laptop and integrated graphics desktop chips to receive some Zen 2 love.
The new CPUs move from the 12nm Zen+ core architecture to the 7nm Zen 2 cores and also feature a more modern Vega GPU with an enhanced feature set that is close to the Radeon VII than the Radeon RX Vega 64.
The number of unique SKUs for the Ryzen 4000 range is extensive, with 28 reported chips split into eight 15W & six 45W SKUs. Then there are 14 desktop parts split into six 65W and eight 35W SKUs. These CPUs are all then split into mobility and Pro parts.
Vega is still being used for the GPU and the maximum configuration is rumoured to go up to Vega 12 or 13 which indicates 768 or 832 stream processors. The rest of the lineup would make use of the Vega 11, 10, 8, 9, 6, 4, 3 GPUs. The GPU also rocks much higher clock speed which is possible through the advanced 7nm process node.
Related Content:
AMD Ryzen 7 4700U Specification
The Ryzen 7 4700U is an 8 core and 8 thread processor with clock speed set at 2.0 GHz base and 4.2 GHz boost. It is possible these frequencies have not been finalised, but it should be about right and they offer a 200 MHz increase over the Ryzen 7 3700U
AMD Ryzen 7 4700U vs s Ryzen 7 3700U & Ryzen 5 3500U PCMark 10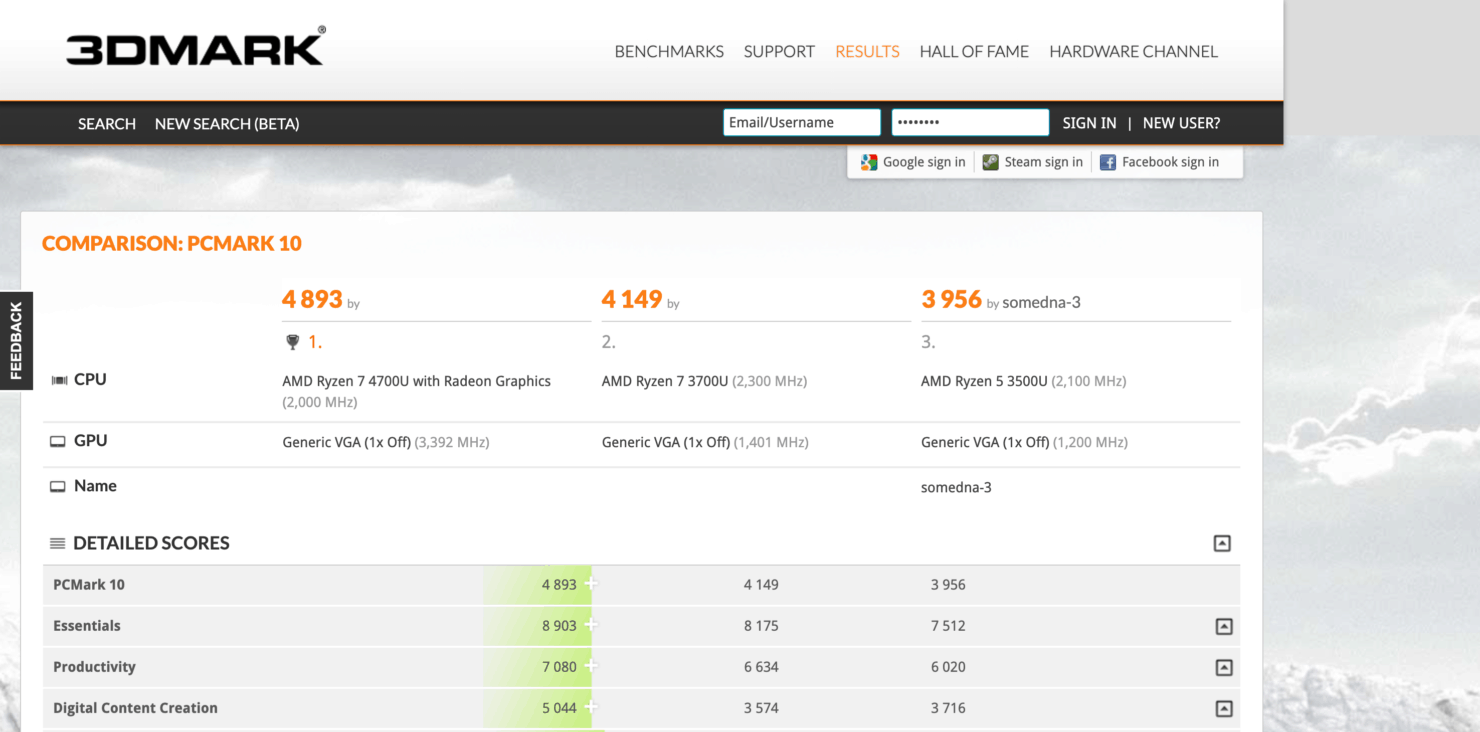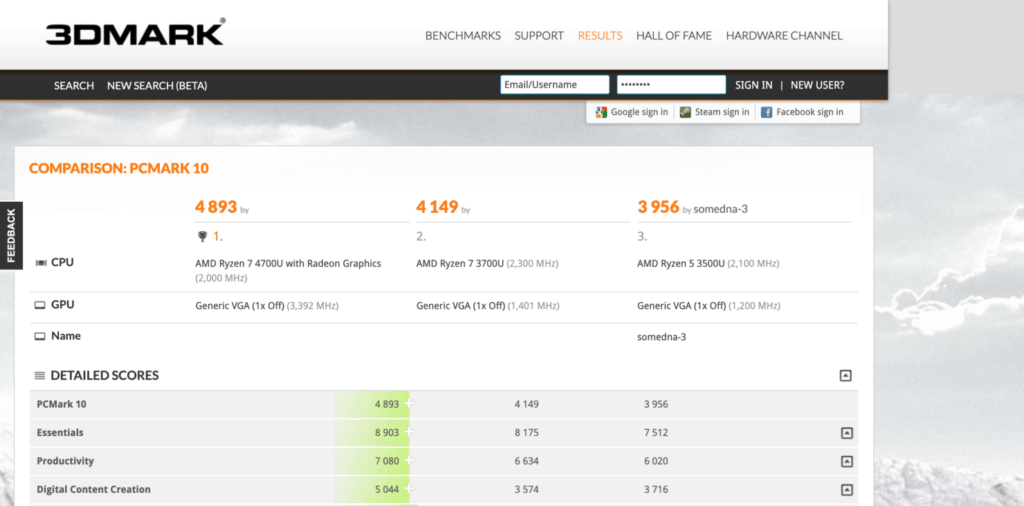 As you would expect from a next-generation CPU the Ryen 7 4700U comfortably outperforms the current AMD options.
The R7 4700U scored 4893 compared to 4149 of the R7 3700U and 3956 of the R5 3500U. This represents a 17% improvement compared to the R7 3700U and 23.7% over the R5 3500U.
AMD Ryzen 7 4700U vs Intel Core i7-1065G7 & Core i7-10710U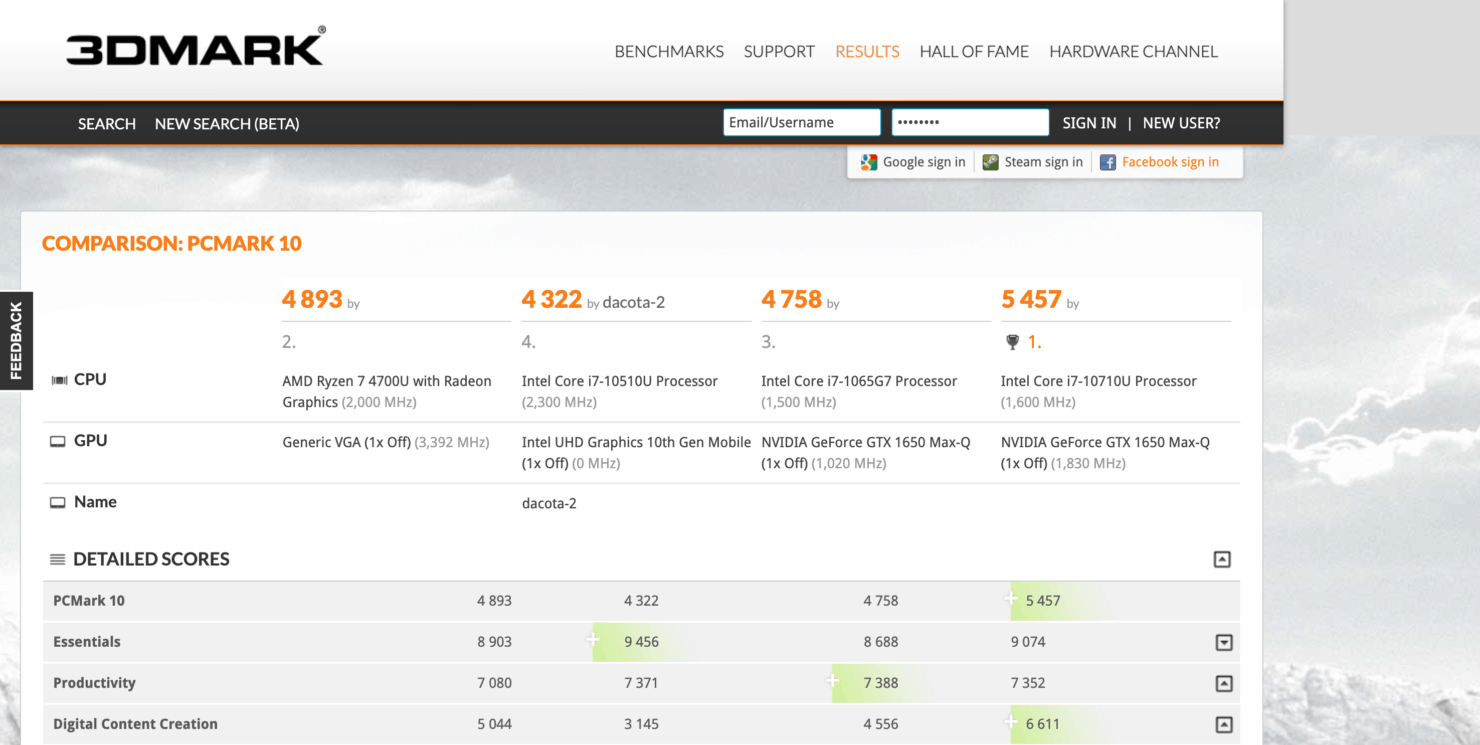 It was inevitable that the AMD Ryzen 7 4700U would outperform the chips it replaces, but how does it compare to Intel?
The R7 4700U still has a score of 4893, then Intel CPUs then get;
| | PCMark Score | % difference between R7 4700U |
| --- | --- | --- |
| Core i7-1065G7 | 4758 | 2.8 |
| Core i7-10510U | 4322 | 13 |
| Core i7-10710U & GTX 1650 MaxQ | 5457 | -10 |
Overall
PCMark 10 is not the be-all and end-all when it comes to benchmarks, but it looks like AMD are going to continue their push against Intel with the superb performance of Zen 2. Price is obviously a major factor and we have no idea about this yet, but AMD laptops and Ryzen desktop CPUs have generally offered better value for money over Intel, so I would expect the new AMD Ryzen 7 4700U based laptops to be highly competitive.