Somfy Indoor Camera Review Rating
Ease of use -

85%

Features -

88%

Price -

60%
Being in a house of two with no pets, I am not a big fan of indoor cameras, they are a bit wasted on me and there is always that creepy feeling of being watched. Then, of course, privacy concerns.
The Somfy Indoor Camera hopes to address those concerns by utilising a physical shutter on the camera and actively prompting you to enable or disable its monitoring features.
The camera will work independently, but you can also integrate it into quite a through home security solution with their smart alarm products.
Priced at £119 it is not the cheapest option I have reviewed, but the privacy features and the smart alarm integration may be just enough to justify it.
Features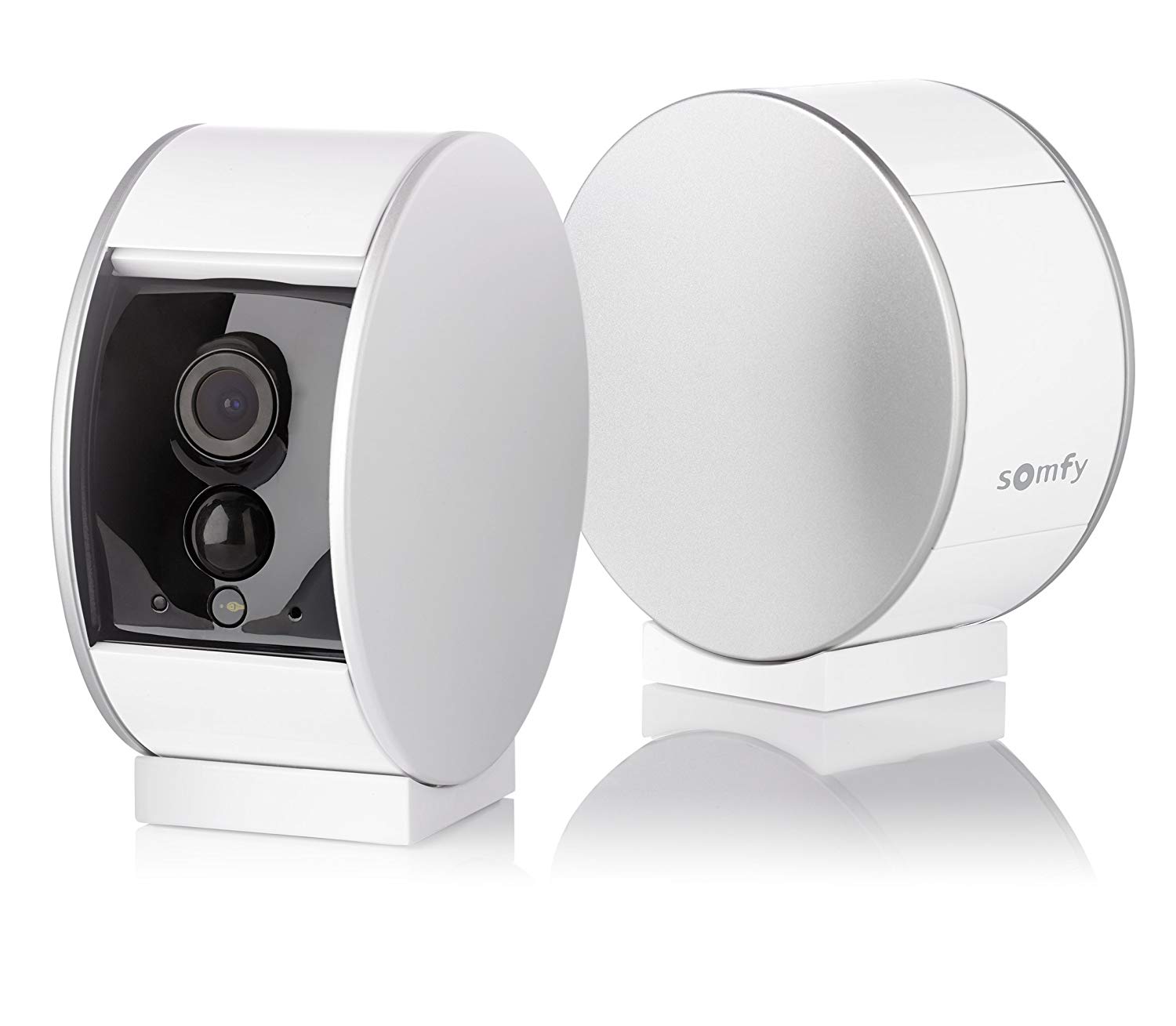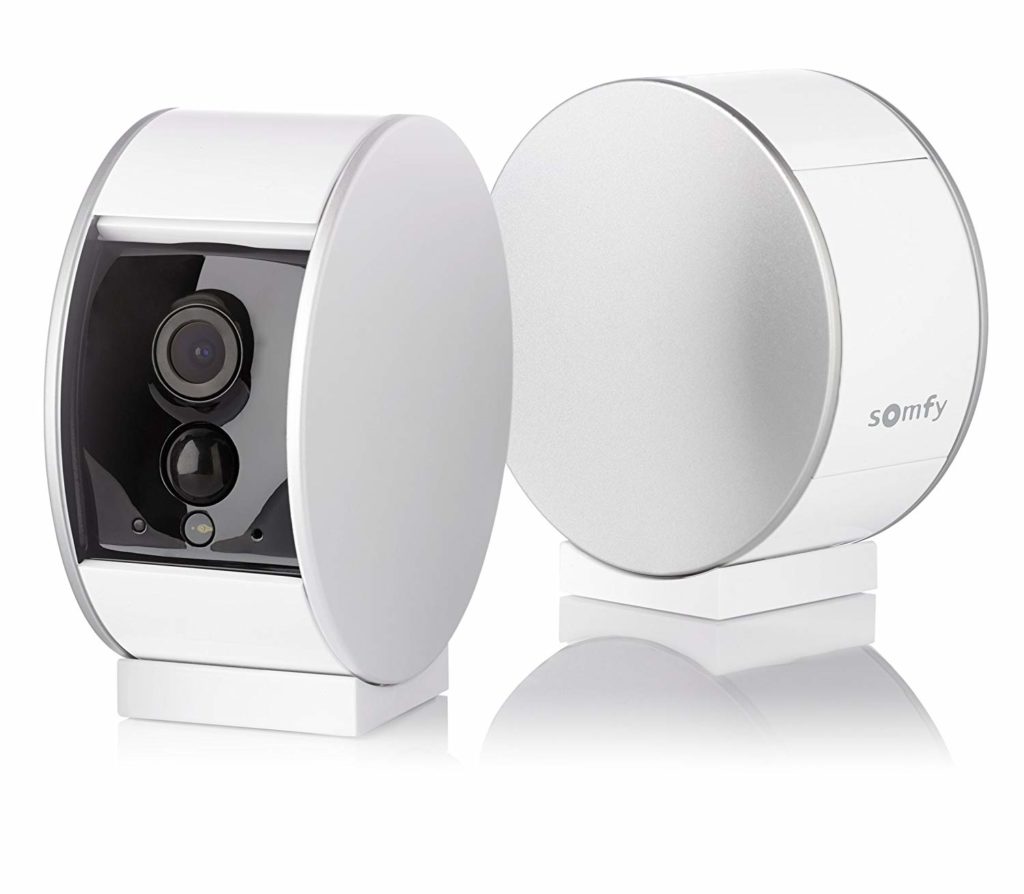 HD video sensor 1080p / 30 fps live view
Wide angle 130 (diagonal) with fixed focus (60 cm/ 1.9ft to infinity)
Physical privacy shutter
SomfyVision motion detection (5 m/ 16ft) – unique combination of infrared-based motion sensor and motion detection ensures highly accurate alerts.
Zoned motion detection
Built-in speaker and microphone with 2-way audio communication
Compatible with Google Assistant, Amazon Alexa, IFTTT
Free 30-second 7-day cloud recording
No local storage
£4.49 PCM per camera 24/7 video recording
So for me, there are two reasons why you would buy this. Firstly the privacy shutter is unique to this device, and if you want an easy way to guarantee nothing can be seen from your indoor camera, this is the best option.
Secondly, is the ability to integrate it with the Somfy alarm system which includes the Somfy One+ which is an indoor alarm and camera built into one. Other devices part of their security range include:
Cloud Recording
In a strange conflict with the privacy focussed physical shutter, is the cloud-only storage, to appeal to the privacy-conscious crowd I would have thought the option for local storage would have been essential.
There is free cloud recording, which is better than companies such as Ring, but it is also quite limited, you get 30-second clips with 7 days storage. I think that should be enough for most scenarios though. You can optionally have your clips upload to
If you do want cloud recording, that will set you back £4.49 PCM per camera for 24/7 video recording. I have not tried this, but one issue with 24/7 recording is the potential to eat into your upload bandwidth. In my blurams review, it showed that recordings with no events barely used any data (due to the low FPS) and even with events it didn't use up too much data, but it can add up if you have multiple cameras.
The £4.49 PCM is a bit steep too; obviously 24/7 recording is more costly than partial clips Ring and Arlo use, but if you have multiple cameras it can get expensive. It is cheaper than Ezviz, but they have both NVR and microSD recording.
Setup & App
Somfy is a system that uses Bluetooth for the initial set up procedure, it is becoming an increasingly common way of doing things and it makes life a lot easier. While it wasn't the quickest set up there were no failures, and everything was done within a few minutes.
There are quite a lot of settings for you tweak, with a lot of it being orientated knowing who is in the house and the ability to switch monitoring on and off, all of this requires GPS location data from your phone. With these various features enabled, you can get alerted to enable monitoring when you leave home, disable it when you come home. You can via who is at home, and if a guest has a key fob (sold separately as with the other security products) you can know if they are in or out. There is also a child monitoring feature, again using geofencing to know if and when your child comes or goes.
If you prefer something a bit more static for your monitoring profiles, then you can manually set up schedules for days and time.
Performance
Somfy is another camera that has excellent video quality for both daylight and night time recordings. Motion activation is accurate and the ability to create zones should limit false alarms. I like the way you also get an email about an event along with a snapshot allowing you to quickly process events.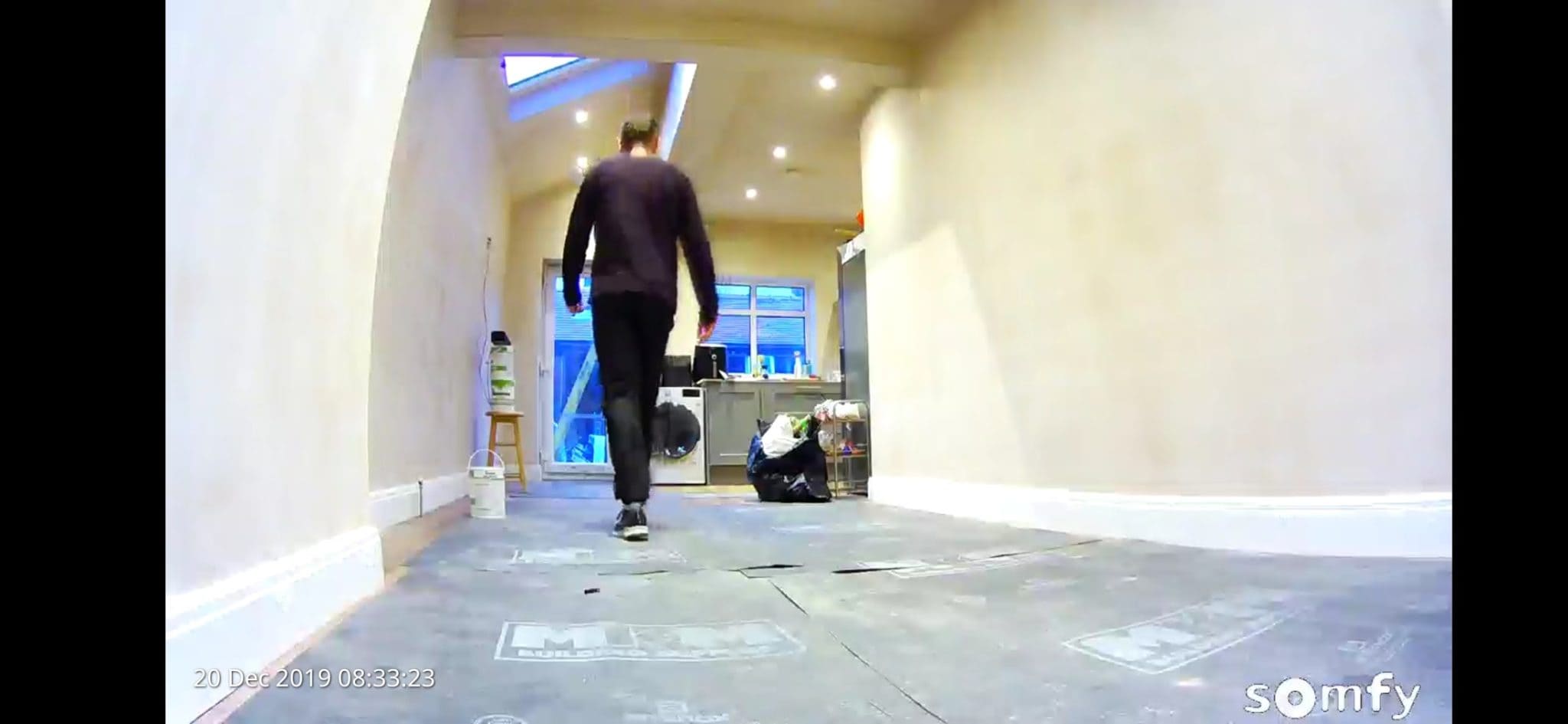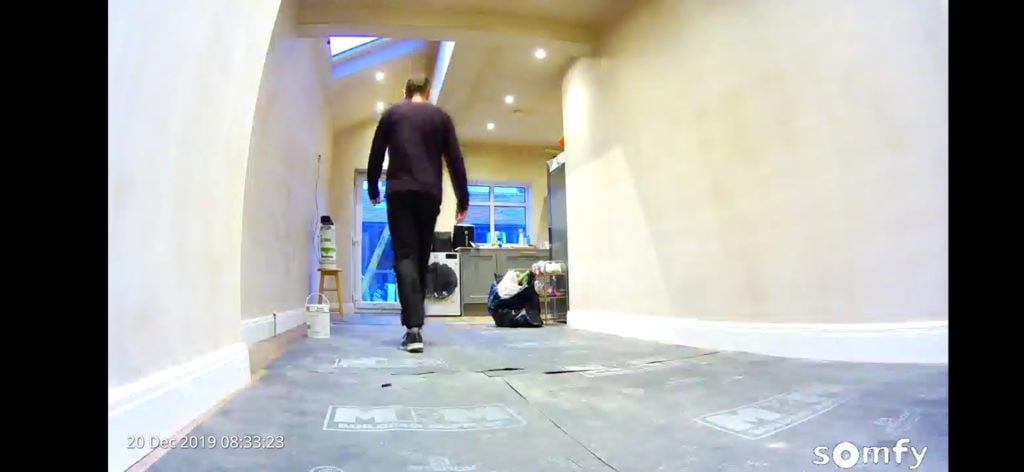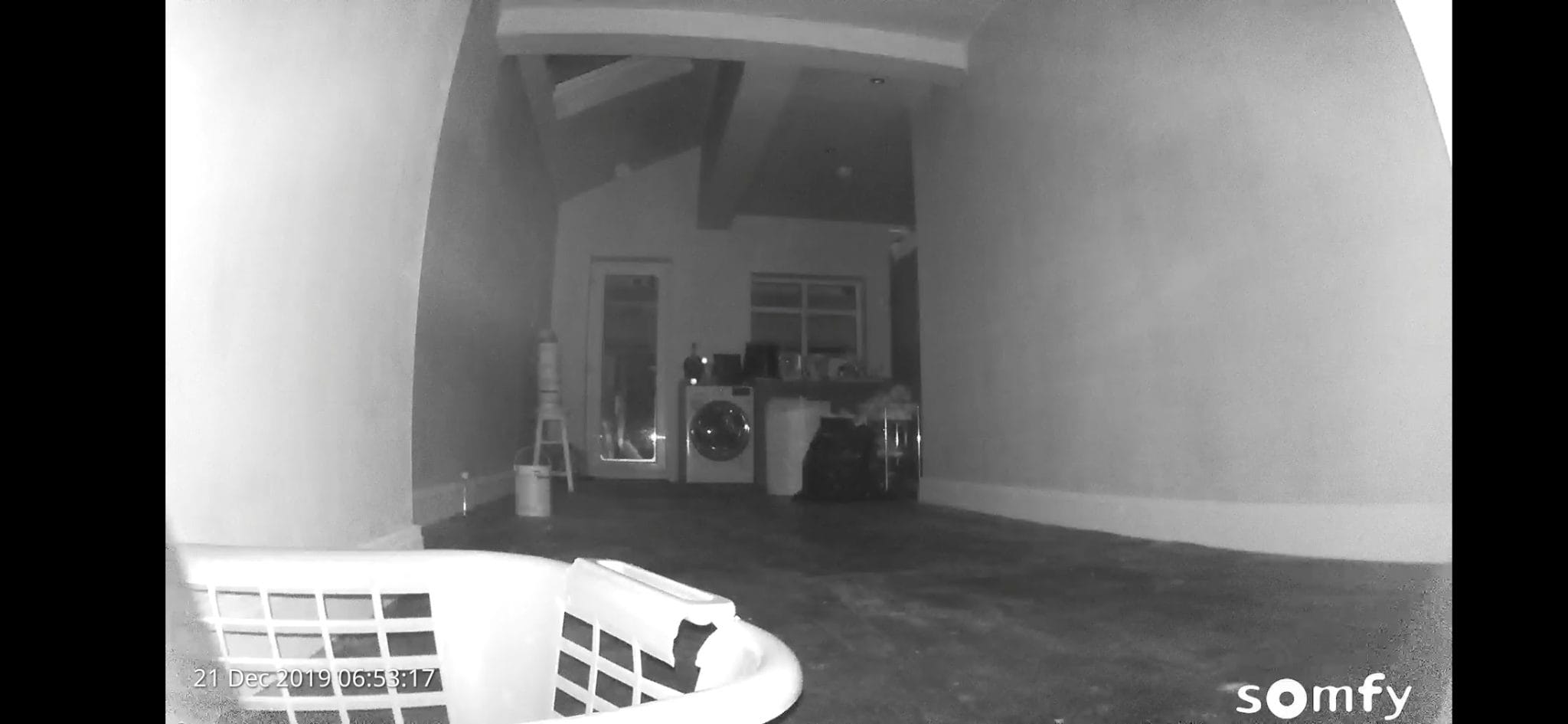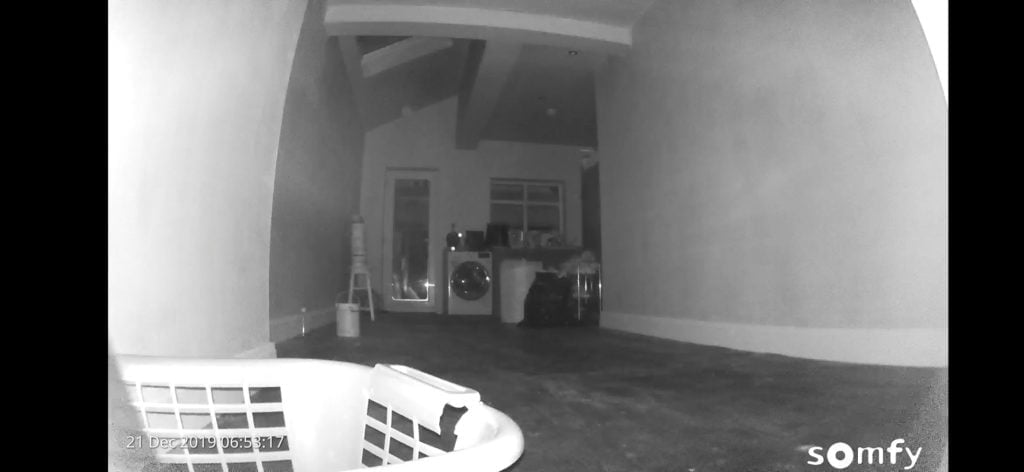 Price and Comparisons
I would say the most likely competitor is the Netatmo Welcome which costs around £25 more at £144.99 and does not have the physical privacy shutter. What it does have is facial recognition and local storage. You can set it up to not record faces it recognises, and of course, the local storage keeps your data away from prying eyes.
If you are less concerned about privacy, there are a lot of options. Ring, Yale, and Simplesafe all have smart alarms and all have indoor cameras. A Ring Stick up cam will set you back £89 and that will cost you either £2.50 or £8 per month depending on how many cameras you have.
Yale has some incredibly cheap indoor cameras starting at just £38.69 – it is nowhere near as good as the Somfy but at around a 1/3rd of the price this is to be expected.
Overall
Ignoring the price, this is a superb camera, it is easy to set up, attractive as far as these things can be, has excellent motion sensing and superb video. It is the only device on the market with the physical privacy shutter, and they don't force you into a cloud subscription, unlike others.
At almost £120 it is quite expensive compared to many, and the cloud recording subscription is one of the highest prices on the market. I also find the cloud recording a bit strange with the privacy shutter.
Looking at Somfy as a whole, this has the option to be built into a comprehensive smart home security solution with indoor and outdoor surveillance, indoor and outdoor sirens smoke detector and various motion and anti-intrusion sensors. So if you are looking for a complete home security solution, that has privacy focussed features, then the Somfy Indoor Camera is definitely worth buying.
Last update on 2022-06-19 / Affiliate links / Images from Amazon Product Advertising API