Yesterday AMD finally announced that its Ryzen 9 3950X will be shipping on November 25th priced at $749 though there has not been any UK pricing revealed, the US pricing is 50% more than the 3900X which works out at around £825.
More importantly, AMD announced the latest Zen 2 Threadripper HEDT processors. At the moment there are only two announced with the 24 core 3960X and 32-Core 3970X.
Sadly there was no word on chips with more cores, but it is possible they will release processors up to 64-cores in the future. Threadripper is based on the same layout as Rome-based EPYC processors, and those are offered with 48-core and 64-core variants. 
Just like the mainstream processors these are built on 7nm Zen 2 architecture and include all of the performance, security, and feature benefits (including PCIe 4.0 support).
Sadly if you are wanting an upgrade you will need to get a new motherboard due to the new sTRX4 socket.
The AMD Threadripper 3960X is a 24-core/48-thread design with a base clock of 3.8GHz, a boost clock of up to 4.5GHz, and a total of 140MB cache (L2+L3).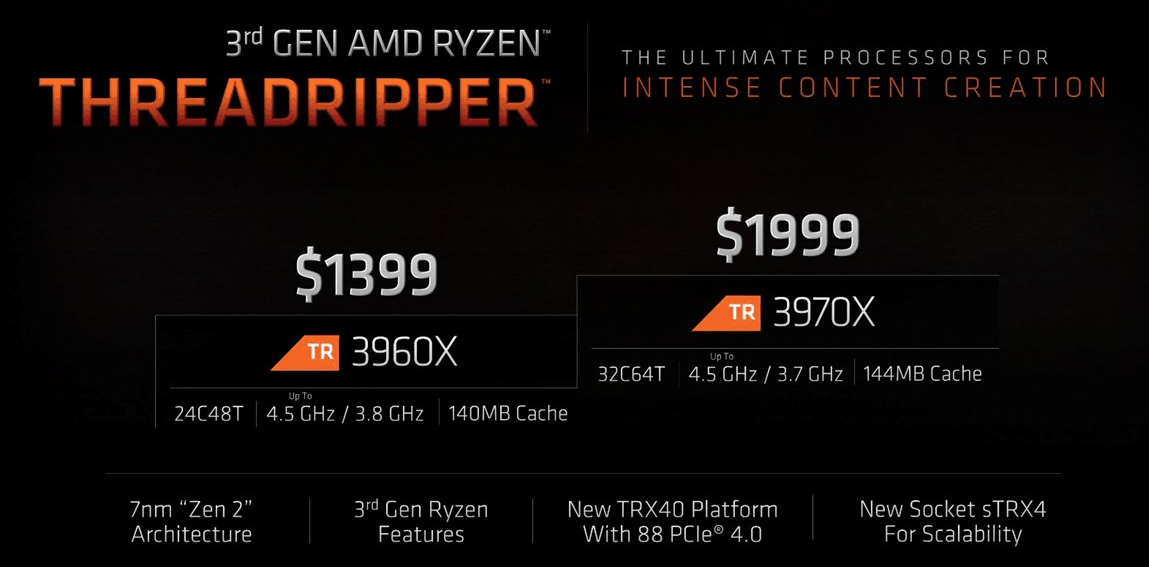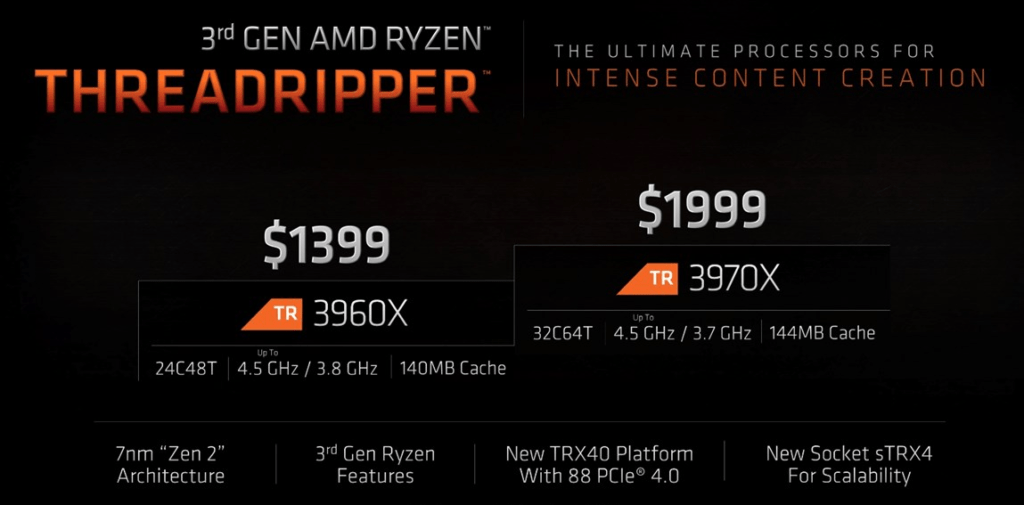 The Threadripper 3970X ups the stakes with 32 core and 64 threads, base/boost clocks of 3.7GHz and 4.5GHz respectively, and 144MB cache.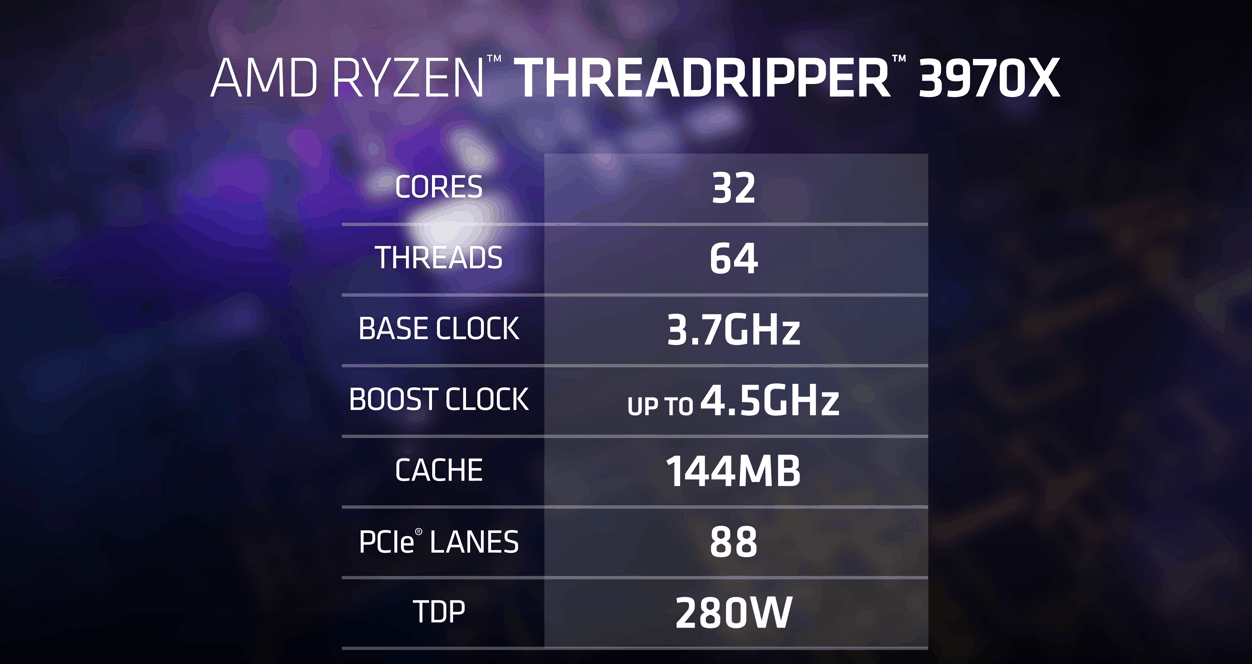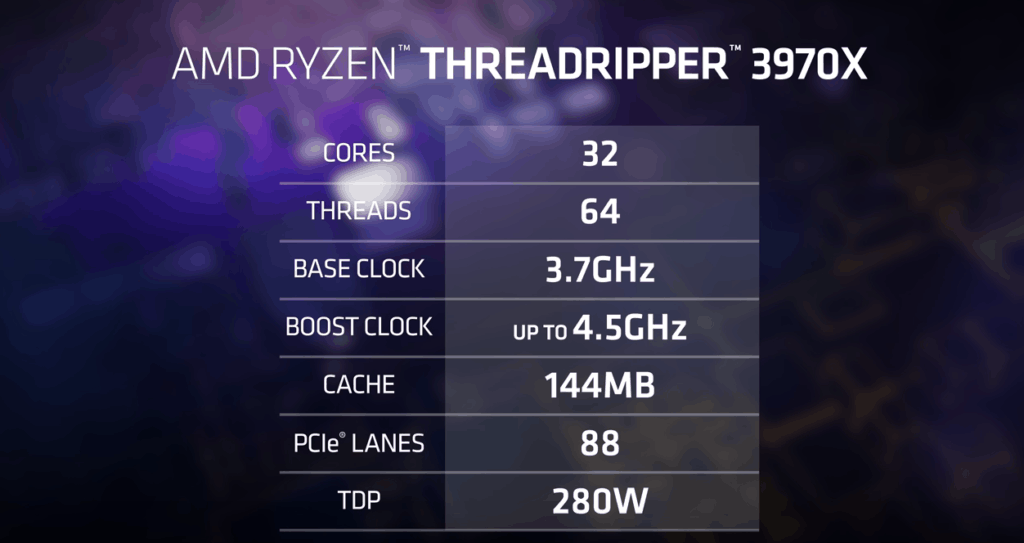 Each CPU supports four channels of DDR4-3200 and AMD stated that these new CPUs are validated for the 32 GB DDR4 modules coming onto the market, which makes realistic maximum DRAM support of 256GB (8 x 32GB).
As you might expect you will need a massive cooler to keep these chilly, with a TDP of 280W they are 30W more than the 2990WX from last year.
AMD was keen to point out their dominance over Intel posted benchmarks showing the performance over the 18-core/36-thread Intel Core i9-9980XE which currently costs $2,110.47 on Newegg vs $1399 and $1999 of the two new AMD chips.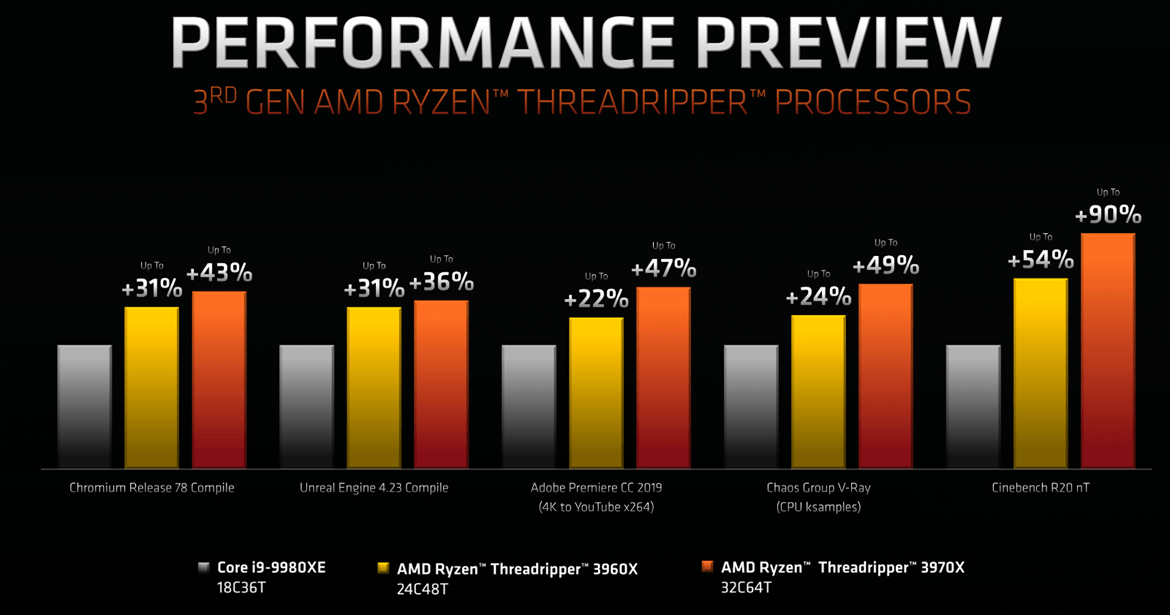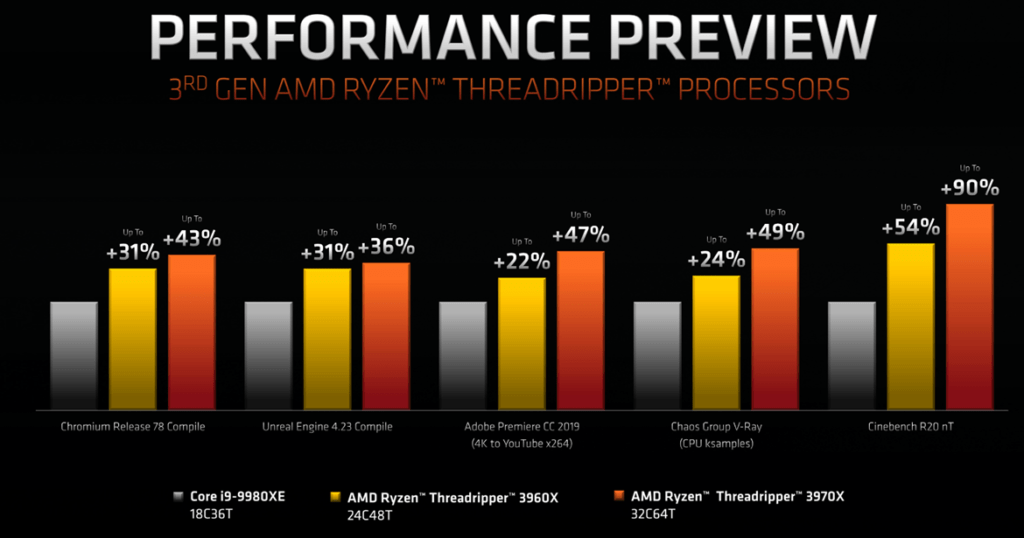 Both the AMD processors dominated in all the tests done with the lowest performance gain being 22% for the 3960X in Adobe Premiere CC 2019 4K to YouTube.
With the 32-Core 3970X, its weakest result was a 36% gain in the unreal engine 4 23 compile.
AMD says that the Threadripper 3960X or 3970X will ship on November 25th, and it has indicated that the processors will be priced at $1,399 and $1,999 respectively.