One of the first steps of gaming is to get the perfect setup.
Whether you are playing for the first time or you want to become the best player in the world, online gaming needs practice. And to practice, you need a good gaming setup.
At the same time, you would also want to live-stream your game with Twitch and other live streaming websites.
But, what gaming setup do you need to become a pro gamer?
Is there a system, or is gaming transcending from conventional personal computers to mobile devices?
So, in this blog, we will be discussing all the set-up you need to take your gaming skills to the next level.
Note: The gaming industry is improving at a tremendous pace. So there is a chance that most of the gaming gear that we have mentioned in this blog are no more in use. If that happens, make sure to comment below so that we can change it immediately.
With that said, it is time to learn about the gaming gear that you need to become a gaming pro.
Most online gamers get so engaged in gaming that their health starts to deteriorate.
Our essential gaming accessories will not only improve your setup and skillset but will also help you stay healthy and fit.
1.  WIRELESS GAMING MOUSE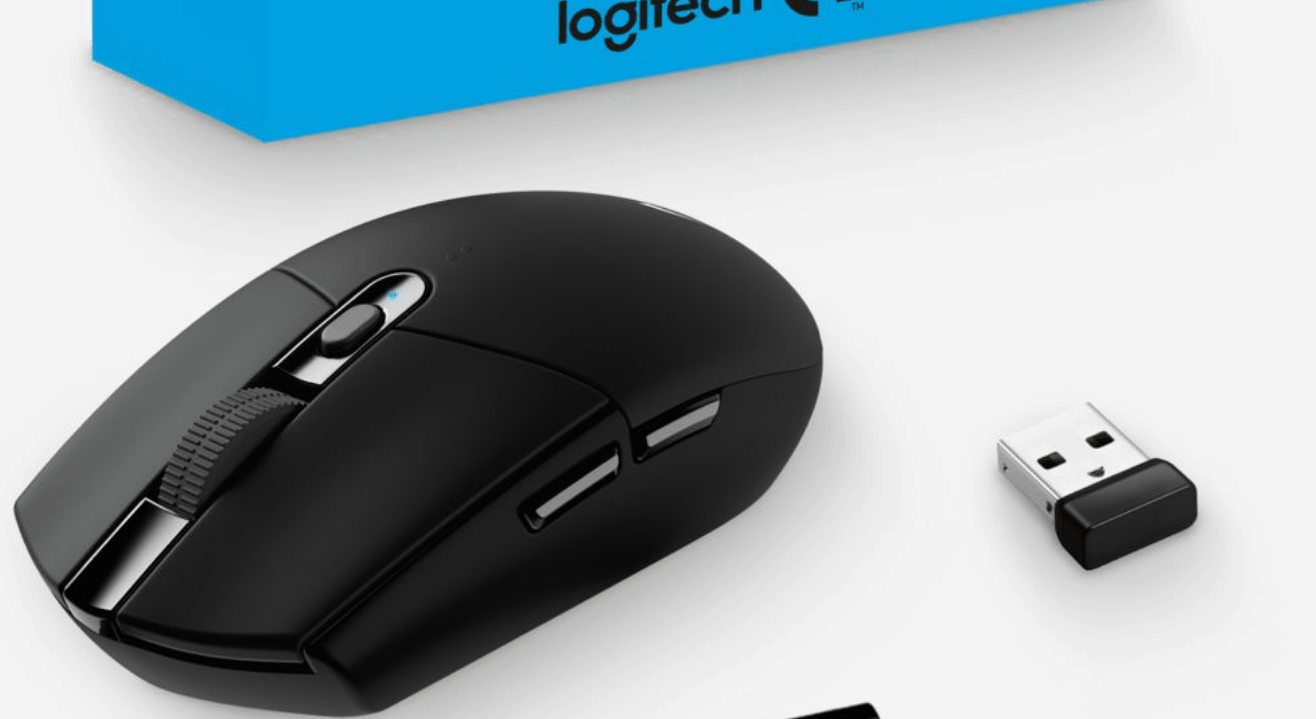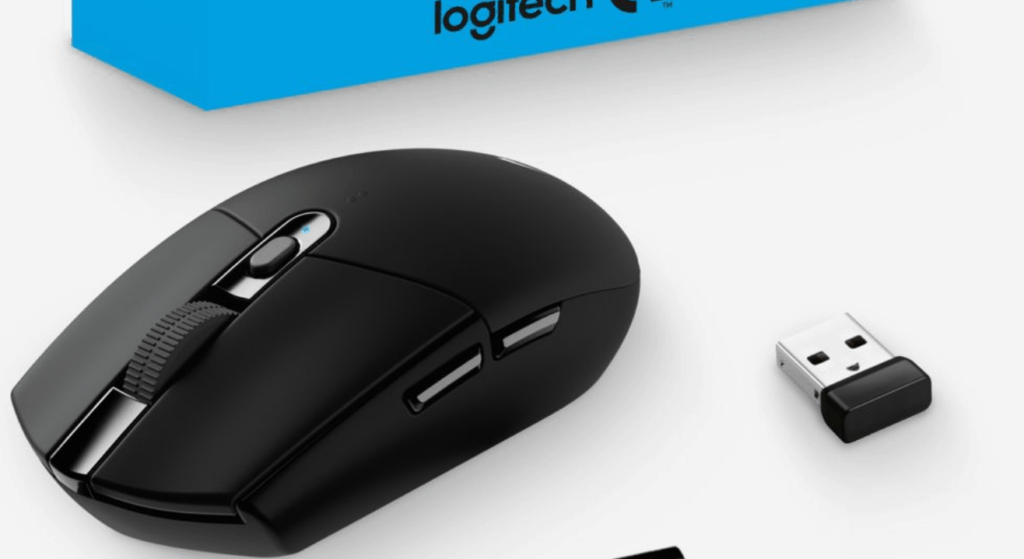 First thing first. You need to have a wireless gaming mouse to improve your gaming skills.
A good gaming mouse is not only a luxury but a necessity for every pro gamer. A gaming mouse can be from £10 to £150. In recent years Logitech came out with their Lightspeed technology which offers the same performance with wireless as you get with wired mice. The Logitech G305 Lightspeed Wireless Gaming Mouse is just £35 on Amazon.
A gaming mouse will help you practice faster and improve your gaming performance substantially.
Moreover, there are more controls in a wireless mouse in comparison with a regular one. You can easily make quick clicks and get an edge in the online competitive gaming space.
2.  GAMING KEYBOARD
Next, get a gaming keyboard for your gaming needs. A good quality gaming keyboard will not only give you more functions to play the game, but it is more ergonomic. Mechanical keyboards have become very popular recently, these offer improved tactile feedback and a more pleasant typing experience, but they do cost more.
Mechanical gaming keyboards can be had for as little as £30 on Amazon from Chinese imports, but a brand name will typically cost £70 or more
3.  ULTRAWIDE MONITOR
The 27-inch format is extremely popular but if you can afford it then ultrawide will provide the best experience possible, the gives you a much more immersive experience than 27-inch monitors and premium monitors such as the Samsung C49RG90 is effectively two 27-inch monitors side by side with no bezel.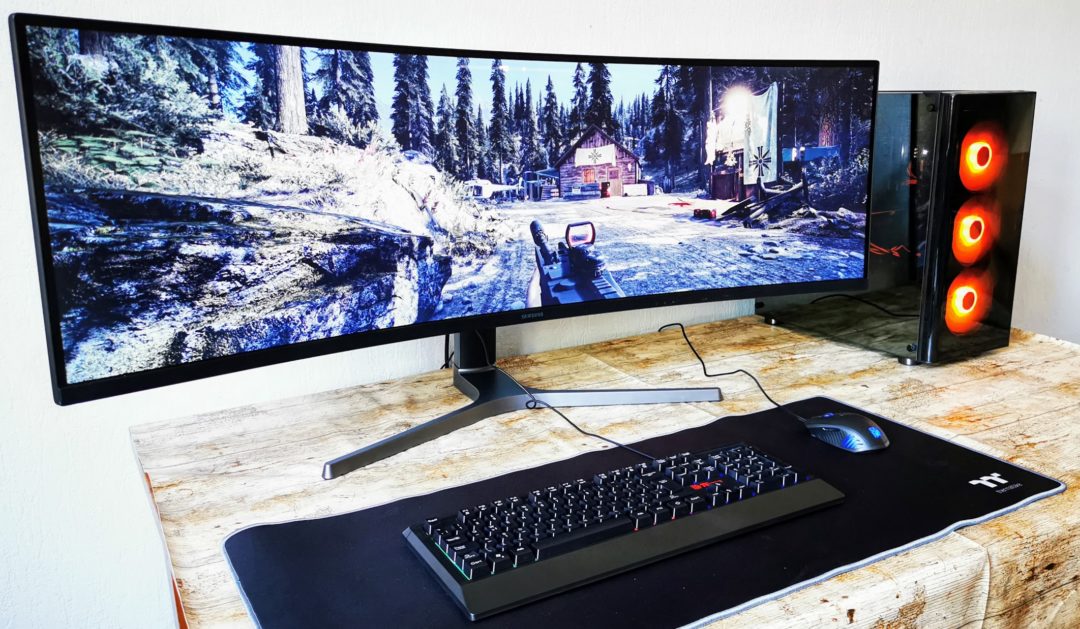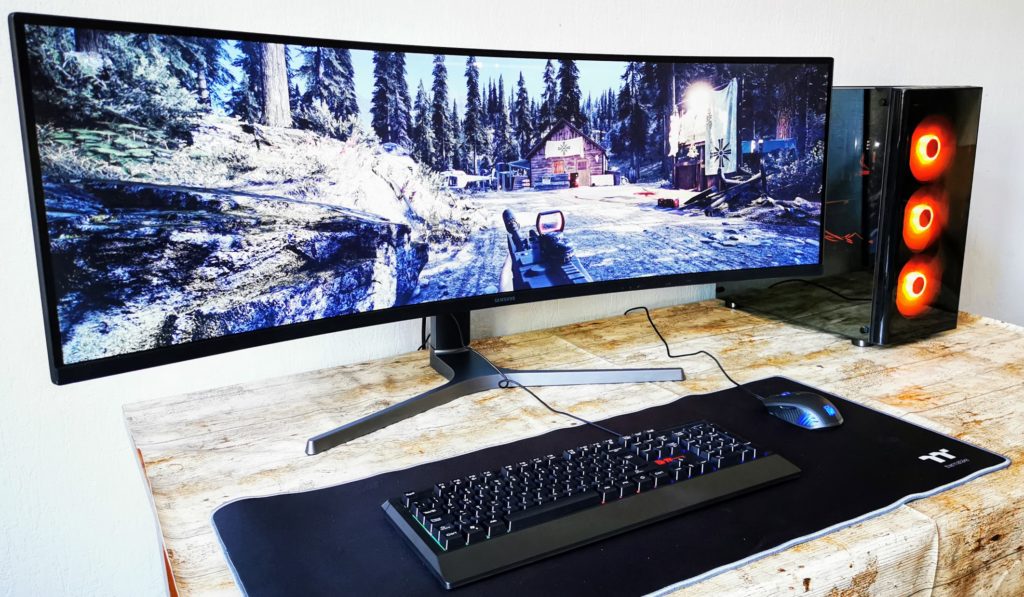 An alternative arrangement is triple monitors, this allows you to expand your system as and when you can afford it, the left and right monitors can be cheaper too as they are less important.
4.  GAMING HEADSET
If you want to win an online game, you need to stay ahead of your peers. How do you do that?
By listening to what they are doing, hearing their footsteps, learning about their every move. That's why you need a gaming headset.
Some gaming headsets can cost well over £100 but there are plenty of wired options on Amazon for less than £30. It will help you know what your enemies are doing in a First Person Shooter (FPS) game.
By knowing where your enemies are, you will be in a better position to hit them. Moreover, your headset will be a great help in communicating with your peers.
These come equipped with a microphone, and you can talk to your teammates discreetly, notifying them of your moves.
5. GAMING DESK
Once you have the basic equipment for your gaming needs, you will need a gaming desk. Where can you get a good gaming desk for your needs?
You can get one from Amazon and Newegg if you are looking for it online. Many people opt for the various options on Ikea
It is better to invest in a gaming desk that is suited to your mobility. This means it needs to be adjustable so that you can move it up, down, and extend the legroom.
6.  GAMING CHAIR
You would want to be comfortable while playing your favourite video games. That's where a decent gaming chair comes in.
The gaming chair is for people who play games for long periods. Playing for so long not only hurts your back, but it also makes you uncomfortable in playing.
Moreover, playing for longer times is not healthy. So, you should invest in a gaming chair that can help with better posture and prevents neck problems. Ergonomic gaming chairs can improve your gaming skills by leaps and bounds.
7.  WEBCAM
Most games have started live-streaming their gaming videos online. For that purpose, you would need a webcam service.
The webcam needs to be of high quality so that you can easily live stream and talk to your followers. Many famous online gamers are recording their webcam videos and earning through live streaming websites like Twitch and YouTube gaming.
8.  GAMING GLASSES
Most gamers get eyestrains when they play video games for a lot of time daily. That's why gaming glasses are essential. These glasses can easily filter blue light that causes eye strain. You must get gaming glasses to enhance the images on your screen.
9.  AIR CANISTER
If you don't own a compressed air canister, then open up your PC and have a look inside. You will soon realise you need one.
10. HIGH-QUALITY SPEAKERS
Finally, no game is complete without high-quality speakers (assuming you don't use the aforementioned gaming headset). So, get one for yourself.
You can get plenty of cheap speakers on Amazon for ass little as £20, I probably wouldn't bother with them
These speakers will also come in handy when you are not in the mood of using the headphones.
Bottom line
We hope that you are now clear about what things you should by to up your online gaming.
Upgrading your gaming setup is an investment that can help you prepare for online gaming tournaments.
Even if you are just a hobbyist trying to get a setup that can help them play games in high quality, these things remain important. However, when buying these things online/offline, make sure to do your research, bargain hard, and only choose the best option available to you.
This originally written as a guest post under the name Ashley Rosa but her product knowledge was so bad I had to re-write large portions of it
Last update on 2022-06-19 / Affiliate links / Images from Amazon Product Advertising API