The moto g8 launched last month being an attractive well-specced phone with a massive 5000mAh battery. Now Motorola is following this up with a more affordable option normally we would see the company use a less powerful chipset in the cheaper models, but in this case, Motorola has kept the Snapdragon 665.
Physically there is not much difference either, both phones use a 6.4 inch IPS display with a punch-hole selfie, and rear-mounted fingerprint scanner.
You also get the same storage and RAM specification of 4GB/64GB which is then upgradeable via microSD.
However, with this more affordable model, they have cut back on the screen resolution dropping it down from 1080 x 2300 pixels to 720 x 1560 pixels.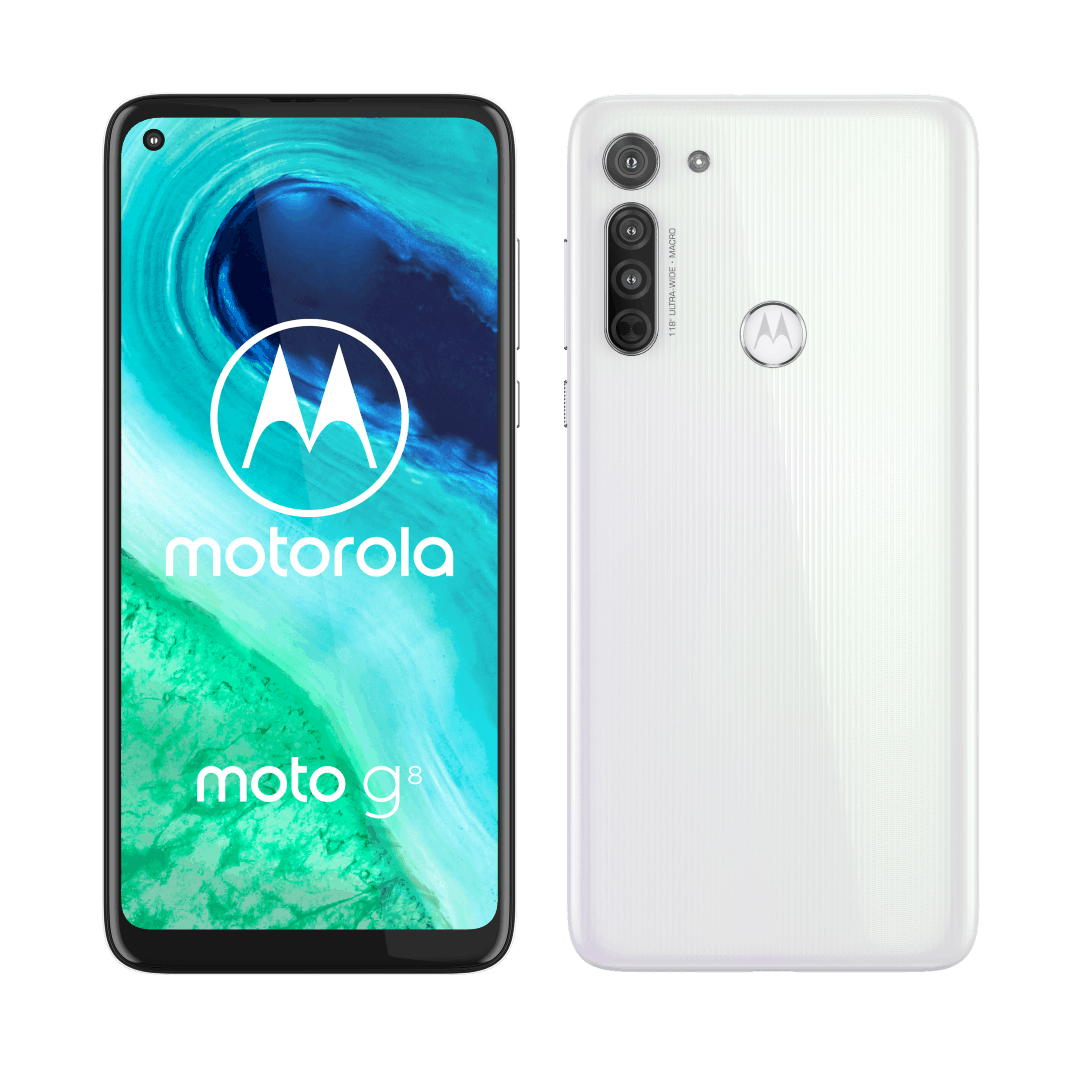 The camera is slimmed down too, with this model they omit the 8MP telephoto lens but you get the same 16MP primary, 8MP ultrawide, and 2MP macro. On the front side, the lens gets switched from 16MP to 8MP.
Lastly, they drop the batter down from 5000mAh with 15W charging, to 4000mAh with 10W charging.
As far as pricing goes, the current Motorola Moto G8 Power is available for £219.99 via Amazon, the new Moto G8 has launched in Brazil but will launch in the UK soon from £179.99.
Personally, I would opt for the Power model, the bigger battery, telephoto lens and zoom camera are worth that extra £40, but if your budget is strictly under £200 the new g8 looks like a solid choice.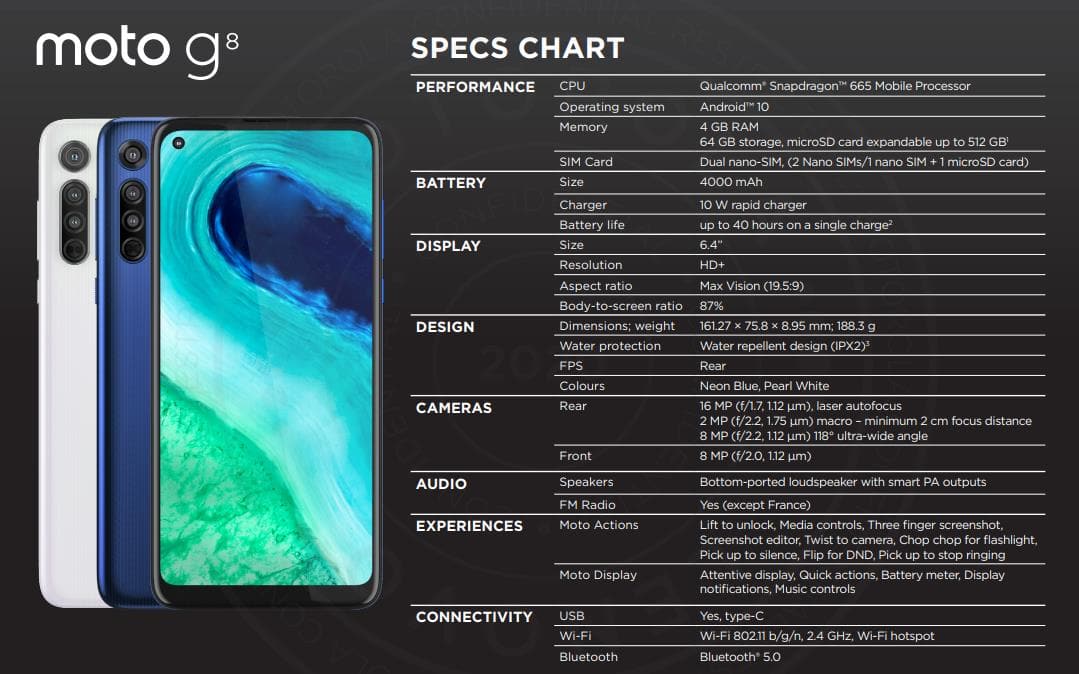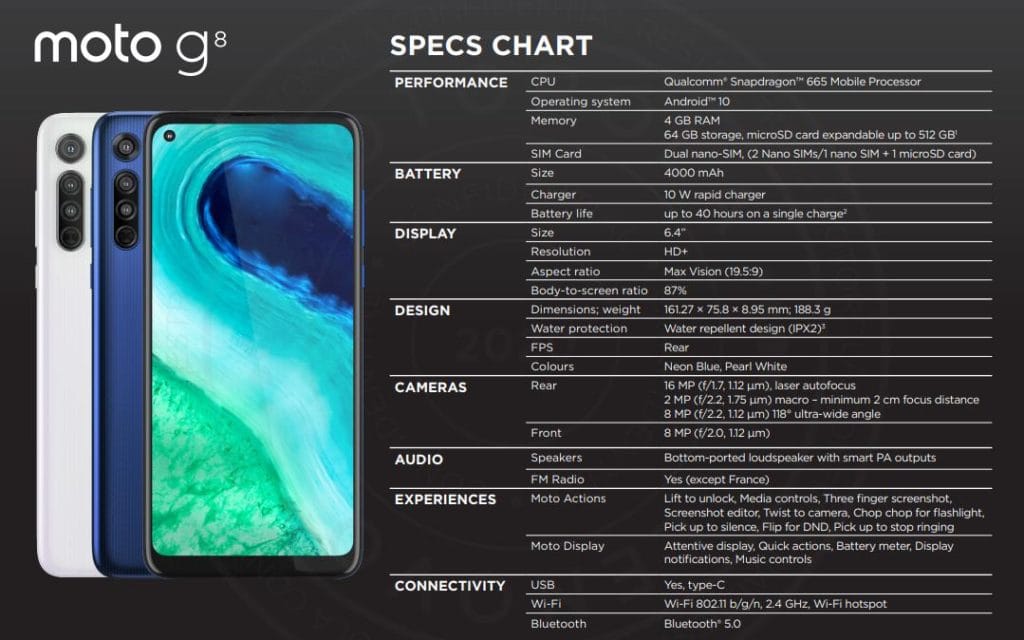 Full Press Release:
Capture the perfect shot no matter where you are or when you're taking photos thanks to the versatile AI camera system on the brand new moto g8. Take sharp photos even in low light using the 16MP fast-focusing main camera. For expansive panoramic photos or times when you want to squeeze all the action at a sporting event into one shot, you can fit 4x more in your frame using the ultra-wide angle lens¹. And the dedicated Macro Vision camera gets you 5x closer to your subject than a normal lens for incredible close ups where details make all the difference.
moto g8 comes with 4,000 mAh battery to let you power through the day no matter what you have on your schedule.2 Leave your backup charger at home and go about your day with confidence – moto g8 is designed to go up to 40 hours on a single charge2, so there's nothing to worry about.
This new smartphone also provides the ultimate on-the-go entertainment experience. All of your favourite content will look and sound better than ever on its stunning 6.4" HD+ Max Vision display backed by a powerful loudspeaker.
All these amazing features are backed with 4GB of RAM and a Qualcomm Snapdragon 665 octa-core processor, which has advanced AI processing capabilities that boost performance to the next level. This enables better gaming performance and camera features, plus improved security. You can count on 64GB of storage, with expandable SD card support up to 512GB for all your favorite apps, music, movies and photos.
moto g8 comes with our exclusive Moto Experiences and with the new Moto Gametime4 feature. This exclusive software maximizes your gaming experience and makes it more immersive than ever by blocking interruptions to help you keep your head in the game. The device comes with a water-repellent3 design that keeps your phone protected inside and out, and is powered by a bloatware-free and ultra-clean version of Android™ 10.
Last update on 2022-05-17 / Affiliate links / Images from Amazon Product Advertising API