Kingston HyperX Impact 64GB DDR4-2400 SODIMM Memory Review Rating
Summary
Massive amounts of memory, far more than needed for your average user, but very useful for content creators and people using RAM intensive applications. Priced appropriately compared to the limited competition.
Kingston HyperX launched a range of new memory modules at CES 2020 and this includes new 32 GB unbuffered DIMMs and SO-DIMMs to its Fury and Impact families.
I have recently been sent the HyperX Impact 64GB DDR4-2400 SODIMM memory to review, which includes two 32GB DDR4 memory modules with a latency of CL15.
These modules are double the capacity of what used be available for both laptops and desktops and the massive capacity means these come in at a pricey £326.99 via Kingston.
For the best performance, Kingston also sell modules going up to 3200MHz with a CL20. And this tops out at £426.99
Features
| | |
| --- | --- |
| SKU | HX424S15IBK2/64 |
| EAN/UPC Code | 740617304527 |
| Product Condition | New |
| Error Check | Non-ECC |
| Aluminium Heat Spreader | Yes |
| Intel XMP-Ready Profiles | Yes |
| Brand | HyperX |
| Memory Capacity | 64GB Kit (32GB x2) |
| Form Factor | DDR4 |
| Module Type | SODIMM |
| Model/Series/Type | HyperX |
| HyperX Range/Series | Impact |
| Speed | 2400MHz (PC4-19200) |
| CAS Latency | CL14 |
| Warranty | Lifetime |
| Rank | 1R (Single Rank) |
| Pins | 260 Pin |
| Colour | Black |
| Memory Depth | 1G |
| Memory Voltage | 1.2v |
| Operating Temperature | 0°C to 85°C |
| Product Type/Family | RAM |
Pictures
Laptop Specification
Sadly, I don't have the latest gaming laptop but I still have a decent specced, but ageing, Dell XPS 15 with a 7th Generation Intel® Core i7-7700HQ Quad Core Processor (6M cache, up to 3.8 GHz) which came with 16GB 2400Mhz RAM and a 512GB NVME drive.
Install
Installing memory should be very easy in most laptops, makers generally place the memory in easy to access locations. The memory does have thing aluminium heat spreaders on it, I doubt there should be any issues with most laptops.
In the case of my Dell XPS, I had to remove the full back panel, and it uses a small star-shaped screw head so I needed a proper screwdriver set (which are cheap from Amazon).
My first installation led to the laptop not posting, I worried that I had damaged something, or maybe the large capacity wasn't compatible with the XPS. However, after removing them and trying each one individually, I had no problems and got the full 64Gb to work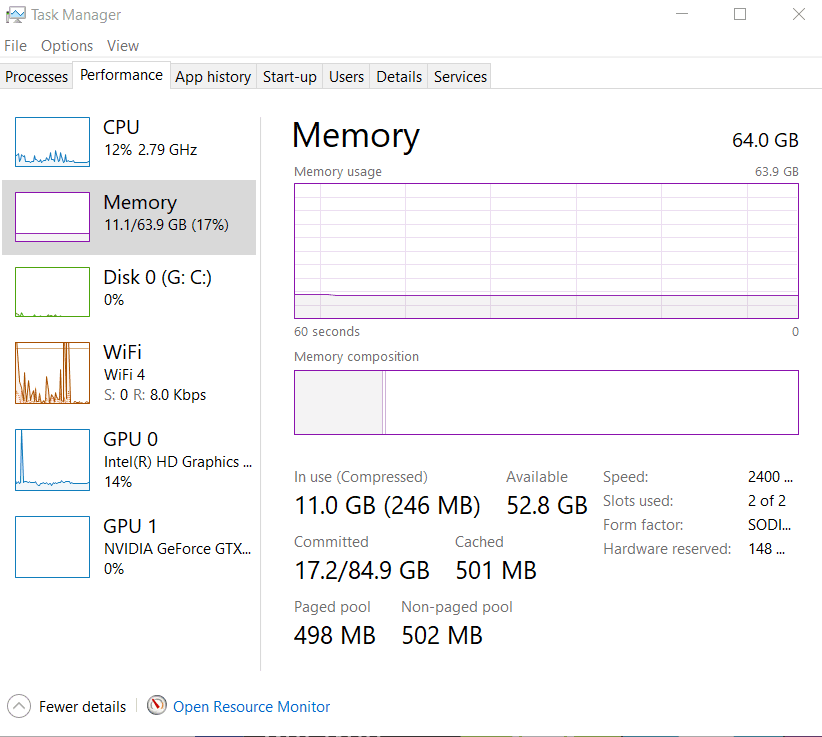 Benchmarks
My XPS was already running on 16GB 2400MHz Ram so there are no massive performance gains to be had, apart from the benefits increased capacities has to offer.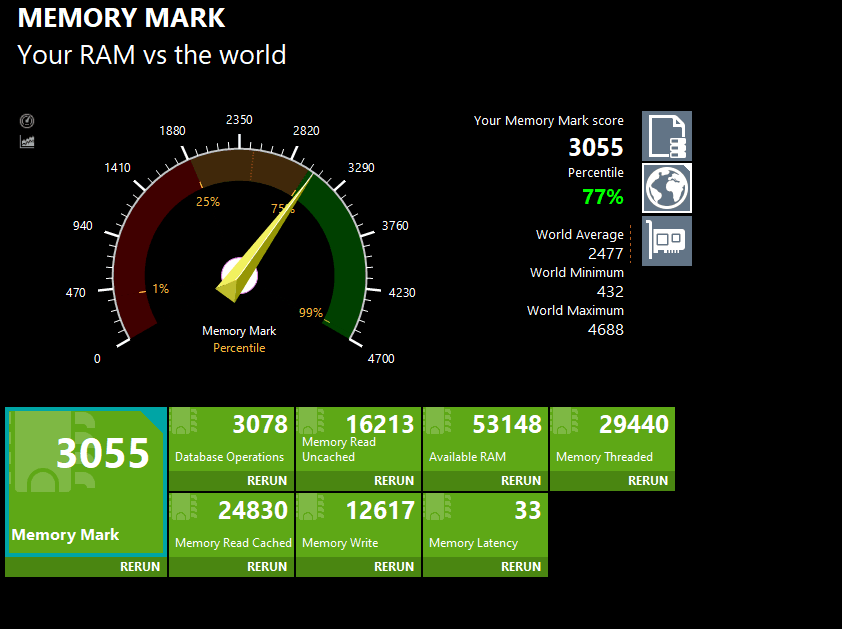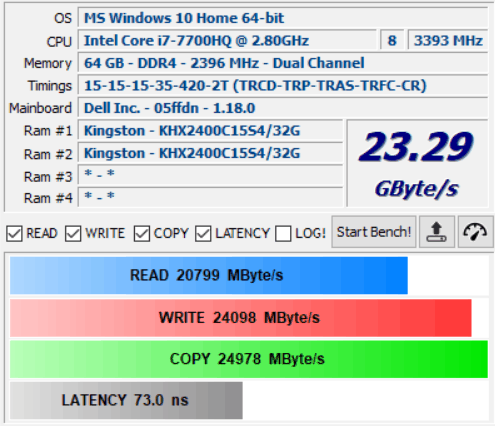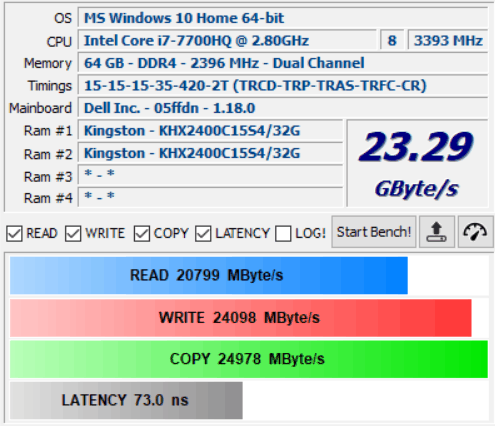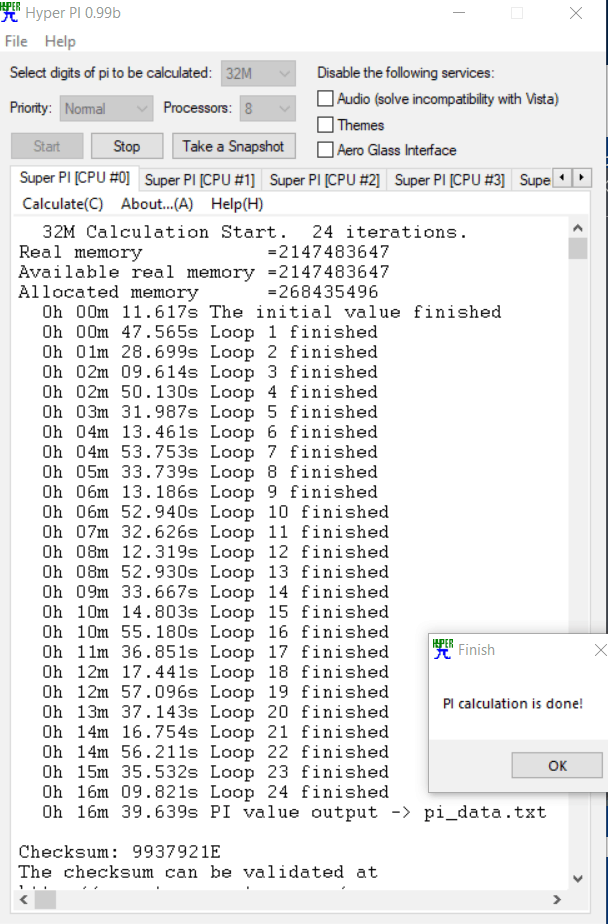 Price & Competition
At £326.99 this memory certainly isn't cheap, you pay a premium for this new higher density capacity, if 2x16GB is enough RAM for you then you can pick up the HyperX Impact 32GB 2666MHz kit for £125.
As far as 32GB modules go, there is not much competition. Samsung sell generic 32GB 2666MHz modules for £159 which works out fractionally cheaper.
Corsair also have some Vengeance 64GB running at 2400MHz Dual but with CL16 for around £300.
Overall
Not many people will require 64GB in a laptop and most people will be better off getting 32GB using faster RAM at a lower price.
With many top of the range laptops costing £2500 and beyond, spending £300 plus on your laptop memory may not seem all that bad.
If you work a lot from your laptop using RAM intensive applications such as rendering, image editing and database work then the additional RAM is always welcome. This will be particularly appealing for the growing number of people classing themselves as creators.
There is not much in terms of competition either, and the Kingston pricing seems to be about right.
So overall, if you need massive amounts of RAM in your laptop this is well worth considering. Alternatively, for the lower capacities the HyperX Impact range is quite affordable with the 32GB sets being around £125 and 16GB for £66
Last update on 2022-05-25 / Affiliate links / Images from Amazon Product Advertising API