xFyro ARIA Rating
Summary
Pros

Great fit – good enough for running outdoors (once I changed the tips)
Superb sound for sports use (bass dominant)
High IP Rating
Cons
Bluetooth connectivity issues
Not hitting battery life claims
Potential customs charge
Low quality case (for the price)
I was previously underwhelmed by the XFyro xS2, they weren't bad, but they didn't fit me too well, nor were they priced well for the UK. Recently I have been trying out their latest Aria true wireless earphones to see if things have improved.
Specifications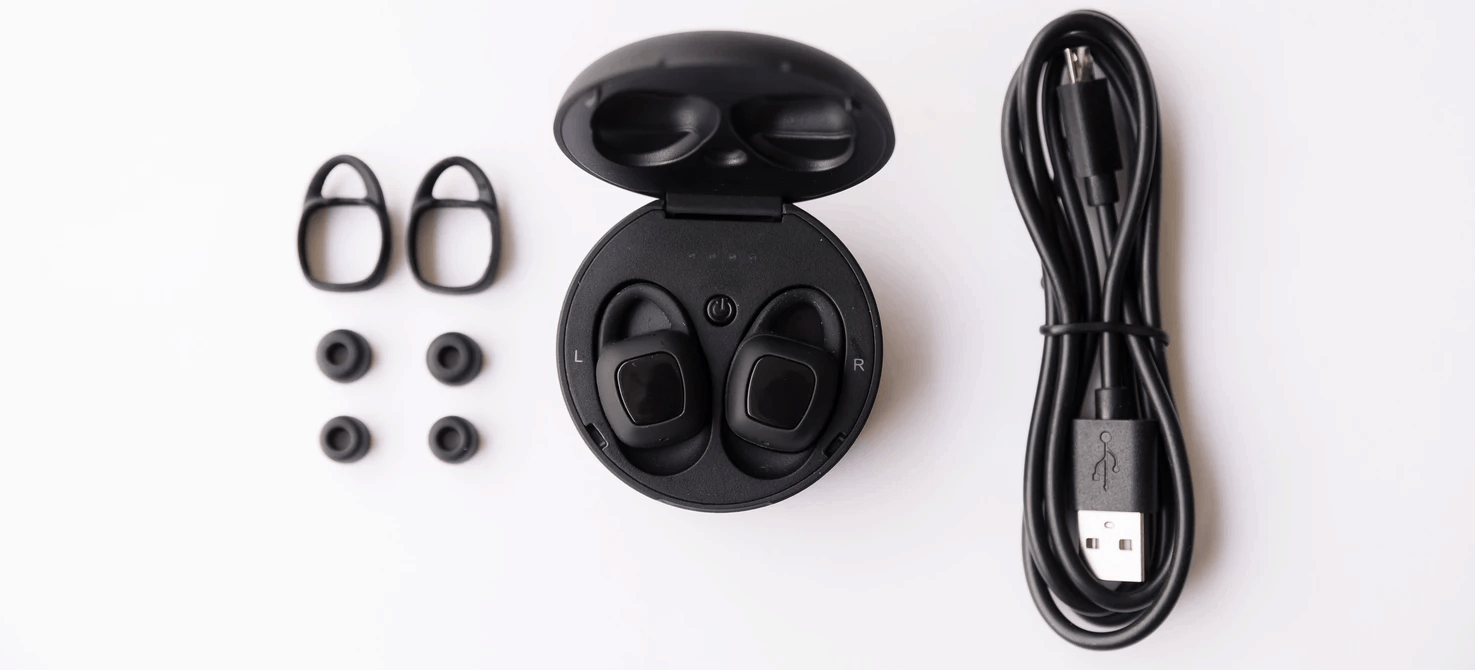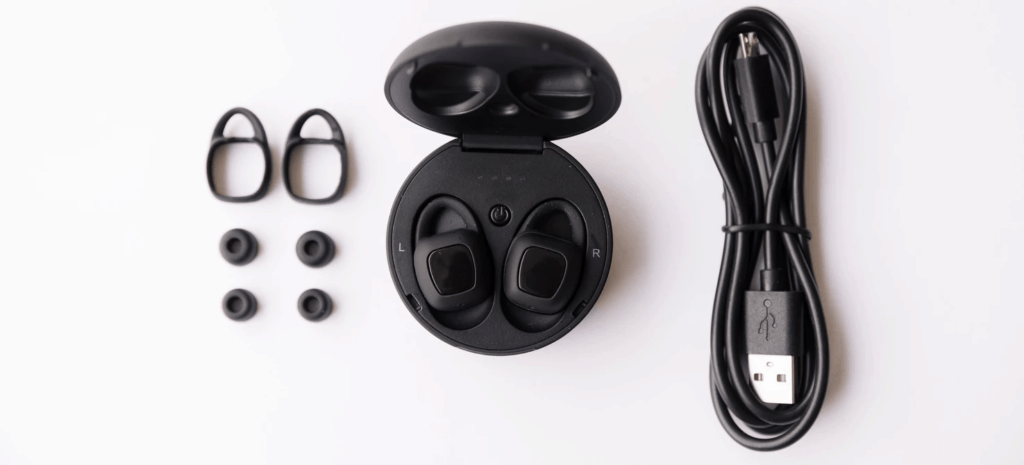 Priced at £97 the earphones sound amazing based on the listed spec from the website. In particular, the 8-hour battery life and IP67 rating mean these could be the perfect sports earphones for me.
Powerful bass, crisp mid-highs, and crystal clear vocals with a 16mm driver.
IP67 certified waterproof and dustproof.
Comfortable and secure fit from custom wingtips.
Up to 32hrs of playtime, 8hrs per charge and additional 24hrs playtime with case.
Connects with the latest Bluetooth 5.0 technology.
Compatible with Siri and Google Assistant.
Auto-pair, never worry about setup or pairing modes again.
CVC Noise Isolation Technology giving superior call quality without interruptions.
Case with magnetic secure-fit technology.
FREE International Shipping.
Questionable Marketing
When I looked at the Aria page, I was impressed to see several quotations from major sites under 5 stars, implying a 5-star review. This made me excited about the prospect of trying these earphones, but in reality, from what I can tell, these are all paid placements with both Engadget and Mashable being Stackcommerce. TNW doesn't explicitly state a paid advert, but it is under the offers category, and you can find no mention of xFyro when you do a search on their site.
While they have not technically done anything wrong here, it is a little bit of a grey area, and certainly misleading.
They have also adopted the annoying sales strategy of having the earphones permanently discounted. These are not £200 earphones which they claim to be discounted from, and you would be mad to buy them at that.
Fit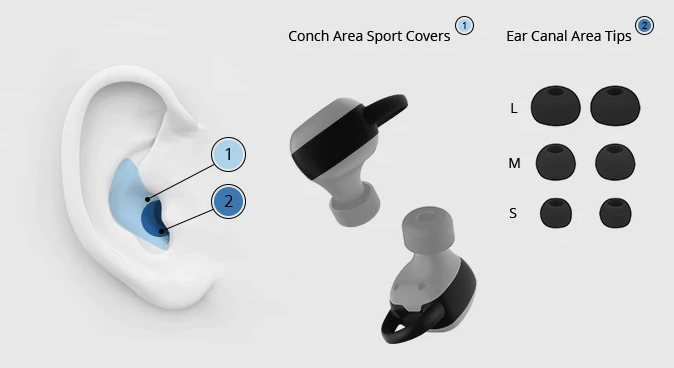 The supplied eartips are tiny, they are three sizes, but not much difference. I am not sure if they designed the case first then had to use smaller tips or what. They do fit in my ear OK securely even with the smaller tips, but I could immediately tell the sound wasn't at its full potential. Swapping out with larger eartips made a world of difference with the sound.
With the larger tips in place, I have found these to be the best fitting earphones I have used in recent memory. I can sprint on the treadmill, and they do no-budge one bit.
Using the 3rd party eartips means I have to take them off each time I put them on charge. This seems to be the case with all true wireless earphones I have used recently, and it is becoming mildly annoying.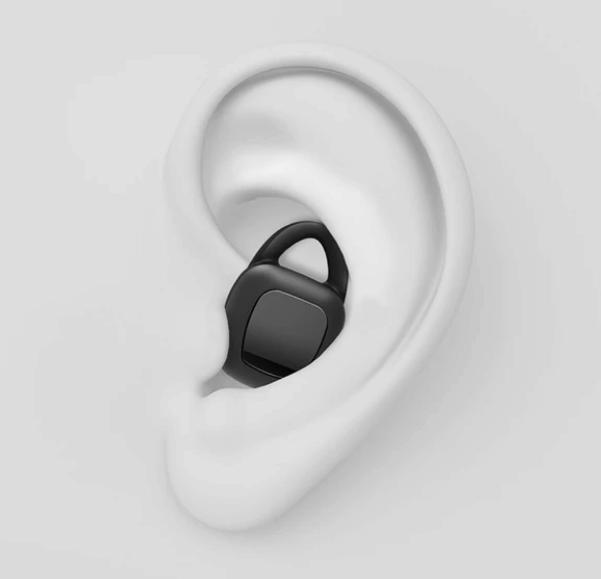 Sound
They sounded OK with the standard eartips, and these may work fine for other users, I have quite big ears so needed the 3rd party options. With these applied the sound transformed, in particular, the bass went from weak to boomy, and the volume of these earphones is considerably higher than many TWS earphones I have used.
While the bass can go very deep, I found it quite balanced with the other ranges. Mids and highs are well represented, and I experienced no obvious harshness or lack of detail in the treble.
These are not audiophile headphones though, they are more suited to people wanting a bit more bass and generally a livelier sound.
Bluetooth
I rarely dedicate a section to the Bluetooth, but there were some issues I faced. Primarily this was the earphones connecting to my phone even though they were on charge. For a start, earphones normally shut down when placed into a case, so after the first couple of times of this happening I started manually switching them off then placing them into the case, but this has not stopped them randomly connecting. It is not a significant issue, but it is an annoyance, I even had to unpair them on one occasion because after I connected to the Huawei Freebuds 3, the phone then connected to these.
Battery
From my experience, battery life has been mixed, and a long way off the claimed 8 hours. The first few times I used them, they barely got three hours, dying just as I left the gym. The following few times they improved, but certainly not 8 hours. The earphones showed a full charge, but I suspect it could be a case of one earphones not having a full charge (likely due to the Bluetooth connection problems) and then causing them both to power down earlier than expected.
Price and Competition
These are £97, but my sample arrived with an £11 customs charge. At £100 price point, these sit somewhere in the middle of premium earphones by big brands and almost unlimited choice from Chinese brands or lesser-known companies.
For example, these are more expensive than the Soundcore Anker Liberty Air and Groov-E, and I actually prefer these so the price is somewhat justified.
In fact, there are not too many earphones at the £100 price point, Cambridge Audio Melomania 1 are perhaps the closest and a better-known brand, but I haven't used these yet so can't comment.
Overall
While these are far from perfect, and I have some concerns about how xFryo market their earphones, I actually really like them.
For me, and my personal usage, they are a massive improvement over the xFyro xS2. While I had to used third party eartips to get the best fit, they fit very well, with no adjustment needed during strenuous exercise, they are loud, with excellent bass and generally decent sound, plus they are IP67 certified. They almost tick all the boxes I want for earphones I use for sports, and they have become my daily earphones for the gym.
There are quite a few issues though, battery life is a concern, I had at least 2 occasions where these didn't hit 3 hours let alone 8, and I am incredibly sceptical of this claim. All the supplied eartips are quite small too, and this seems to be a limitation of the case itself, you can fit 3rd party ones on but you need to take them off when putting them back in the. I have also experienced some Bluetooth connectivity issues. Finally, at this price, I would have liked to see USB-C now microUSB.
I wouldn't say £97 is unreasonable for these, they sound better than the £60 groove buds, and I prefer them to the £89.99 Sudio Tolv, and the £79.99 Soundcore Anker Liberty Air. However, I feel that at this price they could do with a superior charging case, that feels less plasticky and uses USB-C. I was also stung with an £11 customs fee, which starts to put them a bit too pricey for UK buyers. For buyers in the US I would assume this is less of an issue.
So overall, a bit of a mixed bag. They show a lot of promise, and I do like them, so they are certainly worth considering. If they were available on Amazon UK direct from Amazon I would be a lot more inclined to recommend these, as you would have the backing of Amazon customer service.