While not exactly tech or a gadget, I have covered mattresses quite a bit on this site, good sleep is an essential part of your health and overall fitness and will have a far superior benefit than buying the latest sports watch.
I have previously focussed a lot on memory foam mattresses, they tend to be affordable compared to pocket spring alternatives, and more importantly, they always have some form of free trial so you can see how well you sleep on the mattress for a realistic length of time.
The big problem I have found with memory foam is that the artificial material it is made from gets hot, so if you are a warm sleeper, it can be quite unpleasant.
Once you move away from memory foam, finding a mattress that has a trial period can be difficult, and the handful of companies that do offer trials can get expensive. You then need to assess the quality of the materials used within the mattress. If the mattress uses any mad made synthetics there is a good chance you will again suffer from heat issues.
Heat isn't the only issue either. Many people are opposed to man-made materials, especially plastics and things like glues and solvents.
Ely mattresses aim to solve all these issues, they are the only company I am aware of at this price point that uses completely natural materials in their mattresses furthermore you can try it for 30 days to make sure you like it.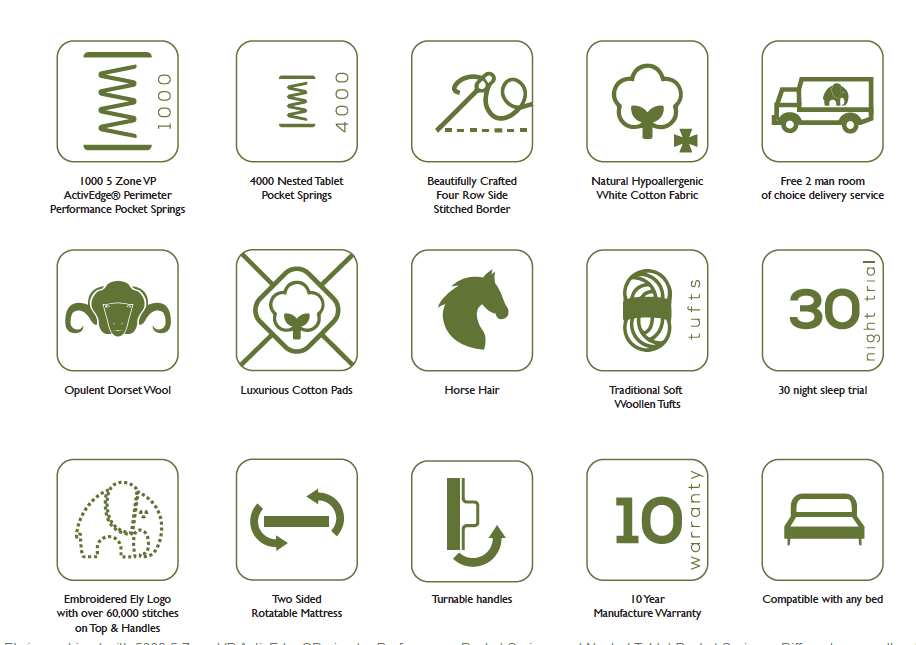 Ely is combined with 5000 5 Zone Performance Pocket Springs and Nested Tablet Pocket Springs. Different zones allow the heaviest parts of your body to remain in line with the rest of the body throughout the night.
There is proper edge to edge support which eliminates the 'roll-off' feel you get on a standard mattress ensuring a consistent, restful sleep every night.
The different layers and zones are designed to provide clear-cut support and comfort for the key parts of your body. The combination of multiple natural layers, work collectively to adapt to your body, dissipate moisture, regulate temperature and most importantly eradicate breathing in harmful chemicals for a third of your life. The soft woollen tufts help keep the fillings inside secure as we don't use any glue and improve the durability of your mattress.
The layers of an Ely mattress are expertly tufted together by hand, with long steel tufting needles, cotton straps and rosettes. No solvent-based chemical adhesives or water-based chemical adhesives are used during the process, and this avoids the common gassing issues related to memory foam mattresses.
In total an Ely mattress has 13 layers in its construction, this is compared to the 4 or 5 you might see with a memory foam alternative.
With the mattress being made of eco-friendly and sustainable materials when it reaches the end of it life the organic materials within the mattress can biodegrade and the steel innersprings can be recycled.
A King-sized mattress costs £899 with a choice of soft/medium or medium/firm and comes with a 10-year warranty
Ely also offers a free 2-man room of choice delivery service within 7-10 working days.
Ely Mattress are offering consumers an AMAZING Black Friday Offer.
Ely Mattress are giving customers a FREE luxury upholstered bed frame in various coloured fabric for a full-priced purchase of a natural eco-friendly Ely Mattress. Simply visit their website between 25th November – 29th November to take advantage of this offer.
Don't need a bed frame but still want to snap up a fantastic deal on a natural mattress? Well not to worry – they are offering customers who want a mattress only deal 30% off across all of the mattress range! Again, visit their homepage between 25th November -29th for more information.