One of the best ways to keep track of employees, visitors or tradesmen that come in and out of a building is through ID cards. They can be created yourself using digital ID card printers, which is a quick and easy way to make multiple cards. They can be personalised with names, barcodes and other necessary information.
ID cards are an essential component of security checks, which is why you'll need a printer that is reliable and can swiftly produce the cards on demand.
We've looked into the best ID card printers of 2022 to help you pick the machine that's right for your company. Whether you're looking for a bargain bundle or a machine that can dual print hundreds of cards, we can help you to find the best ID card printer for you.
The must-have ID card printers of 2022
Companies that choose to create their own ID cards will need to source a digital ID card printer. The right printer will depend on the needs of the business, but there is a wide range out there to suit just about anyone's needs.
The printers below are considered to be the best of 2022, based on speed, volume and affordability. Each printer comes with both input and output hoppers, which is where the cards are held before and after they are printed.
Magicard Ultima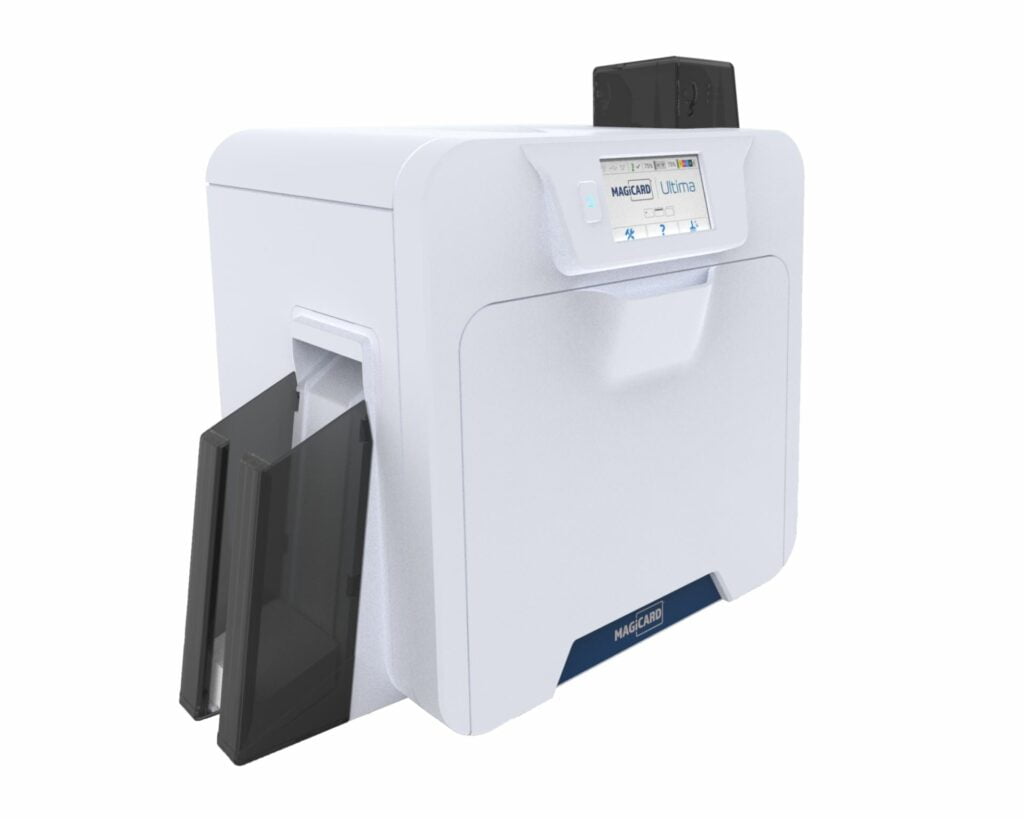 Unlike the other printers on the list, the Magicard Ultima uses retransfer technology. This means that the printer uses the ink ribbon to print the design onto film, which is then laid and heated onto the card. The full surface of the card is fully printed with ink, which means that there isn't a white band around the design.
Retransfer printers are slightly more expensive than direct to card printers and can take longer to produce the cards, but they also provide a higher quality image.
The Magicard Ultima comes with 10 secure HoloKote® watermarks and also accepts custom designs. This can help your company to ensure that each card can be authenticated.
Highlights:
compatible with Microsoft Windows, macOS 10.10.x and Linux OS
touchscreen interface
up to 100 full-colour cards per hour
up to 180 monochrome cards per hour
Input/Output hopper of 200 cards
Entrust Sigma DS3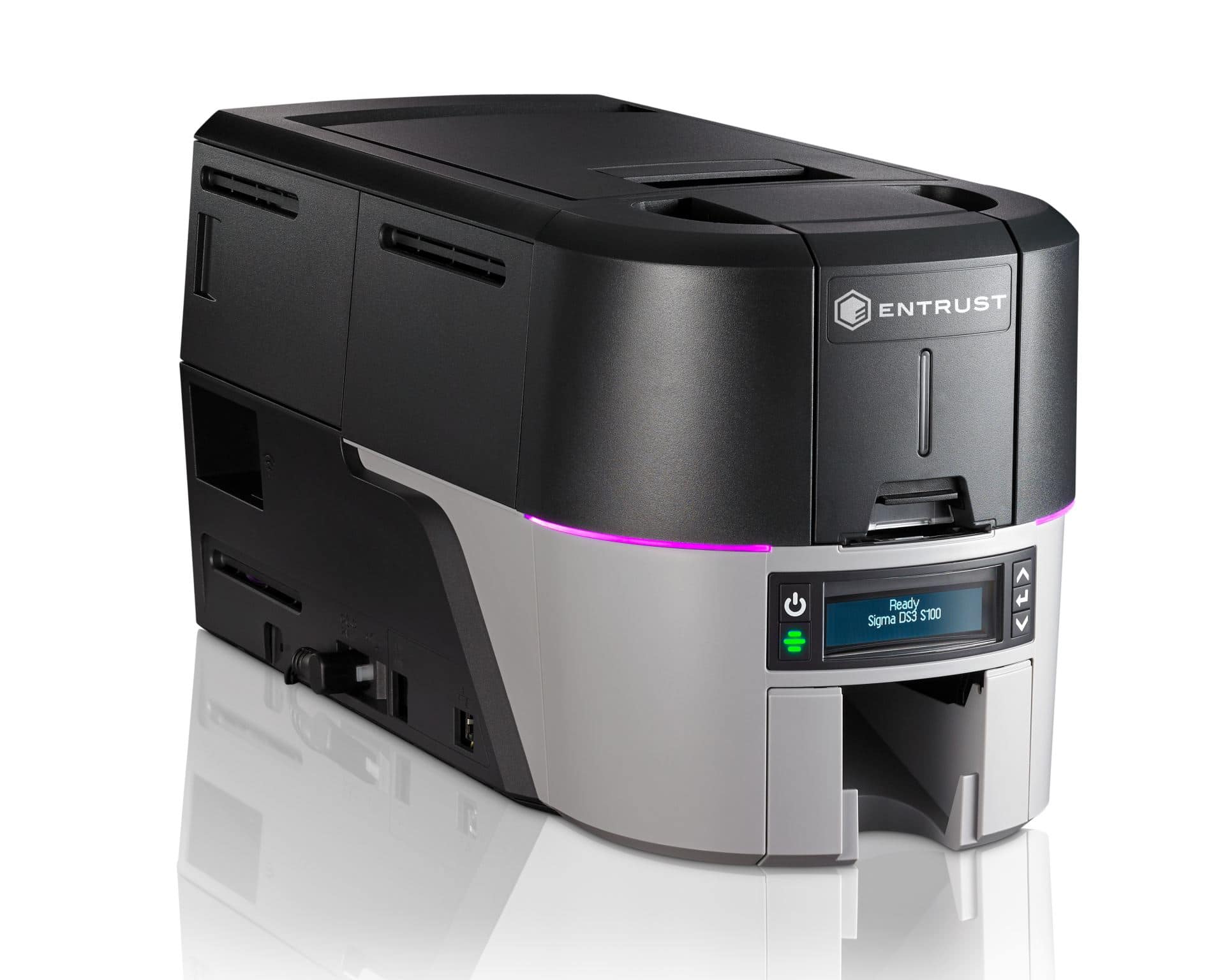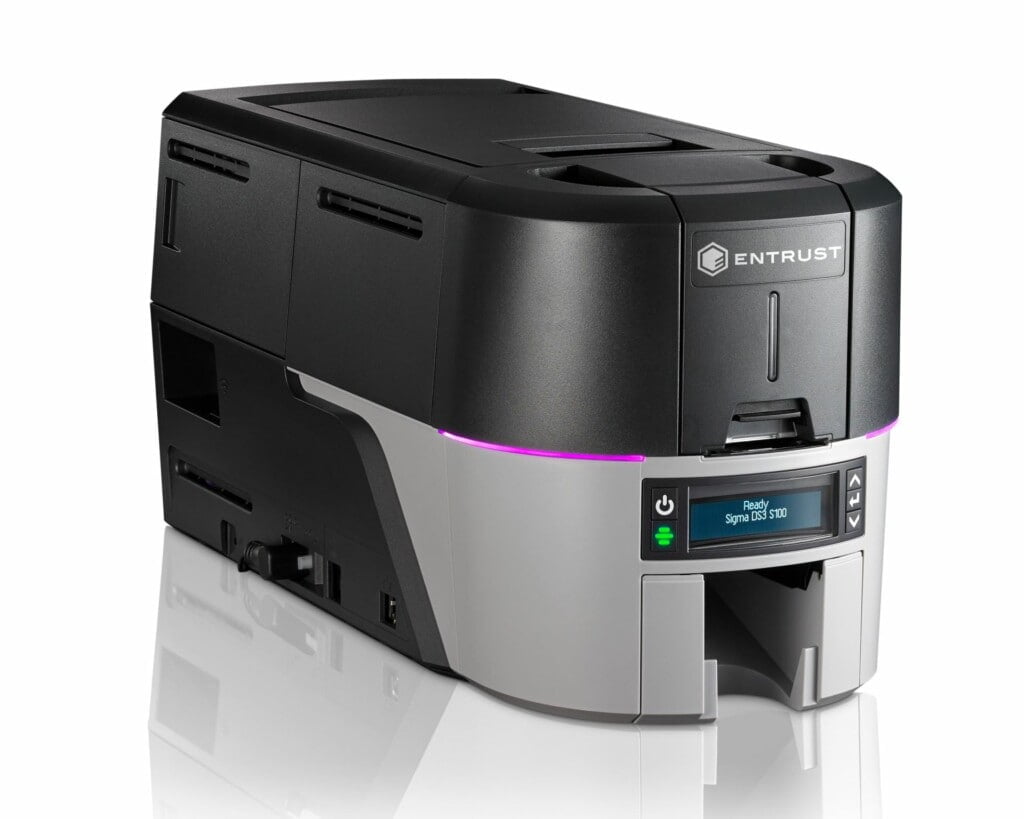 The Entrust Sigma DS3 is brand new on the market, having been introduced in 2021. The printer is specifically designed to keep up with the demands of a business in 2022 and will deliver an A-class performance. This printer has innovative security features that reduce the risk of cloned cards
There's the option for single-sided or dual-sided printing, as well as an optional magnetic stripe encoder. You can control the printer from the dashboard via the mobile app for easy management. The app can also be used to check the status of the printer and as a way to install software updates.
Highlights:
up to 250 full-colour, single-sided cards per hour
up to 180 full-colour, dual-sided cards per hour
125 card input hopper, 25 card output hopper
300 dpi resolution
supplies can be ordered through the app
Zebra ZC300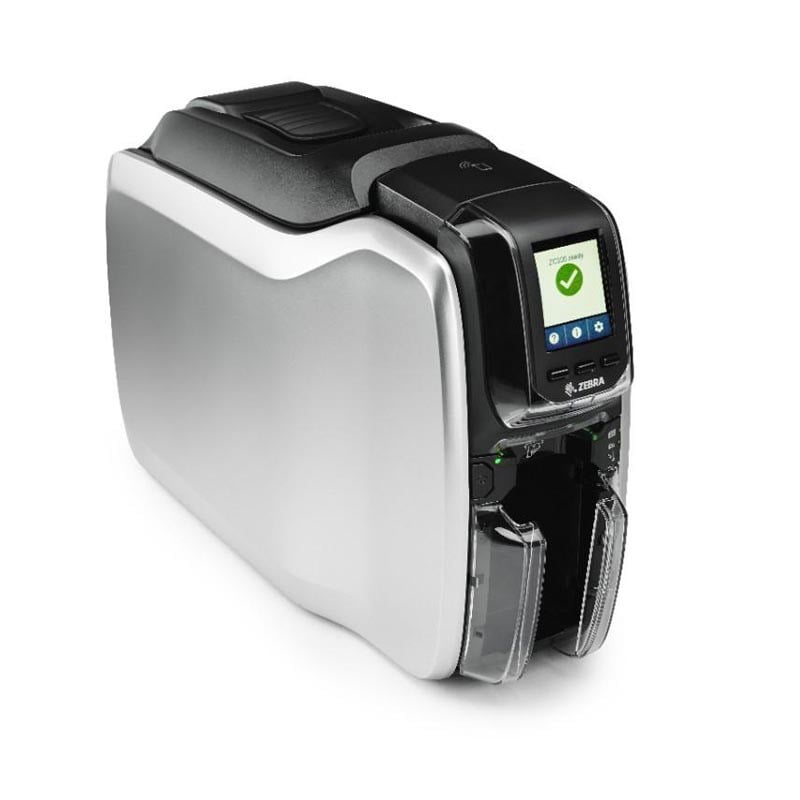 If you're looking for a fast and efficient printer, then the Zebra ZC300 is the one for you. This sleek machine can produce an outstanding 900 single-sided monochrome cards per hour and 200 full-colour cards.
The thin-fit design takes up minimal space and is easily transportable. It also stands out on the market because of the printer's highly graphical full-colour display. This makes it simple to enter any language for your text-based messages and to find out any issues that the printer may have, such as a low supply of printer ribbon or a jam.
The ZC300 can print membership, ID, credit and debit cards through the simple push-button design. Cards can be printed either single or dual-sided text and images.
Highlights:
up to 900 monochrome cards per hour
maximum of 140 full-colour, dual-sided cards per hour
up to 900 monochrome, single-side cards per hour
Built-in 10/100 Ethernet
2,000 monochrome images per ribbon roll
Fargo HDP5000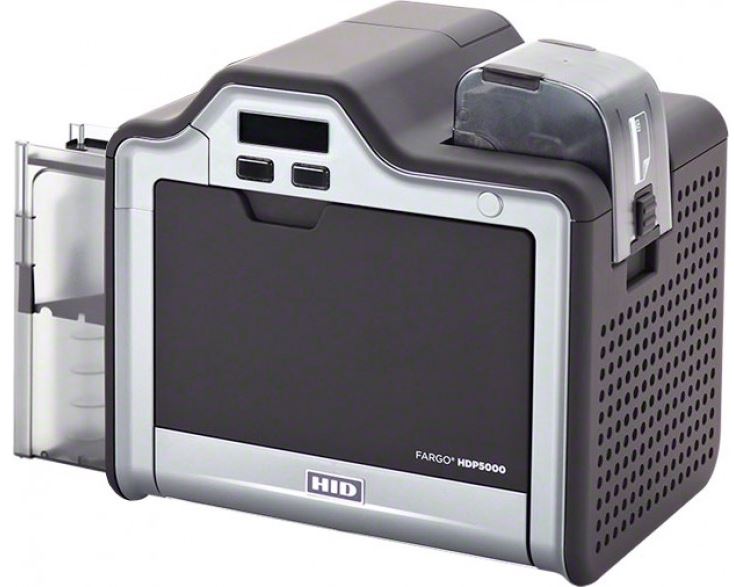 This is the second transfer printer to feature in the list. The Fargo HDP5000 prints high-quality cards, even if the base is an uneven surface. Some of the additional features of the Fargo printer include laminating and encoding modules. The ribbons and ink cartridges are easy to reload, which helps to maintain a high turnover of card production.
The HDP5000 can print to a standard credit card size of CR80, which also doubles up as a good size for membership or ID cards. Each card takes around 29 seconds to print, which equates to a printing speed of just under 120 cards every hour.
Highlights:
SmartScreen™ LCD Control Panel
200 card input hopper
inbuilt USB and Ethernet connection
compatible with Windows 8, 7, Vista, XP, and Mac OS X v10.6 and V10.5 & Linux
Evolis Primacy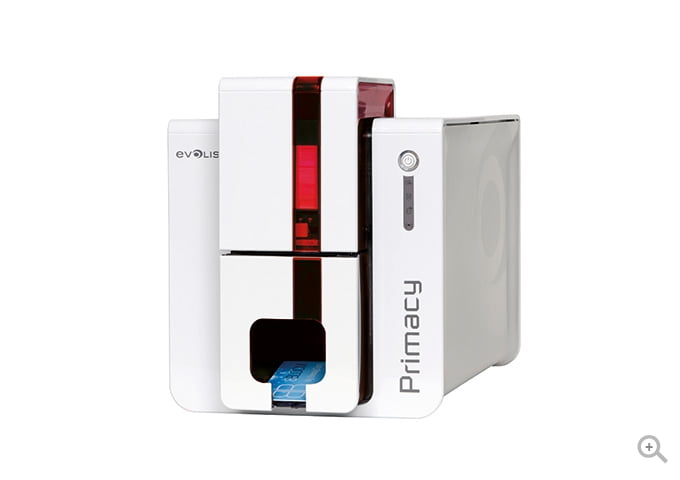 For those looking to keep an eye on their carbon footprint, the Evolis Primacy is a good choice, as the company prioritises the use of recycled materials when making its printers. It is also designed to limit electrical consumption through a standby mode after a period of inactivity.
Cards are printed with an edge-to-edge high-resolution design with a variety of additional features, such as magnetic stripe, contact chip and contactless chip. The printer also comes with an optional touchscreen, which allows for easy programming and management. It comes with a 300×600 dpi customisable resolution, as well as Evolis Premium Suite® software. This allows you to control the printer from your computer.
Highlights:
up to 225 single-sided cards per hour
up to 140 double-sided cards per hour
up to 1,000 monochrome cards per hour
EasyBadge 2.0 system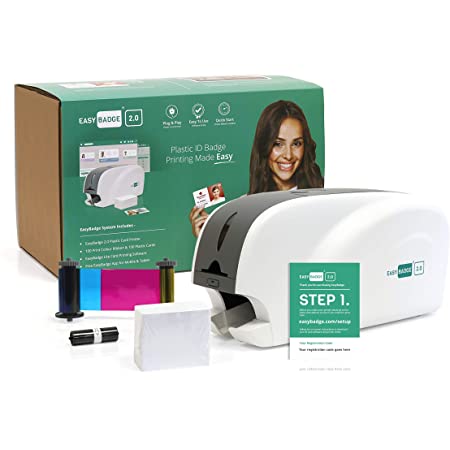 The EasyBadge 2.0 system has an eco-friendly design and uses biodegradable cards. EasyBadge also promises to plant one tree for every printer ribbon that they sell. This high-quality card printing can be bought as part of an ID card printer bundle, which can save you money.
You can download the EasyBadge 2.0 app to capture your own professional-grade photo for each card. The software that comes with the machine includes pre-made templates to help you get started on printing professional cards. These templates cover cards such as membership, licences, identification and business cards.
Highlights:
Biodegradable cards and ink
full-colour ID card printed in 23 seconds
Watermark and Secure UV printing
Add data through the EasyBadge app
IDP Smart 31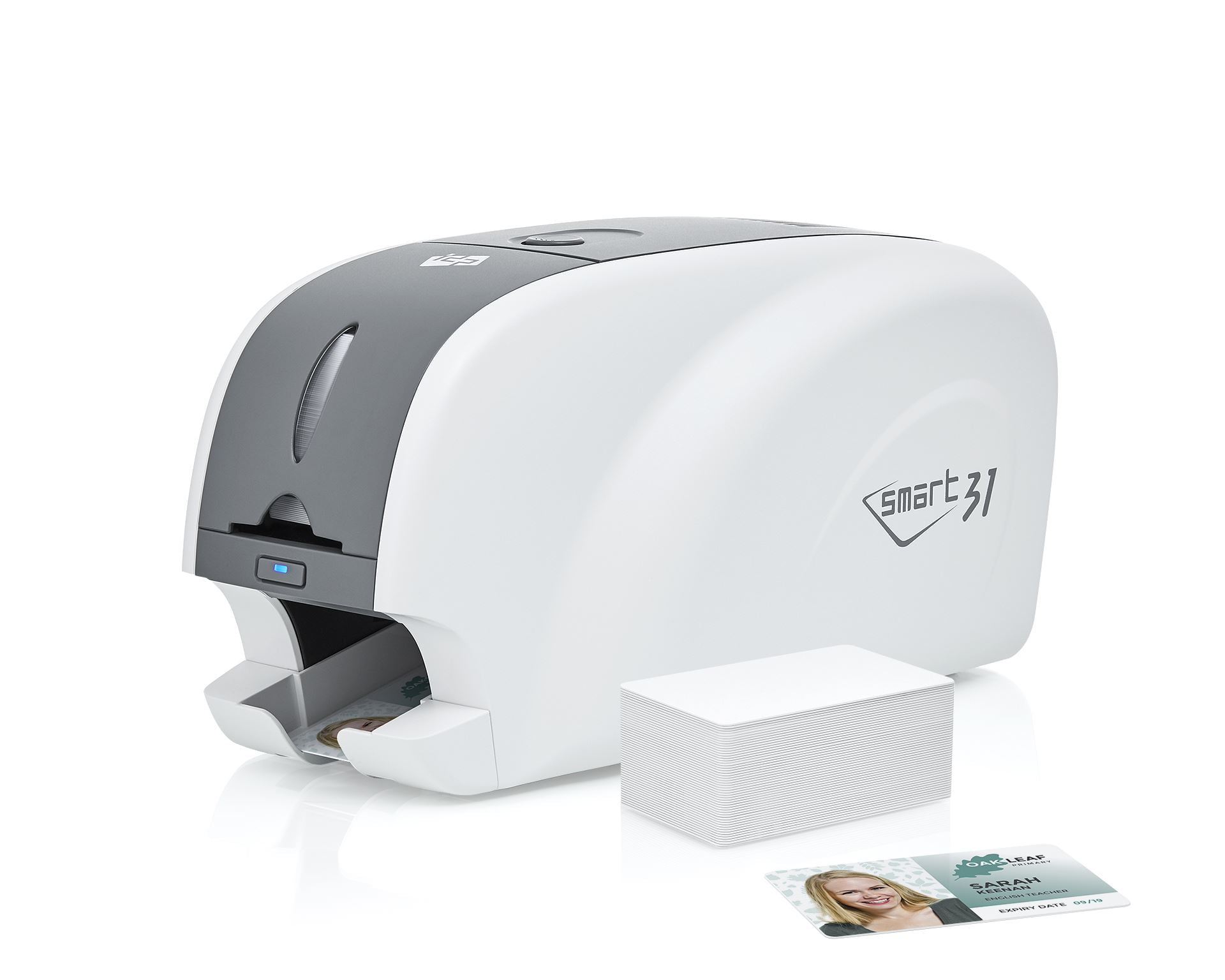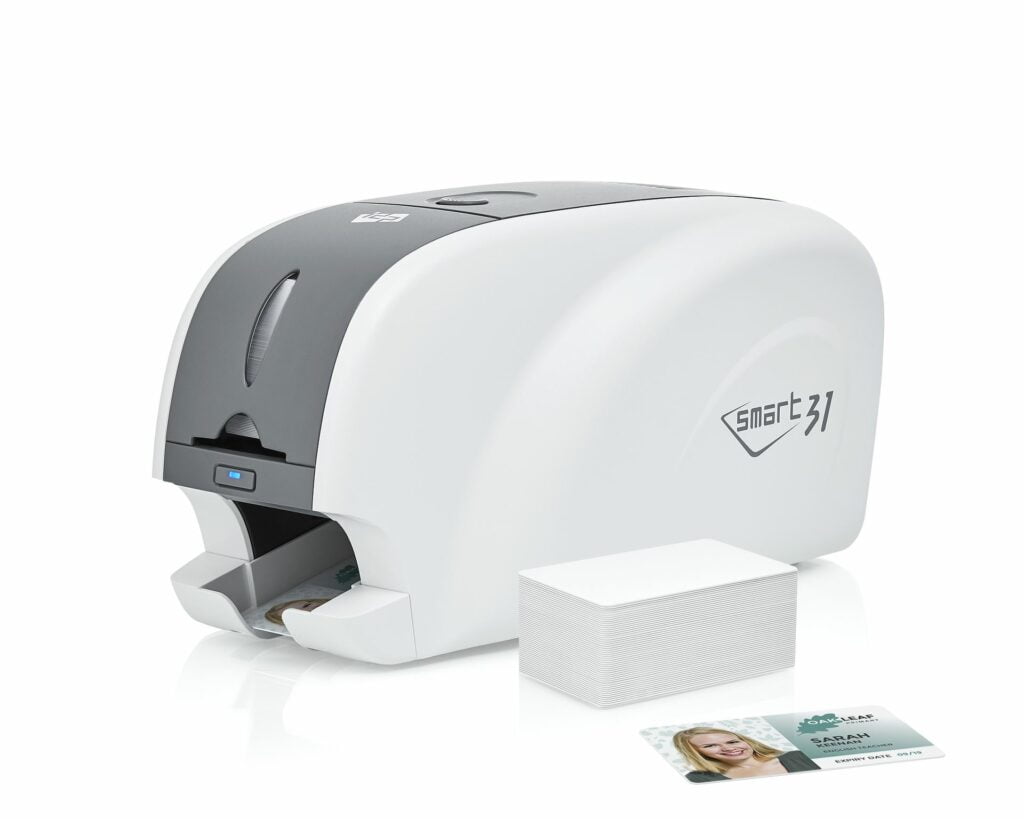 The IDP Smart 31 is available as both a dual and single-sided ID card printer. You can rest assured that the cards are securely protected against fraud, thanks to the SmartMark watermark that is printed onto every card. The mark is only visible under a UV light, which means that you can quickly tell the difference between real and cloned cards.
This is a thermal-card printer, which means that the design is directly printed onto the card from a YMCKO or monochrome ribbon. The printer only comes with one USB slot, which means that it can only be used with one computer at a time. However, you can upgrade the model with an Ethernet connection.
Highlights:
Full-colour cards printed in under 30 seconds
can be upgraded to dual-sided printer
Compatible with Windows, Mac OS, Linux