First of all, let's get out of the way the increasingly confusing product line-up of the Galaxy S20 (and many flagship phones).
At the moment it looks like there will be no new E variant. So the standard S20 will now be the cheapest model, and rather than adopting something as common as a Pro variant, we will now have an Ultra model.
Samsung Galaxy S20
Samsung Galaxy S20+
Samsung Galaxy S20 Ultra
As usual, different regions will get different chipsets. The S10 Lite has just been launched so you can probably add an S20 Lite to the list for a later date.
There also seems to be rumours that there will be none-5G variants, but the Qualcomm Snapdragon 865 requires a 5G modem, so if there are none 5G models they presumably would be on the Exynos 990 chipset only. So in theory, you could have 6 models, and that's before RAM and storage variations.
Samsung Galaxy S20 Ultra 5G
At the top of the pack will sit the Samsung Galaxy S20 Ultra 5G and it is reported that it will feature a 108 MP camera which seems insane when the Galaxy S10 series launched with 12 MP lenses, but Samsung has made a 108 MP sensor and it is already used on the Xiaomi Mi Note 10.
As well as the massive 108 MP sensor, it is reported that the phone will go up to a 100X hybrid zoom with the aid of a periscope lens that apparently is 48MP telephoto (10x optical) this will then be combined with a 12MP ultrawide and ToF modules.
The 10x optical zoom is the most ridiculous specification, I can't see how that it practical if it is a fixed zoom. A 5x lens is much more believable, and even then, its not always a great zoom length for regular use on the P30 Pro.
It will have 12GB and 16GB RAM and you will get three storage options – 128GB, 256GB, and 512GB. It will have also a microSD card slot, allowing storage expansion up to 1TB.
It is expected that this will have a massive 6.9-inch display and may feature the new SAMOLED technology that Samsung patented last year. Currently, it is expected that the phone will feature a 120Hz display, but some reports indicate this may not happen this year.
The smartphone will pack a 5,000 mAh battery which will juice up from flat to 100% in 74 minutes, thanks to 45W fast charging.
Samsung Galaxy S20+
The Galaxy S20+ will sport a 6.7″ Dynamic AMOLED display and will feature a quad-camera setup comprising one 64MP, two 12MP, and a ToF unit. For selfies and video calls, there will be a 10MP camera on the front.
Recent screenshots of the S20+ were posted by Max Winebach which indicates aa 12MP sensor with very large 1.8μm-size pixels which is an unreleased IMX 555.
Currently, the reported camera spec is:
Main Camera: Sony IMX 555
Secondary Camera: Samsung ISOCell S5KGW2
Tertiary Camera: Samsung ISOCell S5K2LA
Quaternary Camera: Like TOF
Front Camera: Sony IMX 374

Same 10MP sensor as the Galaxy S10/Note 10
Supports 4K 60fps video recording
It has been implied that the 12MP lens will be used as the primary lens but the 64MP will be for a telephoto for both the S20 and S20+. If this is true, it would be very strange indeed. The zoom of this model is expected to be 3X optical zoom and 30X total zoom.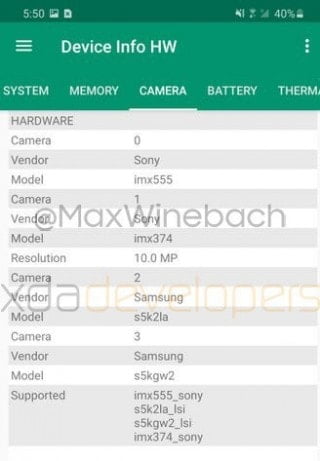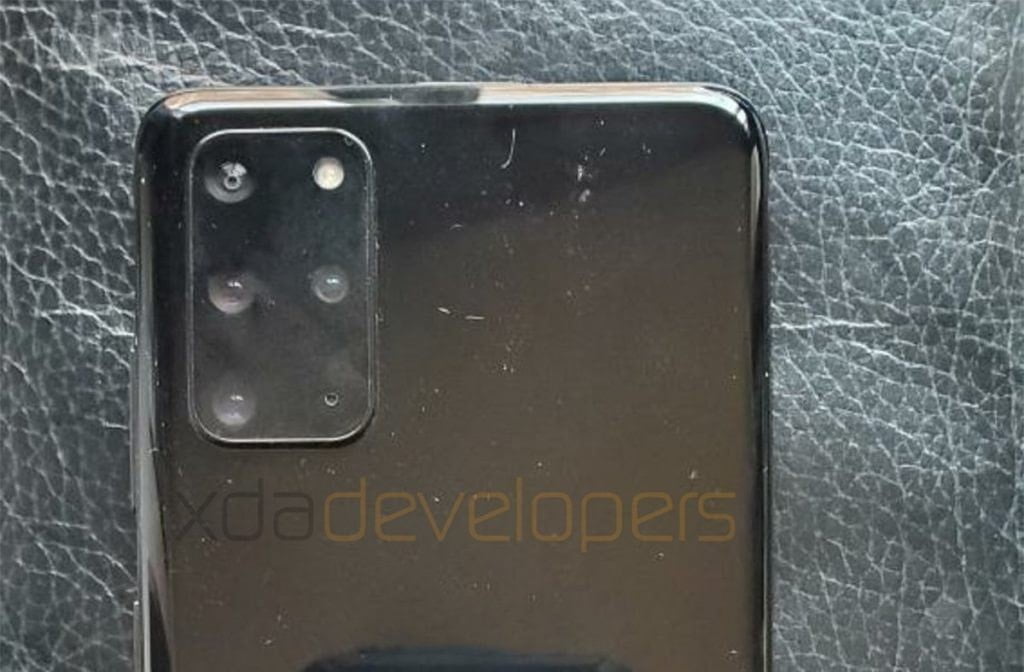 Samsung Galaxy S20
The vanilla S20 will skip the ToF module but still have two 12MP lenses and a 64MP lens.
This will have a 6.2″ screen and a 4,000 mAh battery.
Samsung Galaxy S20+ Geekbench Results
The Galaxy S20+ has been sported on Geekbench with a motherboard is listed as "kona" so it almost certainly the Snapdragon 865 models.
The Galaxy S20+ 5G scored 923 and 3,267 points in Geekbench 5's single and multi-core tests.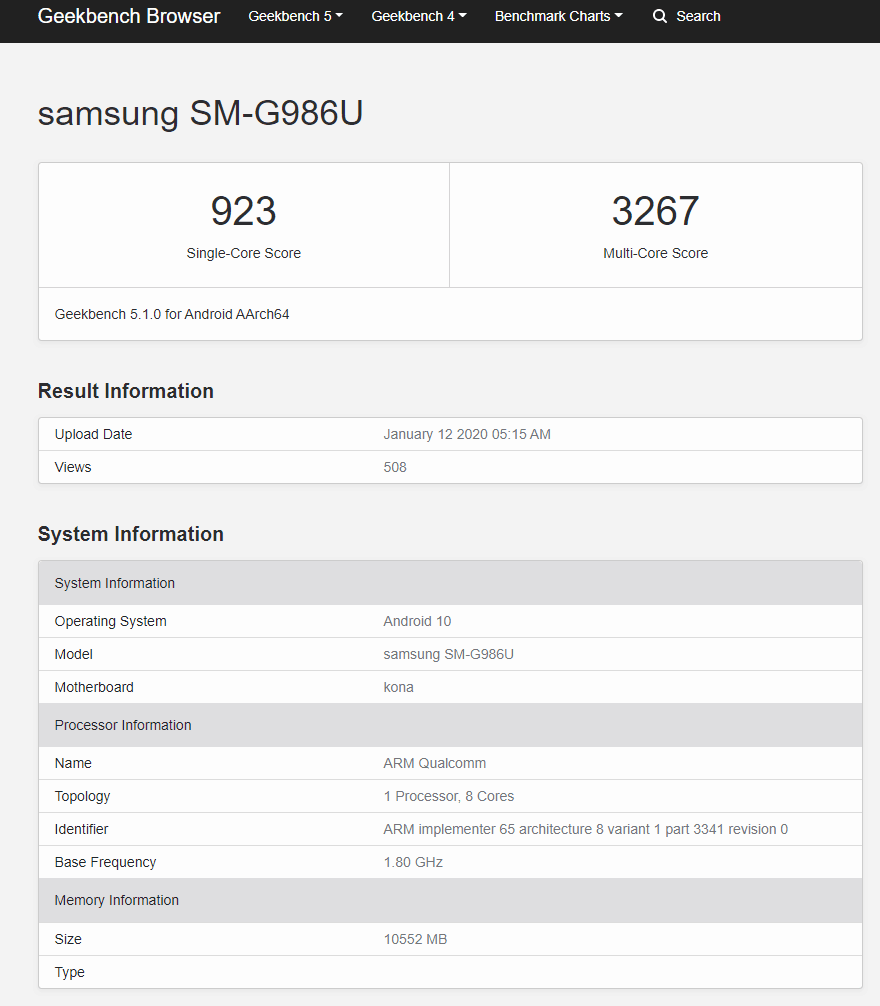 Images
As usual, all the above is leaks and rumours. The S20 series launches on 11th of February and we will get full confirmation of everything then.